Charcuterie boards are not just for parties! Throw together a simple charcuterie board to serve as an appetizer for a family meal or to be lunch or dinner for two.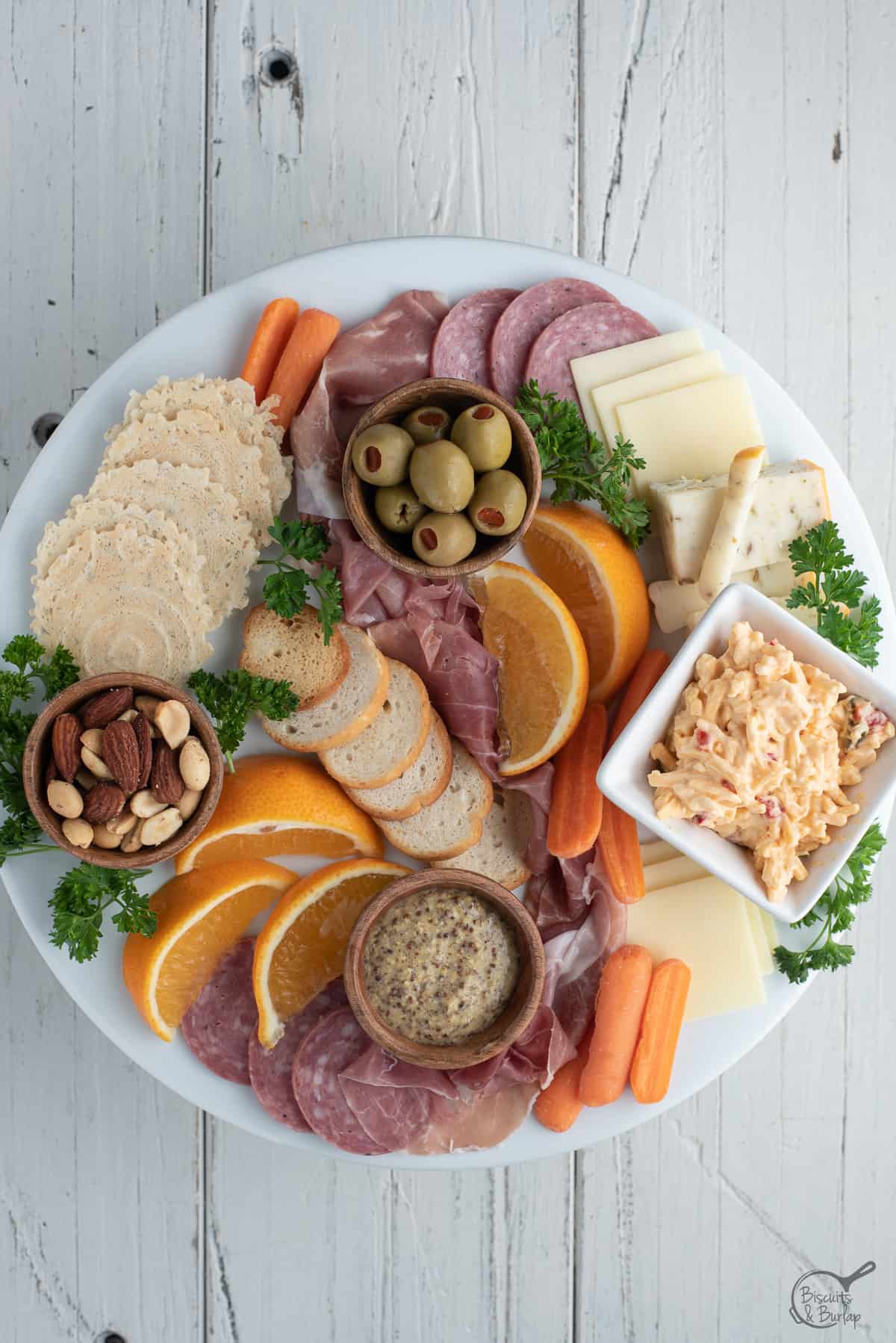 This post contains affiliate links, which means if you click on an affiliate link and buy something, we may receive a very small commission.  It does NOT result in additional charges to you or cost you anything extra. Click here for our full privacy and disclosure policy. As an Amazon associate we earn from qualifying purchases.
Who doesn't love a good charcuterie board? I was gifted a book called Platters & Boards for Christmas a few years ago and have been obsessed ever since. From our Southern Appetizer Board and Picnic Charcuterie Board to our Breakfast Charcuterie Board, we are big fans around here!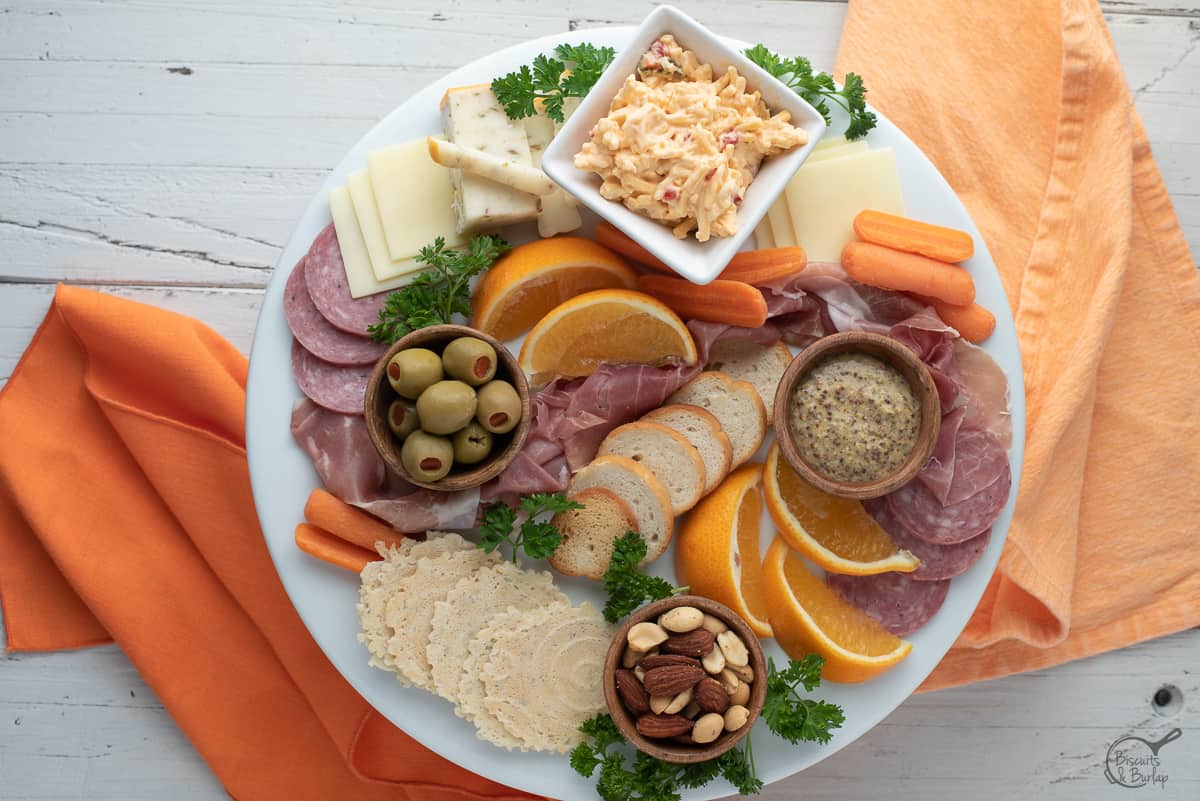 I used to reserve my boards for parties, but once Van and I started making simple charcuterie boards to go along with happy hour on the porch for just the two of us, I was officially converted.
There's only one problem- charcuterie boards can get expensive, am I right? That's where this post will be helpful. Look at your next simple charcuterie board as a way to clean out the fridge in the most impressive way.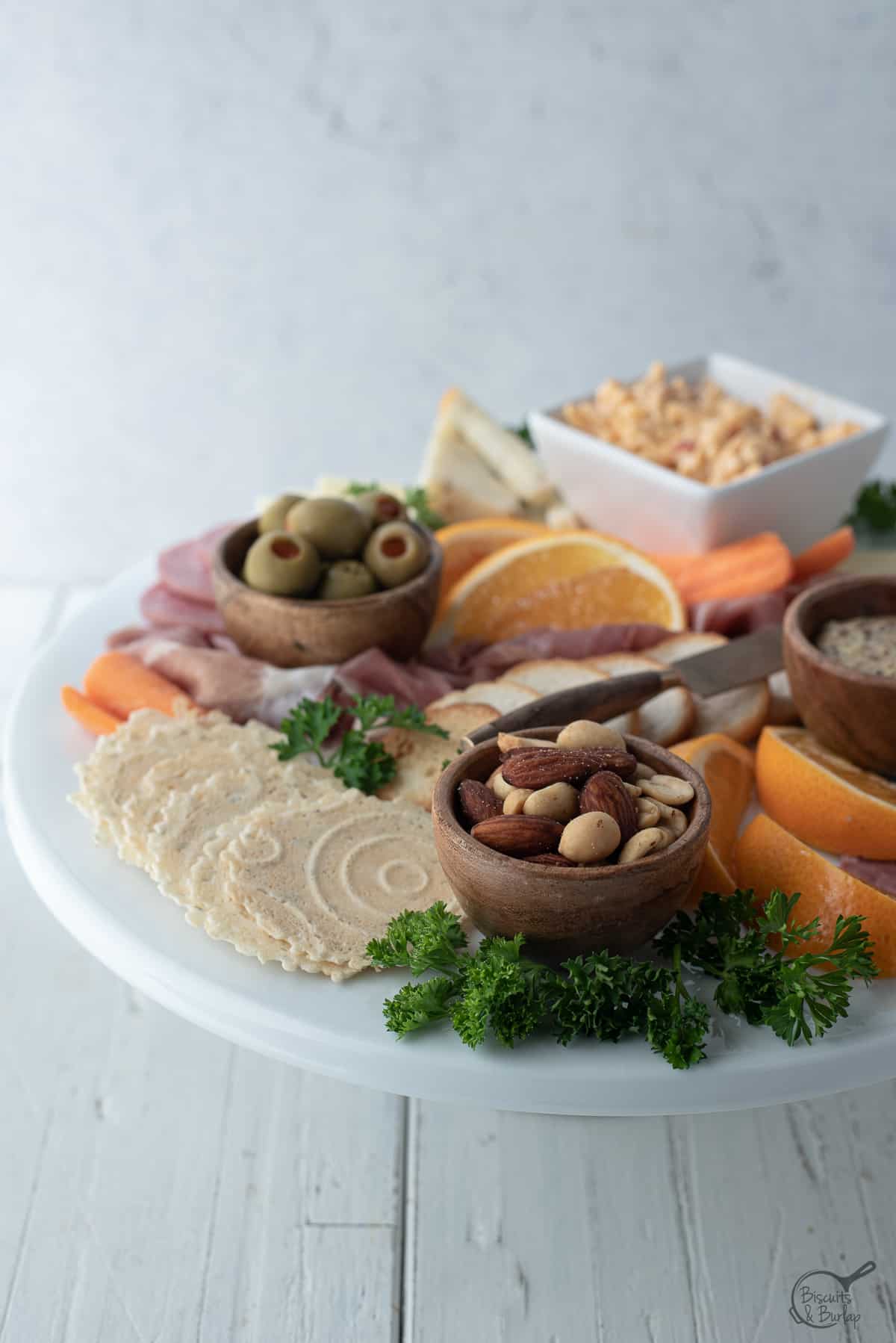 How to Make a Simple Charcuterie Board on a Budget
Start with the meat

And I mean any meat! Thinly slice a leftover steak, artfully arrange some cold cuts, and get out that pepperoni you've been meaning to put on a pizza. If you do decide to purchase something, a summer sausage or a small salami is just the ticket. If you're looking for something a little different, try some Peppered Bacon.

Next, find your carbs

Half the fun of a charcuterie board for us is coming up with creative combinations to pile on a cracker. Don't have crackers? Bust out the pita chips! Thinly sliced toasted bread (call it crostini if you're feeling fancy) makes a great foundation as well.

Which brings us to the cheese

Start with what you have because you can easily blow your budget on cheese. If your local Kroger has a great cheese selection like mine does, look for the basket with individually packaged smaller portions- It's a great way to get some fun, funky cheeses without committing to a big wedge.

Now, add your briny items

I love this step because this is when I get to clean out the massive number of jars in my fridge. Olives, pickles, pickled okra, pickled asparagus, and marinated artichoke hearts are all perfect for a small charcuterie board. Even some stone ground mustard is a great way to add some acid to your board and it goes great with summer sausage.

Next, your fresh fruit and vegetables

An apple or pear sliced up is really all you need, but if you have some baby carrots, celery, or grapes add them too! Don't forget to check your pantry for dried fruits as well. Figs, dates, and dried apricots are perfection with salty meats and creamy cheeses.

Last, add your extras

This is where it really depends on what you have around the house. We always have pecans and almonds, so I'll put a handful of those around the board. I'm also not shy about scraping the last tablespoon of a jam, jelly, pesto, pimento cheese, or preserves into a little ramekin- those are the things that keep the flavors and the look of your board interesting!

Fill in the gaps

Fill in the gaps on your board with some fresh herbs or even edible flowers and you're ready to serve!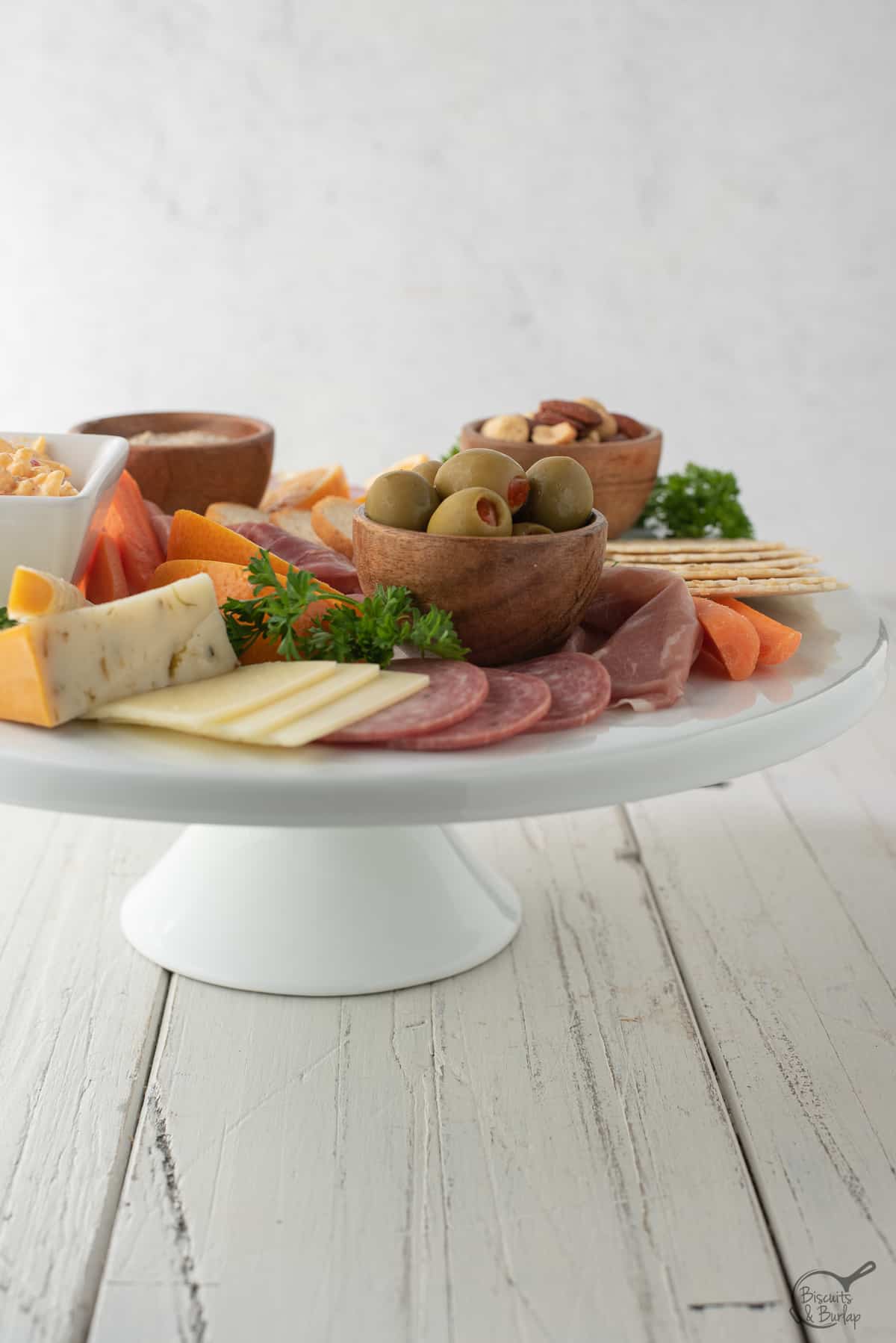 What else can I use as a 'board' for my charcuterie board?
If you don't have a charcuterie board, there's loads of them out there. You can find a huge variety of charcuterie boards on Amazon, but you can also use items you already have at home.
We used a cake stand for the photos in this post. A nice wooden cutting board is also a great alternative and any platter will work just fine!
More easy appetizers from Biscuits & Burlap