Making a picnic charcuterie board is easier than you think! With just a little planning and the tips here you'll have an outdoor board worthy of any type gathering.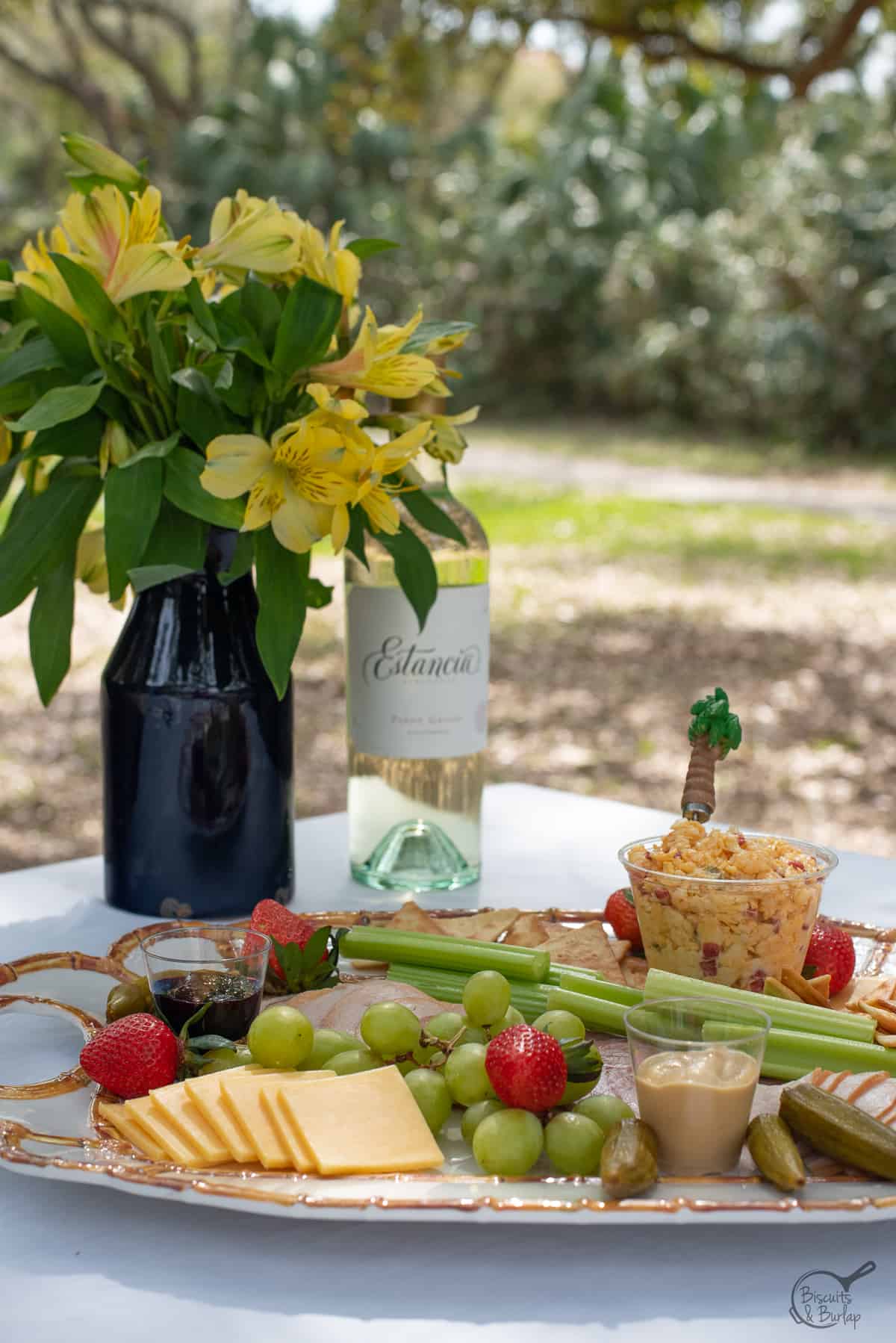 You could certainly make your board at home and cover it for transporting, but that can be awkward. A full size board won't stow in most coolers and the elements on the board can shift around and get messy.
Instead follow these three steps for putting your board together at the picnic, not before you go.
Step 1: Plan
The Food
When you shop for the ingredients keep in mind that this is an outdoor board. Don't buy anything that's super sensitive to the summer heat.
Buying meats and cheeses that are already sliced and even pre-arranged in pretty stacks is a great idea. These "cracker cuts" of cheese are ideal!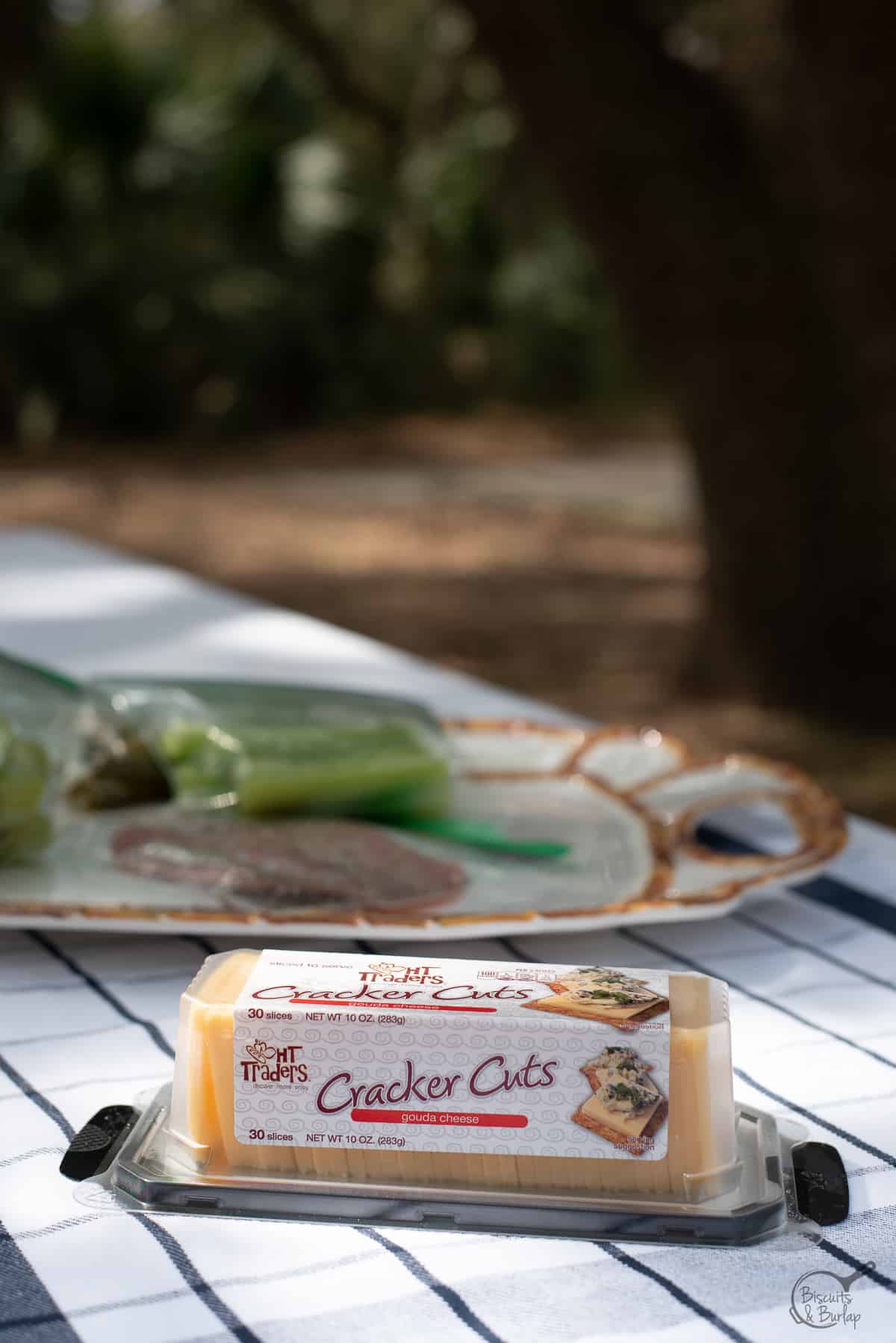 Keep condiments and messy items (like jams) to a minimum. One or two choices should be plenty.
What to pack it all in
For the platter in these photos we used almost all disposable bags and containers.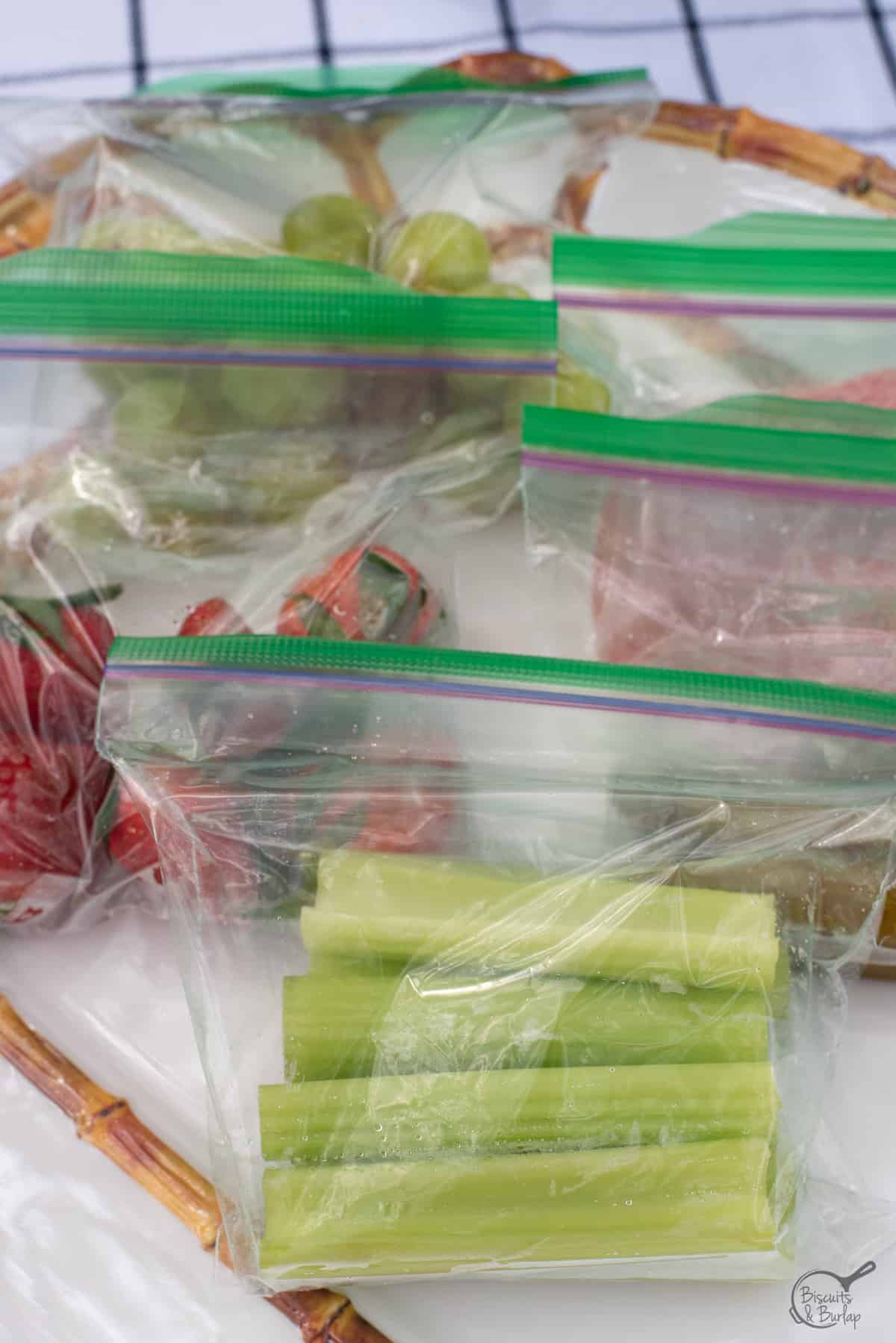 This post contains affiliate links, which means if you click on an affiliate link and buy something, we may receive a very small commission.  It does NOT result in additional charges to you or cost you anything extra. Click here for our full privacy and disclosure policy. As an Amazon associate we earn from qualifying purchases.
Sandwich bags were perfect for the meats, fruits, briney items and crackers. For the condiments/jams we used disposable shot glasses.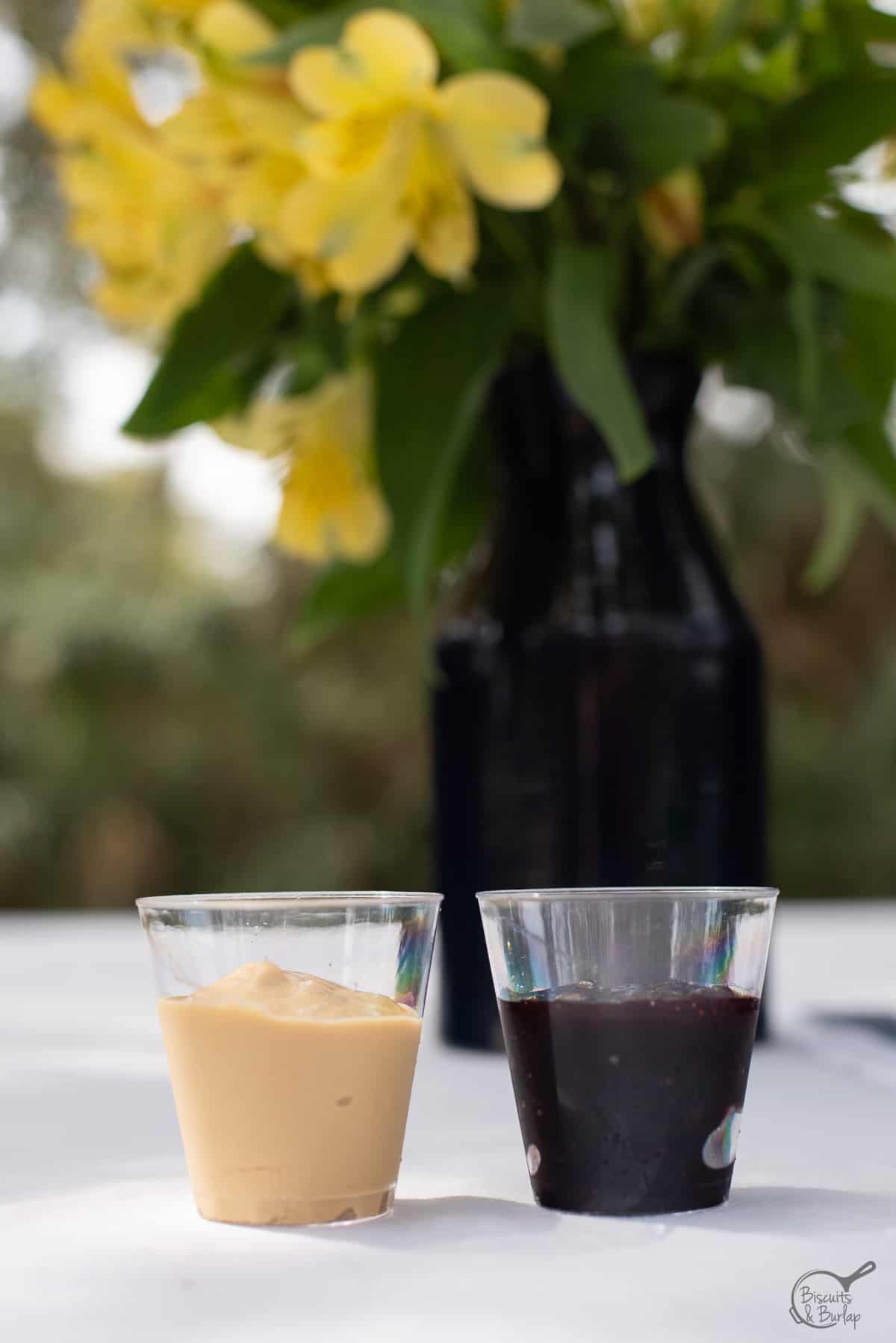 This homemade pimento cheese (or you could buy some) went into a short disposable drinking glass.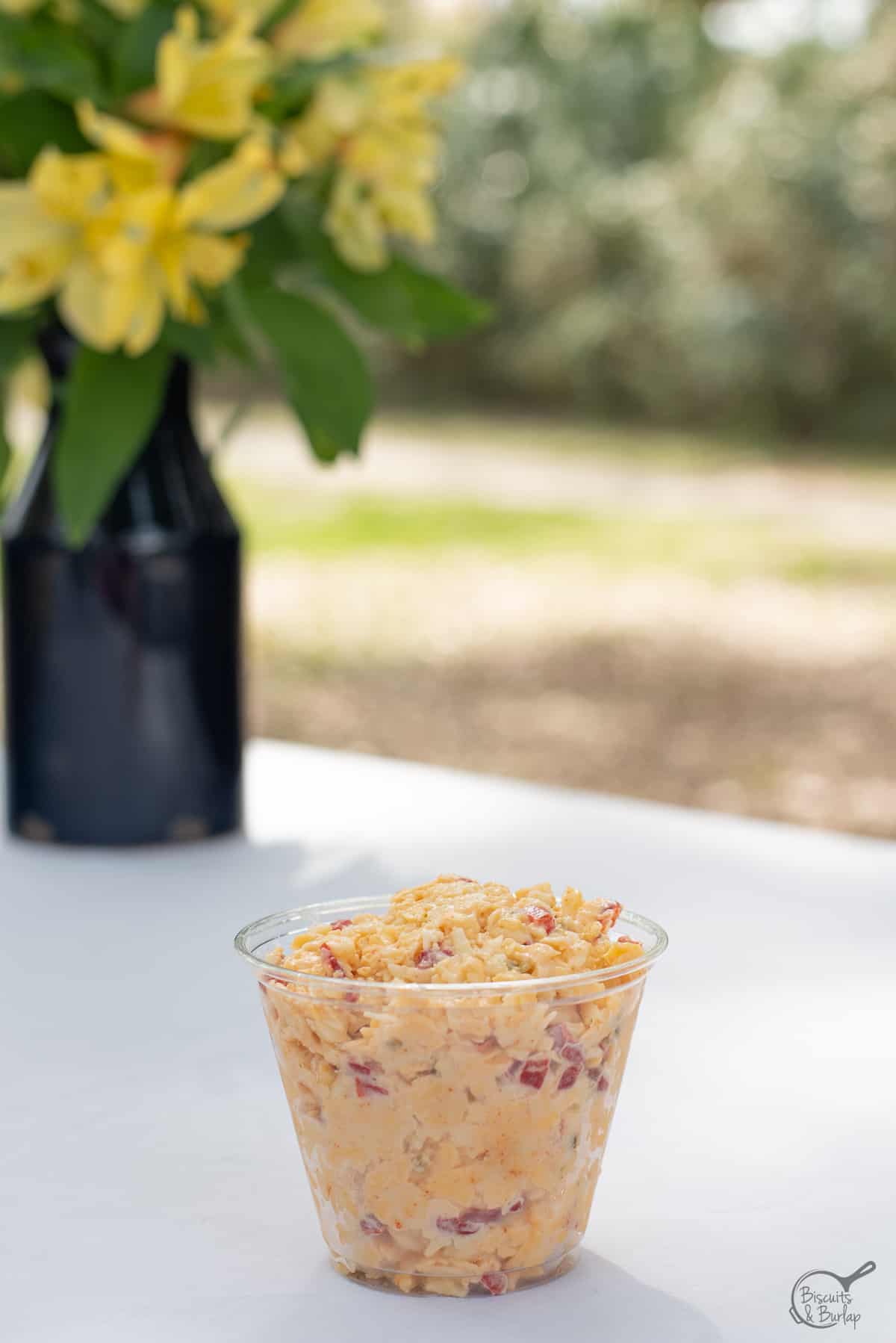 If you prefer to not go with disposable you should use flat, stacking containers like these.
Be sure you have on hand a cooler that sits flat and ice packs, preferably that will also sit flat on the bottom of the cooler.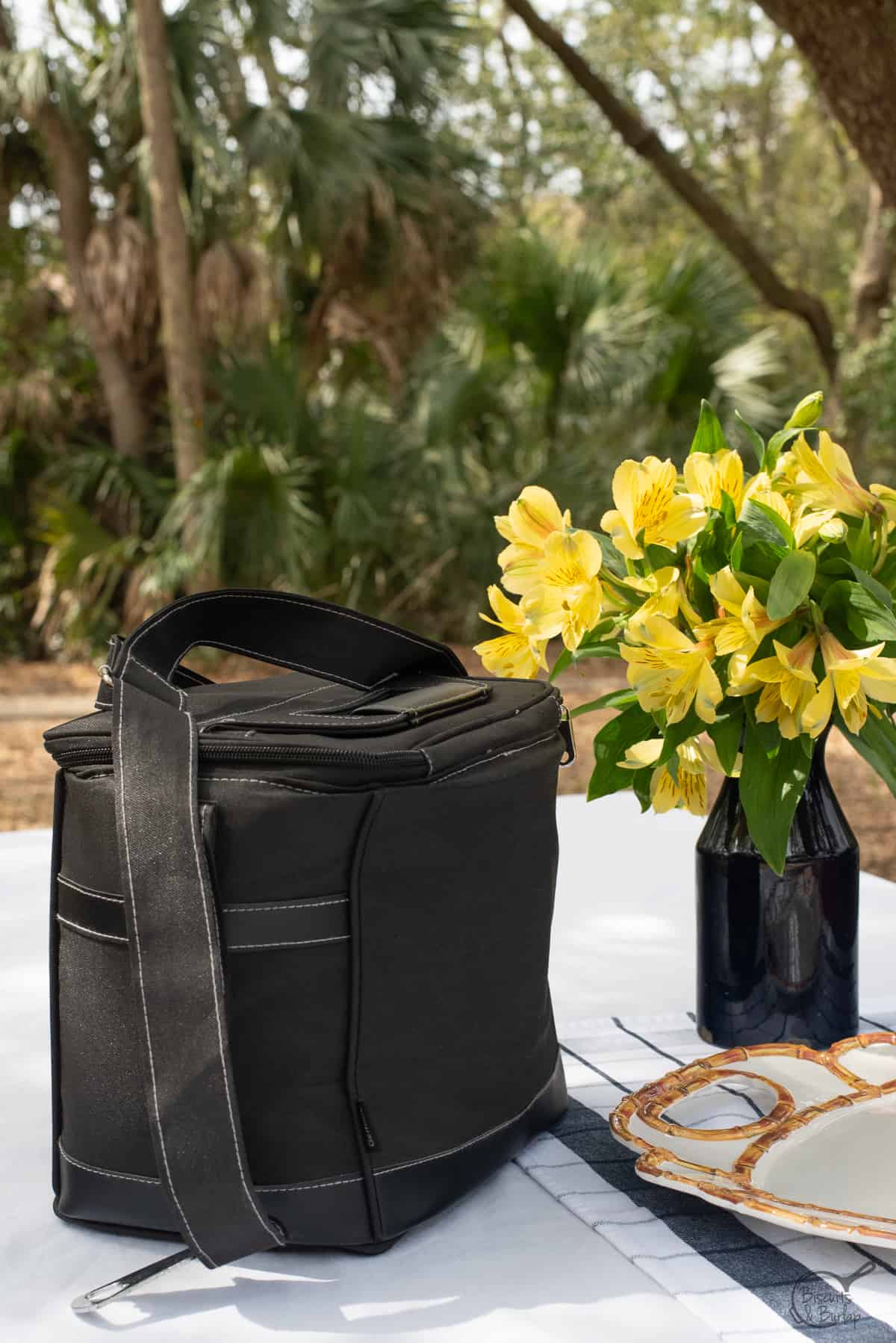 You'll also be getting your hands messy arranging everything so you'll want to have some hand sanitizer and paper towels or wipes.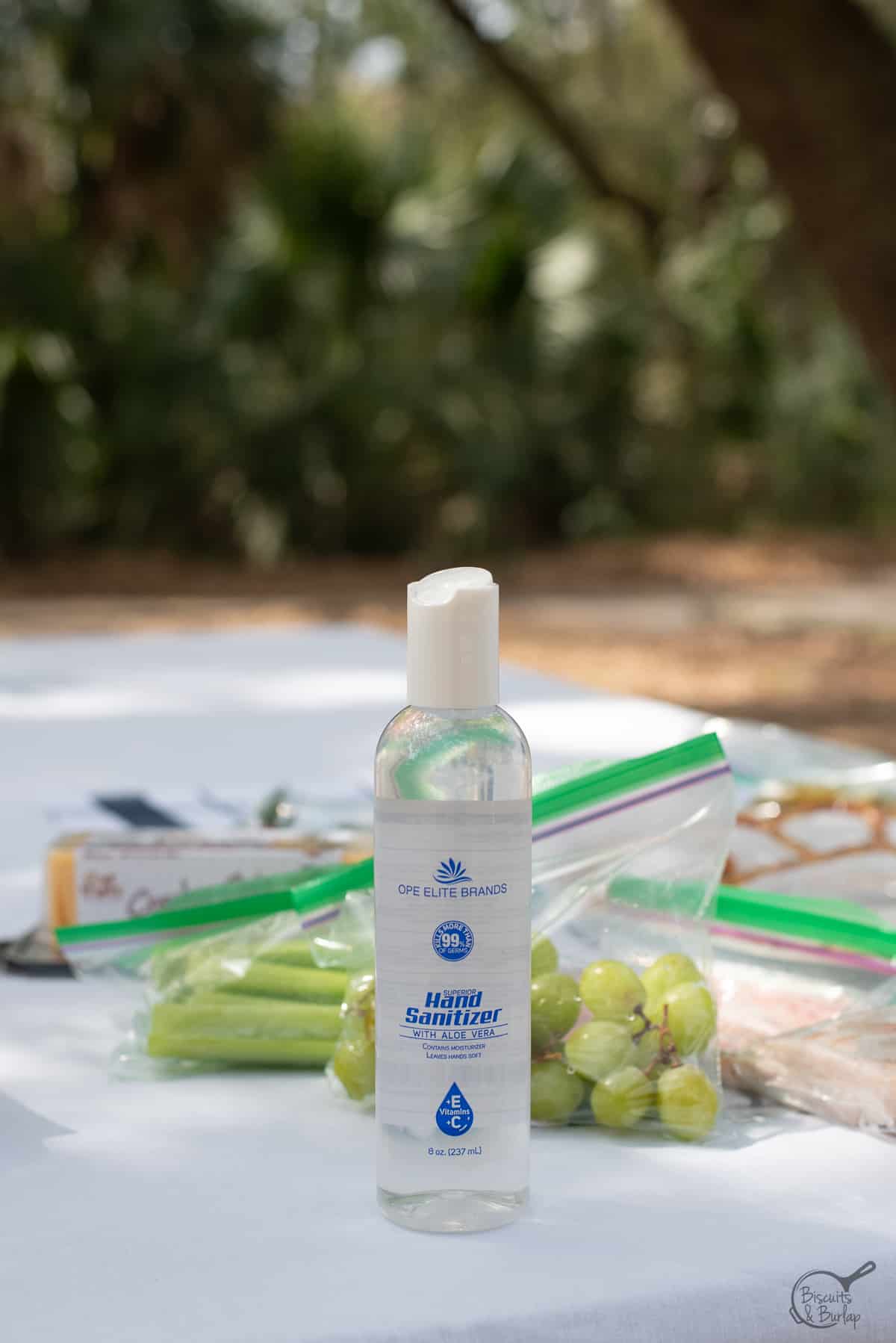 The actual board or platter
Keep in mind that you don't want anything heavy. Save your thick wooden board or marble slab for parties at home.
You could use a lightweight cutting board like one of these or a melamine platter. Our bamboo style one can be ordered from Amazon.
Step 2: Packing
Get it all ready
You'll want to wash and dry your fruits first. If you're using grapes go ahead and cut into smaller sections just right for one person. Then put it all in baggies or containers.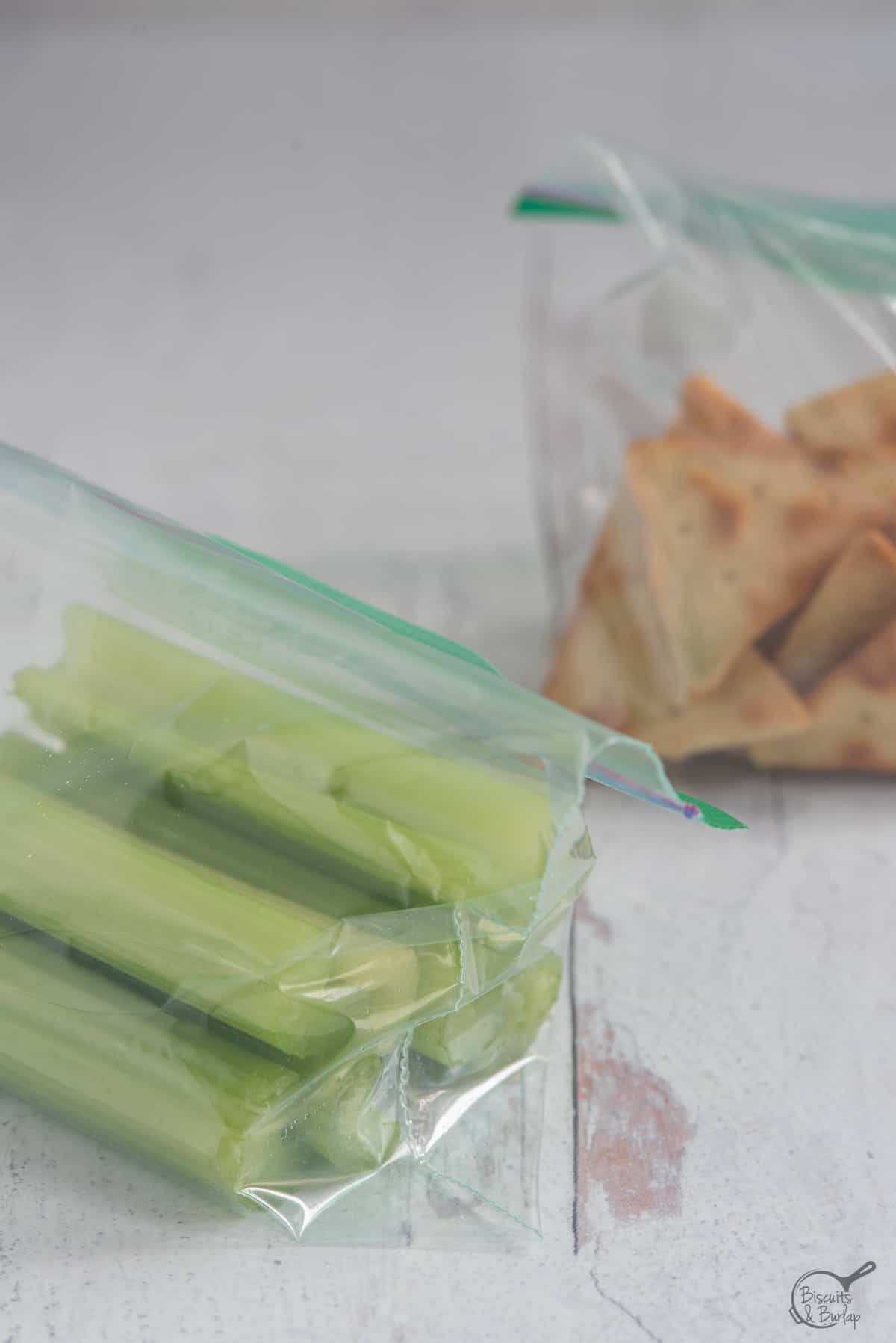 If the meat and cheese slices need to be cut into smaller pieces do that now. Then place them in the container or your choice.
Get the condiments into the shot glasses and any spreads (like our pimento cheese) into larger, but short glasses and cover with plastic wrap.
Pack it up
Start by lining the bottom of your cooler with ice packs. Then lay everything on top of those.
Wedge bags of fruit, etc. around the glasses that need to sit upright to keep them secure.
You'll probably want a separate bag for items like any plates, napkins, the paper towels and sanitizer. Don't forget a tablecloth!
Step 3: Assemble the board
We usually start with the items we have the most of and work our way down. In this case, and in most, you will start with your meats and cheeses.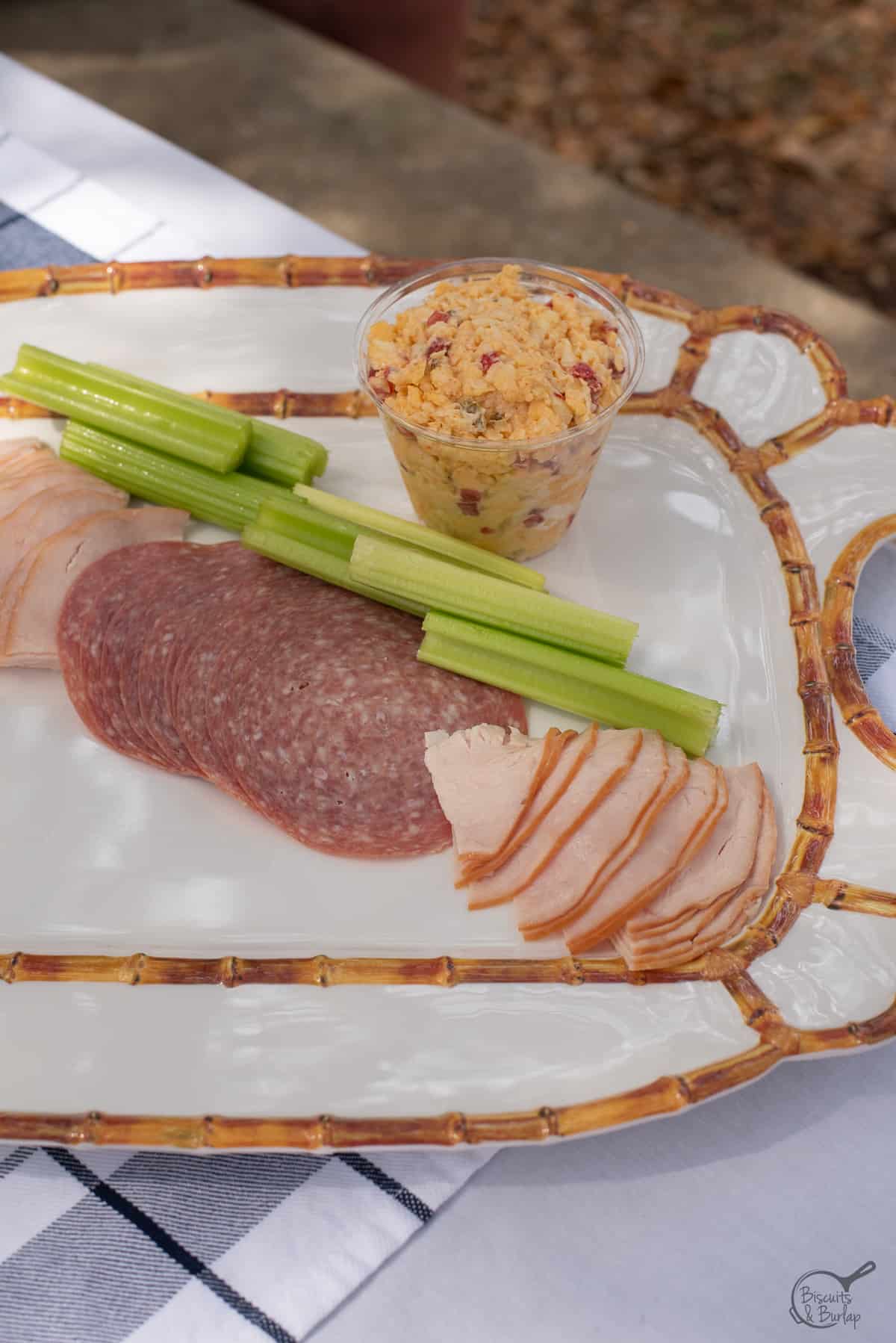 To give your board a sense of order begin with a shape. On our breakfast charcuterie board and mini charcuterie board we started with an "S" shape.
For this one we just made a diagonal line across the platter. Then have fun with it, making sure to put your individual containers in place while you have room for them.
End up with the small items like the strawberries to fill in any empty spots and add color.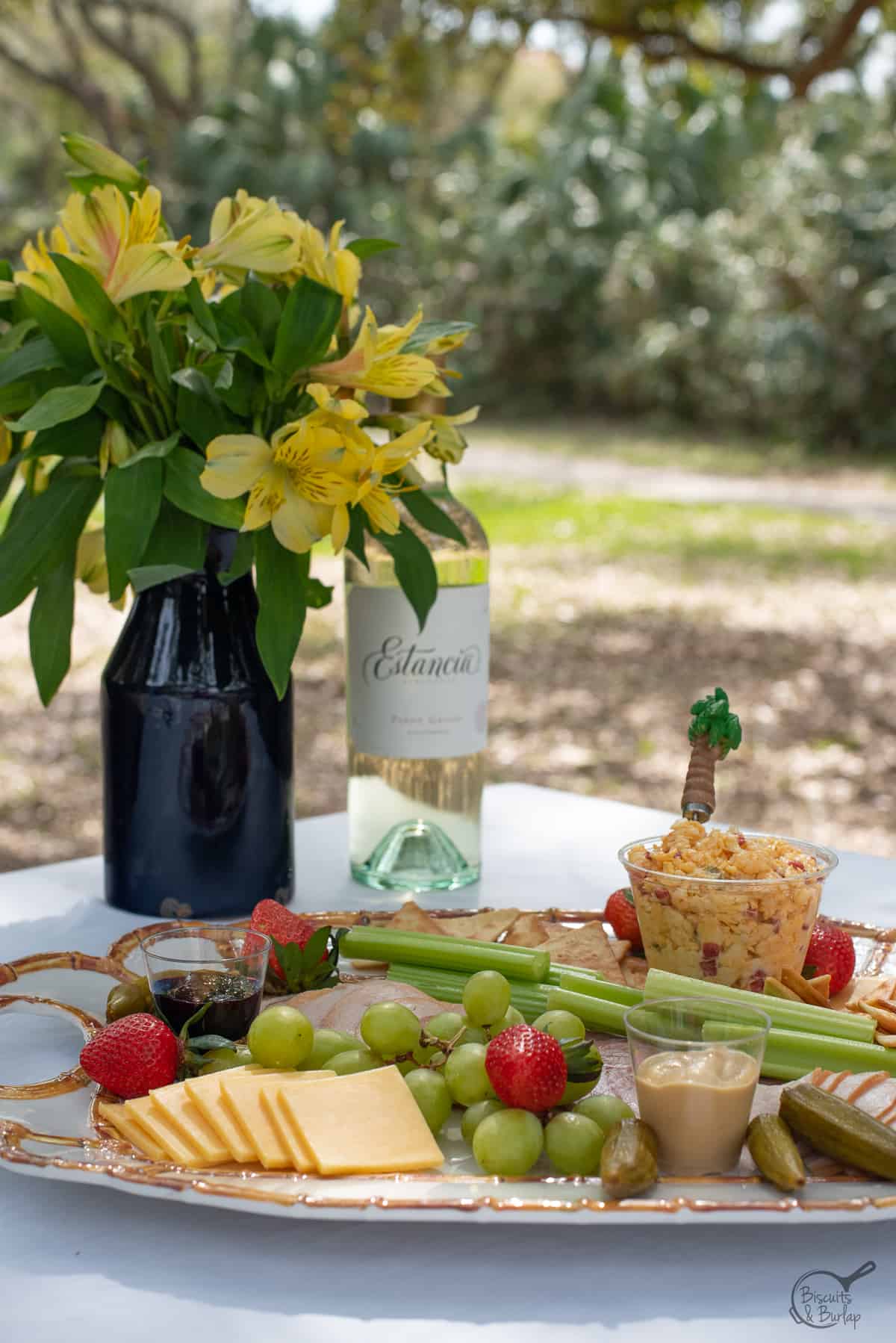 Suggested items:
Meats - this could be ham, salami, bologna, turkey, proscuitto, etc. Two should be enough unless you are making a very large board.
Cheeses - For this one we used Gouda slices and the pimento cheese.
Crackers or flatbread
Condiments - mustards, mayo, honey, jam or any spread you love.
Fruits - grapes, berries, orange slices are all good choices.
Briney nibbles like olives, pickles, etc. We love pickled okra and use them on this and our Southern Appetizer Board. Pickled asparagus is another one of our favorites.
Nuts - Ritz Carlton Spiced Pecans are a favorite around here.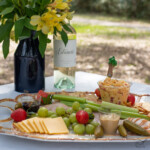 Print
Picnic Charcuterie Board
Making a picnic charcuterie board is easier than you think! With just a little planning and the tips here you'll have an outdoor board worthy of any type gathering.
Materials
1

pound

deli style meats

sliced

½

pound

deli style cheeses

sliced (can use a dip or spread also)

3

Tablespoons

condiment of choice

mustard, mayo etc.

3

Tablespoons

sweet condiment of choice

jams, honey, etc.

1

cup

briney items

like pickles, olives, etc.

½

pound

assorted fruits

2

cups

crackers or flatbreads
Instructions
Wash and prepare all items doing any slicing, cutting, etc. at home.

Pack all items into individual containers, disposable or not.

Pack all containers into flat bottom cooler lined with ice packs.

Assemble on lightweight board or platter beginning with the bulkiest items.
Notes
Pre-sliced meats and cheeses are excellent choices.
Bring sanitizer or wipes for cleaning hands when arranging.
Don't forget spreader(s), tablecloth and a trashbag if your picnic spot doesn't include a place for disposing of trash.
You must love eating outdoors if you're reading this so you'll want to refer to our Backyard BBQ Menu Ideas the next time you're planning a cookout.

Recipes just made for charcuterie boards: