A breakfast charcuterie board is perfect for when you have a number of people who want to eat a healthy breakfast, but not all at the same time. Follow our guide for putting it together quickly and easily and then make it your own with family and guest favorites.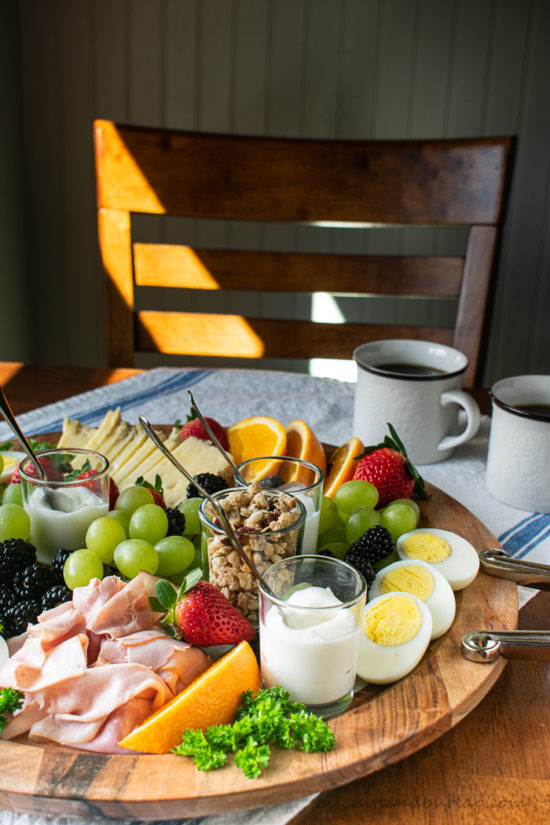 Looking for breakfast platter ideas? You have come to the right place!
Charcuterie Boards are not just for appetizers
Party platter, cheese board, charcuterie board, grazing platter… Whatever you want to call them, they're all the rage these days and with good reason.
Mostly thought of as a way to serve appetizers, a board with a variety of food elements is an excellent way to serve healthy breakfast foods, too.
Perhaps you're sharing a vacation home with extended family, have guests at your house around the holidays, go for a family picnic, or for a special event like a wedding. Not everyone rises at the same time each morning, right?
If you'd rather make a little board for your household to start out, our Mini Charcuterie Board is a great option.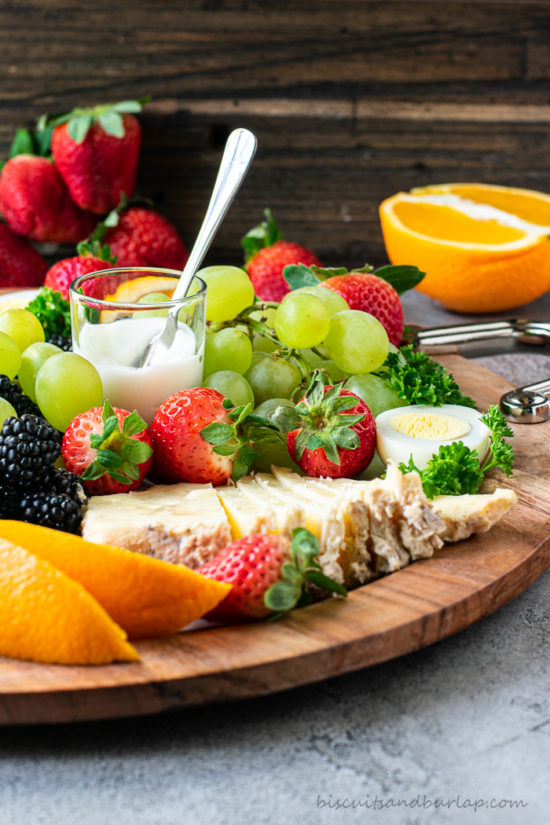 Prepare what you can ahead:
The evening before you can boil and peel eggs (we have a foolproof method), wash fruit and slice the cheeses. The next morning just arrange it all on the board and set it on a table or bar so everyone can "graze" or fill a plate, as they choose.
You've served a healthy breakfast menu that each person can enjoy on their own schedule.
If your people are running out the door in different directions you could also add these homemade Breakfast Bars with Peanut Butter. They're great for being on-the-go.
We are huge fans of anything we can prepare ahead. A few of our favorites with that "make-ahead" quality:
THIS MADE OUR "BEST OF THE YEAR" LIST. THE OTHERS CAN BE FOUND HERE.
Step by step guide for building a breakfast board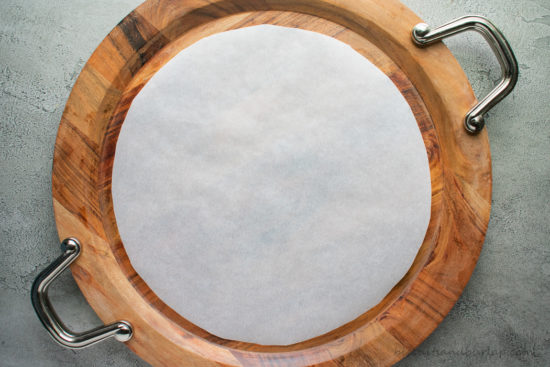 This post contains affiliate links, which means if you click on an affiliate link and buy something, we may receive a very small commission. It does NOT result in additional charges to you or cost you anything extra. Click here for our full privacy and disclosure policy. As an Amazon associate we earn from qualifying purchases.
We used a round board. The handles do make it easier to move around, but aren't absolutely necessary. This link will take you to one similar to ours that you might like.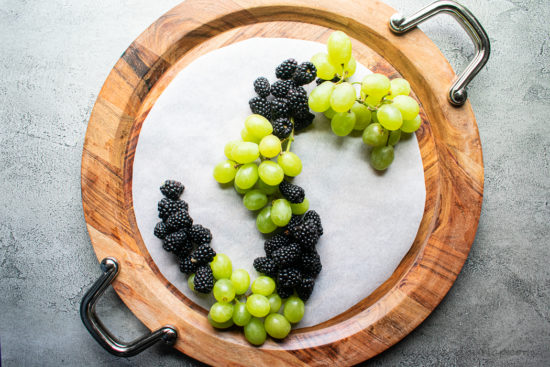 Since we had a round board we started with an "S" shape, but anything that gives a your board design a base to build on is great. Maybe an "X" shape, or 3 vertical lines?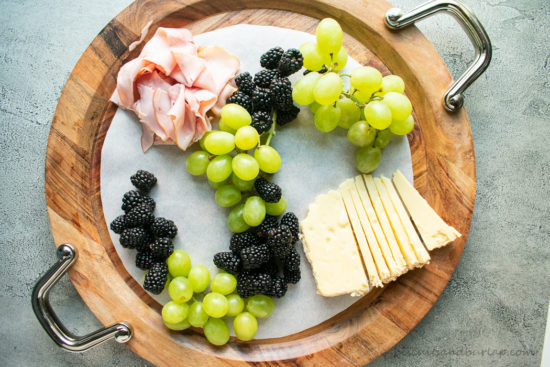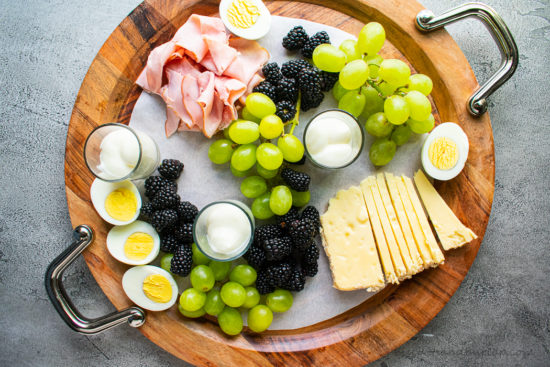 You can put small servings of Greek yogurt in shot glasses and add boiled egg halves.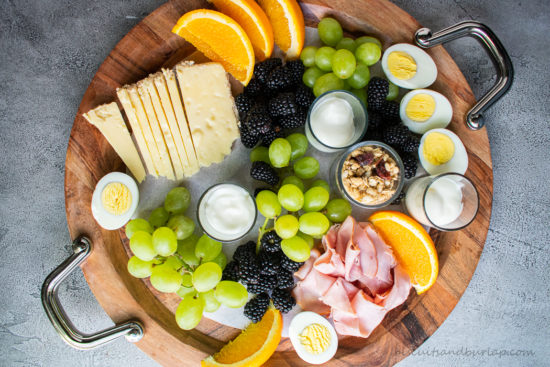 We added orange slices and a glass with granola that people could sprinkle in their yogurt. The options are endless for easy healthy breakfast ideas.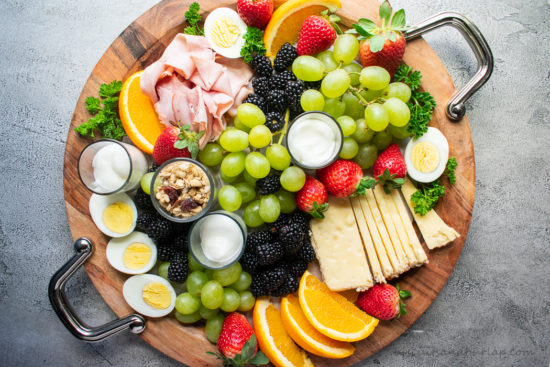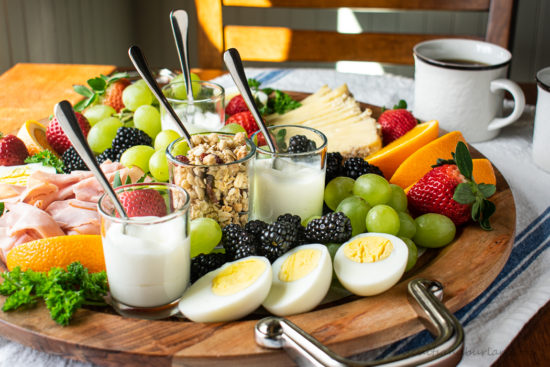 Small spoons went in our yogurt cups, but try as much as possible to restrict those healthy breakfast dishes to finger foods.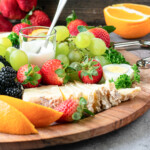 Print
Breakfast Grazing Board
A charcuterie breakfast board is perfect when you have several people who want to eat a healthy breakfast, but not all at the same time.
Instructions
If desired some preparation can be done the night before such as boiling and peeling eggs, slicing cheese, washing fruit, etc.

Line a board with parchment paper.

Start by creating a shape with 2-3 food items. Suggestions are an "S" shape on a round board or an "X" shape on a square or rectangular board.

Fill in large empty spaces with 2-3 different food items, adding variety. For instance, if you created the shape with fruit you can now add meats and cheeses.

Fill in smaller empty spaces with medium to small items, such as cups of yogurt, small breads, etc.

Now you should be left with only very small empty spaces. Use these as places to add berries, nuts, etc. Sprigs of fresh herbs can be added as well.

Include any needed utensils such as small spoons in the yogurt cups, but keep in mind that largely your board should be finger foods.
Notes
This grazing board can be made small for just 2-3 people, or larger for up to 12-15.
Vary the food elements according to the tastes of guests and what is fresh and at its best at the moment.
Items you may need for your Breakfast Board: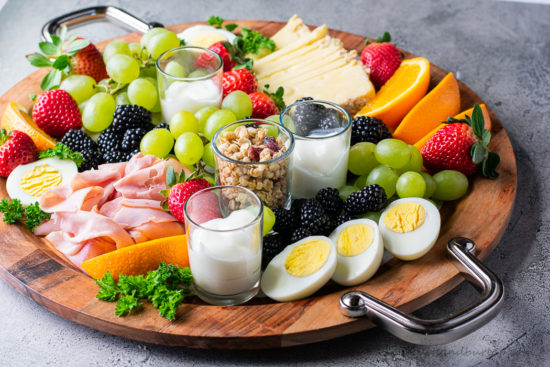 If you need to add something to your buffet for those carb lovers you'll want to check out Blueberry Orange Nut Bread. It's a tried and true recipe that's been a favorite for years!
If you make this or any of our recipes we'd love for you to leave us a comment and star rating. If you're into sharing your creations, snap a photo and tag us when you post it to Facebook or Instagram.
For lots of great ideas for grazing boards, be sure to check out this book. We have it ourselves and love it!

Recipes you'll want to try: