Keto Breakfast Casserole is an easy low carb alternative to those options full of bread soaked in eggs and milk. This recipe is perfect for when you need to feed several people a healthy breakfast.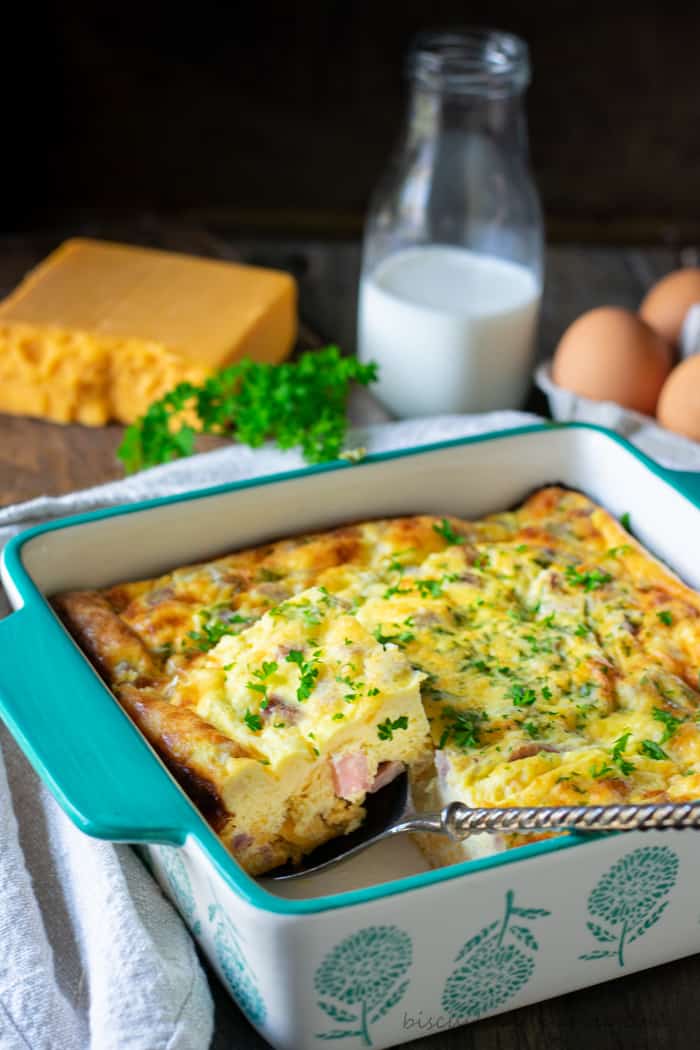 For years we've been fans of those make-the-night-before breakfast casseroles. Pop them in the oven in the morning and before you know it you've got the basis for a hearty breakfast for everybody in your house.
But, here lately we've been learning to cut carbs where we can, and this is one place that you won't miss the bread. In most cases the bread does nothing to enhance the flavor.
This keto breakfast casserole has all  the tastes you want - eggs, cheese, milk or cream and a protein. We've used ham in this version as it's the leanest of breakfast meats.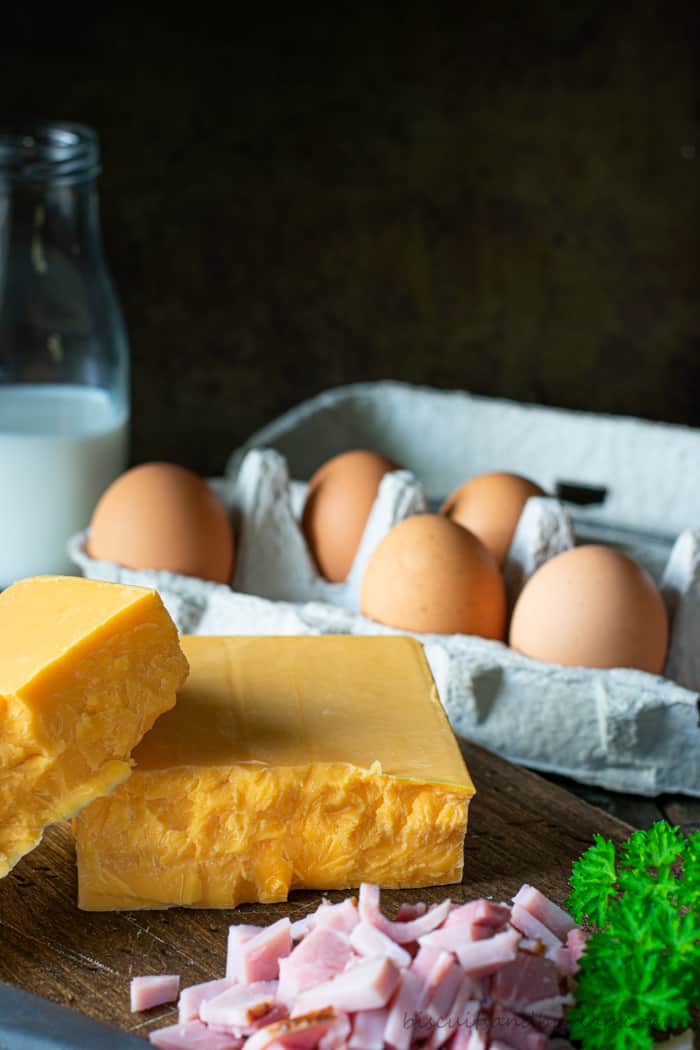 You may find yourself with leftover ham and looking for ways to use it up. This breakfast dish is a great option for that. One of our top recipes is Smoked Ham on the Big Green Egg. We love it as much as y'all do, but there are always leftovers.
Keto Breakfast Casserole is super simple to make...
While we don't recommend putting it together the night before, it does literally takes just minutes to make the morning you want to serve it. If you want to do a little advance prep you can dice the ham the night before and grate the cheese.  We always recommend freshly grated cheese - it has so much more flavor.
One word of caution: Since there is no bread soaking up the eggs and milk the dish is going to be very "liquidy" as you move it into the oven. Just be careful that you don't splash or spill.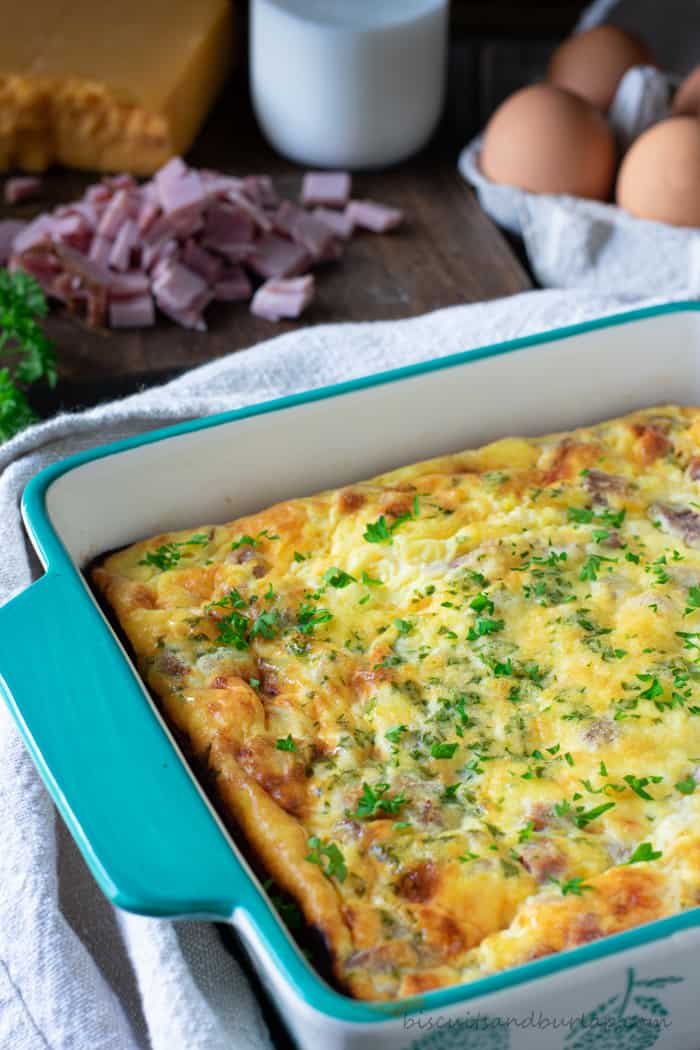 Can you freeze this Keto Breakfast Casserole?
Yes! We have not tested freezing it whole, but I see no reason that wouldn't work. Here's what I did: The day it was freshly cooked we ate about ⅓ of the casserole. The next day we ate some more just warming it in the microwave.
With what was left we cut it into single serving size pieces and froze those individually. Then, whenever I needed a low carb breakfast I set out one of those servings about an hour or so before I wanted to eat. After it thawed it warmed up very nicely in the microwave or toaster oven.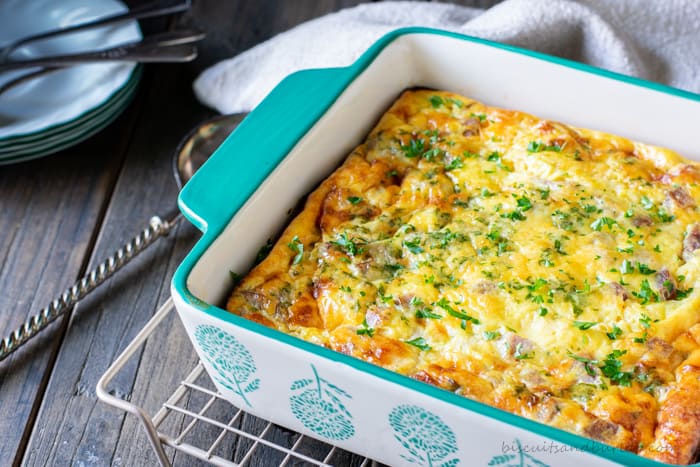 Are you getting our weekly updates? We promise to treat you like family.
Another healthy breakfast option and more:
This Breakfast Grazing Board is perfect when you need to feed a few people, but they'll be rising at different times. Set it on the table or bar and everyone can "graze" or make a plate as they choose. If you prefer a sit-down family meal, without all the carbs this Crustless Breakfast Quiche is perfect.
Added to the board, or as a separate on-the-go breakfast option are these easy homemade Breakfast Bars with Peanut Butter. 
If Keto is your thing you'll want to add Keto Parmesan Crusted Chicken to your list. It makes a perfect low carb Chicken Parm with zoodles. It's also great tossed on a salad or with cheesy Keto Squash Casserole for an entirely keto friendly meal. 
For those loving Mexican-inspired foods, but still watching carbs be sure to make Low Carb Enchiladas. 
📖 Recipe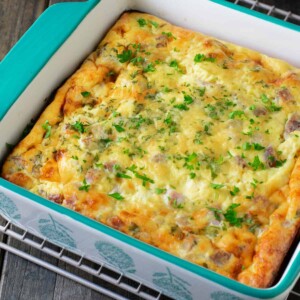 Keto Breakfast Casserole
An easy low carb breakfast casserole that is keto friendly and will satisfy everyone in your house.
Ingredients
2

cups

cubed ham

2

cups

freshly grated cheddar cheese

1-⅓

cup

whole milk

8

eggs

2

teaspoons

dry mustard

1

teaspoon

salt

1

teaspoon

white pepper

1-2

Tablespoons

freshly chopped parsley
Instructions
Add milk, mustard, salt and pepper and whisk until well incorporated.

Pour into a greased 8"x8" or 9"x9" casserole dish.

Bake at 350 degrees for 40-50 minutes or until center is set.
Notes
If fresh parsley is not available, dry can be substituted but reduce amount to 1 teaspoon

Here are a few other recipes that are good and good for you. You'll love them all!