Veggie foil packs are great for throwing on the grill while the meat cooks. Versatile and healthy, they make cooking your whole meal outside a breeze.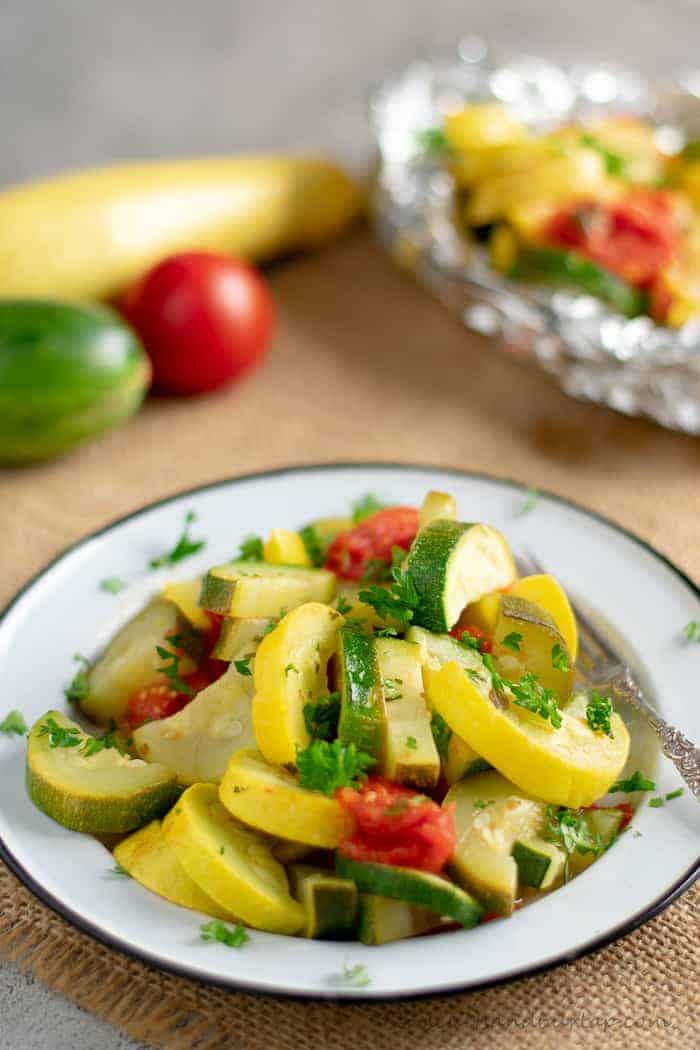 "Veggie foil packs" are actually known around here as "hobo packs." I believe they originated with scouting as an easy way for young scouts to prepare a hearty meal over their campfire.
Of course, if meat is included you would truly have an entire meal in one little package of aluminum foil, but we like to just use vegetables to make a healthy and delicious side dish.
Our favorite combination is zucchini and yellow squash, with optional additions of tomatoes and/or onions. The recipe below is written that way, but versatility is the real beauty of veggie foil packs.
Additional vegetables that would be good are below, but you can get creative - use whatever is fresh in your garden or at the farmers market.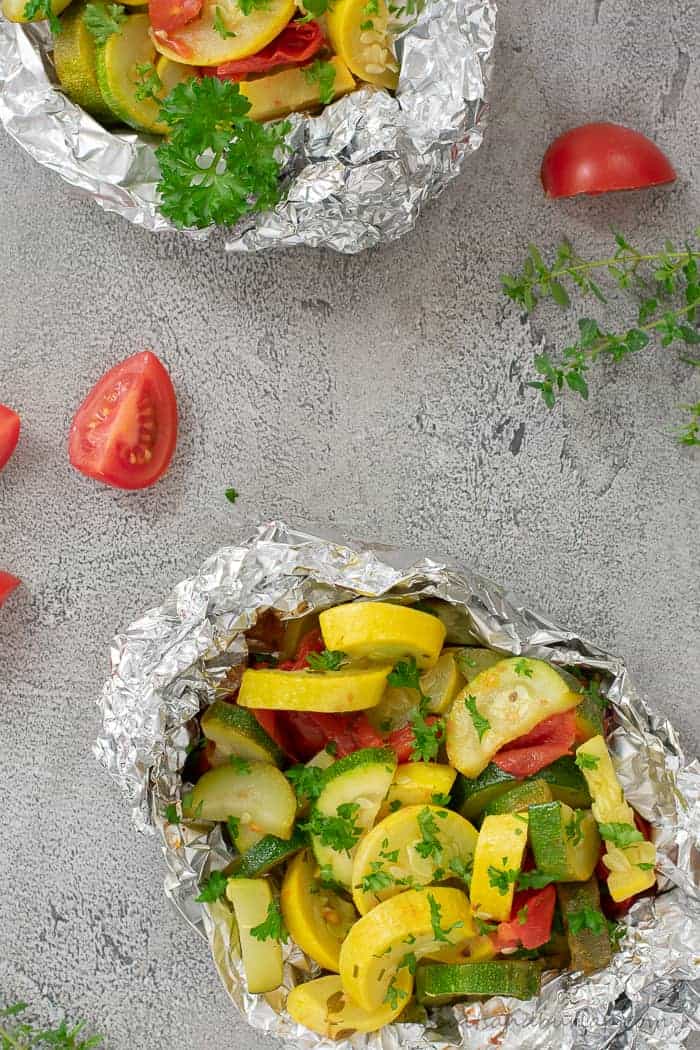 Vegetables that are great in foil packets:
green beans
peppers
yellow squash
zucchini
tomatoes
eggplant
broccoli
carrots
corn
Really, that list could go on and on.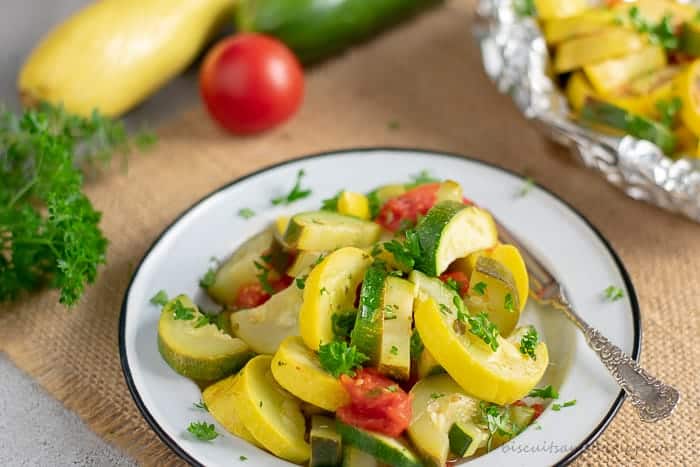 How to season veggie foil packs:
We like to use an Italian twist for our squash - you know the drill -- oregano, basil, maybe a dab of pesto, etc. But again, this is what makes these cook-outdoor sides so much fun; Season them however you like!
Does your family like a spicy kick? Sprinkle on some cayenne pepper. Go for whatever makes you and yours happy!
This post contains affiliate links. Click here for our full privacy and disclosure policy.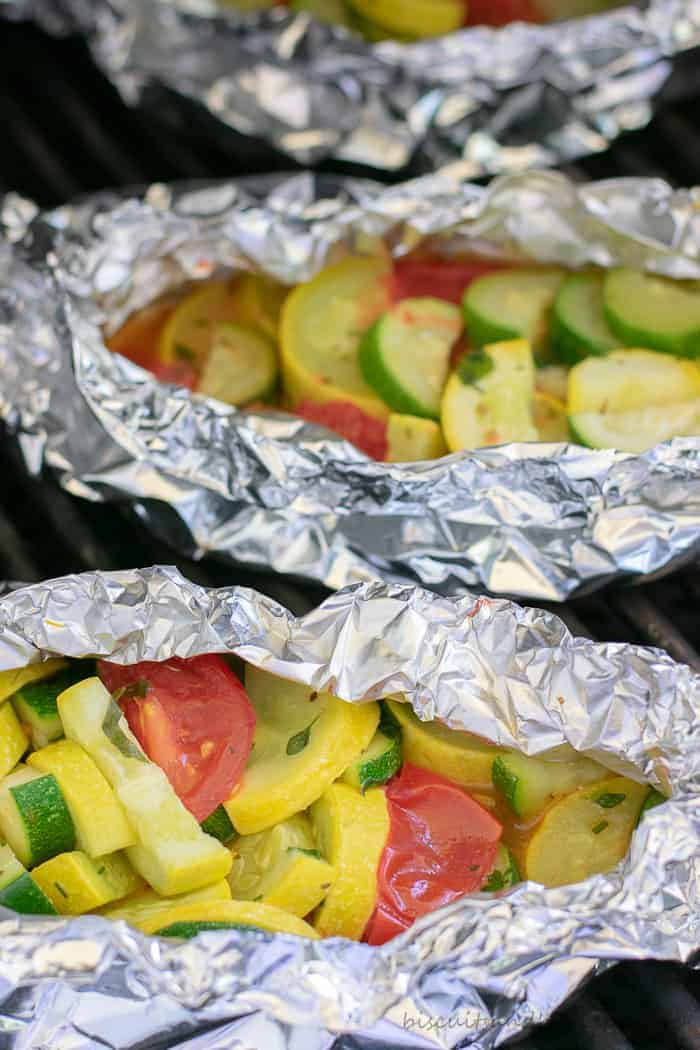 Tips for making great veggie packs:
keep portions small - 1 or 2 servings per pack
leave some air space above the veggies in the pack for shaking
serve with a slotted spoon if your vegetables produce water
cook with the grill covered if possible
undercooked is better than overcooked - you can always put them back on the fire
These aluminum foil sheets would be just right for individual servings.
Perfect to go with grilled meats:
Meat on the grill will typically take longer than vegetables, so just have your foil packs ready to throw on as the meat comes off to rest and the grill is hot. Our go-to grilled meat recipes are Bourbon Glazed Cajun Beef Tenderloin and Barbecue Pork, but you may have your own favorites.
Need a starchy side to round out the meal? Our Iron Skillet Potatoes are designed to be cooked on the grill too. Boom! Truly an entire meal is cooked outside.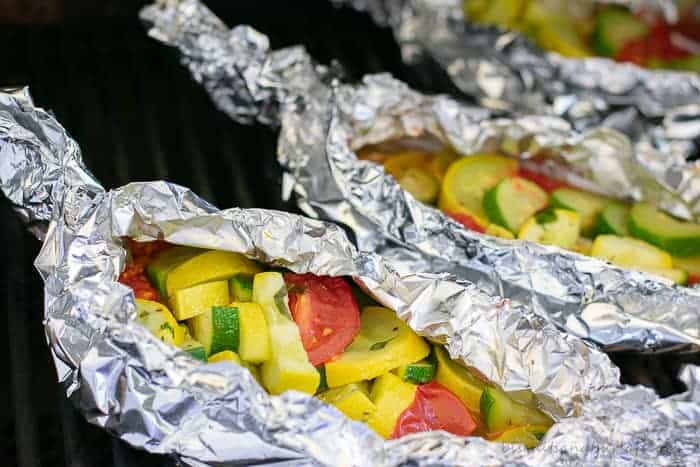 📖 Recipe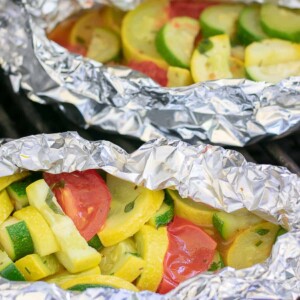 Veggie Foil Packs
Toss Veggie Foil Packs on the grill when the meat is done. It's a great way to cook your entire meal outside.
Ingredients
2.5

cups

zucchini slices

2.5

cups

yellow squash slices

1

cup

tomatoes

cut into bite sized pieces

2

teaspoons

extra virgin olive oil

½

teaspoon

salt

2

Tablespoons

fresh herbs, chopped

¼

cup

onions, chopped

optional

½

clove

garlic, chopped

optional
Instructions
Toss all ingredients together in bowl.

Divide in ½ and place each half in an approximately 13x18 inch piece of aluminum foil. Fold closed, leaving air space above vegetables.

Cook over medium grill about 5 minutes and then shake gently.

Cook additional 5 minutes.
Leave us a comment and let us know how you make this recipe your own. What veggies are you using? What's your favorite way to season? We'd love to hear from you.
Don't forget to sign up for our weekly updates. You can do that right here.

Love to grill? Us too. Check out all of these great recipes.