Detailed instructions and recipe for Barbecue Pork. This BBQ is slow cooked on a smoker/grill and the results will earn you the title "Grill Master"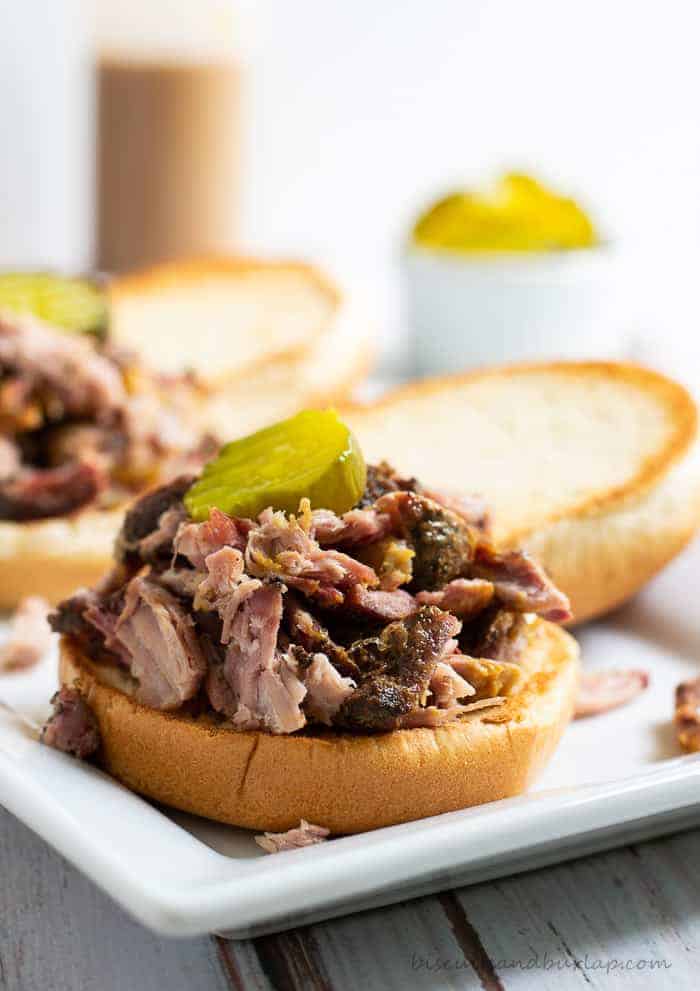 If you want to get Southerners fired up just ask them this question. "What is the best Barbecue around?" Everybody has an opinion, and the truth is, there are lots of good barbecues — some pork, some chicken, some beef. They are cooked in smokers, charcoal grills, pits in the ground — yobu name it. To us "barbecue" means barbecue pork.
For a look at Southern Food traditions and where they came from, what they mean, and where they're going you'll want to read Southern Food Then & Now.
Barbecue Sauce
And then there is the sauce. There's ketchup based, mustard based, vinegar based. Heck, I've even heard they make white bbq sauce over in Alabama. I like most all of them, though I've never tried the white.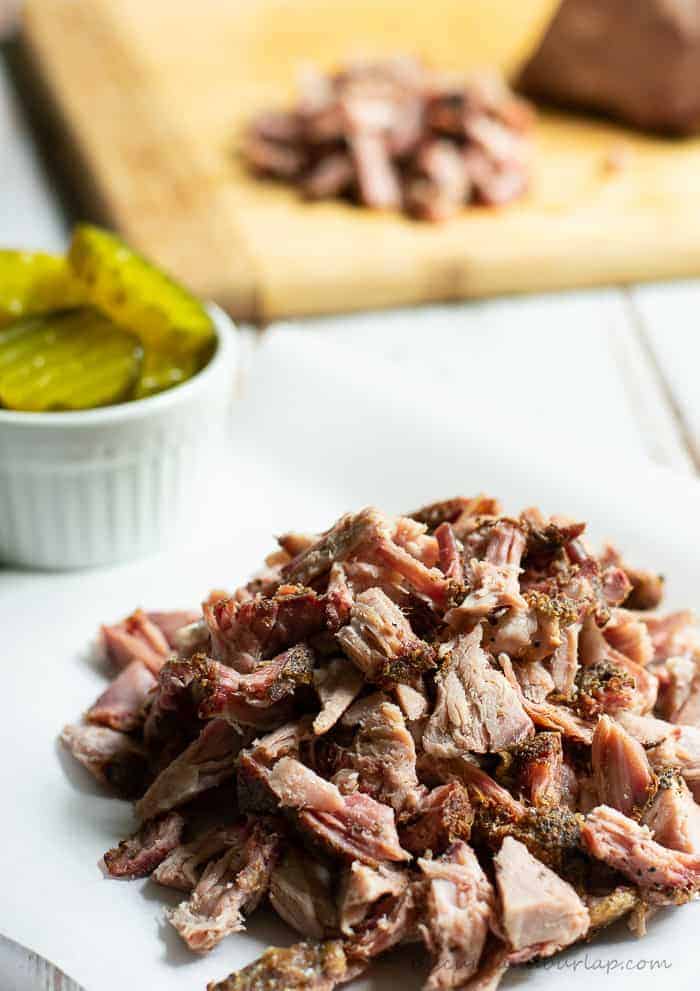 We prefer a mustard (and ketchup) based sauce. Buddy and his brother, David, got the recipe many, many years ago from a lady who ran a barbecue joint in our hometown, Columbus, Georgia. The recipe card for the sauce is beneath the card for the pork, if you scroll on down.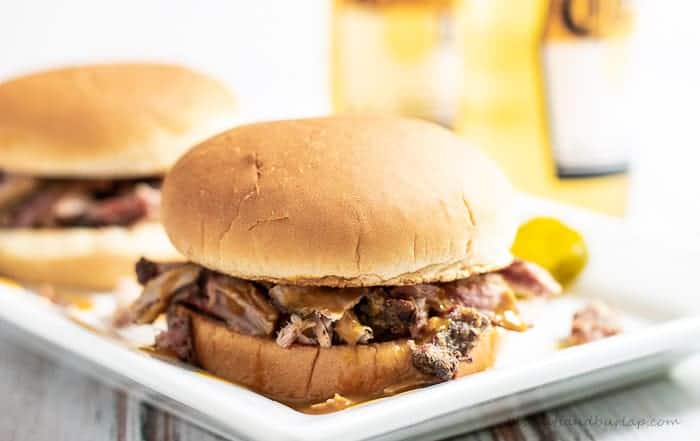 Are you getting our newsletters? You can sign up here and then you'll never miss a new recipe, project or shenanigan.
Columbus, Georgia and Phenix City, Alabama (which sits right across the river) have some of the best pork bbq you've ever tasted. There are a few mom-and-pop places in the area that have been in business over 50 years. They mostly cook over hickory wood in that area. Apple wood is our favorite, but hickory is good, as is mesquite (hello Texas).
Now, buckle up, because what we have for you here is absolutely the best way to cook pork barbecue on a charcoal grill.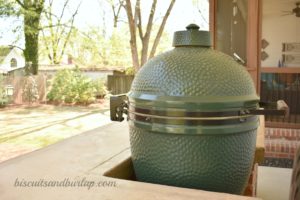 Tips for Making the Best Barbecue Pork:
This post contains affiliate links for your convenience. Click here to read our full disclosure policy.
We cook our barbeque pork on a Big Green Egg, but a Kamado Joe grill, (or any similar ceramic grill) should produce delicious results
Boston Butt is our preferred cut of meat
If you cut your roast into 2 or 3 smaller pieces it gives you more outside meat, or "bark"
Cooking on a V rack keeps the meet off the grill surface, and cooking more indirectly
Soak wood chips in water for 8-12 hours to produce the best smoke
Cooking long and slow cooks out more fat, which produces a leaner meat than typical Boston Butt
The best side dishes ever for your Barbecued Pork? Traditional Southern Style Baked Beans and Macaroni and Cheese like Mama Made. If you're having a salad, try Barbecue Salad Dressing to tie the meal together.
If you like handing a side dish over to the guy or gal at the grill Smoked Vegetables is a perfect option.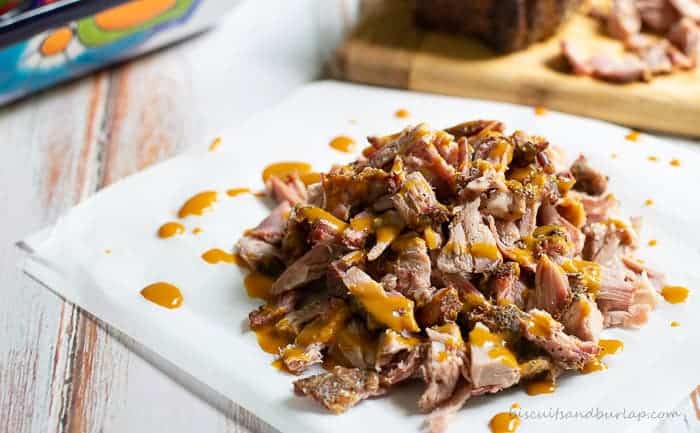 If you love all things smoky like we do you'll want to check out the amazing flavor of Smoked Mac & Cheese and Smoked Baked Beans. It gets rave reviews everytime it's made. The smoker temperature needed is just right for cooking it alongside this pork.
This recipe made the suggested list for the Backyard BBQ Menu Ideas. You'll want to visit for lots of other recipes as well as tips, tricks and planning help for your cookout.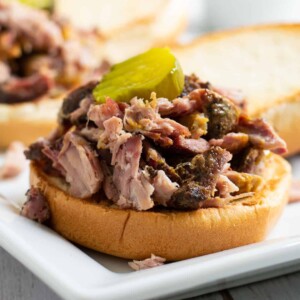 Barbecue Pork
Old southern style barbecue pork, cooked on a smoker.
Ingredients
5-7

pounds

Boston Butt Pork Roast

Butt Rub Seasoning, to taste

Wood chips, soaked in water 8-12 hours

Your favorite sauce
Instructions
Cut roast into 2 pieces (3 if it's large)

Press butt rub into all sides of roast pieces.

Allow charcoal fire to burn until evenly covered with a light ash.

Wait until temperature gauge of grill reads 250 degrees.

Put seasoned meat on V rack over indirect heat.

Use a drip pan under meat to catch drippings.

Cook 6 to 8 hours or until meat thermometer reads 160 degrees.

Chop meat as finely as you prefer.

Service with your favorite sauce.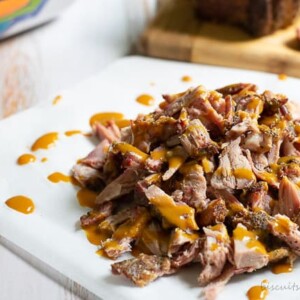 Barbecue Sauce
A mustard based, medium barbecue sauce that is delicious on pork or chicken.
Ingredients
1

cup

ketchup

2

cups

mustard

1

lemon, squeezed

1

cup

worcestershire sauce

hot sauce, to taste

2

cups

apple cider vinegar
Instructions
Mix all ingredients well.

Store leftovers covered and refrigerated.
Notes
Name brand ingredients are not necessary. In fact, our opinion is that the store brand, thinner ketchup and mustard worked best.
When the pork is done and the grill is still hot throw on Veggie Foil Packs for an easy cook-outdoors side dish.
Did you know barbecue can be used in appetizers? Everyone will love these Southern Appetizers with Barbecue and Cheese Grits
Products Needed for Grilling Barbecue Pork
Don't forget to sign up for our newsletters right here.
More Biscuits and Burlap Recipes for the Grill