We've all seen the commercials, but you know when you unwrap that bacon bourbon cheeseburger you're just going to be disappointed. Skip the drive-thru and make your own!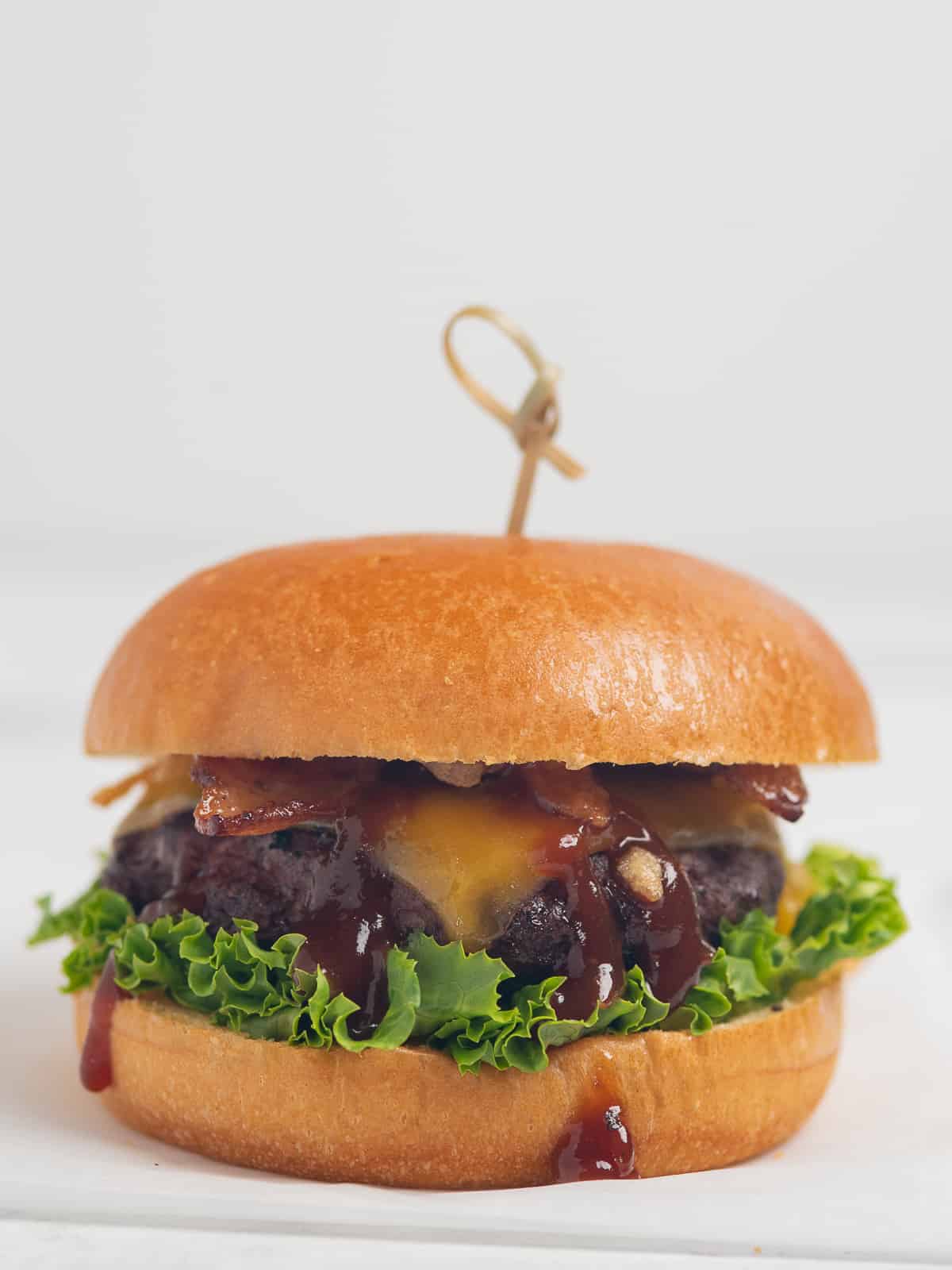 If you know us, you know neither one of us have ever been really into fast food. But every once in a while, I see a commerical that makes me go "ooooh!" The Wendy's Bourbon Bacon Cheeseburger commercial was like that.
I went to Wendy's a few days later and proudly ordered it. The ingredients sound fantastic. Bourbon barbecue sauce, crispy onions, bacon, cheese... how could it go wrong?
Well, I received my burger, unwrapped it, took a bite, and it was... fine. I'm not going to rag on Wendy's. It wasn't bad! It was fine. But surely we can do better than fine.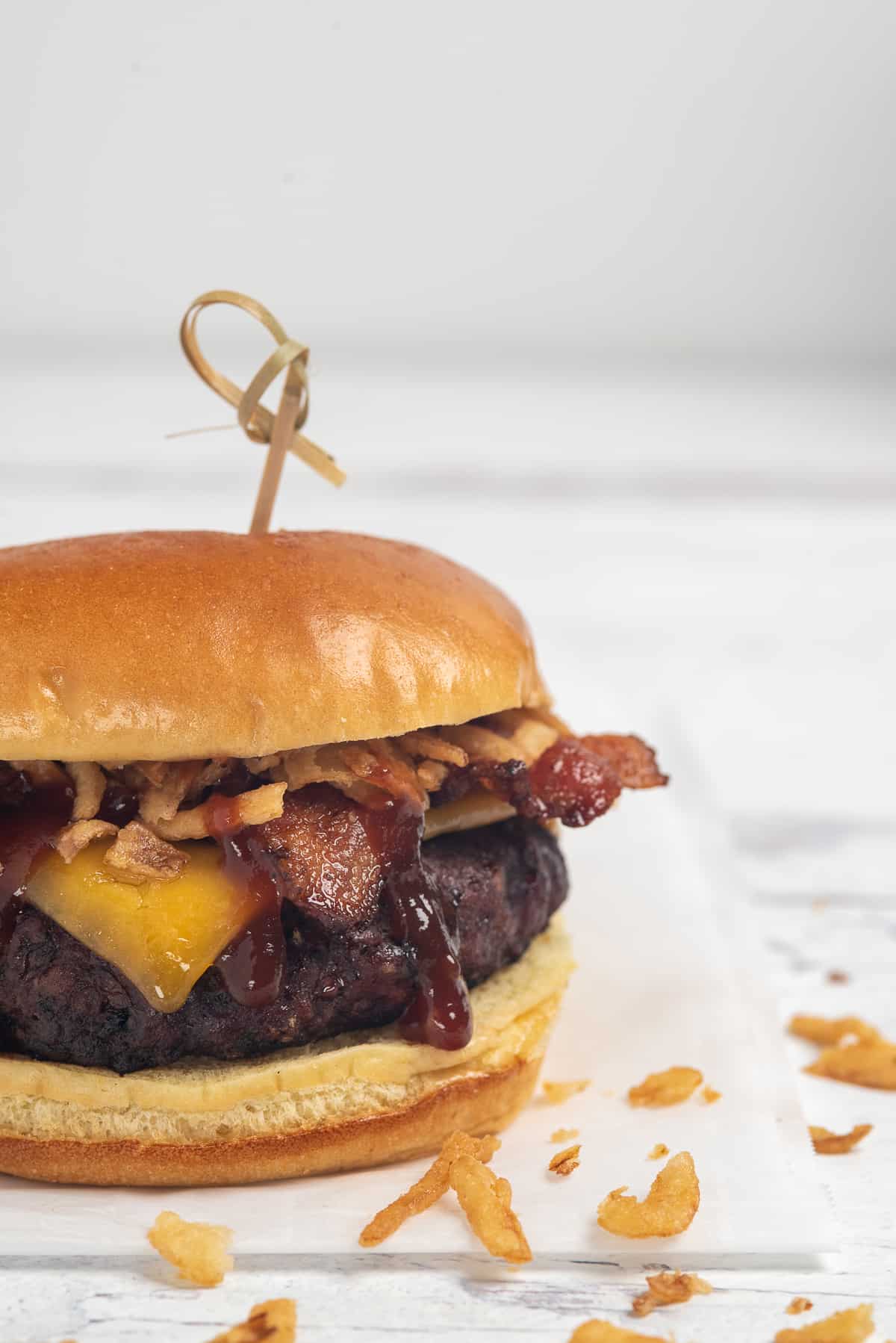 That's why we decided to do this remake. It isn't really all that different from the original- a sweet and smoky bourbon BBQ sauce, a grilled burger, crispy onions, bacon and cheese on a brioche bun.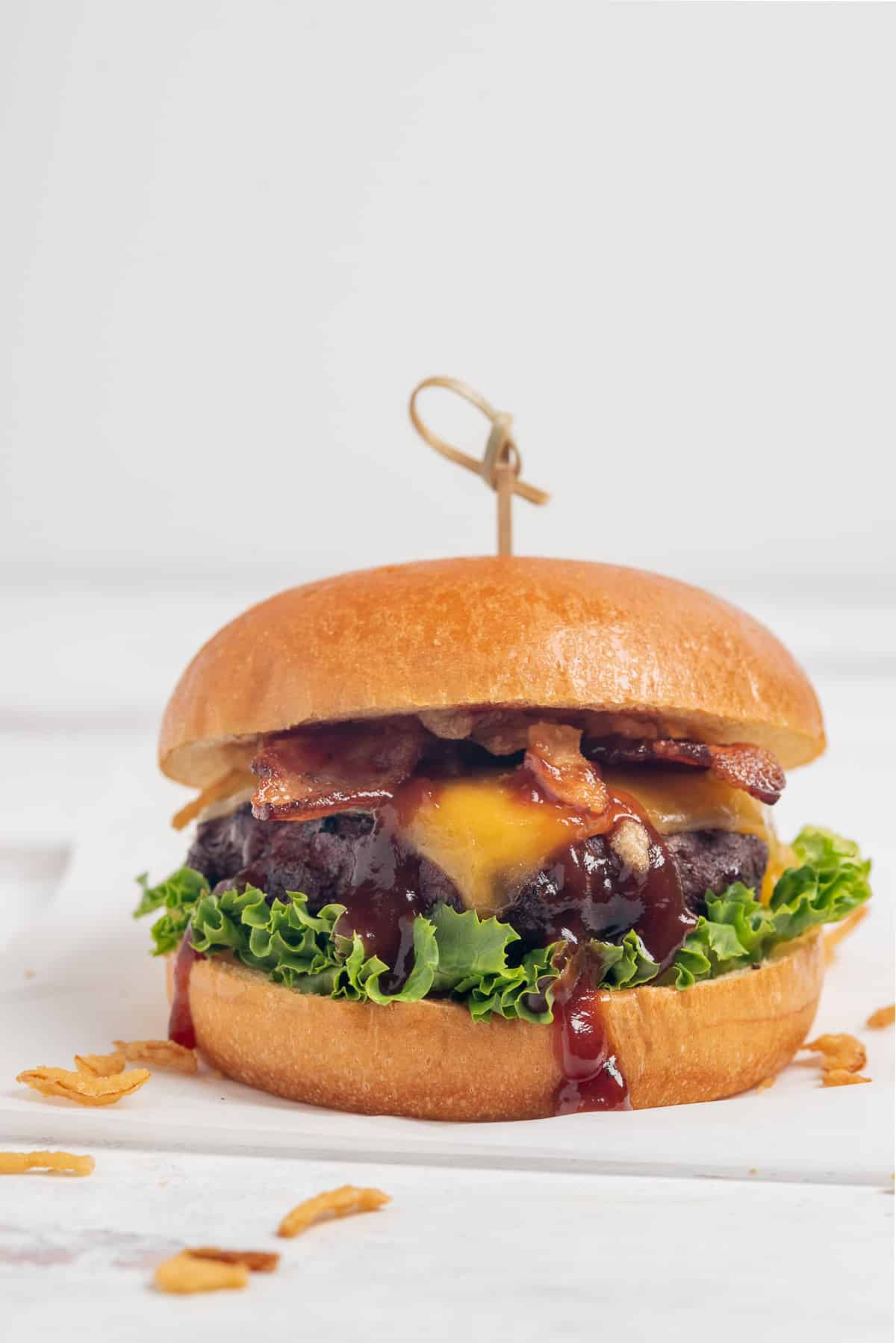 How can I make it even better?
On its own, there's not much healthy about this burger and you're not going to do much to change that. You can absolutely add lettuce and tomatoes, though!
We opted to use real cheddar cheese here instead of "that other stuff" but you could also fancy it up by using other types of cheese. I think a good pepper jack would be amazing on this!
I also didn't provide any instruction below for how to cook the burger because that is so much a matter of taste. We like our burgers simple with just a little Worcestershire sauce mixed in with the meat, seasoned with salt and pepper and cooked to medium over charcoal. You can make your burger however you prefer!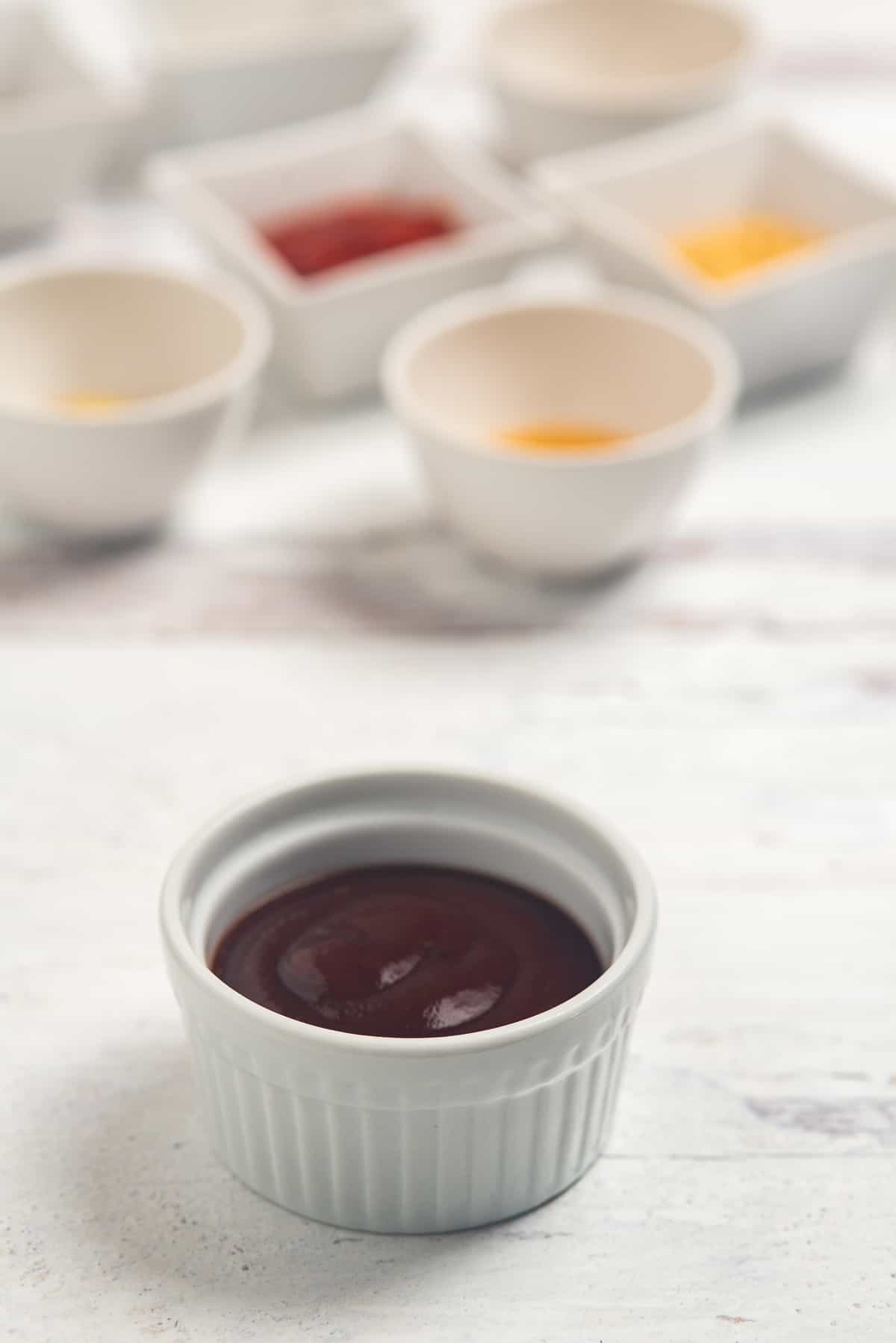 How do I make bourbon barbecue sauce?
We love this sauce because it has a hint of a bourbon flavor and isn't too sweet like other barbecue sauces. On a smoked Boston butt we prefer a Georgia Mustard BBQ Sauce, but for a burger it's bourbon BBQ all the way!
The image below has all the ingredients you need to whip up this sauce... Just ketchup, dijon, bourbon, worcestershire, apple cider vinegar, brown sugar, onion powder, and a dash of liquid smoke and the flavors come together beautifully.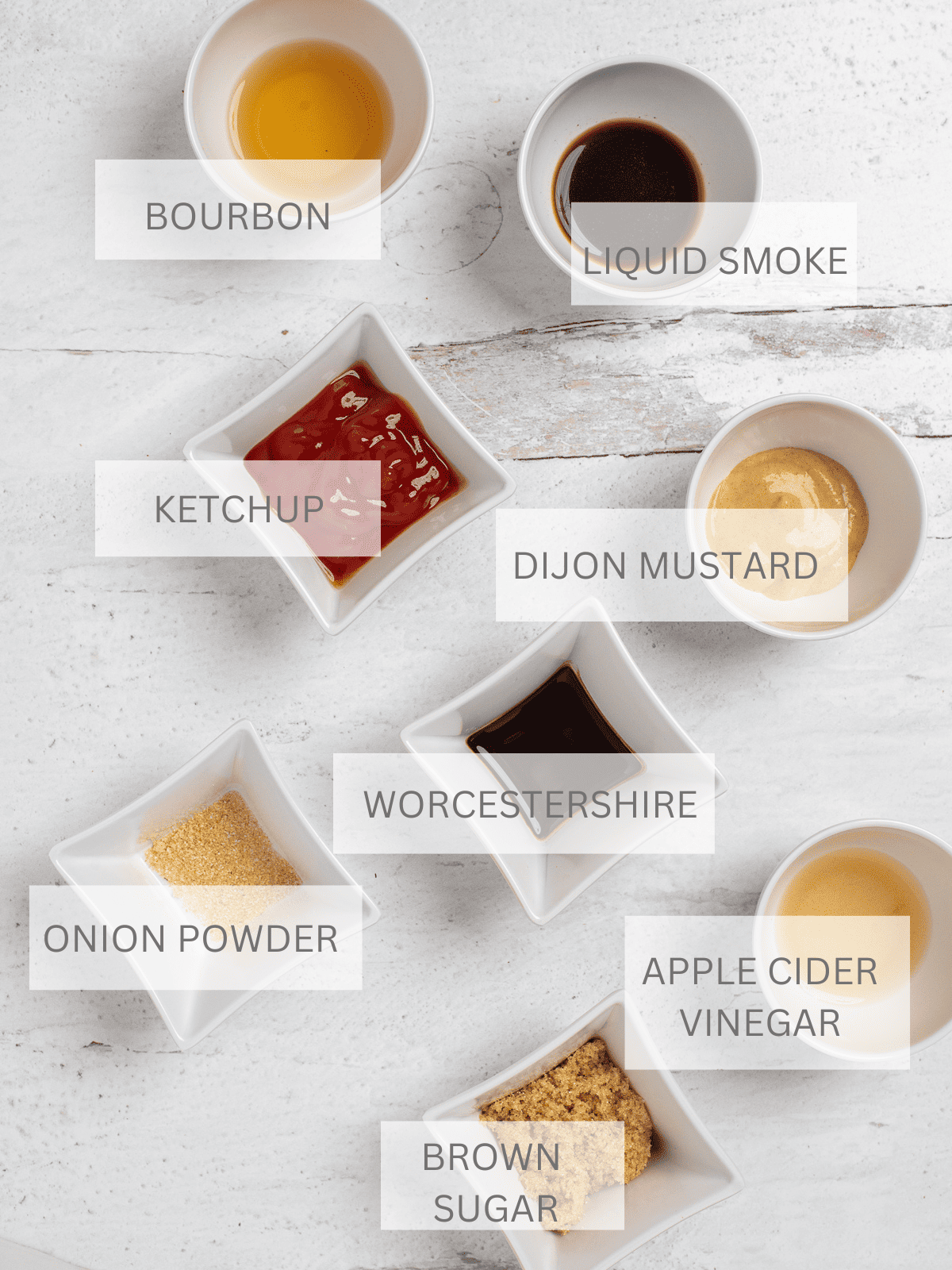 Combine the ingredients in a small saucepan. Bring the mixture to a boil over medium high heat stirring occasionally. Then lower it to a simmer and let the mixture reduce for 10-15 minutes. You've now got yourself an amazing bourbon barbecue sauce!
If you love cooking with bourbon like we do, we've got a whole collection of recipes that use bourbon. There's Honey Bourbon Chicken, Banana Bread Bundt Cake, Bourbon Peppercorn Sauce and so much more to choose from. And of course, don't forget to serve these recipes with a cocktail!
A fun web story on this recipe can be found here.
How long will homemade barbecue sauce keep?
You can store this sauce in the fridge for 1-2 weeks in an airtight container.
📖 Recipe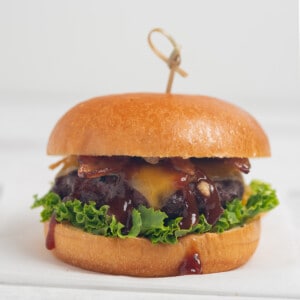 Bourbon Bacon Cheeseburger
Skip the drive-thru and make your own Bourbon Bacon Cheeseburger right at home with real ingredients and a delicious homemade BBQ sauce.
Ingredients
Bourbon Bacon Cheeseburger
4

brioche hamburger buns

4

hamburger patties

cooked as desired

4

slices

cheddar cheese

¼

cup

crispy fried onions

8

slices

bacon

cooked

¼

cup

bourbon barbecue sauce
Instructions
Bourbon Barbecue Sauce
Combine all barbecue sauce ingredients in a small saucepan and stir until well combined.

Bring to a boil over medium-high heat, stirring occasionally. Reduce to low. Simmer 10-15 minutes, or until mixture reduces slightly.
Bourbon Bacon Cheeseburger
Divide the 4 burger patties between 4 brioche buns. Add a slice of cheddar cheese to each burger.

Top each burger with a tablespoon of crispy fried onions and 2 slices of bacon. Add 1 tablespoon of bourbon barbecue sauce on each one before adding the top bun.
Notes
Recipe makes 1 cup of bourbon barbecue sauce, which enough for 16 burgers. 

More recipes for the cookout