This is a buttery bourbon peppercorn sauce that is easy to make and highlights the flavor of the steak beautifully without overpowering.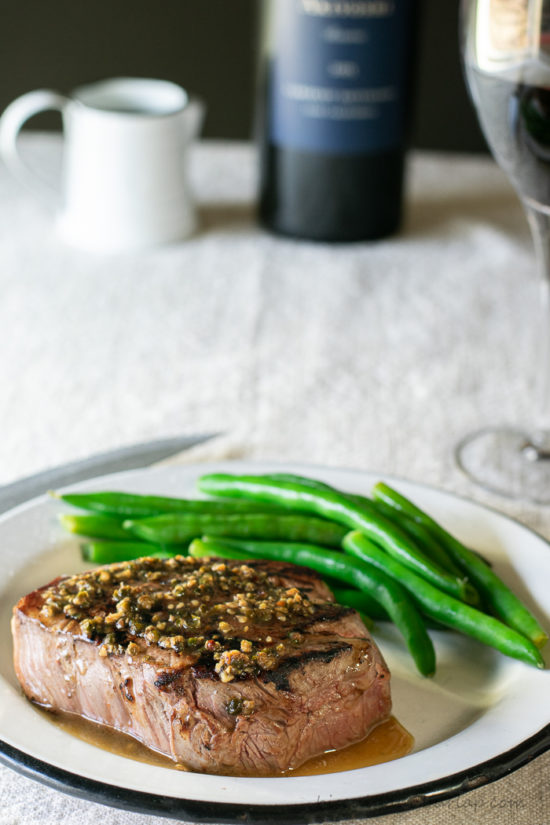 This makes a perfect meal for two
As I'm writing this it's just a few weeks before Valentines Day. I don't know about y'all, but in recent years we mostly prefer to have a special meal at home rather than fighting the crowds.
While this filet mignon recipe can easily be doubled, tripled, or more, it is ideal for any occasion when you want a memorable meal for just the two of you.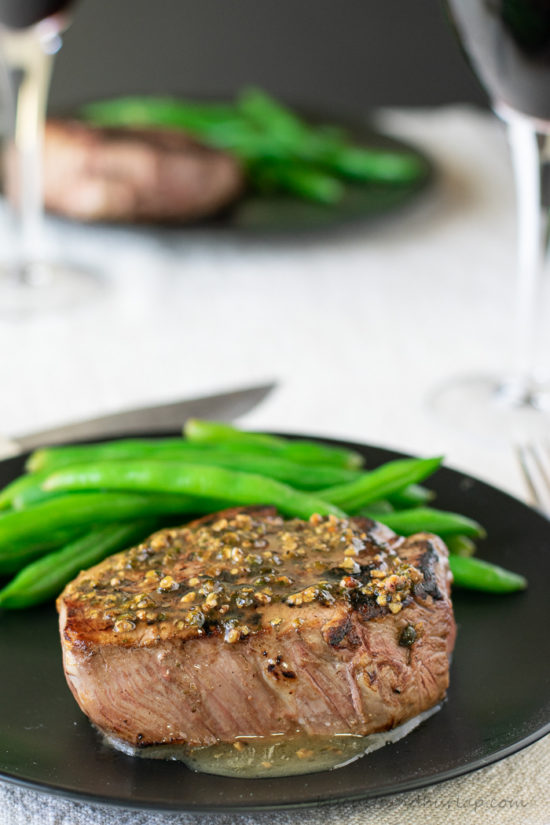 Add a bottle of wine to the table, and a bright veggie like green beans, asparagus or broccoli, and you've got a dinner that will rival anything you can get in a restaurant.
About the filet mignon sauce
It's easy to make for starters. With only five ingredients you'll have it put together in no time.
It starts with bourbon (a signature ingredient around here) and then gets a lightly sweet touch from brown sugar. Add to that some crushed green peppercorns and a hefty dose of butter. Finish with a bit of salt.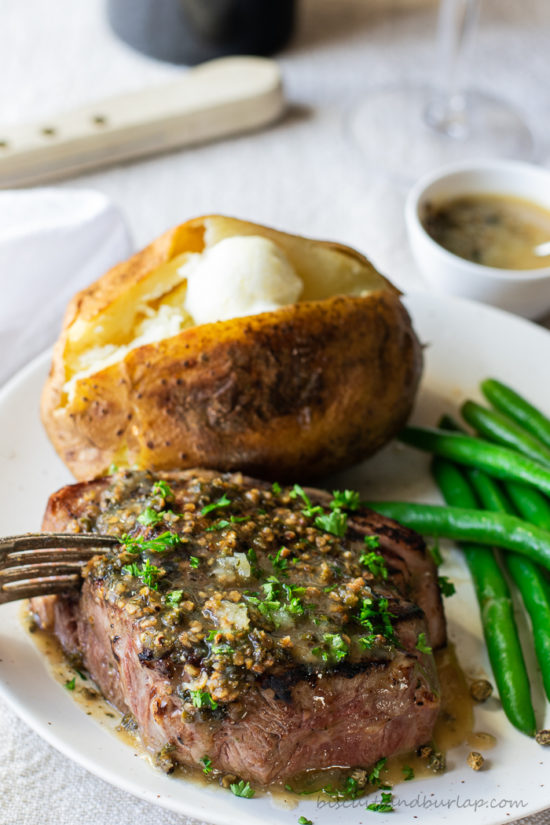 This butter sauce for filet mignon is a lovely addition that you can pour over the steak and then sprinkle with a little parsley if you like, or.... you can serve it in a small bowl on the side and let each person dip or pour as they choose.
The idea of cooking with bourbon is a popular one in the south. Read more about southern recipes and their origins in Southern Food Then and Now.
We've also got a Creole Butter recipe for steak that you'll want to try, too. It's made to place a scoop on the hot steak when it comes off the grill or pan.
How to cook filet mignon
We've been experimenting with different methods to cook steak and we have come up with a foolproof way. For lack of a better term I'm calling it reverse reverse sear filet mignon. I'll explain:
The traditional way to cook steaks is to sear both sides over high heat and then cook quickly. The problem comes with the short window of time to pull the steak off at the desired doneness.
Enter the reverse sear method, which we used in the Creole Butter post mentioned above. You cook the steak slowly at a low temperature (grill or oven) with a thermometer inserted in the middle until it is about ten to fifteen degrees before desired doneness. The steak is then seared at high heat to finish.
I'm sharing a photo here from the Creole Butter for Steak post to show you how we insert the thermometer probe into the side of the steak to make sure it's right in the middle.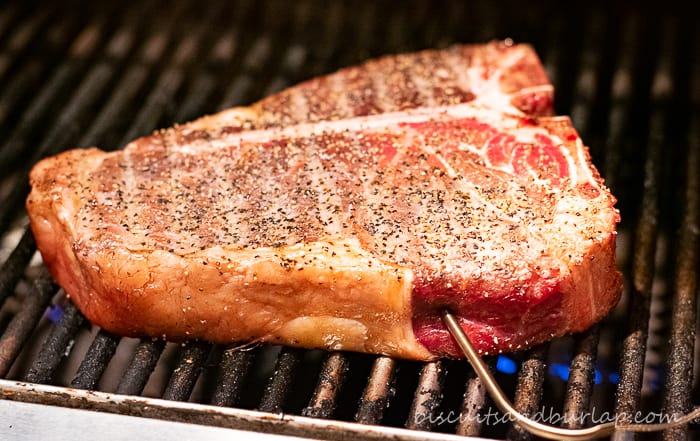 Our reverse-reverse method gives even greater control. Sear the steak first and then cook low and slow with the thermometer inserted. Now you can cook until it is the exact temperature you want! Genius, right?
We've dedicated an entire post to the method - all the details for Reverse Reverse Seared Steaks can be found there, but it really is easy and foolproof.
Steaks can be grilled or cooked in the oven
You can sear your steak either in an iron skillet on the stove top, or on the grill with the temperature cranked up high. Then you can cook it either in your oven or on the grill at a low temperature (about 250 degrees) until the desired temperature is reached.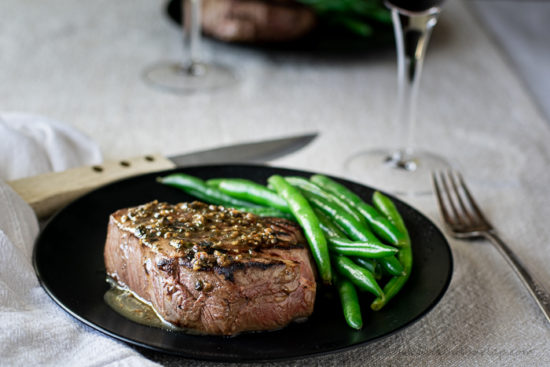 📖 Recipe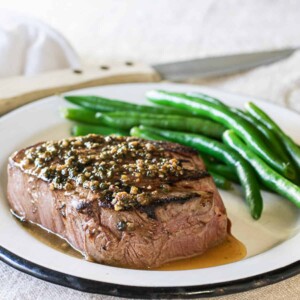 Bourbon Peppercorn Sauce
This is a buttery bourbon peppercorn sauce that is easy to make and highlights the flavor of the steak beautifully without overpowering.
Instructions
Heat bourbon over medium heat about 3 minutes to reduce slightly.

Add brown sugar, stirring to dissolve.

Reduce heat to medium low and add peppercorns.

Add butter, stirring until melted.
Nutrition
Calories:
196
kcal
Carbohydrates:
7
g
Protein:
1
g
Fat:
12
g
Saturated Fat:
8
g
Polyunsaturated Fat:
1
g
Monounsaturated Fat:
3
g
Trans Fat:
1
g
Cholesterol:
32
mg
Sodium:
431
mg
Potassium:
47
mg
Sugar:
7
g
Vitamin A:
369
IU
Calcium:
10
mg
Iron:
1
mg
Pro tips for making the best filet mignon sauce:
Crush peppercorns in a sturdy plastic bag with a mallet (a sandwich bag is too lightweight)
Cutting butter into pieces will allow it to melt evenly and quickly
If time allows make the sauce an hour or so ahead and then turn off the heat. This will allow the peppercorns to permeate the sauce. Reheat when time to serve.
Tools we use for making the sauce and our unique method of cooking steak:
This post contains affiliate links, which means if you click on an affiliate link and buy something, we may receive a very small commission.  It does NOT result in additional charges to you or cost you anything extra. Click here for our full privacy and disclosure policy. As an Amazon associate we earn from qualifying purchases.
Tools we used for making the sauce:
If you make this or any of our recipes we'd love for you to leave us a comment and star rating. If you're into sharing your creations, snap a photo and tag us when you post it to Facebook or Instagram.

More southern recipes you'll want to try: