Apple cheesecake with pecans is a favorite of both our family and our readers. It's a beautiful crowd-pleaser that  you'll get asked to make year after year. It's perfect for Halloween, Thanksgiving and Christmas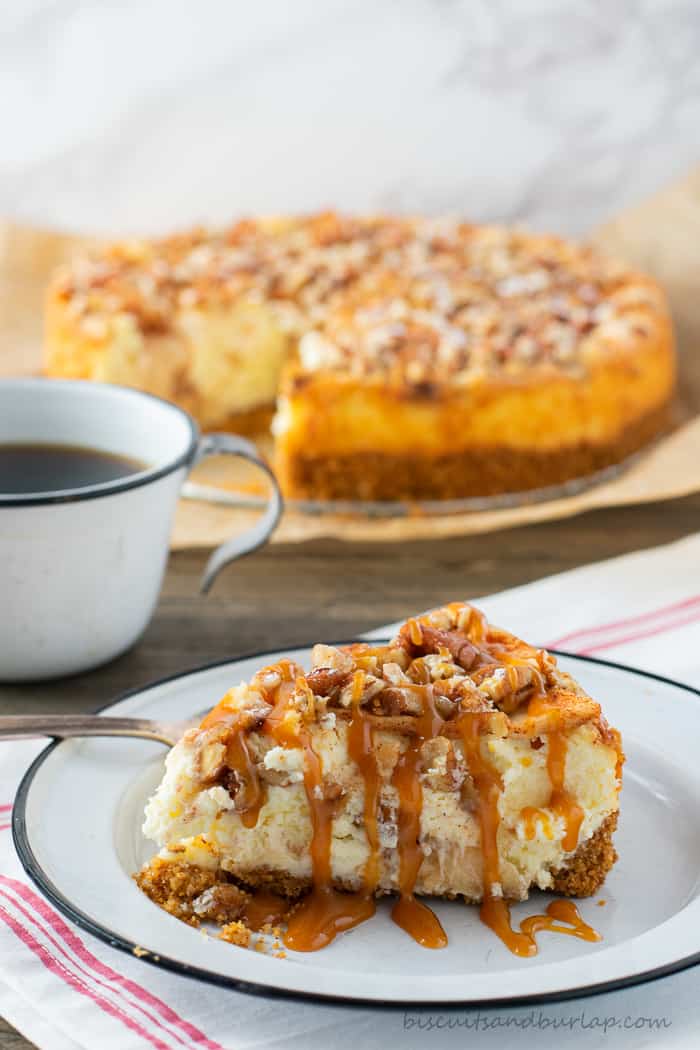 Apple Cheesecake with Pecans is a show-stopping dessert that will impress everyone. It's rich and full of flavors that are perfect for those fall and winter meals when you need something special.
Made from pure and simple ingredients this cheesecake sits on a crust made unique with finely chopped pecans and a touch of cinnamon. A basic cheesecake layer tops that and then comes the crowning glory.
Apple slices which have been tossed with cinnamon sugar can be arranged on top any way you like. Add a final sprinkle of pecans and into the oven it goes.
Our best pecan recipes are compiled in one place right here!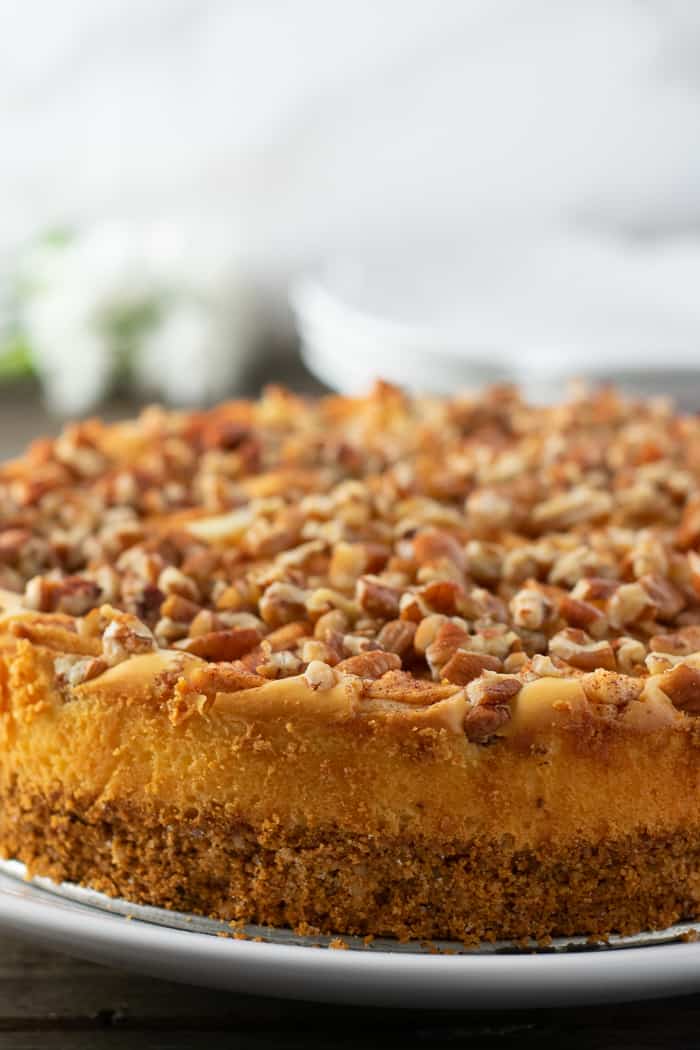 For another fun and easy recipe featuring this perfect combination you'll want to try Chicken Salad with Apples and Pecans. It's a chicken salad that goes right into fall.
Additional toppings for Apple Pecan Cheesecake
It's absolutely fabulous just like it is with nothing else on top and that's the way we usually serve it. Of course, you can never go wrong with a big ol' dollop of whipped cream.
This post contains affiliate links, which means if you click on an affiliate link and buy something, we may receive a very small commission.  It does NOT result in additional charges to you or cost you anything extra. Click here for our full privacy and disclosure policy. As an Amazon associate we earn from qualifying purchases.
For an bit of extra indulgence drizzle your apple cheesecake with a good quality salted caramel sauce like this one from Ghirardelli. It's really hard to go wrong with apples, cream cheese, pecans and caramel.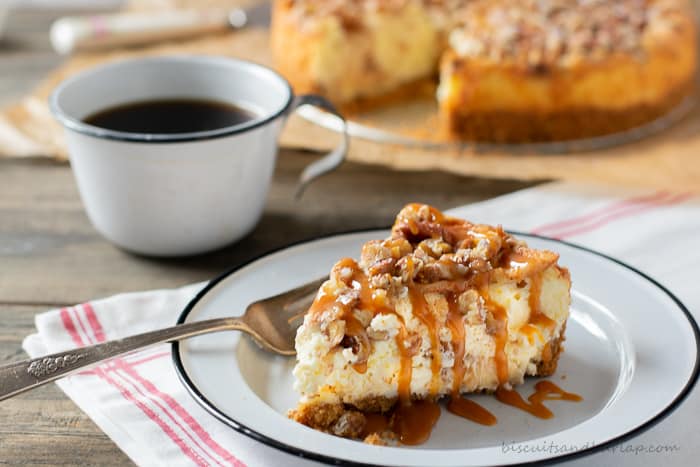 Are you getting our newsletters? That's the best way to get new recipes. We won't overdo it. We promise.
Southern Food Then and Now is all about traditions, regions and the origins of our favorite cuisine!
I'll waste no time here… On to the recipe! If you try it, be sure to comment and let us know what you think and snap a picture and tag us on Instagram!

Apple Pecan Cheesecake
Apple pecan cheesecake is a favorite of both our family and our reader. It's a beautiful crowd-pleaser that  you'll get asked to make year after year. It's perfect for Halloween, Thanksgiving and Christmas.
Ingredients
For the crust:
For the topping:
2

large apples

thinly sliced

⅓

c

sugar

½

t

cinnamon

½

c

pecans
Instructions
First, heat your oven to 325. For the crust, mix together the pecans, cinnamon, and butter. Press mixture into the bottom of a 9-inch spring-form pan. Bake for 10 minutes.

For the filling, mix (with a beater) the cream cheese, sugar, vanilla, and eggs. Pour over crust.

For the topping, mix the remaining sugar and cinnamon. Toss apples in the mixture to coat. Arrange apples on top of the filling and sprinkle with remaining pecans.

Bake 1 hour 20 to 1 hour 30 or until center is nearly set. Let cool for 10 minutes before running a knife around the rim to loosen cake before removing rim. Refrigerate 4 hours.
Notes
Use a firm cooking apple such as granny smith or honeycrisp
Want more Southern desserts like this one? Sure you do.