This no bake peach mango pie uses fresh fruit and is easy, creamy, and the perfect dessert for any summer gathering!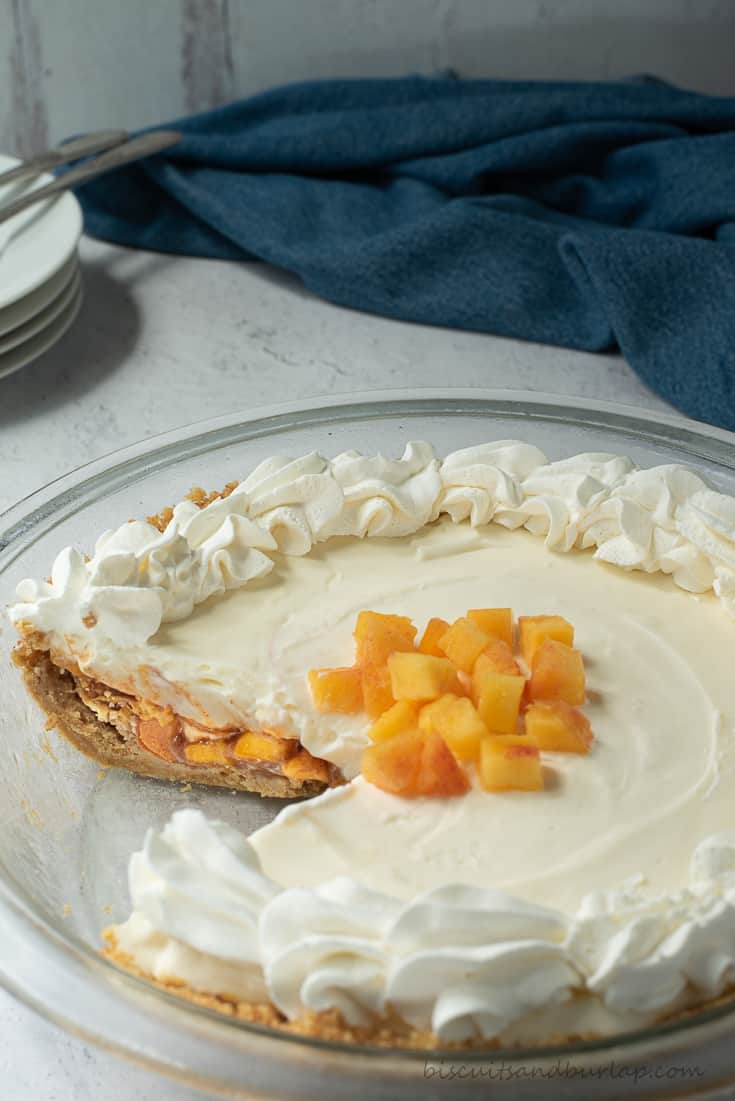 Peach pie is one of those quintessentially Southern desserts that no one can pass up. We decided to make a peach pie that not only has tropical flavors with the addition of mango, but that is also of the no-bake variety.
Why no-bake? Two reasons: the first is that it's summer and heating up the house with the oven sounds horrible right now. The second is that, despite being one of the two bloggers here at Biscuits & Burlap, I don't bake. Not biscuits, not bread, and not pie. And so, our no-bake peach mango pie was born!
Now, before you go any further let's be clear. We do have a baker on team B&B. Mom has created lots of baking recipes, and if you're after something along those lines to make with your fresh peaches you'll want to try this easy Peach Bread. It's divine!
How to find ripe peaches
When peach season finally hits here in Georgia you can practically feel the excitement at the grocery stores and farmers markets. The first few peaches are approached with caution. They look beautiful , but give them a sniff.
A ripe peach like the ones your want for your peach mango pie can be smelled from yards away, but the ones that aren't quite ripe will only have a faint peachy smell when held to your nose.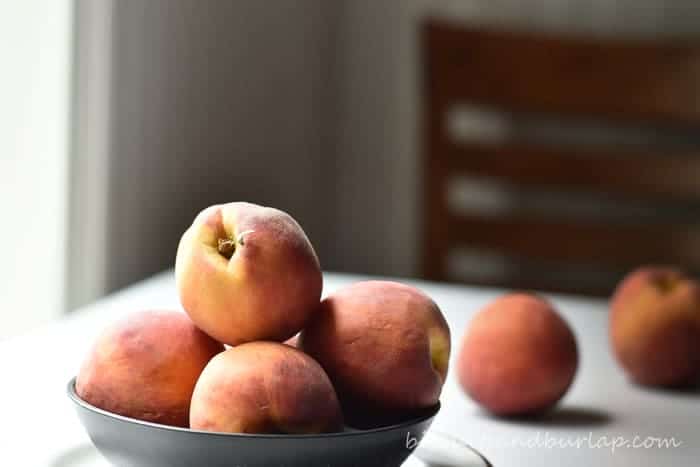 Have peaches been on the shelves for weeks and you still haven't found any ripe ones? Don't worry! Buy them anyway, take them home, and try this hack: Spread out a dish towel on your kitchen counter and put the peaches out on it, spreading them apart so they're not touching.
Check them every day for that wonderful peach smell... when they're tender and fragrant they're ready to go in your peach mango pie or to make chilled peach soup.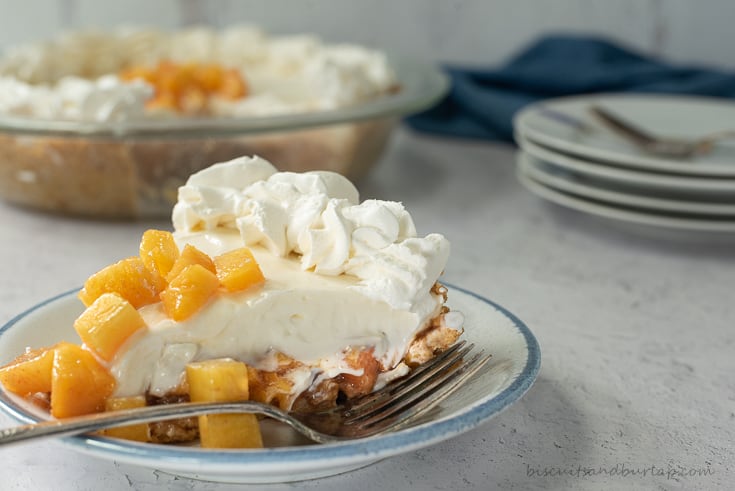 How do I tell if a mango is ripe?
Unless you live somewhere tropical where mangoes are available year-round, you've probably asked this question before. Even worse, you've probably made the mistake of buying a mango based on the color of it's skin and brought it home to discover the fruit to be hard, grainy, and having a slight piney taste.
Whether you buy the green and red variety or the kind with the golden yellow skin, there's one important way to tell if it's going to be sweet, juicy, and ready for a peach mango pie: Look for black rot spots in the skin. That's right! When the skin starts to get little black spots on it, you can be sure that the fruit inside is ready to go.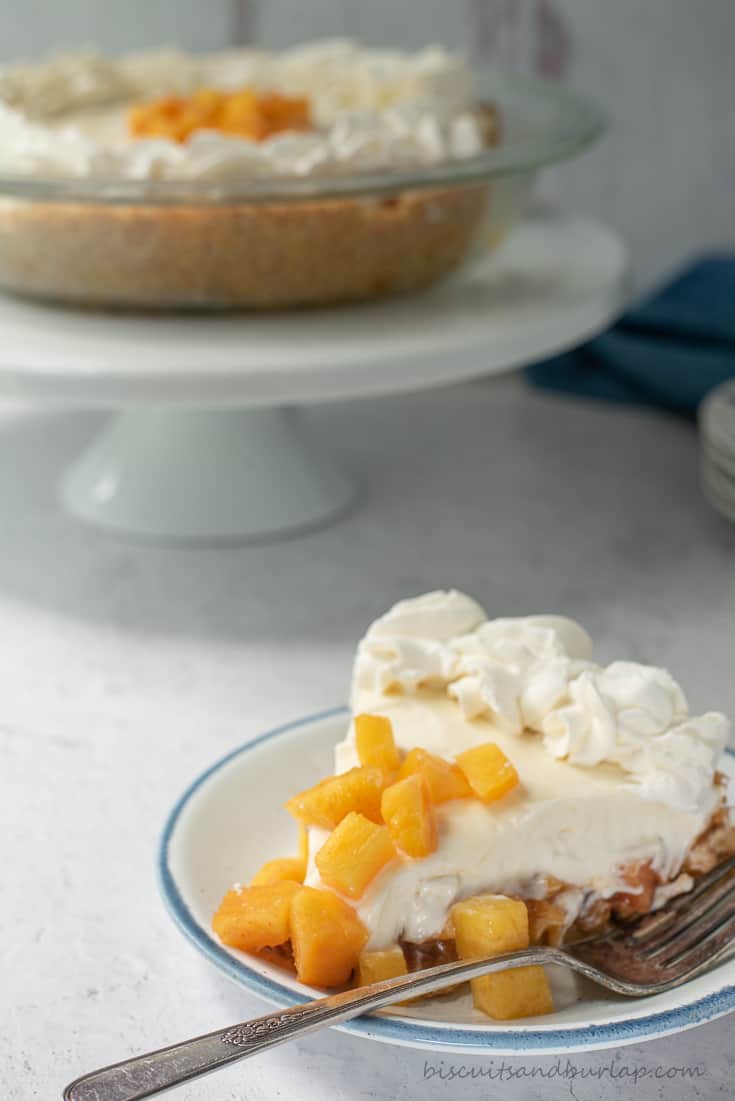 How to make peach mango pie
We're starting out our pie with a simple graham cracker crust pressed into the bottom of a pie pan. Top that with a mixture of peaches and mangoes cooked with brown sugar, cinnamon, and cloves and thickened up with a little corn starch. Make sure the fruit mixture is cooled off to room temperature before you add it in!
For the creamy topping on this peach mango pie I used the cheesecake-like mixture from our Mini Chocolate Chip Cheesecake Bites. Made with fresh whipped cream, cream cheese, and sugar, I subbed the vanilla extract from that recipe with almond extract because it compliments the peach and mango flavors so well!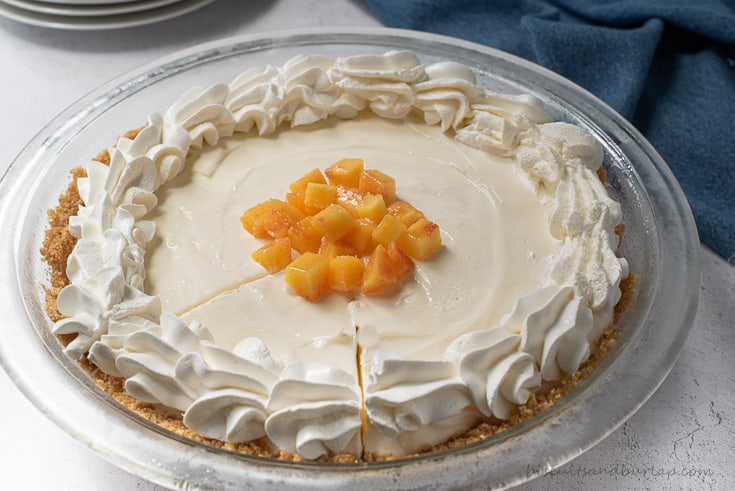 True baking is a science and I like to approach cooking as more of an art form. That's why I've developed this no-bake recipe for peach mango pie that is as easy as, well, pie.
Want to add more of the fruit and less of the creamy part? Go for it. Not crazy about almond extract? Switch it out for vanilla. Don't want cloves in your pie? Leave it out... do what makes you happy!
If you make this or any of our recipes we'd love for you to leave us a comment and star rating. If you're into sharing your creations, snap a photo and tag us when you post it to Facebook or Instagram.

📖 Recipe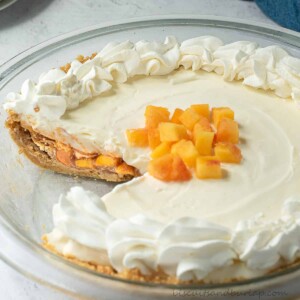 Peach Mango Pie
This no bake peach mango pie is easy, creamy, and perfect for summer!
Ingredients
3

peaches

thinly sliced, plus more for topping if desired

2

mangoes

peeled and thinly sliced

¼

cup

brown sugar

1

teaspoon

ground cinnamon

¼

teaspoon

ground cloves

1

tablespoon

cornstarch

2 ½

cups

graham cracker crumbs

8

tablespoon

butter

melted

8

oz

cream cheese

softened

½

cup

granulated sugar

1

tablespoon

almond extract

¾

cup

whipping cream

plus more for topping, if desired
Instructions
Combine the peaches, mangoes, brown sugar, cinnamon, and cloves in a medium sized saucepan. Mix the cornstarch with a tablespoon of water and add to the fruit. Cook over medium low heat for 8-10 minutes, or until fruit is soft, stirring occasionally. Remove from heat and let cool.

While the fruit is cooling, combined the butter and graham cracker crumbs in a medium bowl. Pressed evenly into a pie pan.

In a large bowl, combine the cream cheese, sugar, and almond extract and blend with a hand mixer until smooth.

In a separate bowl, beat the whipping cream until peaks form. Fold the whipped cream into the cream cheese mixture.

Once the fruit is cool, spread onto the crust. Top with the cream cheese mixture and refrigerate 3-4 hours or until firm. Decorate with extra peaches and whipped cream if desired.
Love peaches like we do? Don't miss these recipes!