Grilled Peaches are the perfect way to end a meal. Grilling brings out the divine flavor of summer's favorite fruit. This easy recipe is perfect for when you have a grill already hot from cooking your meat or seafood and veggies.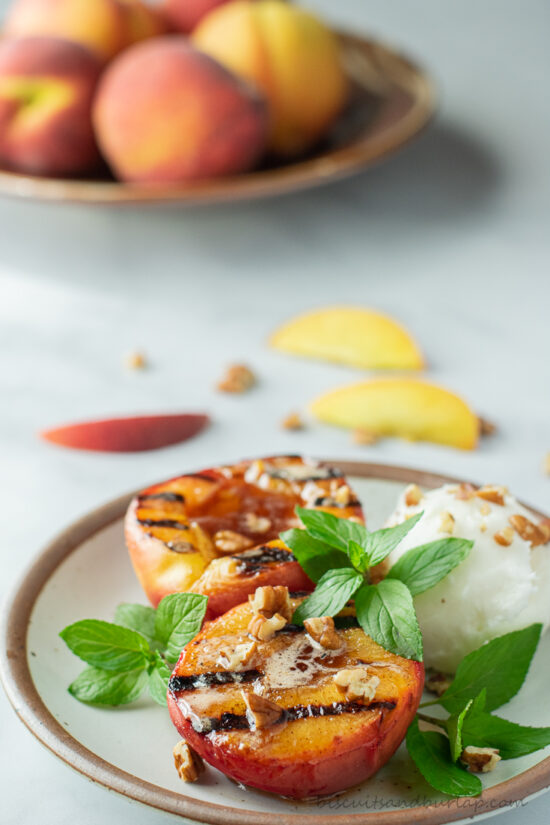 Shop local for peaches and more
It's peach season in the south and that's one of my favorite times of the year. Is there anything better than a sweet, fragrant, juicy peach? We think not.
We've got lots of peach recipes here on Biscuits & Burlap so you can have lots of variety. Peach Mango Pie has a different twist with mangoes added. And, Chilled Peach Soup is something you don't see everyday. Lots of people like it for wedding and baby showers!
We love to get our peaches from our local farmers market and we encourage you to shop local too. Support your area farmers and markets anytime you can.
Our very favorite peach farm is Pearson Farm and most every Saturday during the summer we can count on getting fresh, juicy peaches from Pearson's at our market.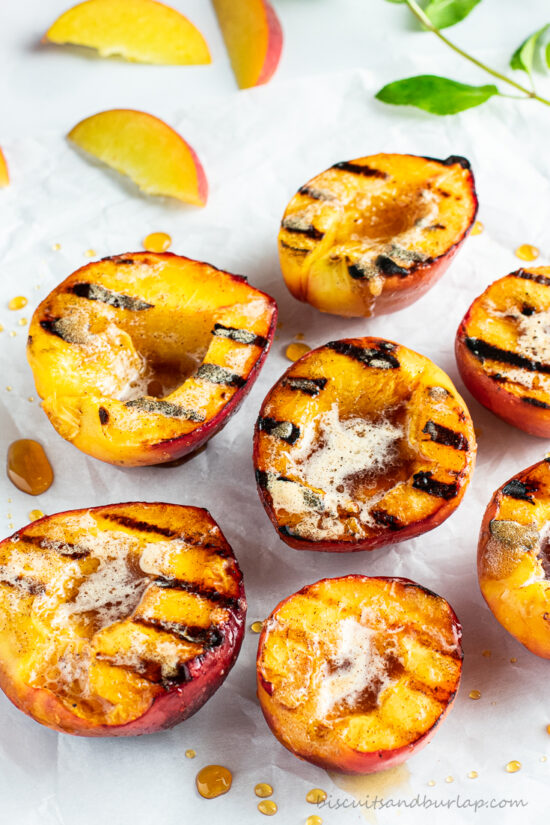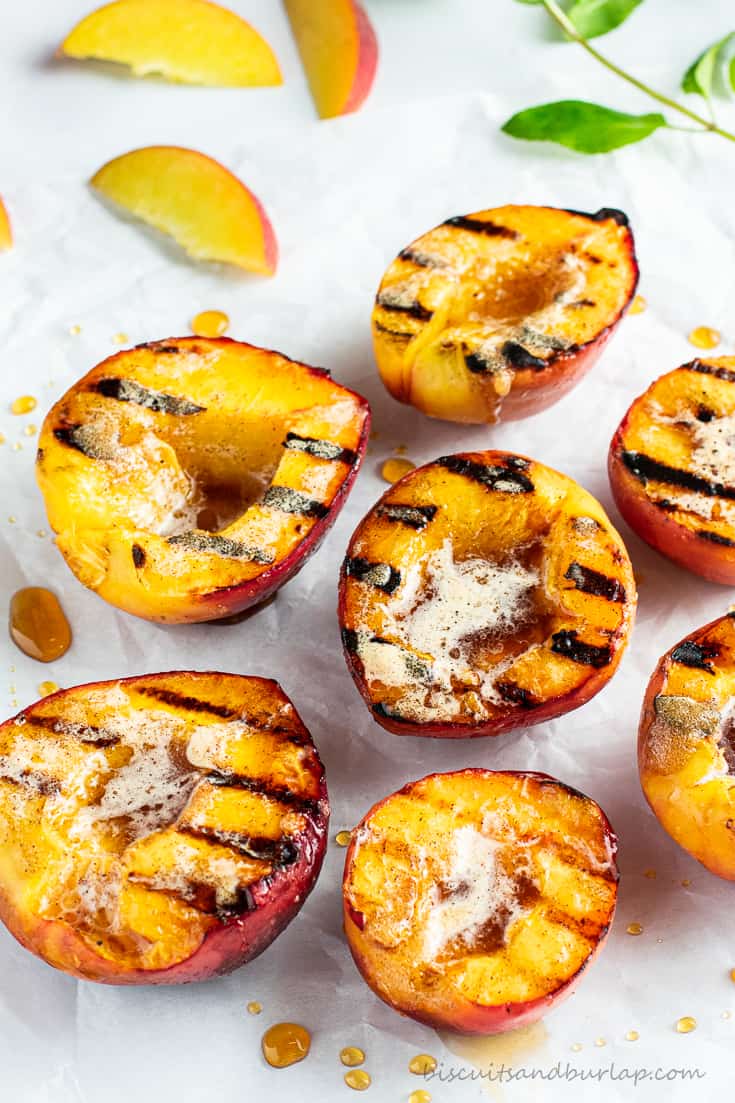 Grilled Peaches are best with freestones
For this super simple grilled peach recipe the freestone variety is best. Freestone just means that the peach separates easily from the seed in the center. Cut the peach in half following the natural line and gently pull to separate the peach halves from the pit.
Freestone peaches are generally available from about mid-June through the end of the summer. Ask your vendor if their peaches are the freestone type. They'll know what you mean.
This recipe uses an interesting, but optional ingredient - cane syrup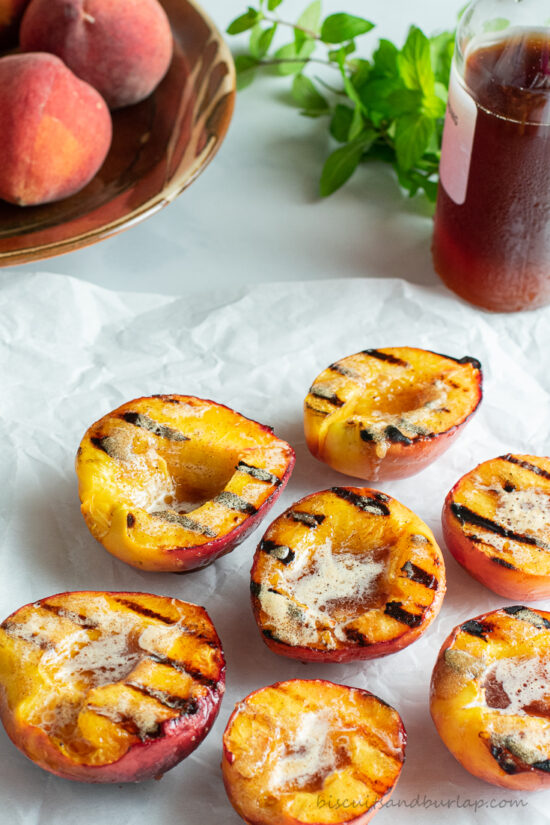 I know what you're thinking... Cane syrup? Who has cane syrup? Well, interestingly enough, our family has an annual event where we actually make cane syrup. Read more about the cane grinding here.
For an interesting article on all kinds of southern food traditions like our cane grinding you'll want to read Southern Food: Then & Now.
Don't know anyone in the sugar cane syrup business? Don't worry... you can replace it with molasses, honey, or maple syrup.
How to make grilled peaches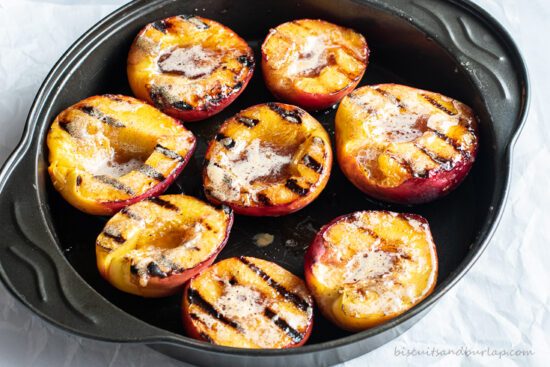 Start with a hot grill - medium to medium-high is good. Mix the sugar, syrup and cinnamon in a small bowl and set it aside.
Cut the peaches in half and rub a little oil on the cut side. Place them cut side down on the grill and leave them in place long enough to get those beautiful grill marks (about 4-5 minutes).
Then, flip them over and move them off to the edges of the grill, out of direct heat.
This is when the magic happens. Scoop a little of that cinnamony, sugary, cane syrupy goodness onto each grilled peach, and wait about ten minutes or so.
What you're watching for is when the sugar in the mixture doesn't look grainy anymore... it should look like caramel oozing over the top of the grilled peaches. I know, I know... You're getting hungry.
Last, transfer the warm peaches to a bowl, serve with vanilla ice cream, and sprinkle with toasted pecans. Done!
Caramelized Peaches in a skillet
If you don't grill you can get similar results with this recipe for Caramelized Peaches. It's super easy made in a skillet (we prefer cast iron) and you'll love serving them with ice cream or on top of pound cake or french toast.
Grilled Apples too
Did you know that lots of fruits are great cooked on the grill? Grilled Apples make a wonderful side dish or dessert and sprinkled with a little granola they'll be a perfect addition to your breakfast or brunch buffet.
This post contains affiliate links, which means if you click on an affiliate link and buy something, we may receive a very small commission.  It does NOT result in additional charges to you or cost you anything extra. Click here for our full privacy and disclosure policy. As an Amazon associate we earn from qualifying purchases.
The ice cream?
You can certainly use any store bought vanilla or butter pecan. But it's so worth the few minutes it takes to make homemade ice cream.
We're huge fans of our tabletop Cuisinart ice cream maker. It makes just a quart and a half and that's the perfect amount for these grilled peaches (with maybe a little left over for later).
We make the basic vanilla version (making sure to use a good quality vanilla) from the recipe book that comes with the ice cream maker. For something extra special check out this Brown Butter & Pecan Brittle Ice Cream recipe.
Just remember to make your ice cream at least a few hours before grilling the peaches. You want time for it to get good and firm since you're serving it with warm peaches.
Hey, did you know we have a collection of the some of the best ever Grilled Fish & Seafood Recipes? Check it out here.
Like the way this sounds? We don't want you to miss a thing and you won't if you sign up now! We'll never overdo it. We promise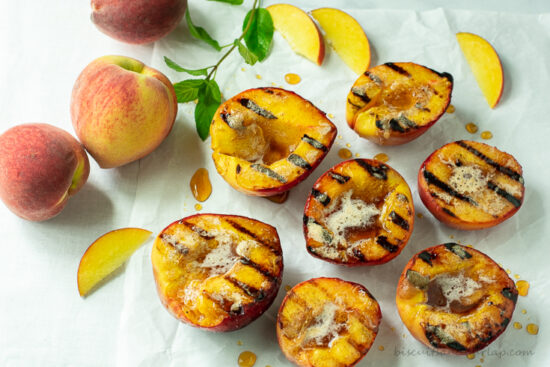 📖 Recipe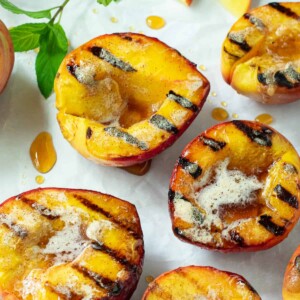 Grilled Peaches with Toasted Pecans and Vanilla Ice Cream
A grilled dessert made from fresh peaches topped with a cinnamon sugar glaze and served with ice cream and pecans.
Ingredients
4

peaches

halved

¼

cup

brown sugar

3

T

honey

(or cane syrup, or molasses)

cinnamon to taste

1

Tablespoon

oil

¼

cup

pecans

toasted
Instructions
Combine sugar, syrup, and cinnamon and set aside.

Brush oil on cut side of peaches.

Put peaches cut side down on heated grill until grill marks form (4-5 minutes).

Flip peaches and move out of direct heat.

Put about 1 Tablespoon of sugar mixture on each peach half.

Leave on grill out of direct heat for about 10-15 minutes, or until sugar mixture is melted and bubbly.

Serve with vanilla ice cream and sprinkle with toasted pecans.
Notes
Use a high smoke point oil like canola or pecan. 
Nutrition

Looking for other sweet recipes?