What is a Cane Grinding?
It's many things. It's an event. It's a family reunion. It's a covered dish meal. It's a barbeque. Yes, there is grinding of sugar cane to extract the juice and then cooking the juice to make syrup. But, most of all, a Cane Grinding is a time for family and friends to come together, just like the early days when these events were first begun.
Since my Daddy and Mama are no longer with us, the Cane Grinding is sometimes the only chance we have a chance to go back "to the farm". So, we treasure these opportunities to be with loved ones, and soak up the memories and let the land minister to our souls.
The Backstory
Back in the late 1800's and early 1900's sugar cane was more commonly grown in this area of North Florida, and the late fall/early winter was the time to gather, or cut, the cane and make syrup.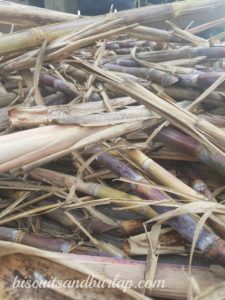 It was a labor-intensive process and thus began the tradition of neighboring farm families travelling to pitch in and help each other. With neighbors who rarely saw each other this gave them a great opportunity to socialize (just like today), and lots of fun and food have always been a part of a Cane Grinding.
Murphy Farms, like so many others, stopped growing cane and the tradition of having a Cane Grinding went the way of lots of traditions. But then, about 40 years ago, my Uncle Edward, whose farm this was, and my Daddy, hatched the idea of reviving the Cane Grinding, and since then it's been an annual event once again.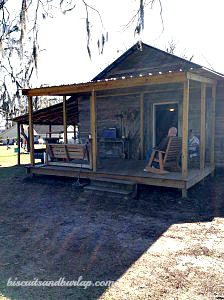 The "packhouse" is the central building for the day's activities. It was used in the days when the farm's main crop was tobacco, for stringing the tobacco onto sticks for drying in a barn like the one below.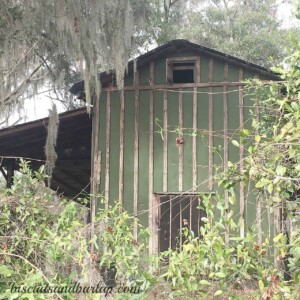 After the tobacco dried, the sticks would be brought back to the packhouse. There they removed the tobacco and packed it in burlap to be taken to auction. The packhouse was used for storage for a number of years and then it was decided to clear it out and make a "party house" out of it, leaving the exterior as close as possible to original.
Are you getting our newsletters? That's the easiest way to keep up with us here at Biscuits & Burlap. Sign up here.
The Food
The Food at the Cane Grinding is one of the most honored guests. Don't come expecting to "watch what you eat". You can do that anytime. While the cane is going through the mill, and the syrup being cooked there is always a grill full of Boston Butt pork roasts cooking.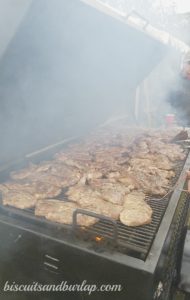 A fun hint for grilling for a crowd: Have your Boston Butts cut by the butcher into thick "steaks". It accomplishes several things. First, it cooks much faster. It also absorbs more smoke flavor. And, that coveted "outside meat" with a little crispness is prevalent throughout.
Different years there have been a variety of other foods being cooked at the Cane Grinding. Cracklings for making cracklin' cornbread are a mainstay.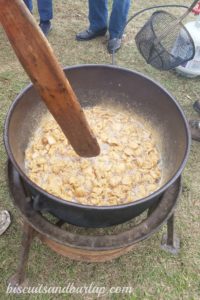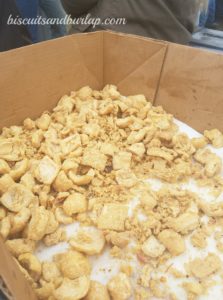 The past few years there has been a huge vat of old fashioned Chicken & Rice. This year there was also fried cornbread. Remember what I said? No diets on this day.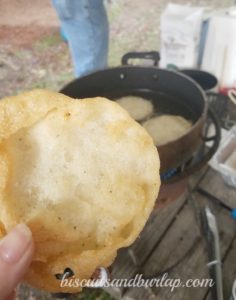 Another tradition that the folks in that area take seriously is Driggers & Sons sausage. It's locally made and the best sausage you have ever tasted! We always bring home a few pounds to go in the freezer. Breakfast visitors at our house invariably end up wanting us to bring them some back from the next Cane Grinding.
And, then there are the covered dishes. Casseroles, creamed corn (did you see my post on how to do this?), macaroni and cheese, collard greens, biscuits. I could go on and on. Sara took this shot of our plates.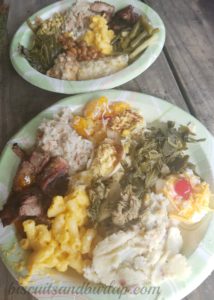 How much can you cram on one plate? Of course, dessert requires another dinner sized plate. Red velvet cake, banana pudding, pecan pie (this is my recipe passed down from Mama). You get the idea.
The Syrup
Making the syrup is a two step process (actually, two big steps with lots of mini steps) which starts with running the cane through a mill, or grinder to squeeze the juice out.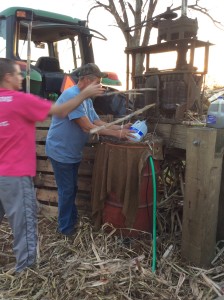 Everyone likes to have a turn "feeding the mill". The juice is strained and then cooked in a big vat called a syrup kettle. It takes constant stirring and skimming.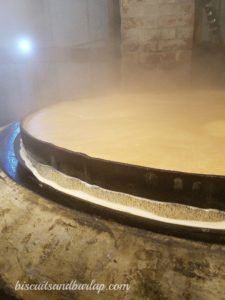 When it's almost done a candy forms at the edge called "polecat". Does anyone know where that name came from? Not me. All the kids want a bit of polecat, even the big kids like Sara and her friend Anthony.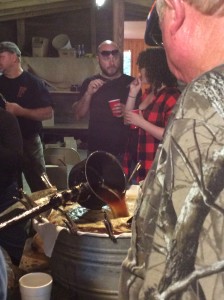 Once ready the hot syrup is bottled with labels honoring the Murphy Family and the year. The syrup has never been sold -- only shared with friends and family.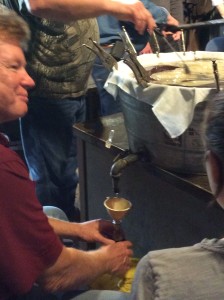 Fun for All
Every year there is skeet shooting after lunch has been served. It's a favorite activity of Sara's, along with many others.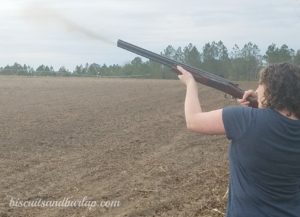 Rides through the beautiful farm country in the "party wagon" is one thing the little ones are always game for.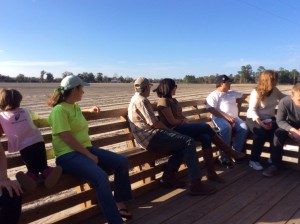 There is always a fire. Some years in north Florida it's so warm that the fire is really only needed for burning trash. This year the weather was cool and lots of people sat around the fire (or backed up to it) to warm up. In year's past the festivities have sometimes gone on long past dark and the fire becomes a true bonfire.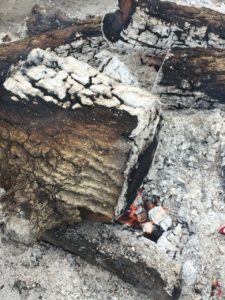 Can you call "sitting" an activity? It's one of my favorite things to do in the afternoon at the Cane Grinding. Just sit and visit.
The Food (Again)
Mid to late afternoon the second batch of syrup gets ready and then it's time to break open a biscuit and "sop" up some syrup, maybe with a little piece of leftover Driggers Sausage. I'm getting hungry just typing this.
The Farm
My Aunt Mildred is the matriarch of this family and everyone knows who is the boss. She came to the farm as a bride in 1947 and has never left. A few looks at this beautiful place and you will see why.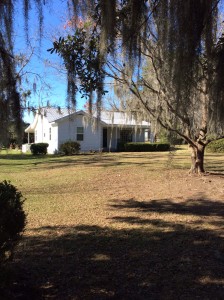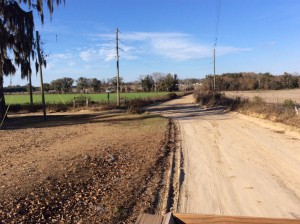 Until Next Year
The Cane Grinding is typically held the Saturday between Christmas and New Years. A few times it has been postponed a week if that day falls right after Christmas. I'm thankful for that, because it gives us time to travel to an event that recharges me like no other. I come home filled with love and gratitude for my deep roots in this beautiful land.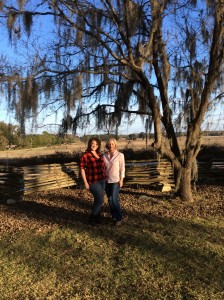 If you enjoyed reading this you'll want to check out Southern Food Then and Now.
A Side Note (Restaurant Recommendation)
This year the Cane Grinding actually fell on New Years Eve. We spent that evening in the smallish town of Valdosta, Georgia, which sits right off Interstate 75. We ventured into downtown Valdosta and lucked up on the most delightful restaurant. If your travels take you that way be sure to stop by Steel Magnolias. The owner, Keira Moritz was so much fun to talk to, and takes obvious pride in her place.

Wow, you found an old post! Did you know we're a food blog now?
If you love food, especially Southern food, you're going to love what we've done with the place! Check out some of our favorite recipes below.