This Pecan Pie is classic southern style and the recipe has been in our family over fifty years. You know it has been tested and approved by many.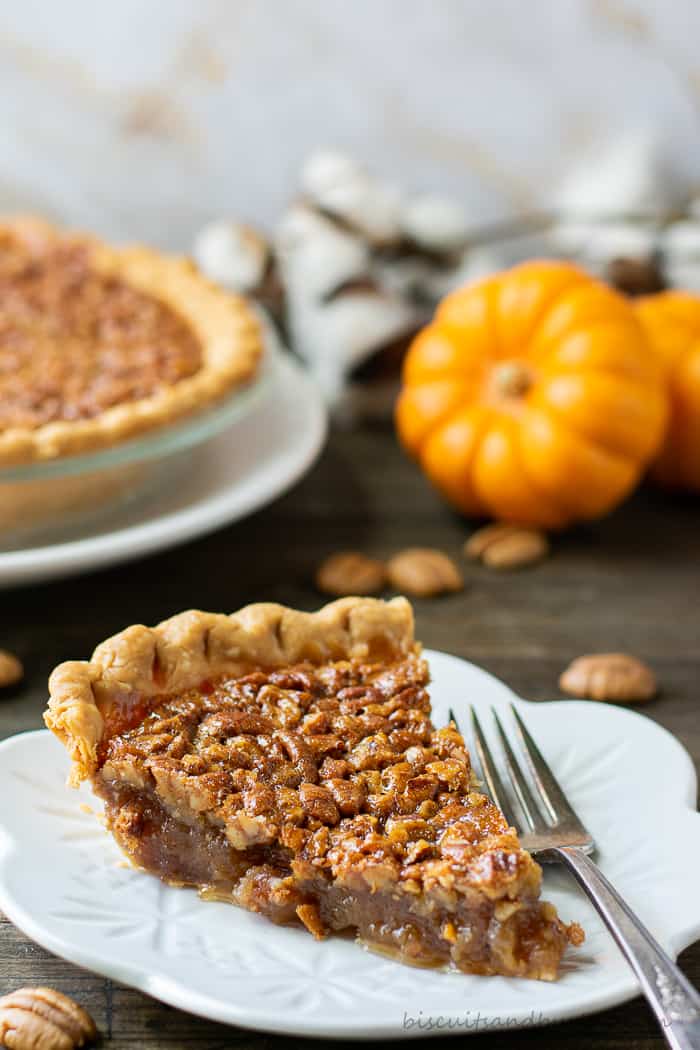 Though totally delicious, there's nothing fancy about the pecan pie, I admit. But, if you're looking for a simple, classic pecan pie that never fails, this is it. You're going to want to serve it right after that Slow Cooker Turkey Breast with the most divine gravy ever! Click the link to check out that recipe.
Pecan Pie is Classic Southern Style
The truth is, Mama always used a frozen pie crust. Not deep dish, either -- just a traditional nine inch pie crust, like we use in Sweet Potato Praline Pie. I sometimes use those refrigerated ones (also excellent for making Cheese Tartlets) when I have one on hand, but honestly, I'm not a real fan of pie crust.
It's the stuff in the crust I'm after. So, the frozen crusts are fine with me, too. If you love to make your own, by all means, go for it. This recipe is all about that to-die-for filling.
The exception to that rule is our Peanut Butter Pie with Oreo Crust because.... well... Oreo Crust, right?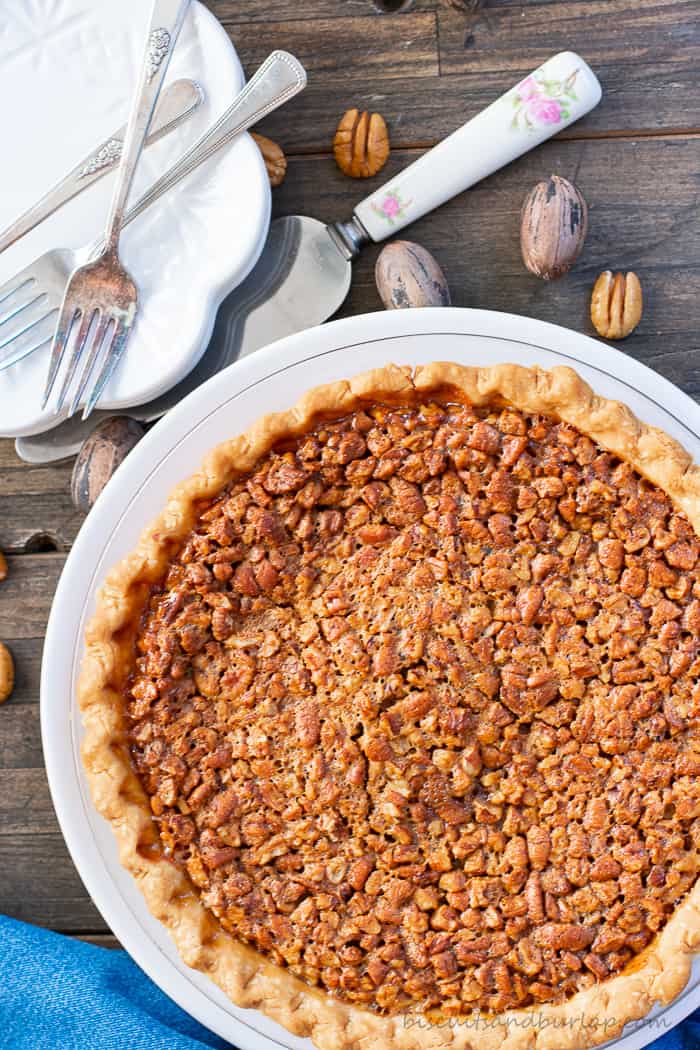 Are you getting our newsletters? It's the easiest way to keep up with our projects, recipes and just general fun. We won't overdo it. Promise! Sign up here. Sign up now!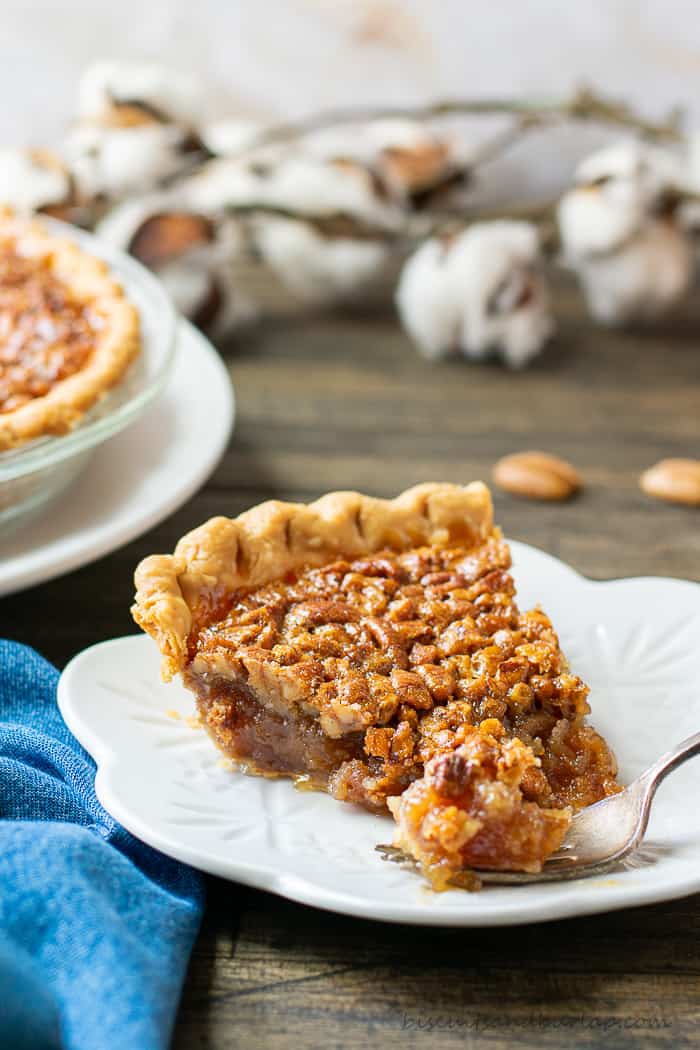 All of our best pecan recipes can be found in one place right here.
One more note before I get to the recipe. Here's how I like to do my pecans. If you can start with halves you'll get the freshest flavor. But, I do like to chop the halves before making the pie.
Even though it doesn't make as beautiful a pie with chopped pecans, it actually cuts into slices more easily, and you get more yumminess wrapped around every little piece of pecan.
If you've got more pecan halves be sure to check out Homemade Chocolate Covered Pecans. They've made with just 4 ingredients and are a perfect little food gift!
If you love pie like we do you'll also love this classic Apple Pie. The recipe has been in our family for over 50 years.
Pecan Pie can be made ahead and frozen
In fact, that's what we typically do. We love anything that can be done in advance of a big meal and give us more time to spend with loved ones. If you wrap them tightly after they're completely cool and then freeze, no one will ever know that these pies weren't made that morning.
They're part of a collection of Make Ahead Recipes for Holiday Meals. Click over to check them all out.
If you're reading this post chances are you love southern food and know others that do too. We've put together this awesome guide, Great Gifts for the Southern Foodie. It has several cast iron cookware choices, books of southern recipes and food history and small items that would make a great gift basket.
We did the homework for you, and have only included items with Amazon 4 stars and above.
And for other classic southern desserts (and oh so simple) you'll want to get the recipe for Buttermilk Pie and Old Fashioned Cream Cheese Pound Cake. They're old fashioned goodness just like this recipe.
📖 Recipe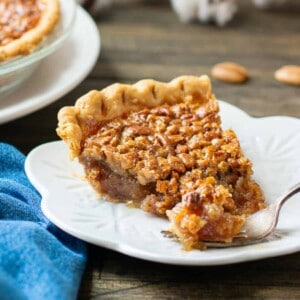 Classic Pecan Pie - Southern Style
A simple, old fashioned pecan pie that's easy to make and yields delicious results.
Ingredients
Instructions
Prepare pie shell or use frozen shell.

Preheat oven to 350 degrees.

Add sugar, corn syrup, flour, salt and vanilla.

Stir in butter and pecans.

Bake approximately 60 minutes or until center is set.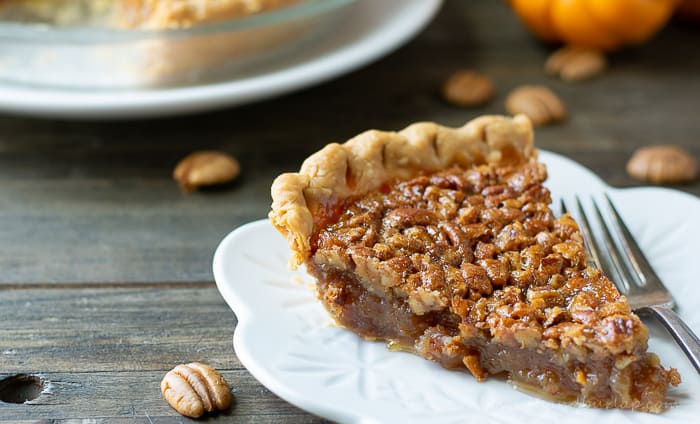 More Southern Fall Classics