This is a collection of our favorite pecan recipes from over the years here at Biscuits & Burlap!
A couple weeks ago Hurricane Zeta blew through the South causing devastation, but as we know, every cloud has a silver lining. When the storm had passed and the downed trees were cleared and the power was finally turned back on , we noticed something beautiful.
The pecans on the trees in the area that had fully ripened before the storm, had all been blown out of the trees by the wind!
Those wonderful Southern treasures that inspire so many great pecan recipes, littered the ground. My dad went out immediately and started picking up the ones at the corner… by the end of the next week he had gathered 75 lbs (and only stopped there because he ran out of room to store them) and hauled them off to be shelled. What a blessing to find after such a terrible storm!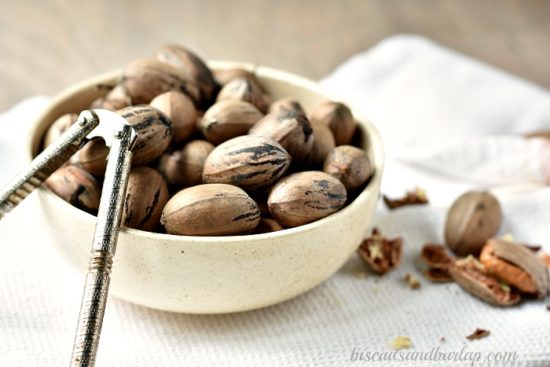 Being a Southern food blog, pecan recipes are as easy to find on our website as are those with bourbon or those cooked in a cast iron skillet. But with so many pecans at our disposal, we needed to compile a list of those pecan recipes in one convenient place.
According to the sheller who shelled our pecans, people all over the South are bringing their bounty of pecans in for processing, so we thought y'all might like the list as well!
Pecan Desserts
I thought I'd start off with the most common use of pecans… in desserts! The extra crunch they add to desserts can't be beat and they take an every day recipe and just make them feel like they were made for the fall. Here are our favorite sweet pecan recipes.
Appetizer Recipes with Pecans
Pecans aren't just for desserts… these appetizer ideas are perfect for holiday get-togethers!
Other Pecan Recipes
We love pecans on a salad and you can also grind them down to make a "breading" for meat or fish!
If you make this or any of our recipes we'd love for you to leave us a comment and star rating. If you're into sharing your creations, snap a photo and tag us when you post it to Facebook or Instagram.