This simple ice cream recipe is loaded with flavor. The proportions are just right for the small Cuisinart ice cream maker, but can be adjusted for the size you have.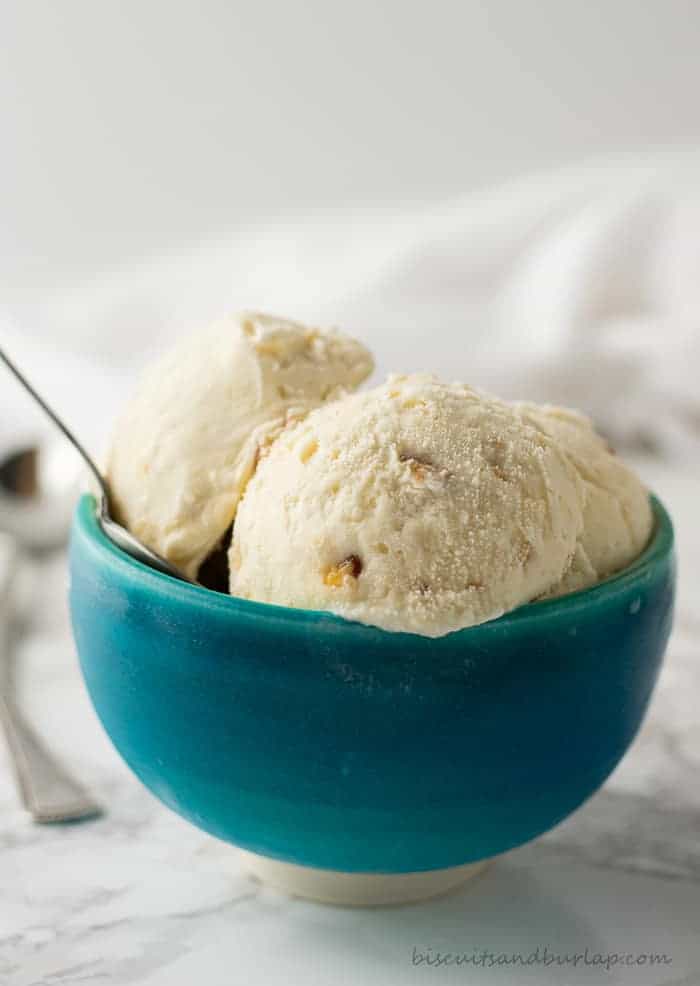 This ice cream recipe combines two of our favorite flavors, brown butter and pecans with classic vanilla. The basic egg-free recipe is made from just a few ingredients and then the flavors soar to new heights by adding brown butter and pecan brittle.
If you're not receiving our weekly updates with new recipes you can get added to the list here.
This post contains affiliate links. Please click here for our full privacy and disclosure statement.
We love our Cuisinart Ice Cream Maker
If you have ice cream fiends around like we do, you'll want to have one of these on hand. This links to the one we have, which is an affordable model that makes 1.5 quarts - about 12 scoops. That's the perfect amount for us. If our family is all together there is enough for everyone to have a scoop on a piece of cake. For just the two of us, it's not so much that we can't eat it in pretty short order.
Storing the empty bowl in the freezer means you're ready anytime you decide to make ice cream. Right after it processes you get a soft-serve type product, but we like to put ours back in the freezer for a couple of hours and get a more traditional ice cream consistency. The flavor is just oustanding, and it's comforting to know that you are getting pure ingredients.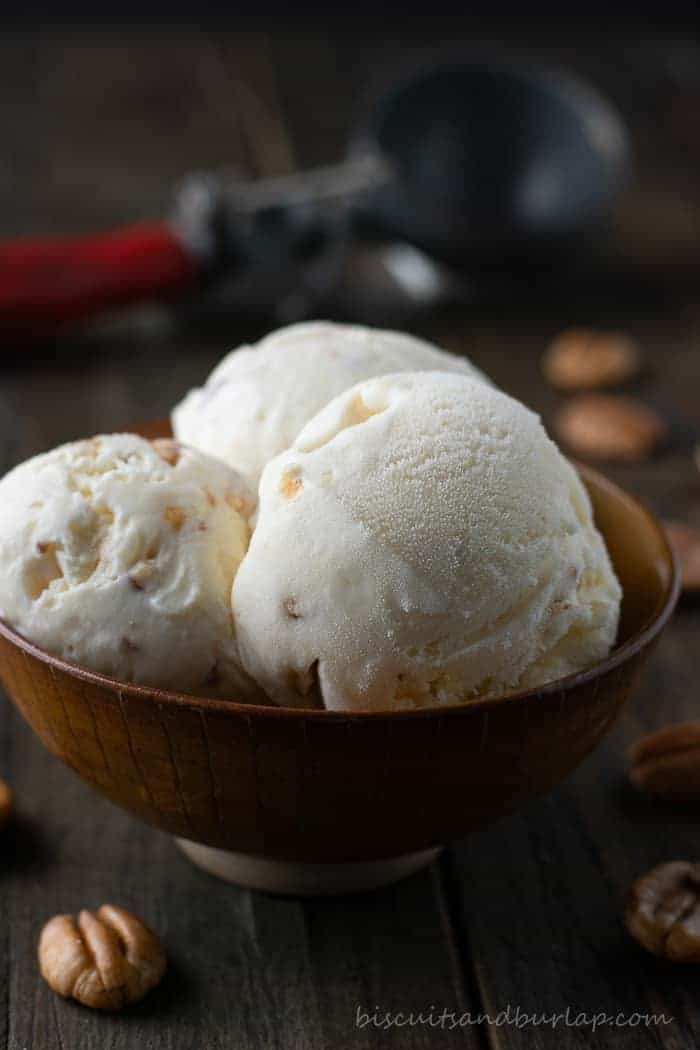 Pecan Brittle?
Yup, you got it. It's similar to peanut brittle, but with pecans. We tried two different brands, and my personal favorite was this one that you can order through Amazon right here. It's thicker, but not so hard that it's tough on your teeth.
Can you think of anything more southern than pecan brittle? It's hard. If you love southern food, read this.
I did have a hard time keeping Buddy out of it long enough for testing the ice cream recipe and getting photos, and finally resorted to hiding it. I wanted enough left to sprinkle on top as garnish.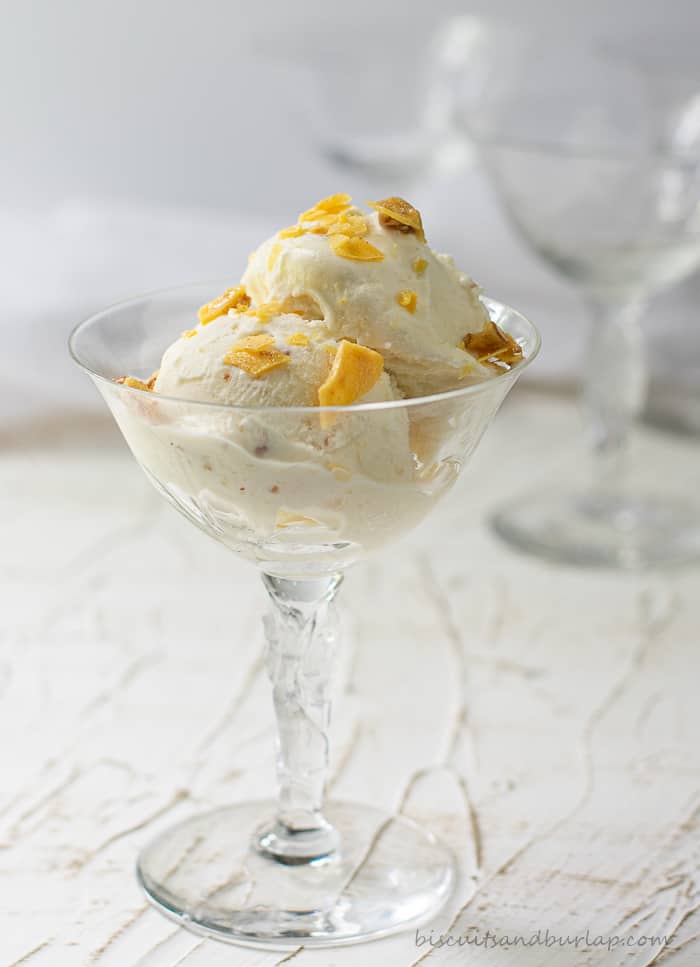 Brown Butter
If you've never had brown butter you owe it to yourself to try some. It changes the flavor of butter, but in a good way (okay great). Browning butter adds an earthy, nutty flavor that really can't be described with words.
If you've never made it, you can check out our post for getting perfect brown butter every time, including a secret tip. It's just a little tricky, because timing is everything. Just don't let yourself get distracted. If you pull it off the heat at the just the right moment your brown butter will be outstanding!
Tips for making perfect Ice Cream with Brown Butter and Pecan Brittle: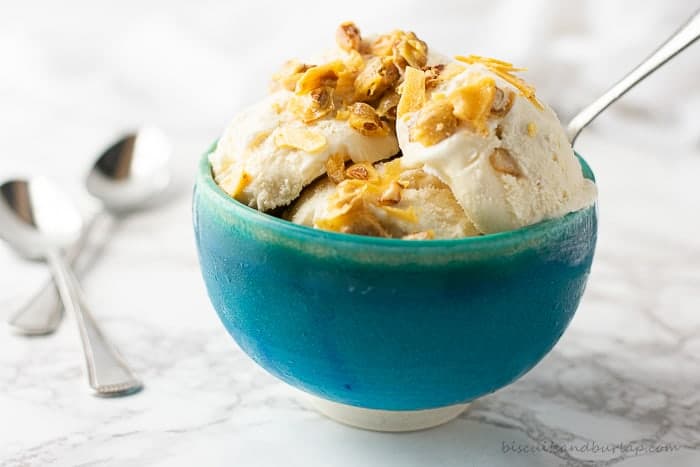 Put the bowl (the part of the maker that holds the cream mixture) in the freezer at least 24 hours ahead. We just store ours in the freezer.
Dissolving the sugar in the cream can take a few minutes. Stir and then let it sit for a few minutes before stirring again. Repeat until you don't feel any graininess
Chill your mixture at least two hours
Crush the brittle in a baggie with a mallet gently - you still want chunks
Chill the brittle separately and stir it in right before adding your mixture to the freezer
I like to strain the brown butter through cheese cloth to remove the larger solid particles that you get when browning. It won't hurt anything if you don't, but you might detect a bit of graininess.
📖 Recipe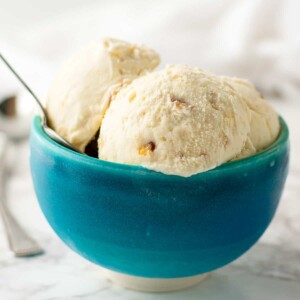 Ice Cream with Brown Butter and Pecan Brittle
A recipe designed for a small ice cream maker like the Cuisinart, but the amounts can be adjusted for larger makers.
Ingredients
1-¾

cups

heavy cream

⅔

cup

sugar

¾

cup

whole milk

2

teaspoons

vanilla

pinch

salt

4

Tablespoons

unsalted butter

browned and strained through cheesecloth, if desired

3-4

ounces

pecan brittle

coarsley crushed
Instructions
Stir in milk, vanilla and salt. Whisk in butter.

Pour into bowl and chill at least 2 hours, and up to 3 days.

Chill crushed brittle separately while cream mixture chills.

Stir brittle into cream mixture and add to freezer container of ice cream maker. (following manufacturers direction for freezing times)

Freeze according to your ice cream freezer directions. For firmer ice cream transfer to another container and place in freezer for 2 hours.

Garnish with additional crushed brittle, if desired.
Be sure to sign up here for a new recipe each week.

You'll also love these recipes: