Whether you're throwing a Kentucky Derby party or just looking for a sweet treat, mint julep ice cream is the refreshing dessert you've been looking for. The gooey, buttery bourbon sauce makes it irresistible.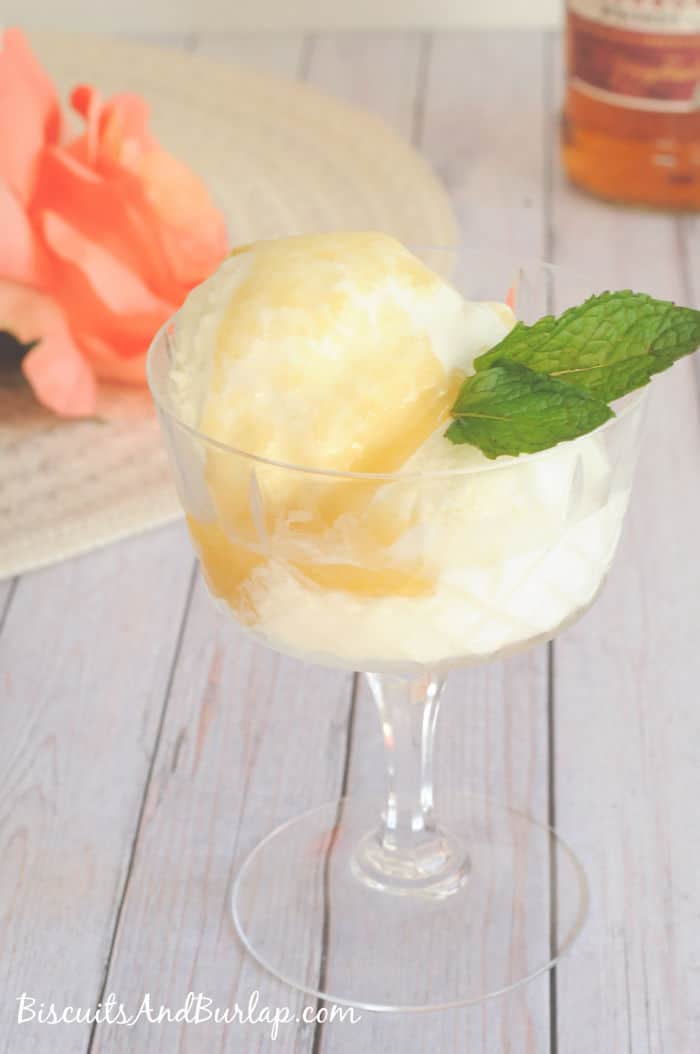 Here at Biscuits & Burlap, we're always thinking about what is coming up in the South when we plan our recipes. Is it almost Easter? Deviled eggs it is! Are beautiful tomatoes showing up at the farmers markets? We got you covered.
Is it finally time for Vidalia onions? We're on it. Right after Easter every year comes a beloved Southern event that is full of food traditions: The Kentucky Derby.
With Kentucky being the bourbon capital of the world, the mint julep has been the official drink of the event for over a century. Every year Southerners flock to Churchill Downs in Louisville, Kentucky in their best over-the-top hats to sip a mint julep and hopefully win a little money betting on their favorite horse.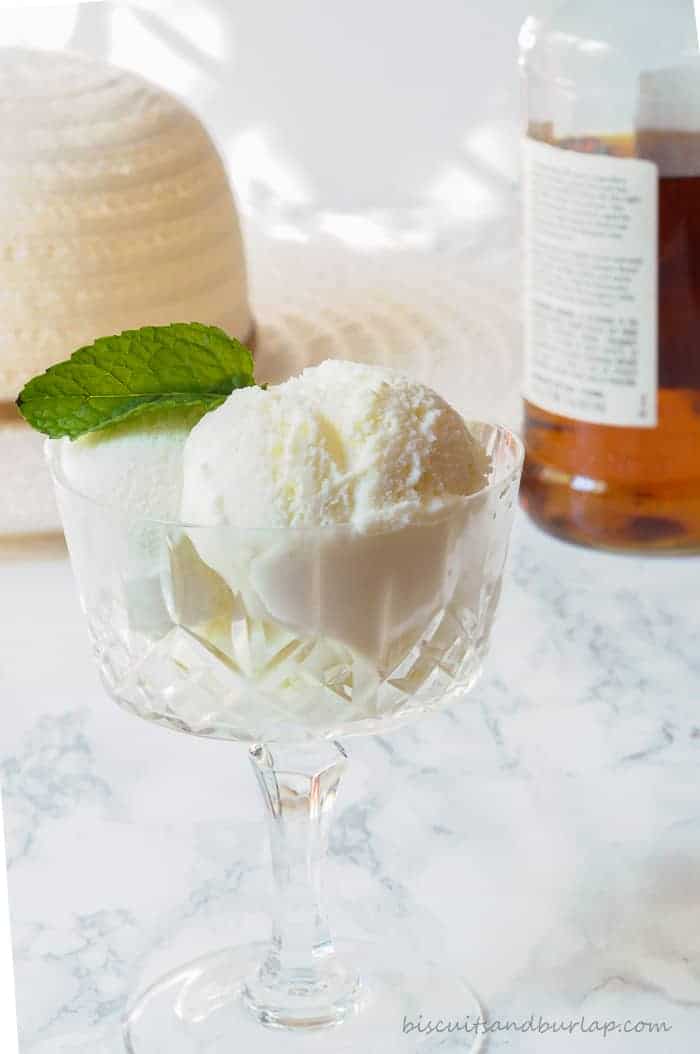 Are you getting our weekly newsletters?
I knew I wanted to write a recipe involving the mint julep that would be perfect for a Kentucky Derby party, but it's a classic cocktail and I'm not one to mess with perfection. So instead, I decided to whip up a dessert using that magical combination: bourbon and mint.
For more on Southern Food including it's history, origins, regions and future be sure to read this article.
My sweets-loving dad received an ice cream maker for Christmas, and up until now it has been doing what most ice cream makers do - sitting in the box on a shelf. I pulled it out for this post and y'all! I do not regret it. I swear I'm not getting any perks from Cuisinart for saying this, but his Cuisinart ice cream maker is so great! It's so much easier than the old fashioned kind and resulted in literally no mess.
(While I'm not getting any money from Cuisinart, we do make a small commission if you use our Amazon links. To see our full disclosure policy click here.)
What I love about this is the light "mint julep" taste. It isn't overpowering like store-bought mint ice cream, and it doesn't have that hokey artificial green color added either. We went for a similar taste and method with our Mint Julep Pudding Shots.
This recipe came from a simple vanilla ice cream recipe, with two small changes. First, I steeped a handful of fresh mint leaves in the whole milk. The other change is in replacing vanilla extract with bourbon. I know, I know... What's a tablespoon of bourbon going to do?! Absolutely nothing, I couldn't agree with you more. Bring on the bourbon sauce!
Warm Bourbon Sauce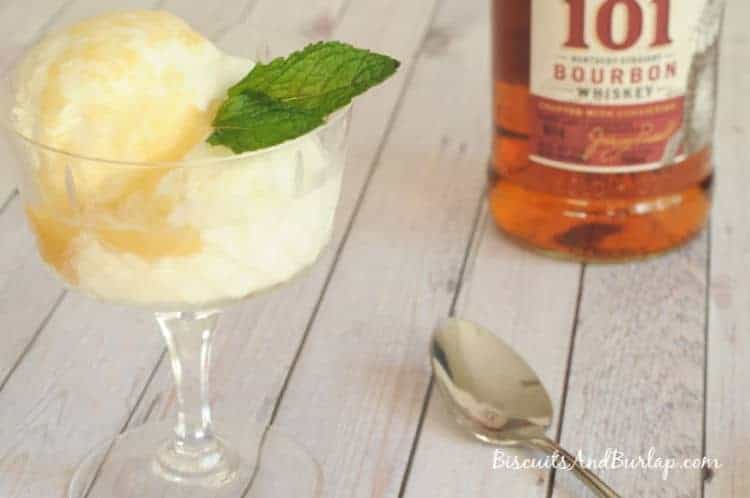 I tried the mint julep ice cream when it was finished and thought, "Oh man, that's really good. I wish it had more booze, though." (Don't you judge me) The problem with adding alcohol to ice cream is it messes with the freezing point.
Now, I'm no chemist, so I don't know how to rectify this issue, but I do know how to make a mean bourbon sauce! And with nothing but bourbon, butter, cream, and sugar in it, how could you really go wrong?
We actually have another fabulous ice cream recipe that makes just the right amount for the Cuisinart Ice Cream Maker. Brown Butter & Pecan Brittle Ice Cream is full of more flavors you're going to love it.
Does this sound like your kind of recipe? You should join our mailing list!
Don't forget to let us know what you think in the comments below and tag us in a photo on Instagram or Facebook if you make it. Happy Derby Day and Mint Julep Month!


📖 Recipe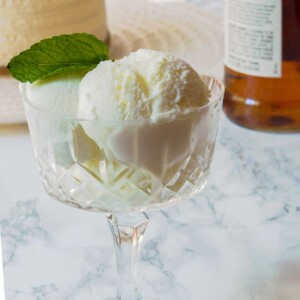 Mint Julep Ice Cream with Warm Bourbon Sauce
Whether you're throwing a Kentucky Derby party or just looking for a sweet treat, mint julep ice cream is the refreshing dessert you've been looking. The gooey, buttery bourbon sauce makes it irresistible.
Instructions
Mint Julep Ice Cream
Over medium-low heat, bring milk just to a boil. Remove from heat.

Stir mint leaves into milk and let steep 30 minutes.

Strain mint leaves from milk.

Put milk back on medium-low heat and heat while you add sugar and salt. Stir until sugar is dissolved an remove from heat.

Stir in heavy cream and bourbon.

Cover and refrigerate 2 hours or overnight.

Turn on ice cream maker and add mixture to the frozen freezer bowl. Let mix 20 minutes, or until thickened. Ice cream will be soft-serve consistency at this time. For firmer ice cream, put in an airtight container and freeze 2 hours.
Warm Bourbon Sauce
Melt butter over medium-low heat.

Whisk in remaining ingredients. Simmer until thickened (about 3 minutes), whisking often.
Got bourbon on the mind now? So do we...