This amazing bourbon blood orange cocktail combines the tangy flavor and beautiful color of blood oranges with bourbon, bitters and rosemary simple syrup.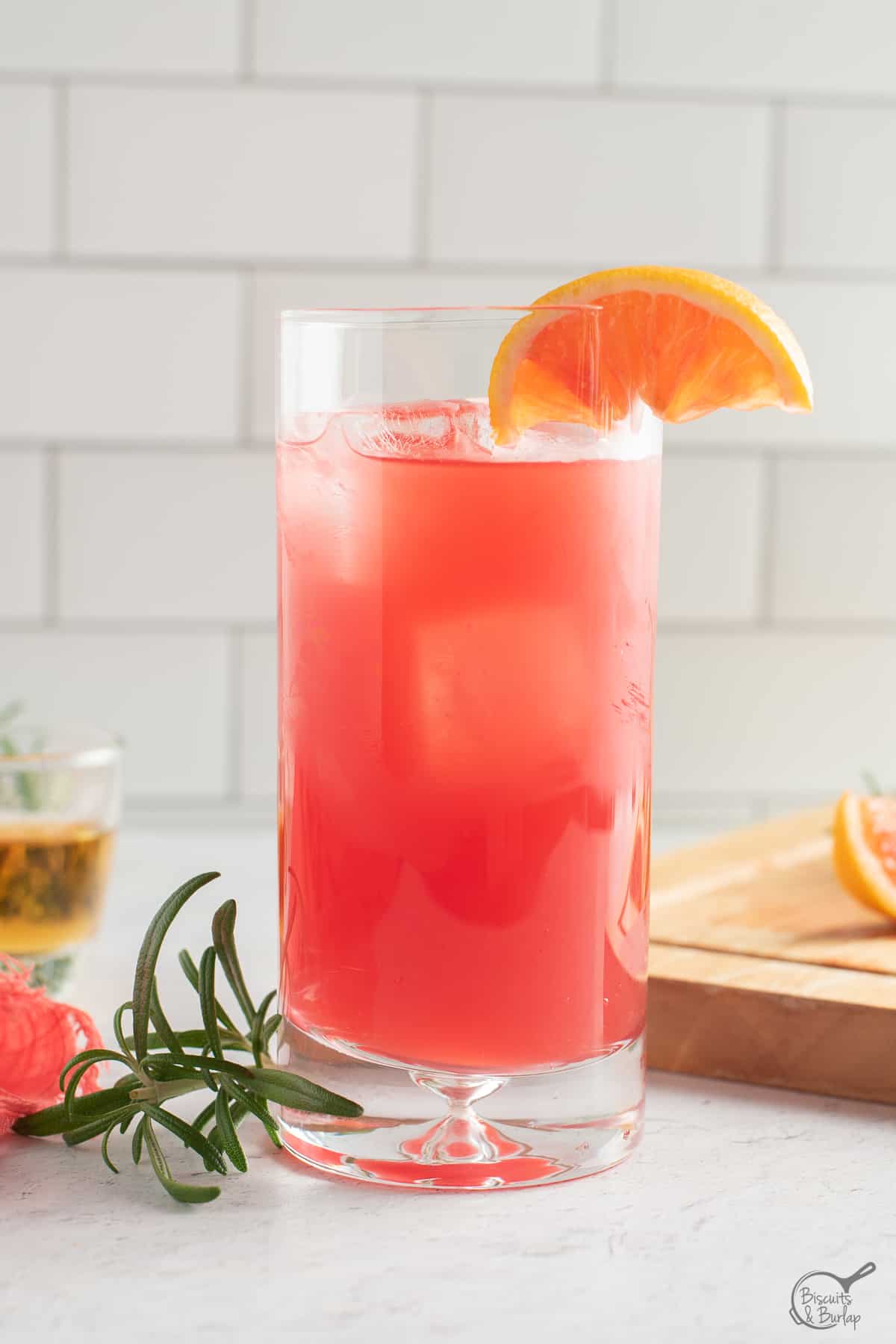 I don't know about y'all, but one thing I'm always longing for in the cold winter months are the bright, vibrant colors and flavors of the fruits and veggies of summer. Luckily for all of us, citrus fruits are winter crops.
Though blood oranges are seasonal they are so fabulous in taste and beautiful that you will want to make the most of them while they're available. This recipe does just that, and combines them with another favorite - bourbon. The result is this vibrant cocktail that will warm you from the inside out!
Ingredients and substitutions for your cocktail
The list of ingredients is short and this drink can even be customized to make a Blood Orange Cocktail with Vodka if you're not a whiskey drinker.
This post contains affiliate links, which means if you click on an affiliate link and buy something, we may receive a very small commission.  It does NOT result in additional charges to you or cost you anything extra. Click here for our full privacy and disclosure policy. As an Amazon associate we earn from qualifying purchases.
Blood oranges are first and foremost. We juice our own with one of our top recommended tools - this handy citrus juicer. But you can order blood orange juice online if you prefer. (not an affiliate)
Rosemary Simple Syrup. It's super "simple" to make even if you don't have rosemary growing at home like we do. Just grab a package of the fresh herb in your produce department and follow our directions below. For extra ease you can order your simple syrup here.
Bourbon - ah, the bourbon. You want to use the best you can without going overboard. In other words, if you've got a special small batch that you paid big bucks for you'll want to save that for sipping all by itself. Also, as mentioned above, you can substitute vodka here if you prefer.
Angostura Bitters - Just a dash or two balances the flavors of the drink. If you want to learn more about angostura bitters you can read here.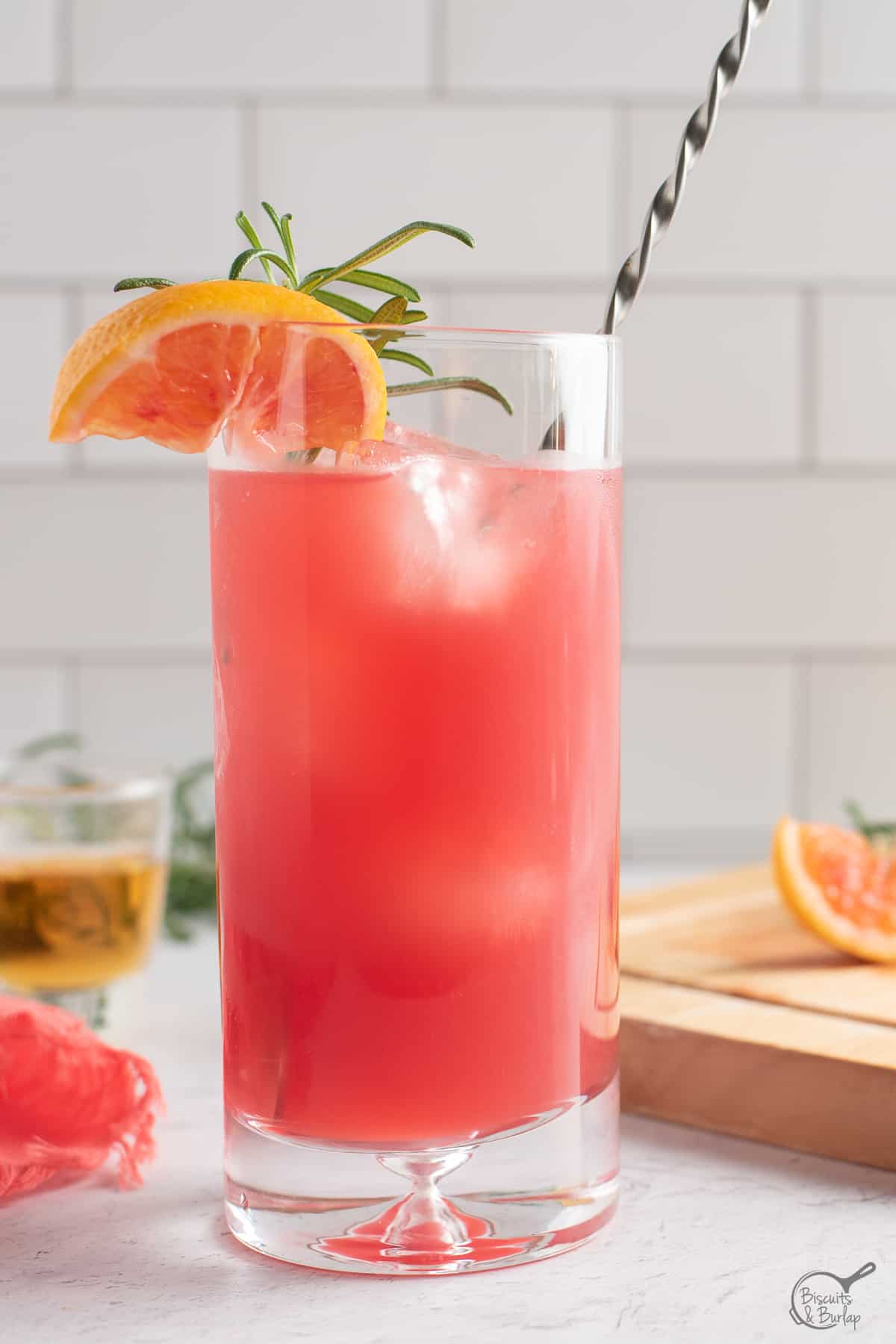 How to make your cocktail
First, you'll make your simple syrup so it has time to cool. These directions make enough for a cup so you'll have leftovers for more drinks or other uses (keep it in the fridge).
Next, you'll juice the oranges (if you didn't buy your juice). If you like a pulpy drink with little bits of orange just leave it. If you prefer to have those filtered out you'll strain it.
Now just mix all of the ingredients. You can stir with a long cocktail spoon or shake in a cocktail shaker with a few ice cubes.
Pour it over ice and garnish with a sprig of rosemary and a wedge of orange.
How to make rosemary simple syrup
All that goes into traditional simple syrup is equal parts sugar and water. Bring it to a boil while the sugar dissolves, then add a few sprigs of rosemary for a couple minutes before taking it off the heat. Let it cool to room temperature, strain out the rosemary and voila!
We used 1 cup of sugar and 1 cup of water with 3-4 sprigs of rosemary.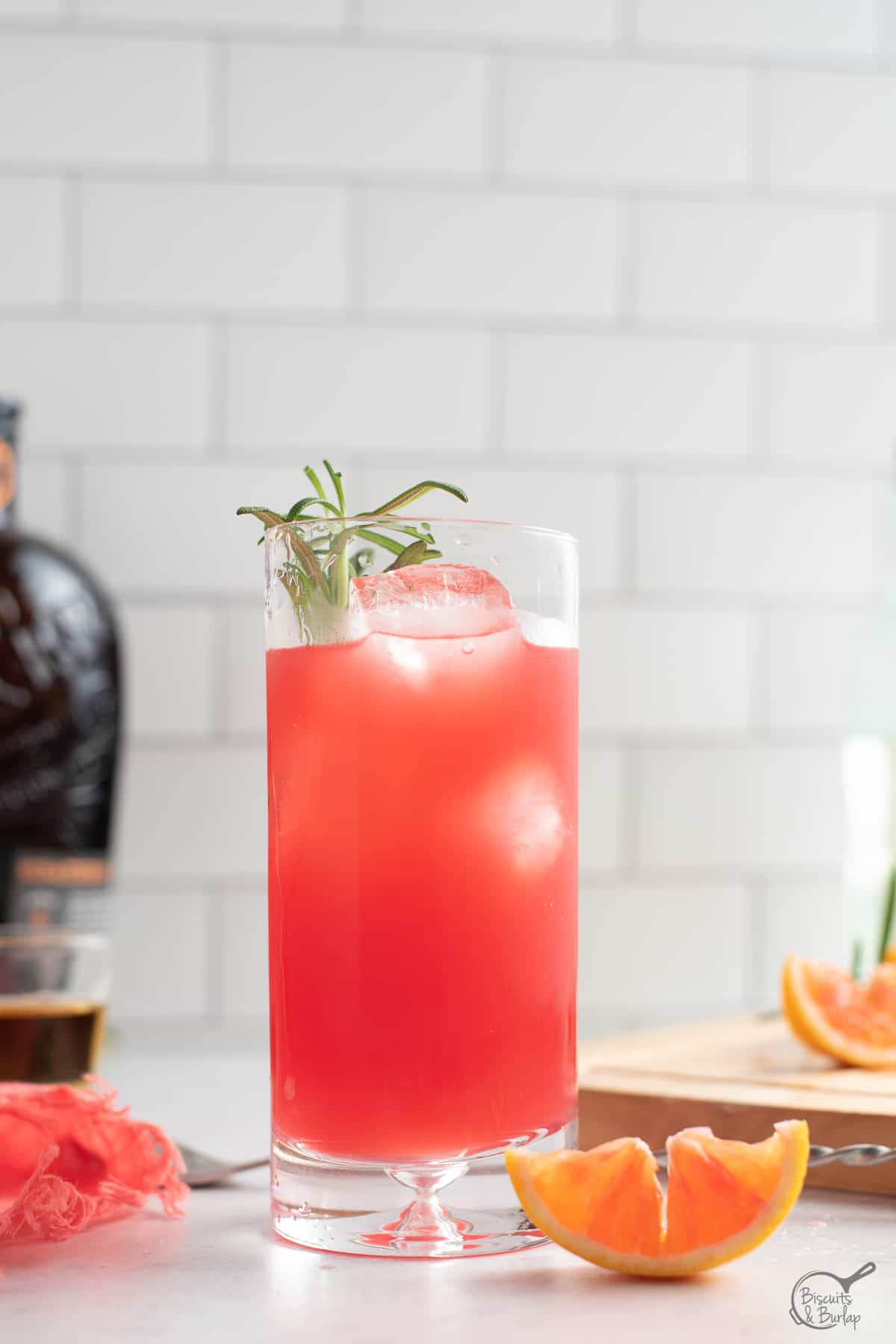 Tips, tricks and adjustments
Naturally, the amount of whiskey can be adjusted according to how strong you like your drinks.
The oranges available to you will make a difference, too, because blood oranges can be a bit on the tart side. If yours are sweeter you may not want to use as much simple syrup.
The size of the oranges and the amount of juice you get from them varies too. For 10 ounces of juice (the amount needed for two of these blood orange cocktails) you'll need to juice between 6 and 8 oranges.
Love bourbon and orange together?
Bourbon and orange flavors truly are a match made in heaven. If you're a real bourbon lover you'll want to try this Bourbon Cocktail with Honey and Orange also. In that one the whiskey is the real star of the drink!
Do you love watching videos of your favorite recipes? Subscribe to our Youtube channel now!

📖 Recipe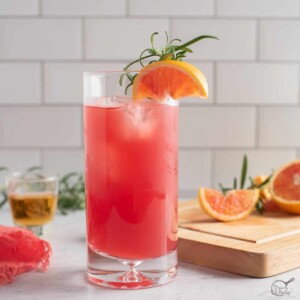 Blood Orange Bourbon Cocktail
This amazing bourbon blood orange cocktail combines the tangy flavor and beautiful color of blood oranges with bourbon, bitters and rosemary simple syrup.
Instructions
Combine all ingredients and stir or shake.

Pour over ice in a highball glass and garnish.
Notes
Blood oranges can be juiced and strained (if desired). Approximately 6-8 oranges will be needed to make 10 ounces of juice. 
Rosemary simple syrup can be made by combining 1 cup of sugar with 1 cup of water. Bring to a boil and stir until sugar dissolves. Add a few rosemary sprigs and boil one minute, then remove from heat to cool. Strain before using.
Vodka may be substituted for bourbon to make a Blood Orange Vodka Cocktail. 
Nutrition
Calories:
303
kcal
Carbohydrates:
43
g
Protein:
1
g
Fat:
1
g
Saturated Fat:
1
g
Polyunsaturated Fat:
1
g
Monounsaturated Fat:
1
g
Sodium:
23
mg
Potassium:
385
mg
Fiber:
1
g
Sugar:
40
g
Vitamin A:
283
IU
Vitamin C:
71
mg
Calcium:
26
mg
Iron:
1
mg
Making these blood orange cocktails for a party? Check out these appetizers, too!