This blood orange cocktail combines the tangy flavor and beautiful color of blood oranges with bourbon, bitters, and a homemade rosemary simple syrup.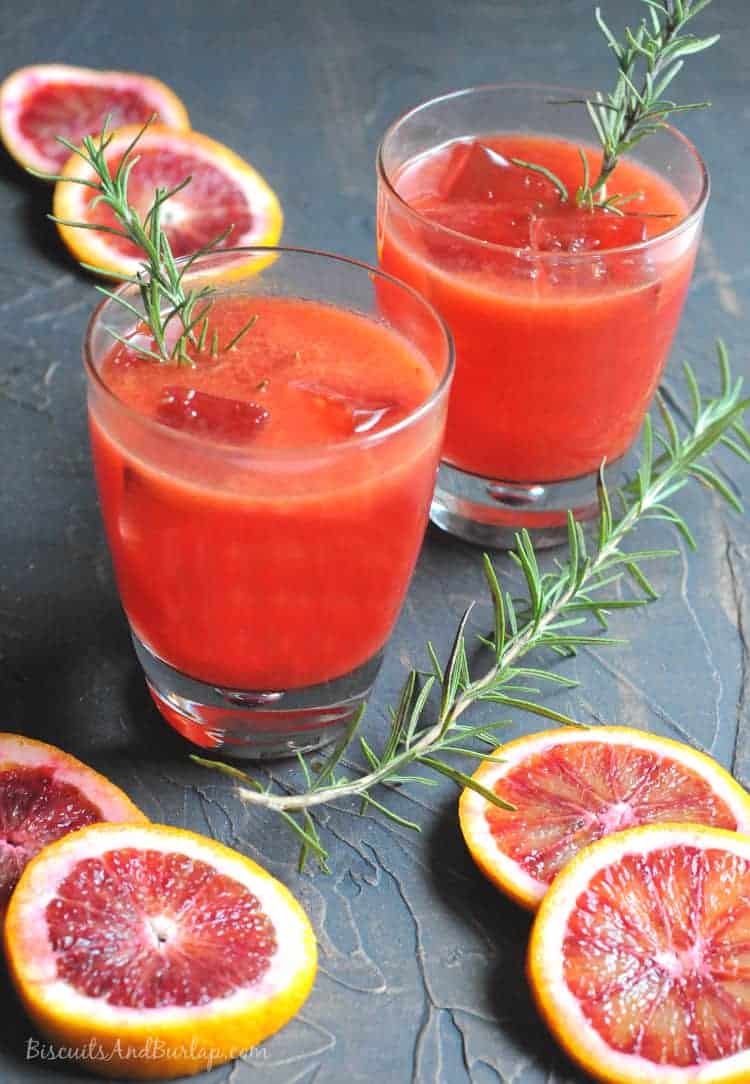 I don't know about y'all, but one thing I'm always longing for in the cold winter months are the bright, vibrant colors and flavors of the fruits and veggies of summer. Luckily for all of us, citrus fruits are winter crops!
There are certainly some lovely colors in lemons, limes, oranges, and grapefruits, but there are none so unique as those colors in blood oranges. We've captured that vibrancy in this recipe for a blood orange cocktail.
In this day and age, we have most fruits and veggies available to use year-round in the supermarkets, but blood oranges are a special case. In the Unites States, blood oranges are grown almost exclusively in Texas and California and the season for both starts in December and ends in mid to late spring.
Outside of those months, your only other way of getting this beautiful color and the distinctive flavor of these beautiful fruits is to order blood orange juice online.
Are Blood Orange Bourbon Cocktails right up your alley? You must be our kind of people. 
Affiliate links have been used in this post for your convenience. To read our full disclosure policy, click here.
Blood Orange Cocktails are sweetened up with rosemary syrup
To balance with tartness of the oranges, I made a rosemary simple syrup. Rosemary is lovely with any citrus fruits and making your own flavored simple syrup is so… well, simple!
All that goes into traditional simple syrup is equal parts sugar and water. Bring it to a boil while the sugar dissolves, then add a few sprigs of rosemary for a couple minutes before taking it off the heat. Let it cool to room temperature and strain out the rosemary and voila! Rosemary simple syrup.
Does that still sound like a lot of work? You can buy it on Amazon here. I won't tell anyone.
Tips, tricks and adjustments
For my blood orange cocktails, I used Jefferson's bourbon, but you can use any bourbon that you like. Keep in mind that the amount below are how I made my drink, but it all depends on how strong you like your drinks and how tart or sweet you want it to be.
The oranges available to you will make a difference, too, because mine were a bit on the tart side. If yours are sweeter you may not want to use as much simple syrup.
Citrus and bourbon are traditional southern ingredients. Read about more here.
For a guide that includes everything you need to make traditional bourbon cocktails like Manhattans, click over here.
Love Southern recipes? Sign up for our weekly newsletters!
How about a cool treat with the flavors of a classic bourbon cocktail? Click over here for Mint Julep Ice Cream with Bourbon Sauce!
Let us know what you think and don't forget to follow us and tag us on Instagram if you try it!


Blood Orange Bourbon Cocktail
This cocktail combines the tangy flavor and beautiful color of blood oranges with bourbon, bitters, and a homemade rosemary simple syrup.
Instructions
Combine all ingredients, adjusting for taste. Pour in high ball glass over ice.
Notes
Making these blood orange cocktails for a party? Check out these appetizers, too!