This honey bourbon cocktail with orange and honey sage syrup makes an excellent choice for a welcome drink at any fall party, or when you cozy up with someone special in front of the fire.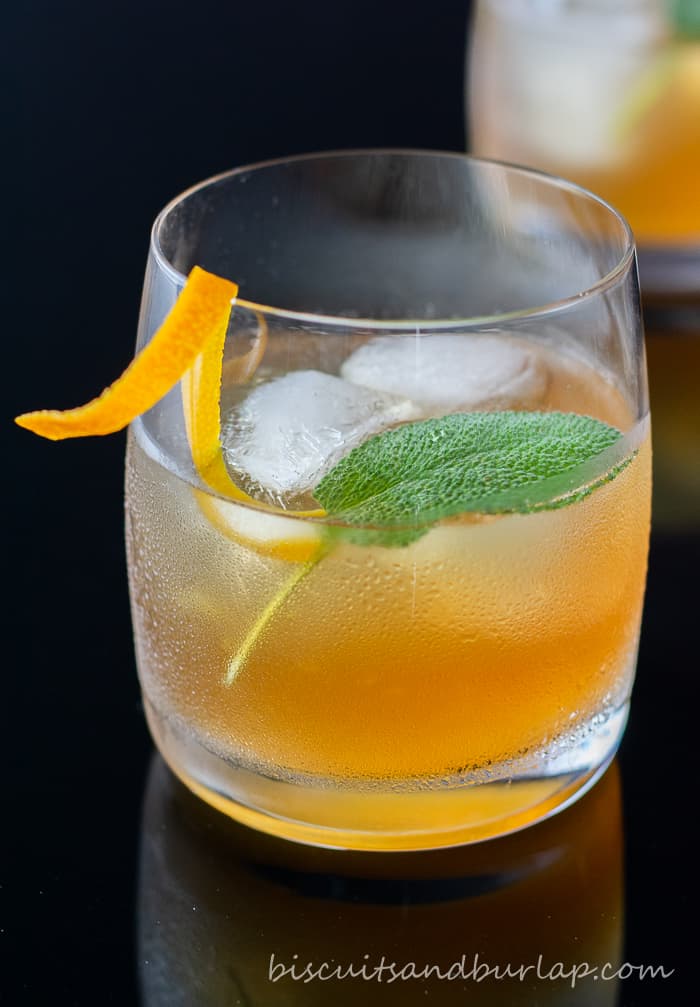 The inspiration for this honey bourbon cocktail came from successfully growing a pot of sage this year, along with my usual herbs. As it continued doing well into late summer my thoughts were turning to fall eats and drinks.
A libation featuring sage and our beloved bourbon just naturally came to life.
Honey was also at the forefront because I had just completed an interview of a beekeeper for our local farmers market. I learned so much about honey, and I bet you'll find this interesting too.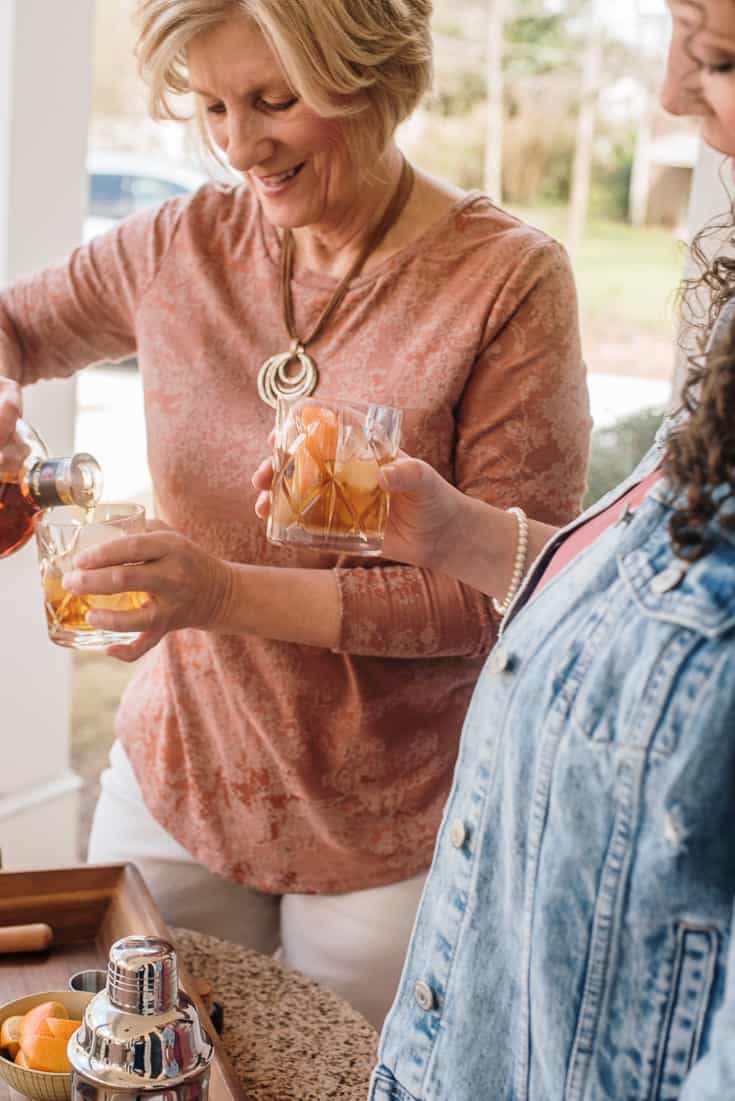 Did you know that if too many bees are kept in one location there isn't enough natural nectar for them, and their feed must be supplemented? That practice results in a less-than-pure honey with inferior taste.
The beekeeper I spoke with explained that by spreading the hives out in numerous locations they end up with pure, natural honey.
This post contains affiliate links, which means if you click on an affiliate link and buy something, we may receive a very small commission.  It does NOT result in additional charges to you or cost you anything extra. Click here for our full privacy and disclosure policy. As an Amazon associate we earn from qualifying purchases.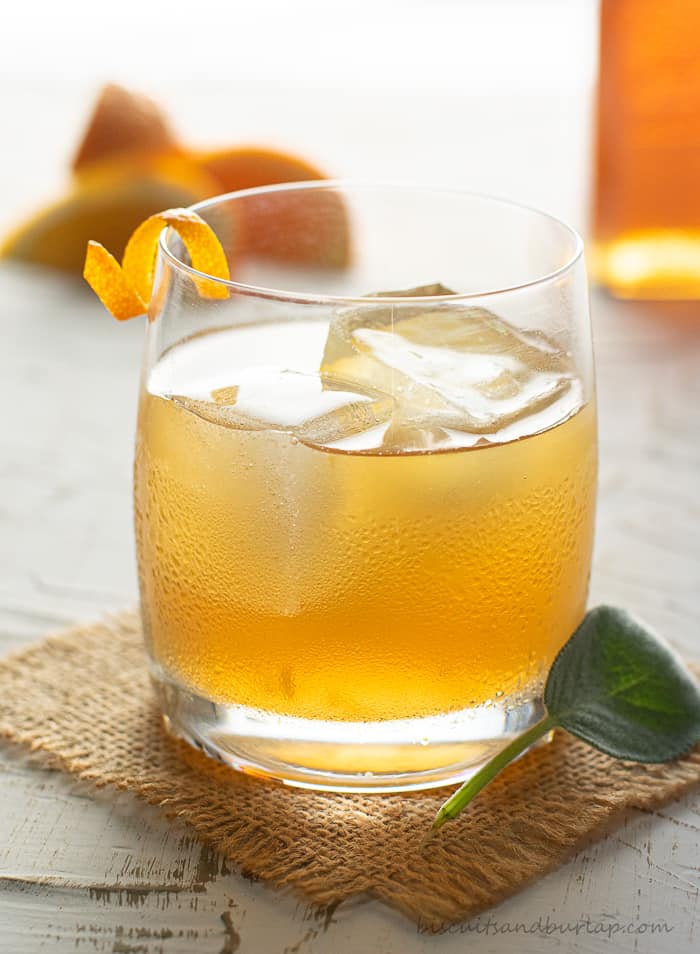 Of course I came home with a couple of bottles of that pure and delicious honey. And then there is the addition of orange into the mix.
I've seen recipes for similar cocktails that finish up with just a twist of orange peel over the cocktail to release the oils.
I wanted a bit bolder orange flavor and decided to give a good squeeze of orange into the drink. With the first try the orange was still barely noticeable, so in completing the development of this recipe I made the orange wedge larger and gave it a good, firm squeeze.
For another adult drink with orange flavors (and light on the alcohol) be sure to get the recipe for White Wine Sangria.
Bourbon, citrus, honey? All beloved southern flavors, right? Learn more by reading "Southern Food Then and Now".
And, if you're a bourbon nut (like us) you'll want to check out this article, What is Bourbon? A Brief History of America's Whiskey.
Hey, are you getting our new recipe each week? If not, you can sign up here.
Bourbon Lovers Guides
If you've been around here long you know that we're good old southern bourbon lovers. In fact, we put together the Ultimate Bourbon Lovers Gift Guide as well as a guide to everything you need to make classic bourbon cocktails.
You'll want to check those out, especially with the gift-giving season approaching soon.
A Honey Bourbon Cocktail worthy of being a "Welcome Drink"
When I'm entertaining in the evening I enjoy greeting everyone with a special cocktail. I usually try to keep it in line with the theme, the menu, or the season. This one is perfect for any fall or winter gathering. I like that it doesn't have anything sparkling that would go flat.
You could have a pitcher of these mixed up with a few orange curls and sage leaves in a bowl to use as garnish. As your guests arrive meet them at the door with this honey bourbon cocktail in hand and you'll have happy, impressed visitors.
To add a bit of variety to your offerings, you'll want to also make this Spiced Pear & Bourbon Ice Tea Cocktail.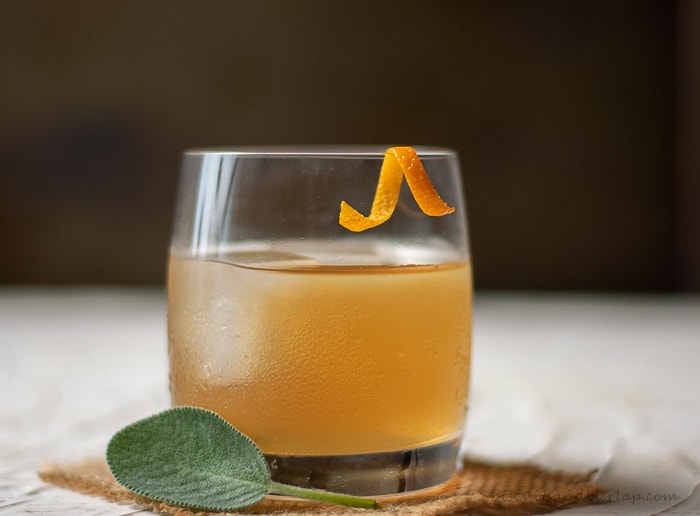 Does the ice matter?
Ask anyone who is serious about their bourbon and you'll get a resounding "Yes!" The main thing to keep in mind is that you want your ice cubes to be larger, so there is less dilution of the drink, while still chilling.
This post contains affiliate links. Click here for our full disclosure and privacy policy.
We love these silicone ice trays that make larger, square ice cubes. For a bigger selection click over to the two bourbon guides here and here.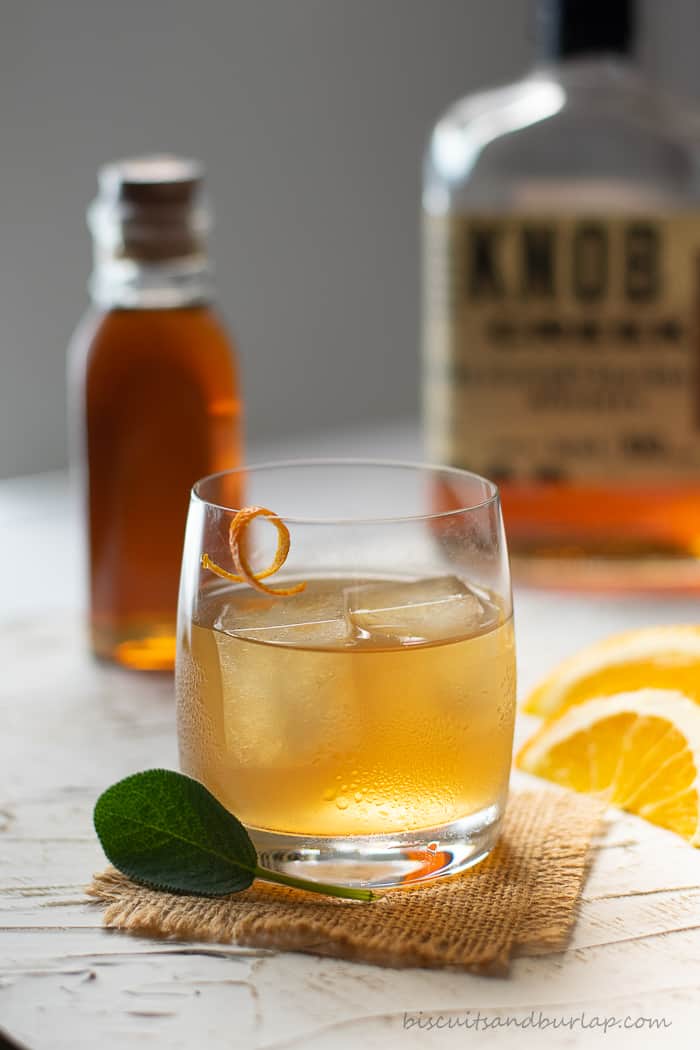 Bourbon Cocktails for two or for a party:
The recipe is written for two cocktails, though the honey sage simple syrup actually makes enough for several. The syrup will keep very nicely 5-7 days in your fridge.
For just the two cocktails we added some ice and gave it a good shake in a cocktail shaker before pouring it over the large ice cubes in fun 9 oz. glasses (these are similar ones I found on Amazon).
If you're serving more people just stir them up in advance and refrigerate in a pretty cocktail pitcher. This link goes to a full page of great cocktail pitchers. Pour up over ice and garnish as you need them.
The Bourbon for your cocktails?
Use a good one, for sure. We used Knob Creek, which we love, and it's good quality, but still affordable. Our Ultimate Guide for Bourbon Lovers highlights a number of choices in several price ranges, as does our post Everything You Need to Make Classic Bourbon Cocktails.
As with the honey, use the best quality bourbon your budget will allow and you'll be pleased with this cocktail.
Simple Syrups for Cocktails
Besides the syrup used in this drink, we love making syrups for cocktails in a variety of flavors. The easiest way to do that is to use jam. You'll have a variety of syrups in just minutes. Go get crazy with your mixology!
For a quick look at this recipe check out the Google Web Story.
📖 Recipe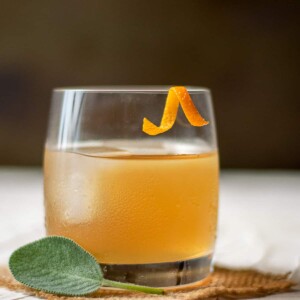 Bourbon Cocktail with Honey, Sage and Orange
Bourbon Cocktail made with honey and sage infused syrup and a good twist of fresh orange.
Ingredients
Instructions
Combine honey, water and sage leaves in a small saucepan. Bring to a boil stirring until honey is incorporated into water.

Boil for 1-2 minutes, then remove from heat and allow to cool.

Combine bourbon, 2 ounces of syrup and juice from orange wedges in a cocktail shaker with a few cubes of ice. Shake.

Pour immediately over about 3 large ice cubes in a 8-11 ounces size glass. Garnish with orange curl and sage leave, if desired.
Notes
This cocktail recipe can easily be made into a full pitcher by multiplying the ingredients by the number of drinks you want to make. Instead of shaking with ice refrigerate the pitcher until well chilled. 
Don't forget to sign up here for weekly newsletters. They come out every Friday with a new recipe each week.

More cocktails and recipes with bourbon: