White Wine Sangria made with orange liqueur and white cranberry juice is the perfect winter cocktail. The beautiful colors and appealing flavor make it the ideal drink to serve around the holidays and beyond.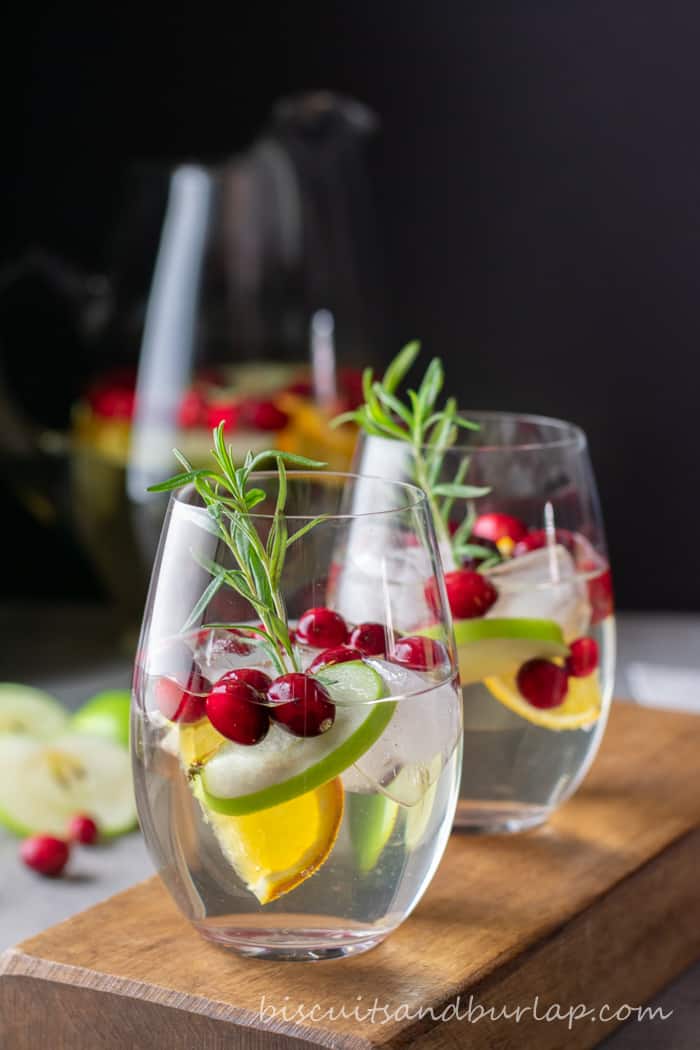 White wine sangria is a bit of a departure from the traditional varieties made with red wine and even red cranberry juice. I'm a white wine lover myself, and I wanted something tasty, but with that great "winter white" look.
Consider this the knee length white wool coat of sangrias. Using white cranberry juice gives it a totally unique taste too. The juice has a bit less of that tangy bite you normally associate with cranberry juice – it's just smoother.
Sangria is a lower alcohol liquid refreshment
I like to serve sangria – especially early on in a longer party. Unless you get too carried away with the liqueur it makes a lighter "cocktail".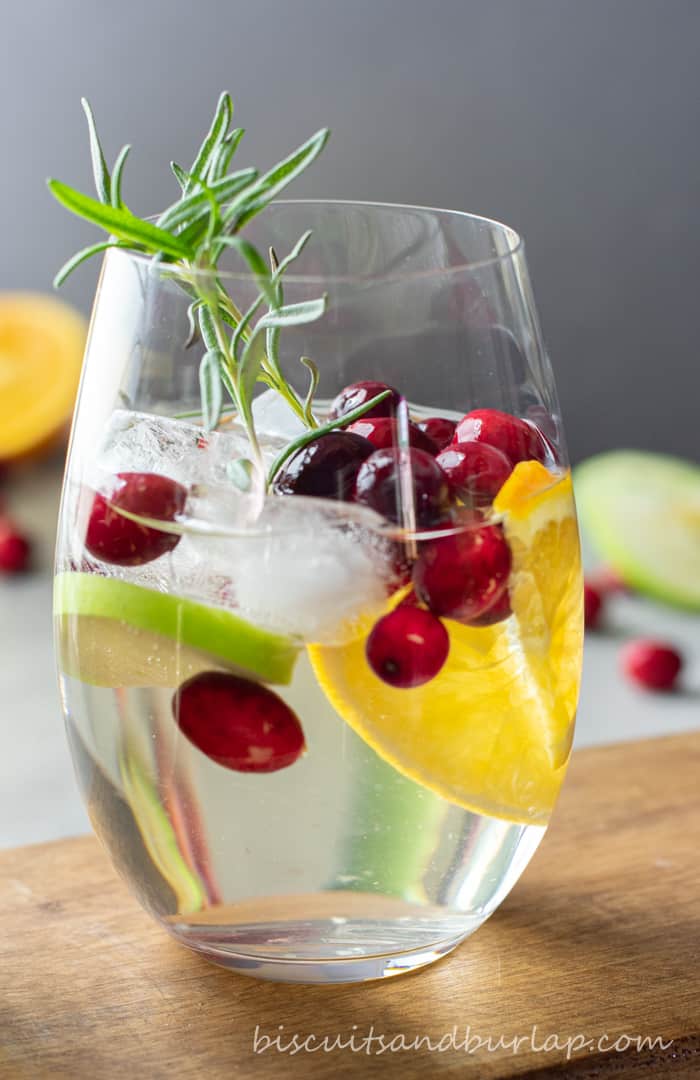 That "lightness" can be your friend if you're hosting an event that lasts several hours. Nobody likes to end up with a bunch of snockered guests, after all.
After a sangria or two you can always switch to something heavier – especially when it's time for the food.
Besides being lower in alcohol this winter white sangria makes the perfect welcome drink because it's beautiful and festive looking.
Fruit and edible garnish for white wine sangria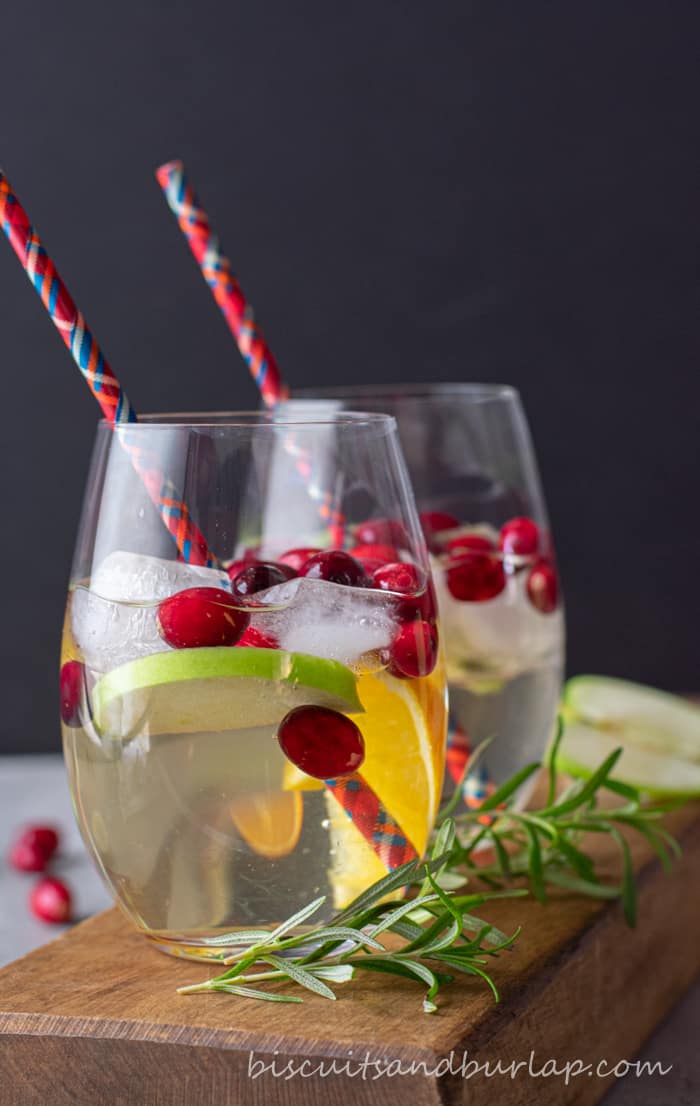 The garnish is what brings all that "prettiness". Cranberries are a no-brainer since we're using cranberry juice and so are oranges, reflecting the flavor of the Grand Marnier.
Beyond that I added some rosemary sprigs. They don't have anything to do with the taste of the white wine sangria – they're just so darn pretty for anything you serve around Christmas.
I added some pieces of green Granny Smith apple, and red apples would be gorgeous and tasty too.
What about non-edible garnish?
This post contains affiliate links, which means if you click on an affiliate link and buy something, we may receive a very small commission.  It does NOT result in additional charges to you or cost you anything extra. Click here for our full privacy and disclosure policy. As an Amazon associate we earn from qualifying purchases.
This page takes you to a whole selection of pretty straws like you see in the photo above. You could also use fun swizzle sticks and toothpicks for your fruit and you can find those on this page. 
The ingredients for the White Wine Sangria?
The only one we had a little difficulty finding was the white cranberry juice. After looking a couple of places and deciding it was too pricy on Amazon I found it at Walmart. So, save yourself a little trouble and go straight to Walmart.
The Grand Marnier is easily found in most liquor stores, but if you have Cointreau on hand, feel free to use that. For the wine I used a pinot grigio. Any dry white wine will do.
My personal preference is to use a decent, but not expensive wine. Save the really good stuff for sipping when you have an excellent shrimp dish like Shrimp with Buttery Sofrito Sauce, or maybe something with chicken like Italian Chicken with Creamy Pan Sauce.
Like a little fizz in your white sangria?
Sometimes we do too. Feel free to top it with a splash of club soda, ginger ale, prosecco or whatever white bubbly refreshment you have on hand.
Top tip: Don't add the sparkling drink in the pitcher or it will go flat. As you pour up the individual drinks (in fun glasses like these maybe) just add the splash then.
Top tip #2: Using club soda or ginger ale is another way to stretch the alcohol content of your sangria.
If you're looking for a creamy, coffee drink with some fizz, try the Smith and Kearns Cocktail.
📖 Recipe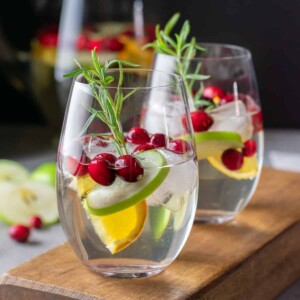 Cranberry White Wine Sangria
The perfect winter white wine sangria for all of your holiday gatherings and beyond.
Ingredients
1

750ml

bottle of dry white wine

¼-1/3

cup

Grand Marnier or other orange liqueur

3

cups

white cranberry juice

1-2

cups

fruit, cut up
Instructions
Chill for 1-3 hours before serving.
Notes
If desired, individual servings may be topped with a splash of sparkling drink such as club soda, ginger ale or prosecco. 
When you make our Winter White Sangria we would love it so much if you would snap a shot of yours and tag us on Facebook and Instagram when you post it. That just makes our day!

More recipes you'll love: