Gullah Style Red Rice is a simple recipe as told by "Maum Chrish" in the cookbook Bittle en' T'ing' - Gullah Cooking. This recipe, along with all of the others in the book, are a celebration of the Gullah culture, especially its fascinating language.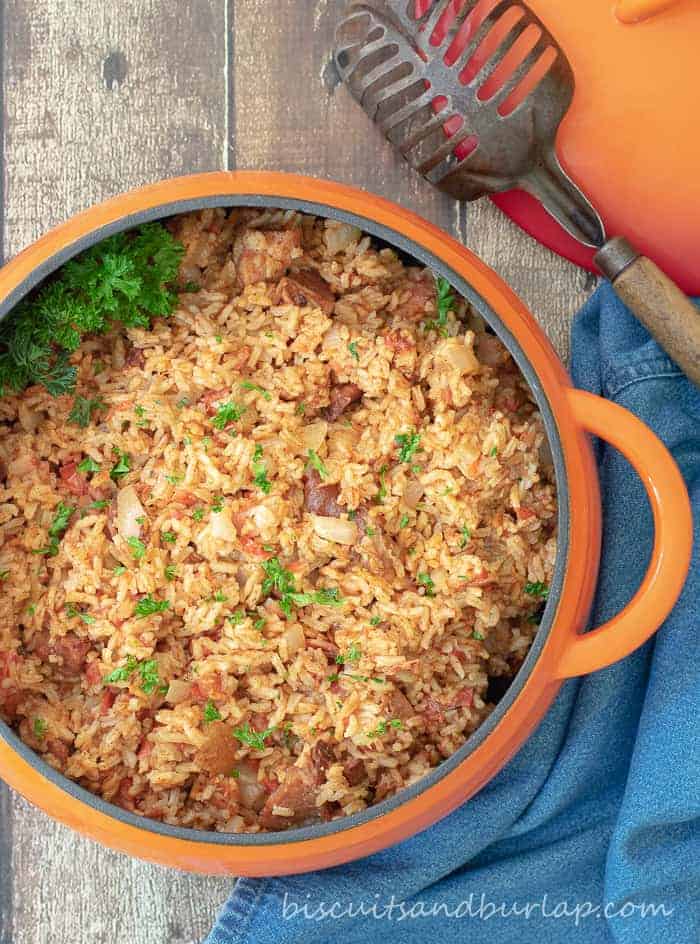 This Gullah Red Rice is an astoundingly delicious recipe. Like most all recipes of the day, this one makes use of the foods available in the area. Rice is an integral part of the cuisine of the lowcountry, having once been a major crop there.
Tomatoes are, when in season, abundant and wonderful. The few other ingredients - onions, smoked meat and salt combine with the rice and tomatoes to create a dish that's comlex, yet simple too.
Some folks would call this Charleston Red Rice, but we have not tasted or made that version, so we can't speak to the similarity or differences. If you make it by that name feel free to leave us a comment below with your take on the comparison.
We travelled to the South Carolina Lowcountry
If you follow us by reading our weekly newsletter (you can sign up here) you know that we recently made a trip to Beaufort, South Carolina, and the surrounding lowcountry. The purpose of the trip was to learn about the food culture of the area.
We had a blast eating (and yes, enjoying a few cocktails) and soaking up as much as we could of this unique region.
Naturally, there is a lot of seafood in the local cuisine as there is water pretty much everywhere you look. But, there's more than just seafood, and this red rice is a great example.
The Penn Center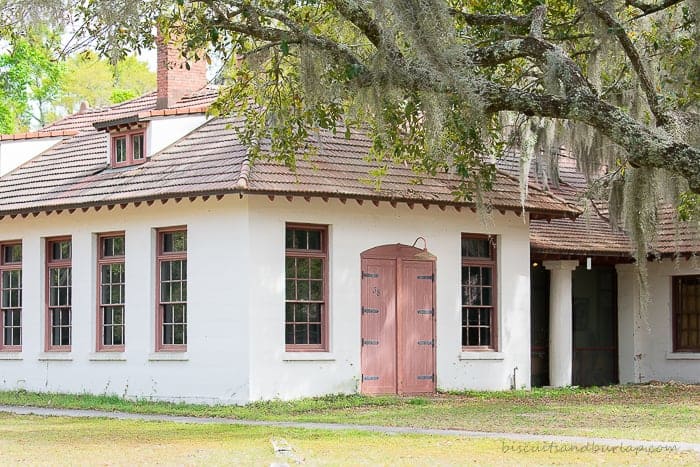 If you find yourself in this area be sure to visit the Penn Center. Formerly the Penn School, it was established in 1862 on beautiful St. Helena Island, and was the first school founded in the southern United States specifically for educating former slaves.
In this case they were the formerly enslaved Gullah people who were left behind when the plantation owners fled the area. After the school closed in 1948, Penn Center's primary purpose was to safeguard the heritage of a Gullah Geechee community.
In the 1960's, Penn Center became a symbol of social justice, being the only location in South Carolina where interracial groups, such as that of Dr. Martin L. King, Jr., and Southern Christian Leadership Conference could safely gather in an era of mandated segregation.
Today the Penn Center campus is designated as a National Historic Landmark District, dedicated to the cultural preservation, social justice, and education of the descendants of the Gullah Geechee community. They maintain a museum, cultural center and conference meeting space. It was in The Welcome Center Gift Shop that we found this treasure: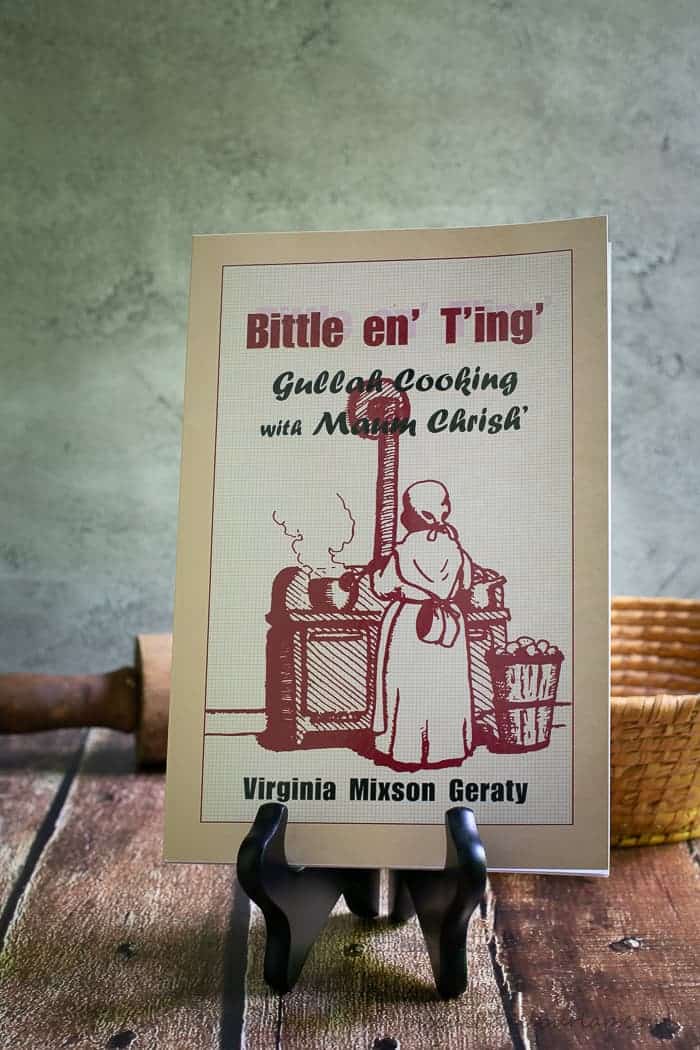 This post contains affiliate links. Please click here to read our full privacy and disclosure policy.
Bittle en' T'ing - Gullah Cooking with Maum Chrish' is a "collection of recipes from South Carolina's Low Country, written in Gullah with English translations. More than a cookbook, it is a tribute to this unique language and to the African-American people whose ancestors used it as a mother tongue". The title itself, when translated means "Food and Other Things".
If you love all things Southern Food, including history and the origins of our recipes you'll want to read Southern Food Then and Now.
What is Gullah?
A quick search reveals "Gullah, also called Sea Island Creole English and Geechee, is a creole language spoken by the Gullah people (also called "Geechees" within the community), an African-American population living in coastal regions of South Carolina and Georgia. The Gullah language is based on different varieties of English and languages of West and Central Africa. "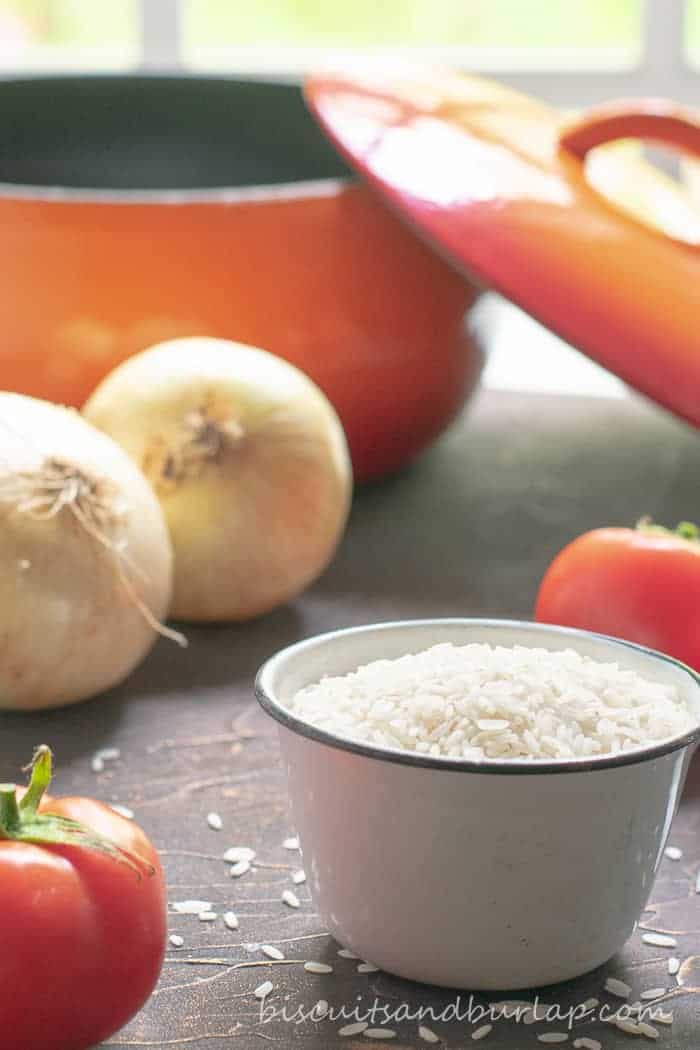 To illustrate we'll give you one paragraph from the recipe in Gullah, and then its translation. Our recipe card below is written up in the more traditional format you are accustomed to seeing.
Maum Chrish' word of caution about watching the rice for doneness:
"Notus 'um en' ef 'e stan' sawtuch dry 'fo' 'e done, t'row uh lettle watuh 'cross 'um"
The English translation:
"Watch the rice and if it seems to dry out before it is done, add a little water."
Our version of Maum Chrish' Red Rice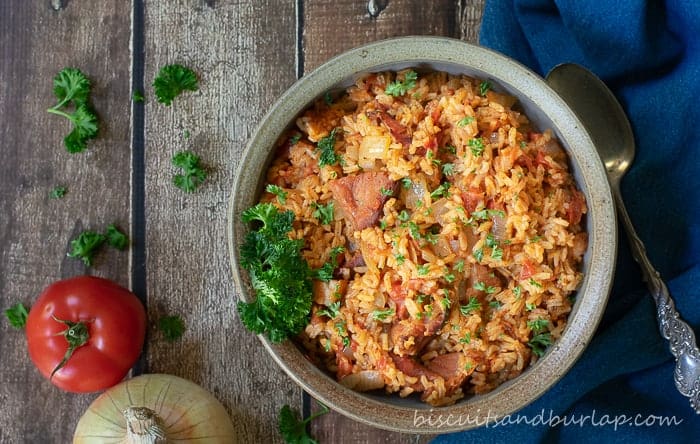 Wanting the final dish to be one you all would love, we did make a few minor changes to the original recipe. Therefore we do not claim this one to be totally authentic Gullah Geechee food. It's simply inspired by our love for the entire culture, including its cuisine.
Two onions seemed like a lot for a pot of rice, so we only used one. If you're an onion nut, feel free to use two.
"Smoked side" is not an ingredient readily available these days. In our freezer we had a bag of pieces of "Smoked Ham on the Big Green Egg" and we chopped those up into bite sized pieces. Any type ham or smoked pork sausage would be good too. In fact, you could totally switch it up and add another protein from the area and you'd have Red Rice and Shrimp!
Feeling it might end up a bit bland for our palates (and yours) we added a spoonful of chili powder.
The parsley garnish was strictly to add some color and make it pretty.
Gullah Style Sweet Potato recipe now available too
Sometime after this post was published for Red Rice we realized what an interest there was in the Gullah cuisine and culture.. So many of you were visiting this post and enjoying the recipe that we decided to add another one from the same cookbook.
You can now find Gullah Style Sweet Potatoes on Biscuits and Burlap as well. It's a simple dish, just like the red rice, and has only 3 ingredients besides the sweet potatoes themselves.
Many people say that Charleston Pecan Chewies are a Gullah recipe. We're not positive about that, but they certainly do come from the Carolina lowcountry.
We think you'll love hearing Maum Chrish' version of "how many potatoes to dig from the potato bank" as well as our instructions, which are as simple as the recipe itself.
📖 Recipe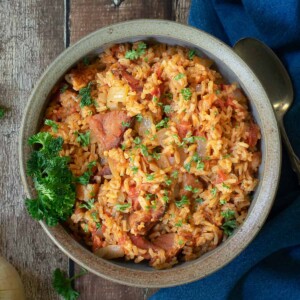 Gullah Recipe for Red Rice
Red rice is a simple dish of rice, onions and tomatoes seasoned to perfection. This version is inspired by a cookbook of Lowcountry favorites told in the Gullah language and translated into English.
Ingredients
2

Tablespoons

Bacon grease

or other oil or shortening

⅓-1/2

pound

smoked meat such as ham or sausage

cut into bite sized pieces

1-2

onions, chopped

5-6

tomatoes, diced

1

Tablespoon

chili powder

optional

1

cup

long grain rice

1

teaspoon

salt

1

cup

water
Instructions
Heat the baking grease in a large pot or small dutch oven over medium heat.

Add the meat and cook until browned on the edges, then remove and set aside.

Add the onions and tomatoes to the pot and cook until the onions are translucent.

Stir in the water, rice, salt and chili powder if desired. Add the meat, stirring at medium high heat until mixture comes to a boil.

Reduce to simmer, cover and cook 20 minutes. If rice is not done, add another ¼ cup of water, recover and cook 5-6 more mminutes.
Nutrition
Calories:
227
kcal
Carbohydrates:
27
g
Protein:
8
g
Fat:
9
g
Saturated Fat:
3
g
Polyunsaturated Fat:
1
g
Monounsaturated Fat:
4
g
Cholesterol:
20
mg
Sodium:
720
mg
Potassium:
162
mg
Fiber:
1
g
Sugar:
1
g
Vitamin A:
397
IU
Vitamin C:
1
mg
Calcium:
21
mg
Iron:
1
mg
The next installment in the series on our Lowcountry trip is all about oyster farming and includes a bonus recipe for White Wine Mignonette.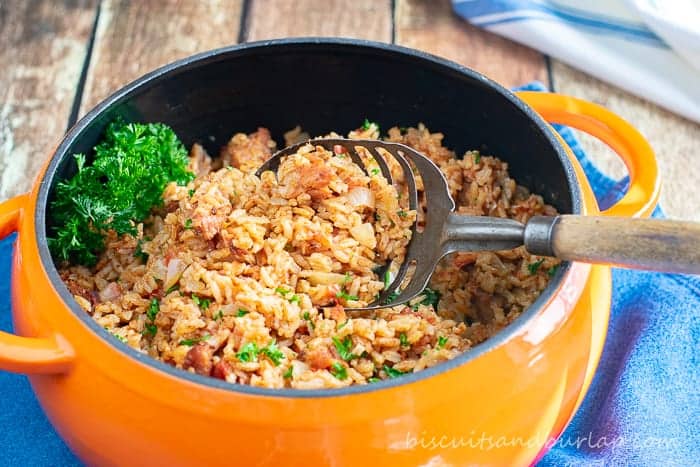 Don't forget to order your very own copy of Bittle en' T'ing' by using this link.
If you love our Guro Cast Iron domed casserole dish as much as we do the link for ordering one of those is here.
Also in the series of posts on our trip to the Lowcountry is a cocktail recipe for "Cathead Cooler. You'll love this unique and delicious libation!

More Recipes That We're Keeping Alive: