Fried Chicken made the way your grandma made it. It's lightly breaded and cooked in an iron skillet.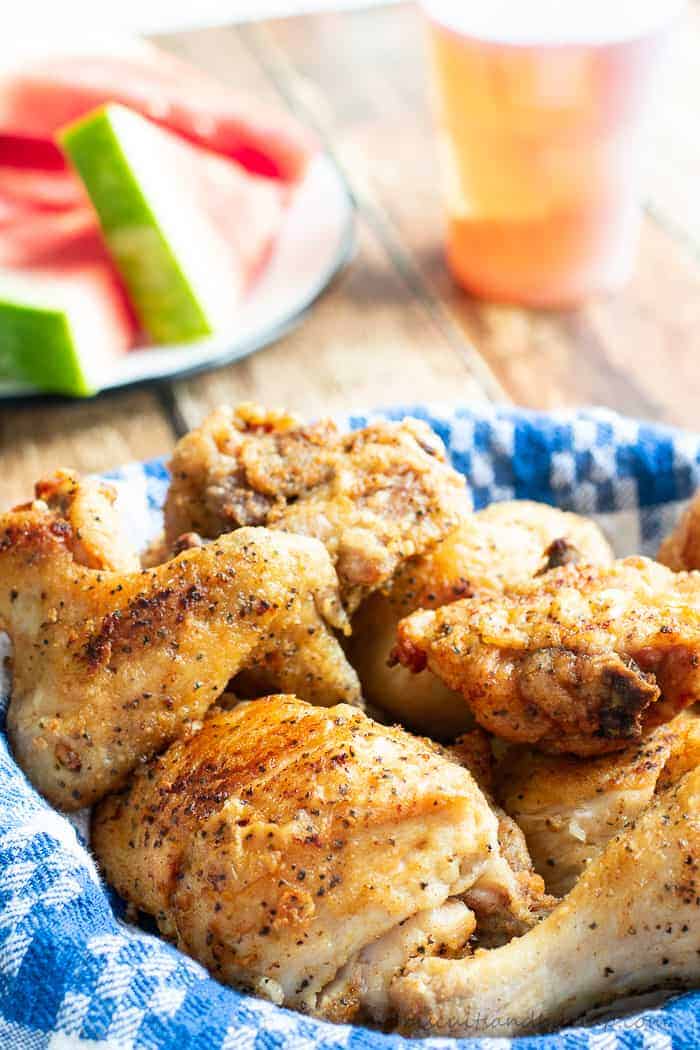 Fried chicken made the old fashioned southern way is going to bring back memories for many of you. While there is nothing wrong with thickly battered, tremendously crispy fried chicken, that's not the way your grandmother made it.
She stood over an iron skillet and lovingly babied that chicken until it was just the right shade of golden brown, and had a lightly crispy coating - a bit on the salty side by today's standards, but oh so good! (If you love Southern food traditions be sure to read this article.)
The cut up chicken - Remember the "pulley bone"?
The chickens of our childhood and our parents' childhoods were smaller and more tender than the average grocery store chicken of today. They were brought home whole, and the cook cut them up.
If you were a child of a child of the depression like I was, your mamas and grandmamas wasted nothing. That means the neck, backbone and at least the liver of the chicken were cooked too.
Now, we are fortunate to live in better times and I appreciate that fact. I don't cook those parts of the chicken. In fact, I have to admit that I don't cut up the chicken myself. But I do like to shop at a butcher shop and I believe the chicken there is closer to what I remember from my childhood.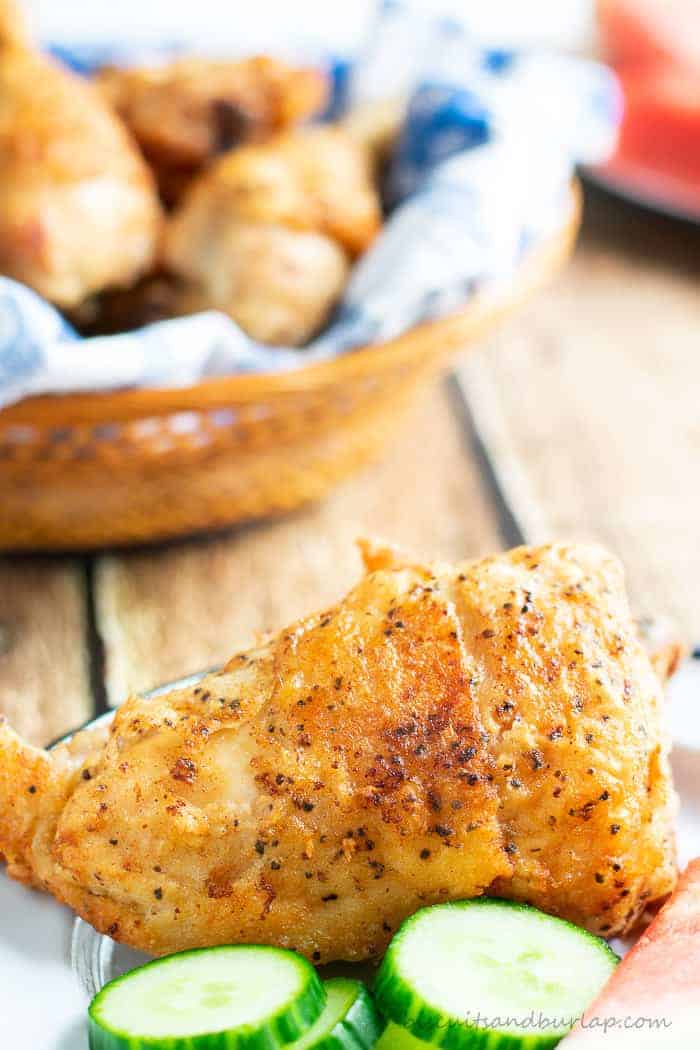 The pulley bone? It's also known as the wish bone. Mama would actually cut the breast of the chicken into 3 pieces. The pulley bone came from the top of the breast and was a coveted piece. It's like the tenderloin of the chicken.
It's white meat, but moist like dark meat, and just the right size. Traditionally, after dinner the person who ate the pulley bone and someone else each held one side of the pulley bone under the table, made a wish, and pulled. The winner was the one with the biggest piece of bone at the end, and their wish would come true.
If you're interested in learning to cut up a whole chicken with the wishbone or pulley bone, check out this video and others like it on YouTube. Whether you do it yourself or have the butcher do it, having your chicken cut up this way is key to true southern fried chicken.
Are you getting our new recipes? Sign up here to have them delivered directly to your in box.
Brine the Chicken First
This is a step that I've added from the way my Mama and Grandmama fried chicken. But again, it's because the chickens are larger today, and the meat is just not as tender.
Brining not only tenderizes, but it does add a bit of saltiness throughout the meat. If you're really cutting back on your salt, you can certainly skip this step. But, truthfully, if you're cutting back on your salt, southern fried chicken is probably a dish you should be avoiding.
Exact instructions for brining are in the recipe, but just know that if you can plan ahead for a few hours, it really will make a difference in tenderness and flavor. We also recommend brining for our Cajun Grilled Pork Chops - another cut of meat that can be tough if you don't brine.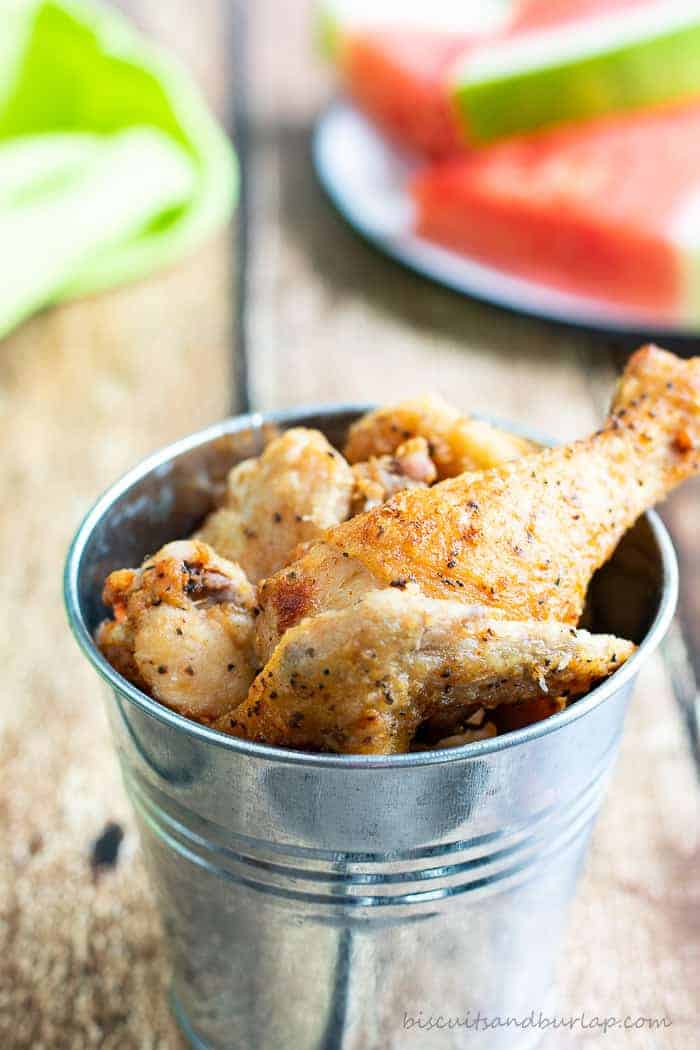 Tips for Making the Best Southern Fried Chicken
Buy your chicken from a local butcher shop with a good reputation
Have the butcher cut up the chicken with a wish bone or pulley bone. If they don't know how, go for a visit armed with You Tube videos. OR...
Cut up a whole chicken yourself
Brine the chicken for 3-4 hours before cooking
After seasoning and flouring let the chicken sit for about 15 minutes before cooking (this will prevent sticking)
If possible cook in an iron skillet
Add the pieces slowly to give the oil time to recover to optimum temperature
As each piece is added to the pan, move it around a little to prevent sticking
Drain on brown paper topped with paper towels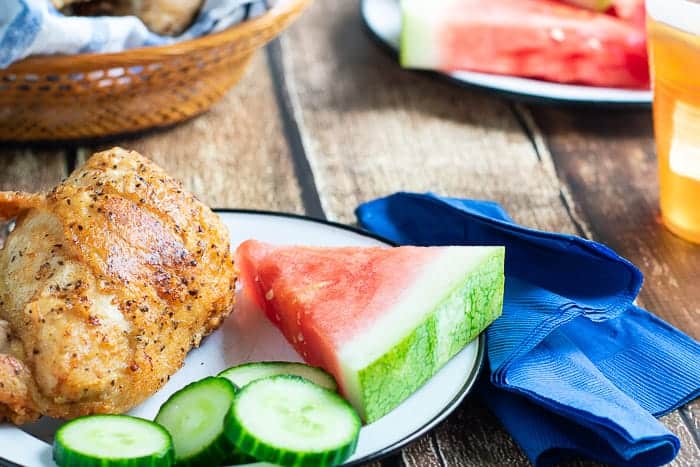 Chicken Gravy is a bonus
When the chicken is done and the iron skillet has cooled just a little you can make gravy for topping biscuits, rice or potatoes. It's the perfect addition to your southern fried chicken meal.
Drain almost all of the oil, being careful to leave the brown bits in the bottom of the pan. Whisk together a cup of water with two Tablespoons of flour and stir that into your skillet. Cook over medium heat until thickened. If it gets too thick you can add a little more water. Season with salt and pepper.
An easy tutorial on how to make gravy from scratch can be found here. That same method works perfectly with our country fried steak recipe.
No Iron Skillet? Order one now.
This post contains affiliate links for your convenience. Click here to read our full disclosure policy
We love our iron skillets around here and use them often. Our most popular recipes made in them are Hot Fudge Pudding Cake, Ham and Potato Frittata, and Mama's Mexican Cornbread.
For a good selection of iron skillets click this Amazon link. We've only included choices which are 4 star and above.
If you're here you must love southern food, so you'll want to check out our Fried Squash and Spicy Boiled Peanuts. Roasted Carrots and Green Beans are also a great side option for this dish. These recipes are so easy and only have a few ingredients each.
📖 Recipe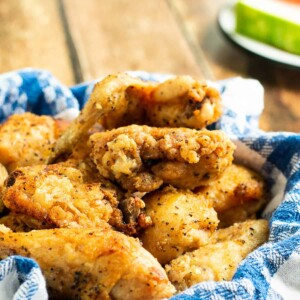 Fried Chicken - Southern Style
Fried Chicken with a light breading made the way your Grandma made it.
Ingredients
1

chicken, cut up

4

cups

water

½

cup

salt

Kosher salt preferred

⅓

cup

sugar

2

teaspoons

seasoning salt

1

Tablespoon

black pepper

coarse grinding preferred

vegetable oil

1

cup

all purpose flour
Instructions
Wash chicken pieces thoroughly.

Dissolve sugar and salt in water.

Submerge chicken in water and refrigerate for 3-4 hours.

Remove chicken from brine and dry thoroughly.

Season chicken with seasoning salt and black pepper.

Roll chicken in flour, shaking off excess.

Let sit at room temperature for 10-15 minutes.

Pour oil to depth of about 1.25 inches in iron skillet, and heat to medium, or sightly above medium.

Add chicken to hot oil gradually, giving oil temperature time to recover after each piece.

Cook until golden brown and juices run clear. Time will vary according to the size of the piece, and dark meat will cook more slowly.

Drain on brown paper and paper toweling.
Don't forget to sign up for new recipes delivered straight to your inbox. You can do that here.

More recipes you'll love