Hot Fudge Pudding Cake is made from simple ingredients you've already got in your kitchen. The cast iron skillet gives a "crispy-around-the-edges" touch that only an iron skillet can do.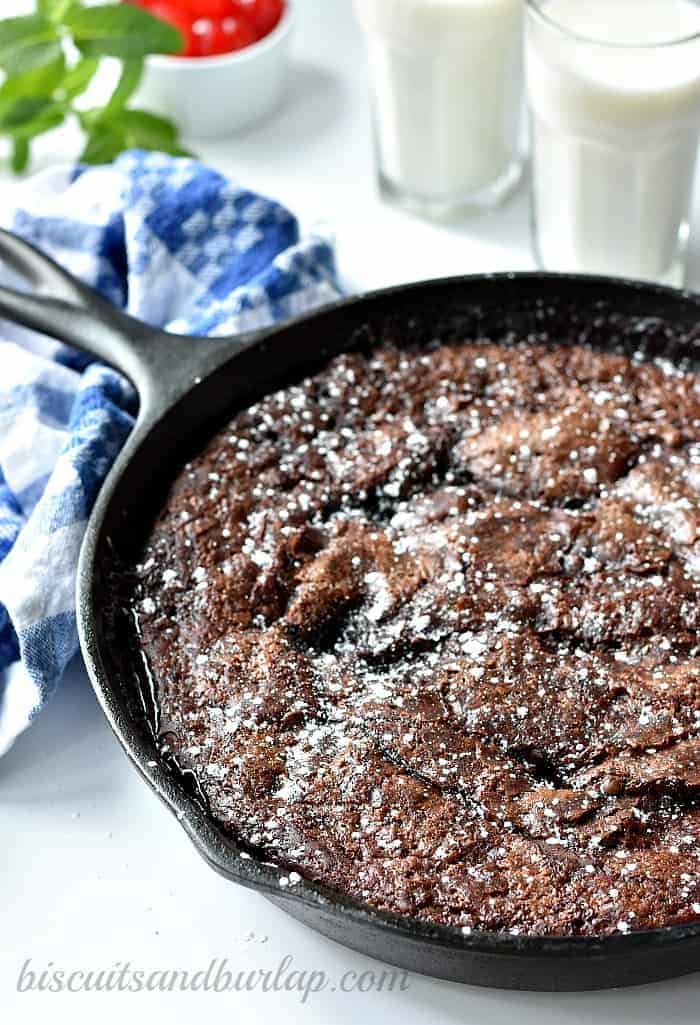 Hot Fudge Pudding Cake is a recipe that has been around our family for years and years. Making it in an iron skillet is an update (or is that a throwback?) that gives it a crispy edge and keeps it warm while you eat dinner.
Perfect timing would have you pulling it out of the oven about 10 minutes before you sit down to eat your meal. Of course, perfect timing isn't always possible, and it's going to be delicious no matter what.
Family Recipes are Just the Best
The first time we ever had Hot Fudge Pudding Cake it was made by Buddy's Aunt Norma and that was over 30 years ago. The only alteration we've made to her original recipe is to make it in a cast iron skillet.
The cooking time had to be adjusted downward because it takes a little longer in the 9x9 inch pan like she used, but that's simple enough. If you don't have an iron skillet you can certainly use a 9x9 pan, but if you don't have an iron skillet, why not?
This post contains affiliate links for your convenience. Click here to read our full disclosure policy.
Here you'll find a full selection of cast iron skillets. They all have Amazon four star or above ratings.

Some of our favorite iron skillet recipes:
Hot Fudge Pudding Cake uses ingredients you already have on hand
If you're like me, you love a recipe that you can make when the mood strikes you. You know that feeling.... you have a sudden desire for something warm and chocolaty and sweet. There's no time to run to the store for crazy off-the-wall ingredients.
This recipe uses sugar, flour, cocoa, butter, brown sugar, milk, vanilla and a little baking powder and salt. You've got all that right?
Now, whoever it is that took those simple ingredients and made this delicious Hot Fudge Pudding Cake the first time is an absolute genius. And, if they were here right now, I'd give them a big ol' hug.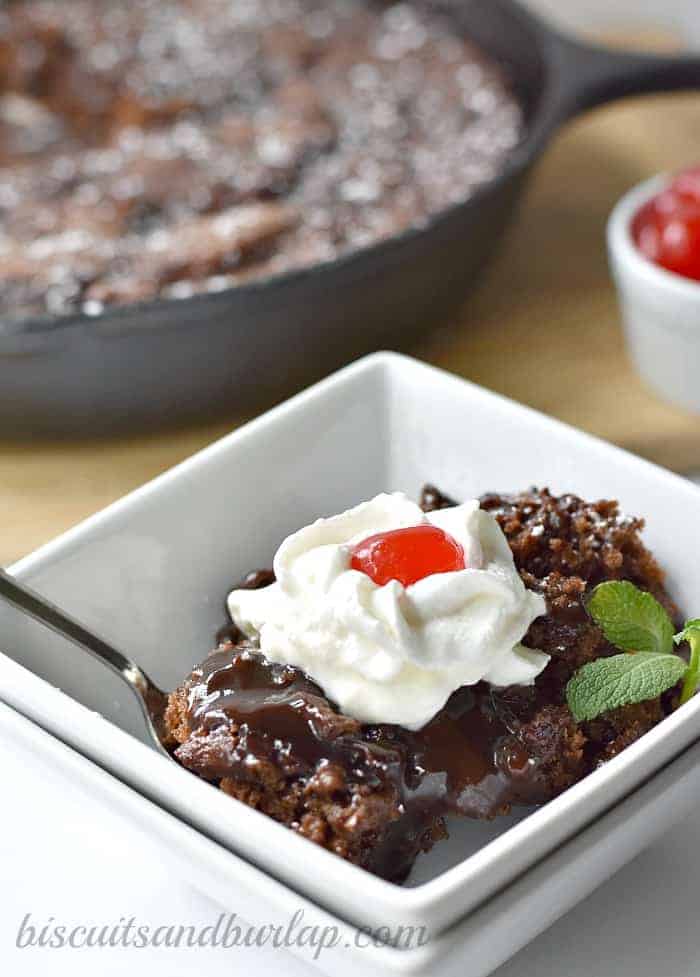 Couldn't you just jump right into that? It certainly looks just divine to me, but I've got something to share with you all. While brown foods can be the tastiest dishes on the planet, they are extremely difficult to photograph.
Making brown food look as good as it tastes and smells is a huge challenge to anyone who photographs food. Adding a bit of color is one trick. Enter the maraschino cherry.
Maraschino Cherries
But, here's something we recently discovered. These neon red maraschino cherries are impersonators. Yes, they're bright and colorful, but the taste is nothing like a genuine maraschino cherry.
We were only recently introduced to these Luxardo Original Maraschino Cherries.
I know they're crazy expensive, so you'll want to use them sparingly, but they're like night and day from those red things. The best description I can come up with for the texture is "velvety".
If you like a Manhattan or an Old Fashioned you'll want a jar of these to keep in your bar.
I realize that you came for a visit today to get the recipe for Iron Skillet Hot Fudge Pudding Cake, not a discourse on maraschino cherries, but I just couldn't resist the opportunity to tell y'all about that great discovery. On to the chocolate goodness.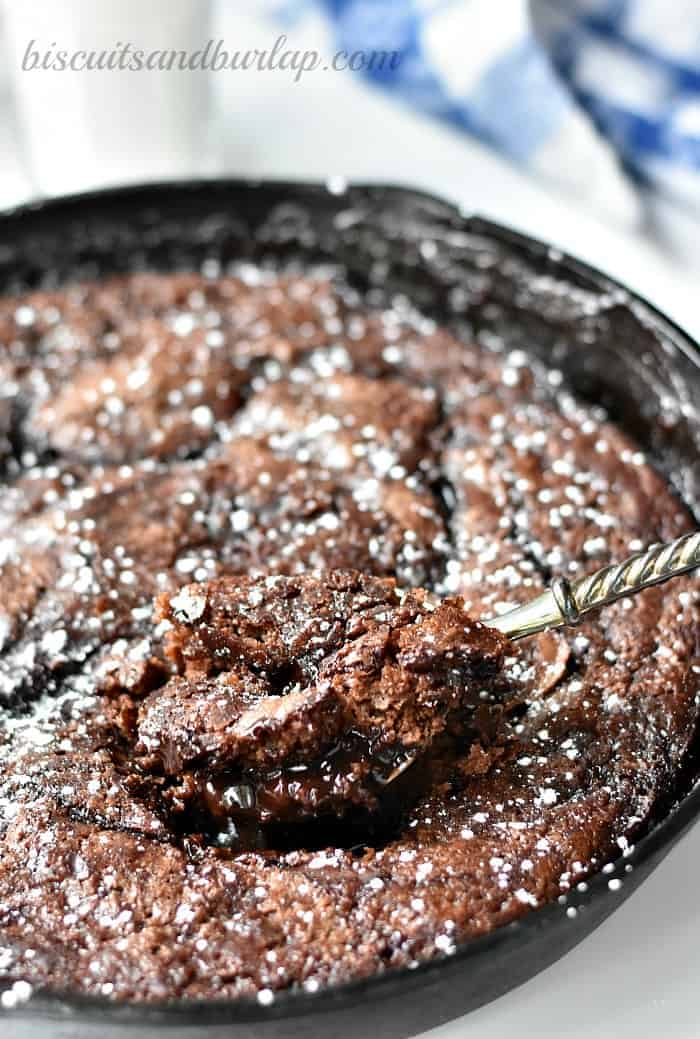 A heads up about the Hot Fudge Pudding Cake Recipe (video):
We've had readers question the recipe directions because this cake is assembled in an unconventional fashion. Just rest assured that the recipe is correct and your pudding cake is going to be fabulous.
Yes, there's a batter in the skillet first. Then a mixture of dry ingredients get sprinkled on top. Finally hot water is poured over the whole thing. We've made it countless times and it's always been great, so don't worry...
Watch the video for even more assurance that you're doing it right.
NOTE: After being cooked your dessert will have a hot fudgy, pudding-like sauce on the bottom and a cake layer on the top. For every serving you'll want to scoop all the way down to get some sauce and some cake.
📖 Recipe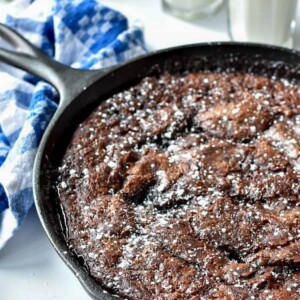 Iron Skillet Hot Fudge Pudding Cake
Warm, chocolate goodness uses simple ingredients that you already have on hand.
Instructions
Combine ¾ cup sugar, flour, 3 Tablespoons cocoa, baking powder and salt.

Blend in milk, butter and vanilla. Beat until smooth.

Pour batter into oiled 10 inch iron skillet.

Combine remaining sugar, brown sugar, 4 Tablespoons cocoa and sprinkle over batter.

Bake at 350 degrees for 30-35 minutes.

Let stand 15 minutes before serving. If desired, top with whipped cream and/or ice cream.
Notes
After being cooked your dessert will have a hot fudgy, pudding-like sauce on the bottom and a cake layer on the top. For every serving you'll want to scoop all the way down to get some sauce and some cake.
For a fun and quick look at this recipe check out the Google Web Story.
If you're here it's because you love chocolate, so you'll also want to check out the recipe for Easy Double Chocolate Cookies. Other than semi-sweet chocolate chips they're made with pantry ingredients too!
And Homemade Chocolate Covered Pecans are made with just 4 ingredients and make the perfect gift for a chocolate lover.
Southern Food Then and Now is all about traditions, regions and the origins of our favorite cuisine!
Stick around a while and check out these too!