This simple and easy recipe for Tomato Gravy is delicious over biscuits for breakfast or brunch. A lot of people love it over rice or cornbread, too.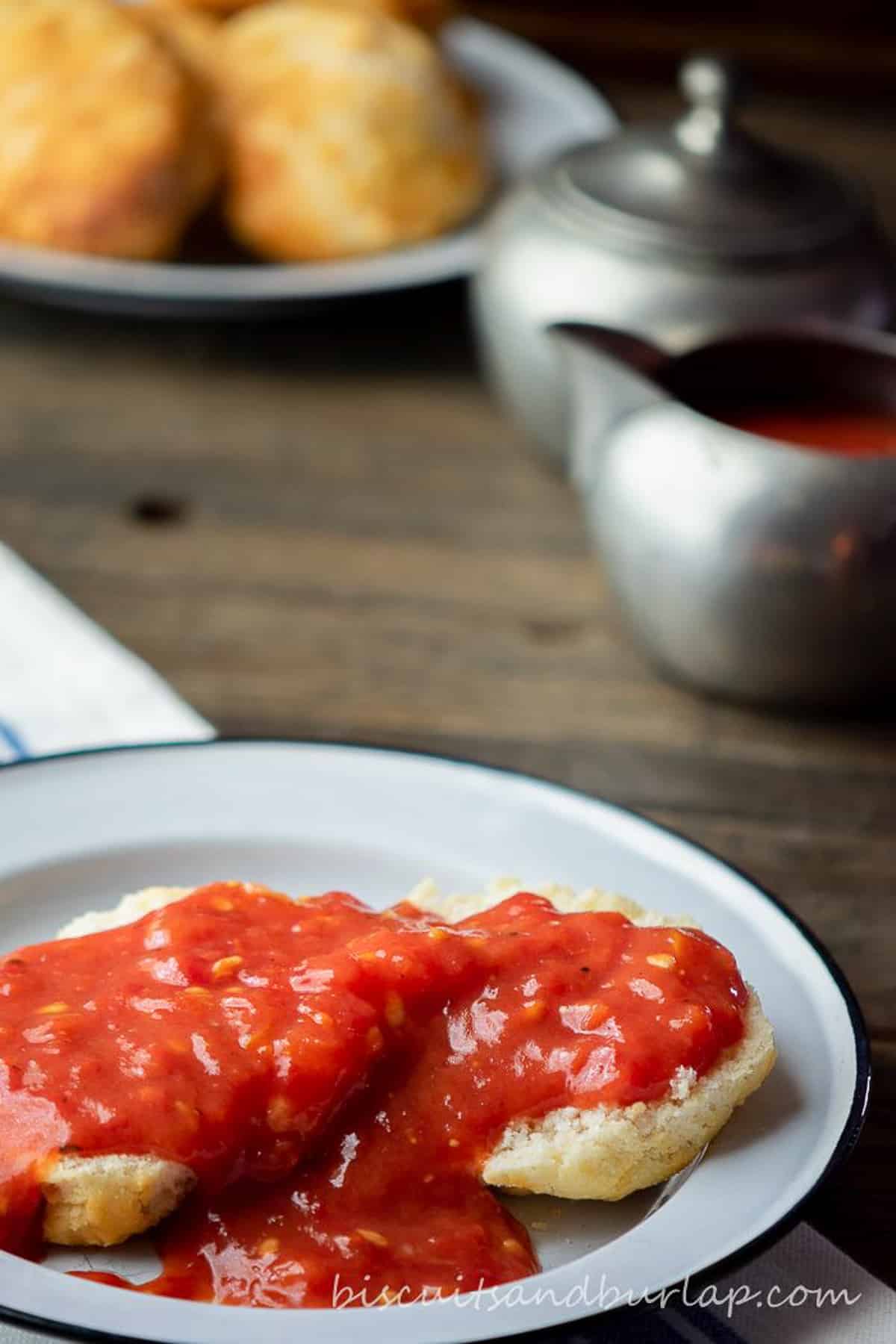 Featured comment: "This recipe gives me all the feels as it brings me back to my Grandmother making it when I would stay over at her house."
Homemade Tomato Gravy Over Biscuits
Let us show you how to make tomato gravy. We thinks it's best over biscuits at breakfast or brunch, but it also makes a great "Breakfast for Dinner" dish. Lots of folks love it over rice or cornbread, and we're on board with that.
It's so easy, and uses plain ingredients that you probably already have in your pantry, so make it often.
For some of you, this recipe will bring back sweet memories. The rest of you will wonder where tomato gravy and biscuits has been all your life.
Before you go any further you'll want to read Southern Food Then and Now.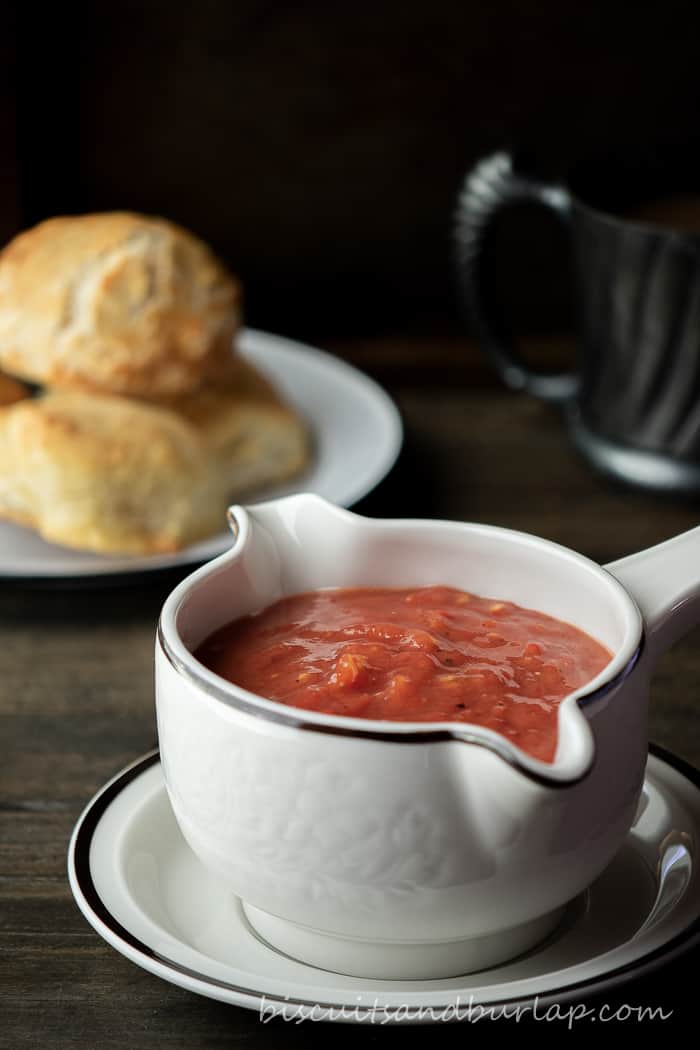 This post contains affiliate links, which means if you click on an affiliate link and buy something, we may receive a very small commission. It does NOT result in additional charges to you or cost you anything extra. Click here for our full privacy and disclosure policy. As an Amazon associate we earn from qualifying purchases.
Ingredients/Substitutions
These are simple, downhome pantry ingredients.
Canned Tomatoes – The ones that give us the texture we love are diced, but you can use crushed (it would just have less tomato pieces) or whole canned tomatoes that you cut up into small pieces.
Flour – Plain all purpose flour.
Chicken stock – Broth would be fine instead and beef stock or broth are good too.
Salt – Plain table salt.
Black pepper – We recommend freshly ground, but any coarse ground or even finely ground would work.
Pan drippings from cooking bacon, sausage or ham – This is something you can't buy in a store, though a spoonful of Better than Bouillon (ham flavored) is a decent substitute. Read below for more details.
see recipe card below for quantities and measurements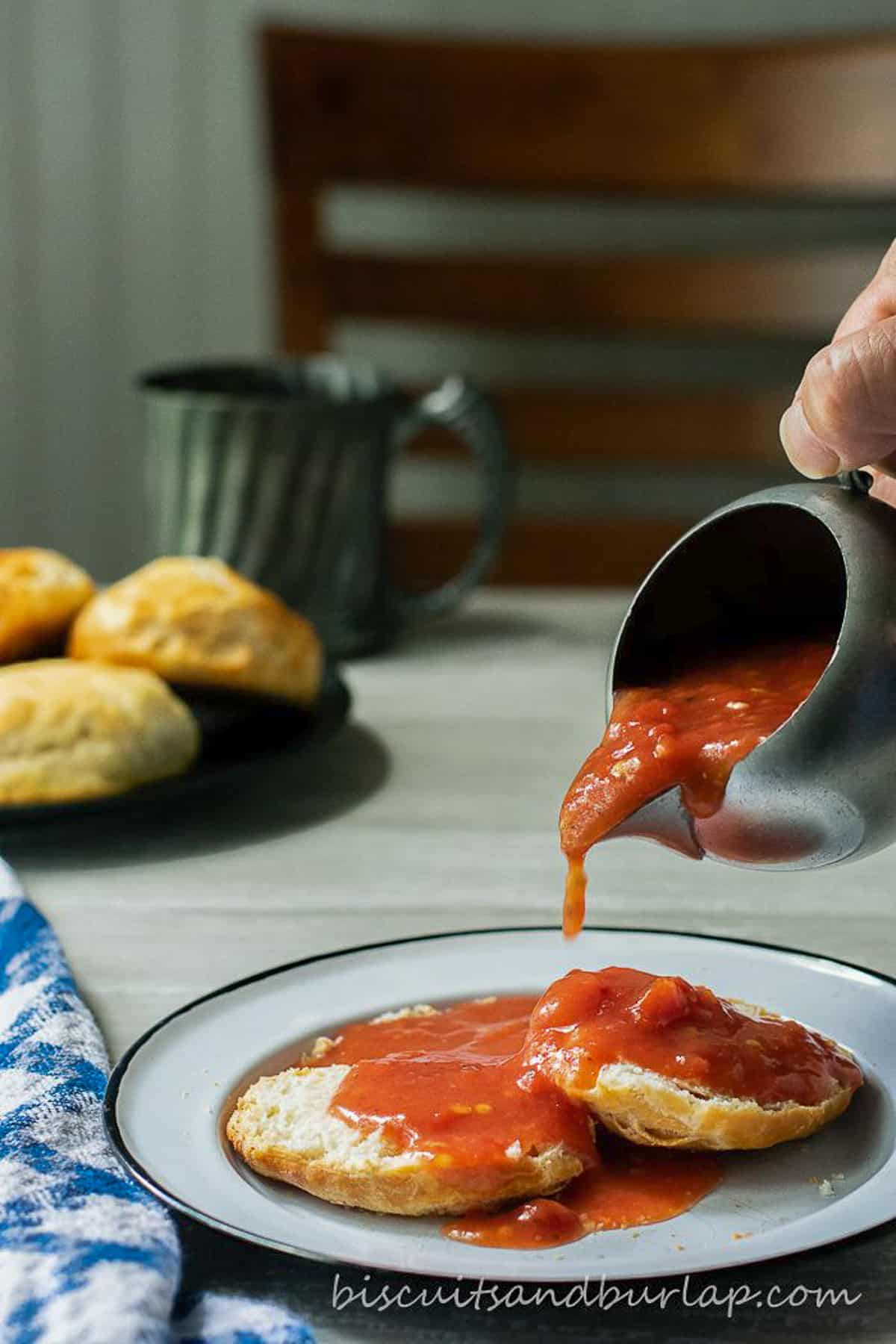 The most important ingredient
You might think it's the tomatoes. Of course, you can't make it without them, but what really makes it "gravy" and not just thickened tomatoes are the pan drippings from your breakfast meat.
After you've cooked bacon, sausage or ham, use that pan for making your tomato gravy. Leave just a little of the rendered fat in the pan. Then you'll scrape the bottom as you make the gravy to incorporate all of that leftover goodness.
Some people say they can make a good tomato gravy with just the bacon grease left from previously cooking bacon. We have never tried it that way but can imagine that it's a pretty good version.
But, to get the absolute best version you'll want the bits left in the bottom of the frying pan to be incorporated into your gravy.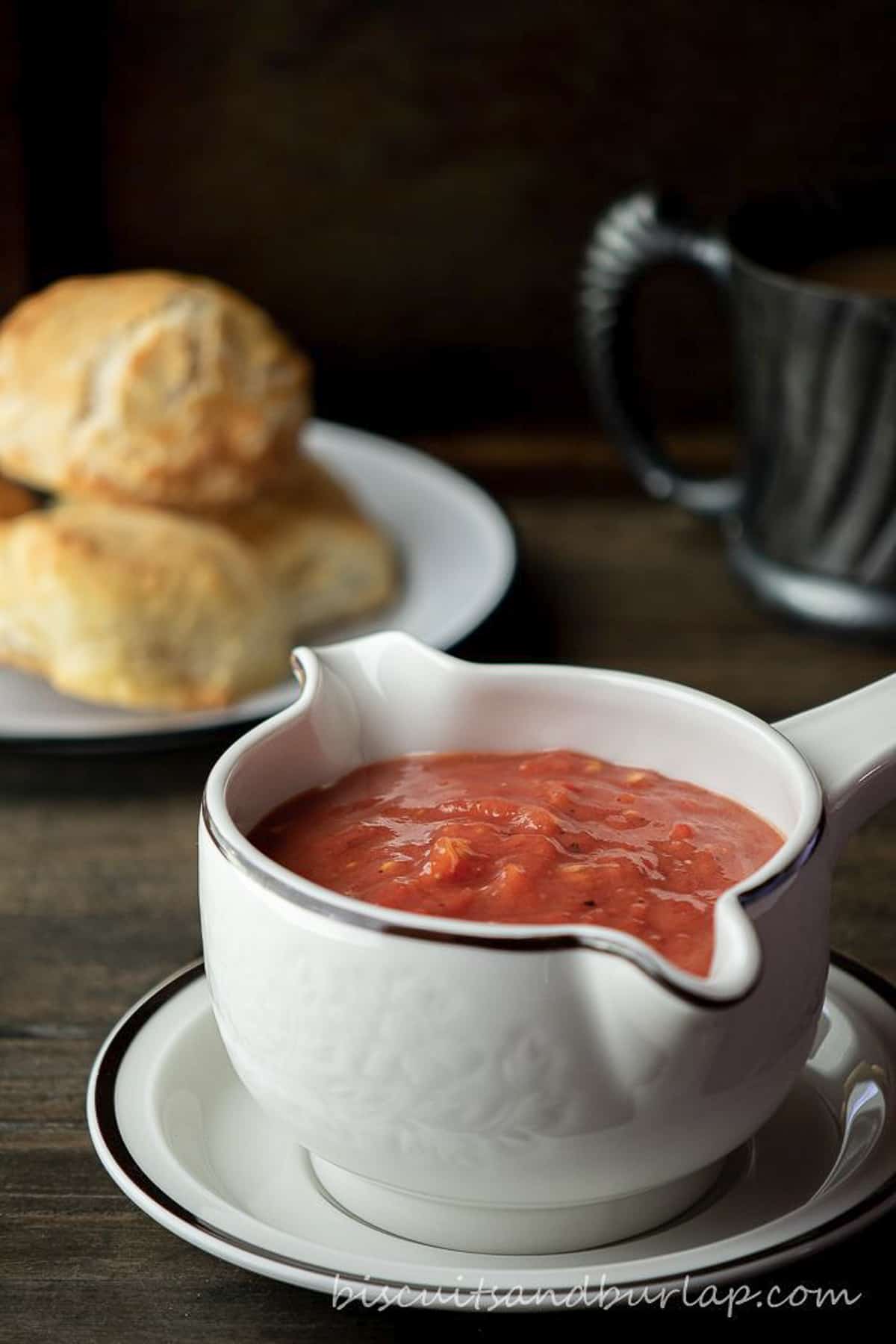 More gravies
We also make a classic homemade Gravy from Scratch and Cajun Gravy and Chicken, and the pan drippings from the meat are essential in these too. Those recipes include step by step instructions.
Likewise, homemade Sausage Gravy is made in the pan after crumbled sausage has been cooked, but in that case you will add the sausage back to the gravy before serving it over biscuits.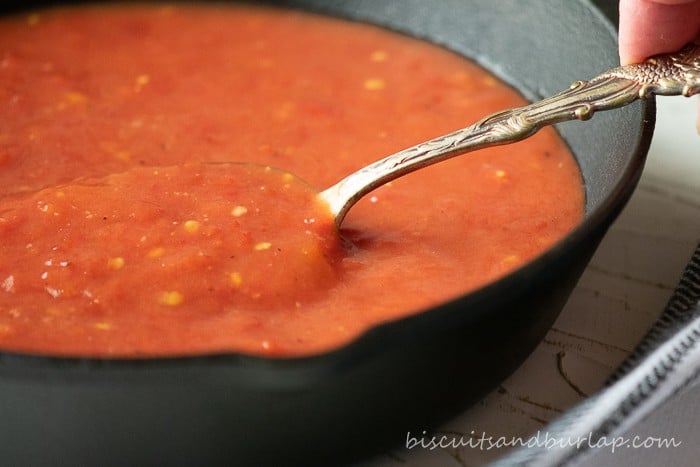 If you're here you must love southern food, so you will definitely want to check out 3 Ingredient Biscuits. It's one of our top posts around here. They are so good, y'all and they make the perfect base for this gravy.
This recipe made our Annual Reader Favorites. Check out the rest here.
Love all things Southern Food?
If you're reading this post chances are you love southern food and know others that do too.
We've put together this awesome guide, Great Gifts for the Southern Foodie. It has several cast iron cookware choices, books of southern recipes and food history and small items that would make a great gift basket. We did the homework for you, and have only included items with Amazon 4 stars and above.
You'll want to be sure and check out our recipe for Southern Fried Chicken. We even had it cut up with a pulley (wish) bone. Remember those?
Our web story on this recipe can be found here.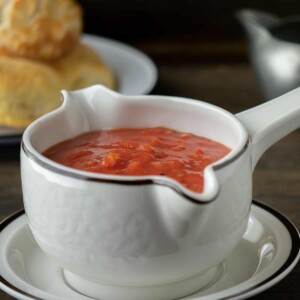 Easy Tomato Gravy
This simple and easy recipe for Tomato Gravy is delicious over biscuits for breakfast or brunch. A lot of people love it over rice or cornbread, too.
Ingredients
28

ounces

canned diced tomatoes

4

Tbsp

flour

1

cup

chicken stock

or beef stock (or broth)

1

tsp.

salt

1

tsp.

pepper

2-3

tsp.

pan drippings from ham, sausage, or bacon
Instructions
Heat tomatoes (in iron skillet where you've cooked breakfast meat) over medium heat, scraping the bottom of the pan.

Stir flour into stock and whisk until there are no lumps.

Stir flour/stock mixture into hot tomatoes, whisking as you stir.

Bring to a boil and stir until thickened.

Reduce heat to simmer.

Simmer for at least 5-10 minutes.
Notes
Whole canned tomatoes that have been chopped or pulsed briefly in blender can be substituted for diced. Crushed tomatoes can also be used.
Pan drippings are not included in nutritional calculations.
Nutrition
Sodium:
424
mg
Calcium:
35
mg
Vitamin C:
9
mg
Vitamin A:
120
IU
Sugar:
3
g
Fiber:
1
g
Potassium:
230
mg
Cholesterol:
1
mg
Calories:
43
kcal
Monounsaturated Fat:
1
g
Polyunsaturated Fat:
1
g
Saturated Fat:
1
g
Fat:
1
g
Protein:
2
g
Carbohydrates:
8
g
Iron:
1
mg
Don't forget to sign up for our newsletters here. We would hate for you to miss anything.

I hope you enjoyed this little trip down memory lane. For some other old style southern favorites, check these out.
Other Southern Favorites