This simple and easy Southern style Tomato Gravy is delicious over biscuits for breakfast or brunch. A lot of people love it over rice or cornbread, too.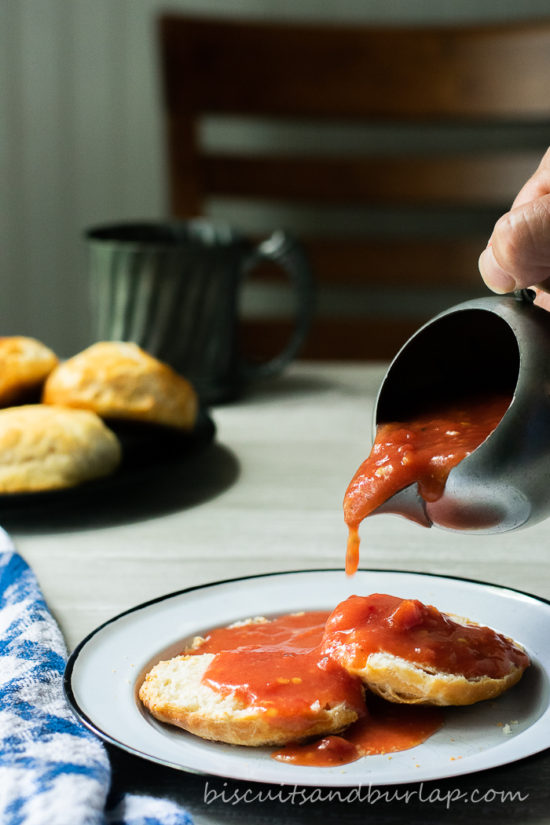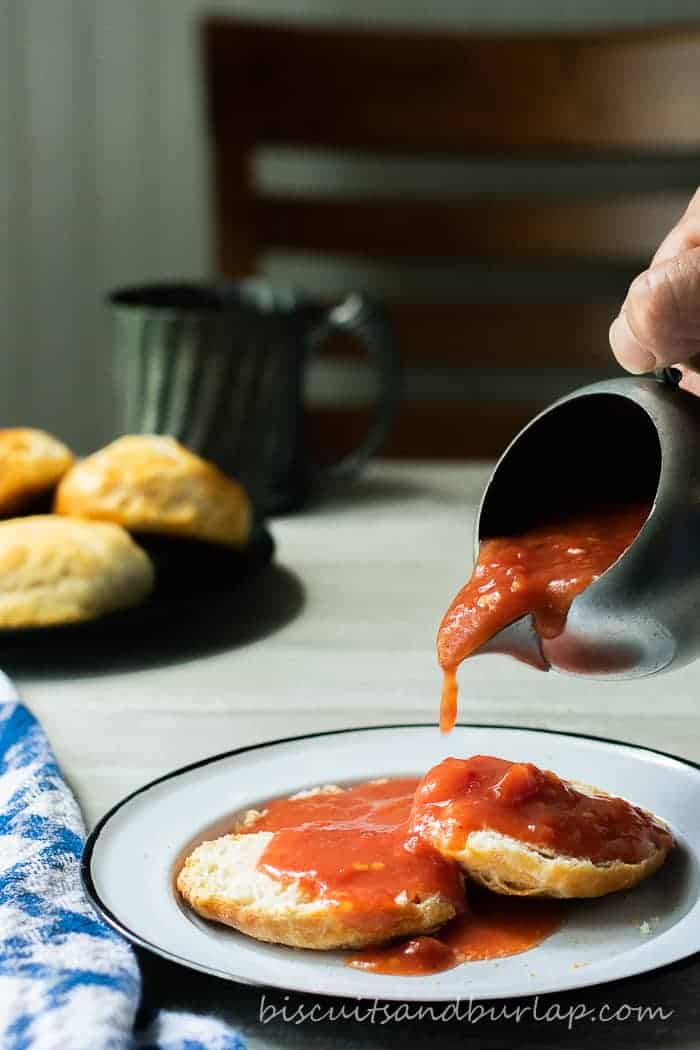 Tomato Gravy Over Biscuits
This simple and easy old-style Tomato Gravy is best over biscuits at breakfast or brunch, but would make a great "Breakfast for Dinner" dish, too. For some of you, it will take you back to your roots.
Before you go any further you'll want to read Southern Food Then and Now.
The rest of you will wonder where Tomato Gravy and biscuits has been all your life. Another way we love it is over Toasted Cornbread. Never heard of that? Click over here for an easy recipe. 
Many people eat Tomato Gravy over rice, and that's yummy too, and more of a lunch or dinner dish. It's so easy, and uses plain ingredients that you probably already have in your pantry, so make it often.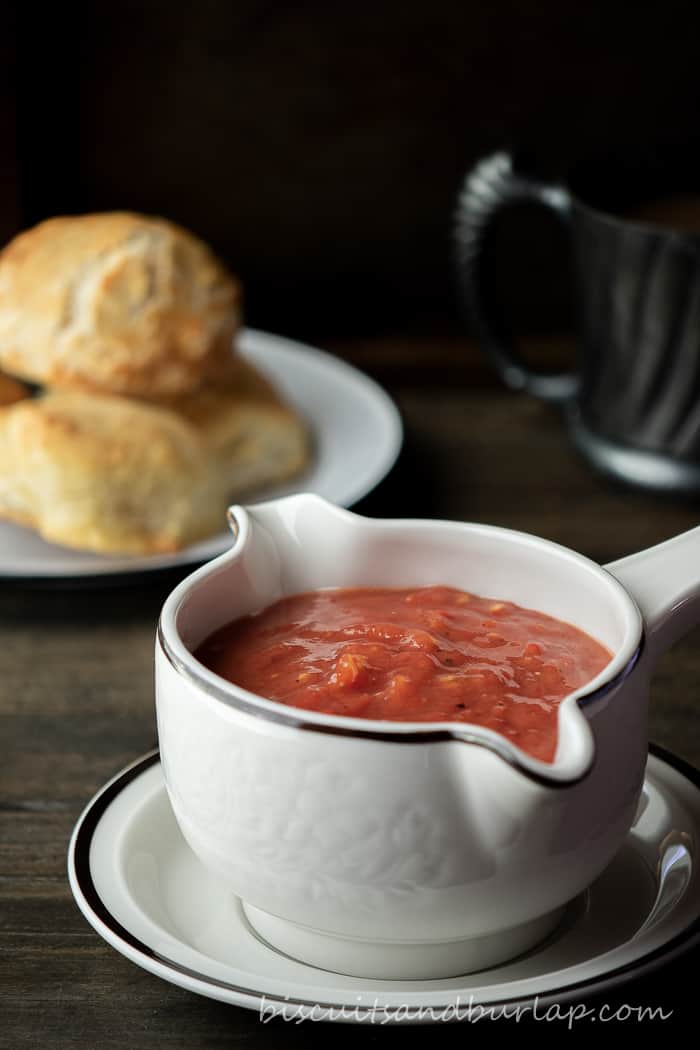 This post contains affiliate links for your convenience. Click here to read our full disclosure policy.
An iron skillet is ideal for making gravy
Now I make my Tomato Gravy in an iron skillet. If you don't have one, you can make a perfectly good gravy in any skillet. But, seriously, if you don't have an iron skillet, why not? You can order one here.
Are you getting our newsletters? It's the easiest way to keep up with new recipes and escapades at Biscuits & Burlap. Sign up here.
Tomato Gravy is so versatile
I make many of my recipes super versatile and this tomato gravy recipe is no exception. I called for diced tomatoes, but if you have crushed instead that would be fine. If you have whole, canned tomatoes you can cut them up or throw them in a blender very briefly. 
Likewise, I used chicken stock, but beef would be good too. Or use broth instead of stock if that's what you have. If you don't have either, just use water. It won't be quite as rich, but it will still be delicious.
The most important ingredient
The last, and a key ingredient, is pan drippings from your breakfast meat. After you've cooked bacon, sausage or ham, use that pan for making your tomato gravy. You'll scrape the bottom as you make the gravy to incorporate all of that leftover goodness.
My favorite is a local sausage from my family's area in north Florida — Driggers Sausage. Have you read about our annual Cane Grinding in that area? There's always plenty of Driggers Sausage. A good substitute if you absolutely have no pan drippings is this Ham Base.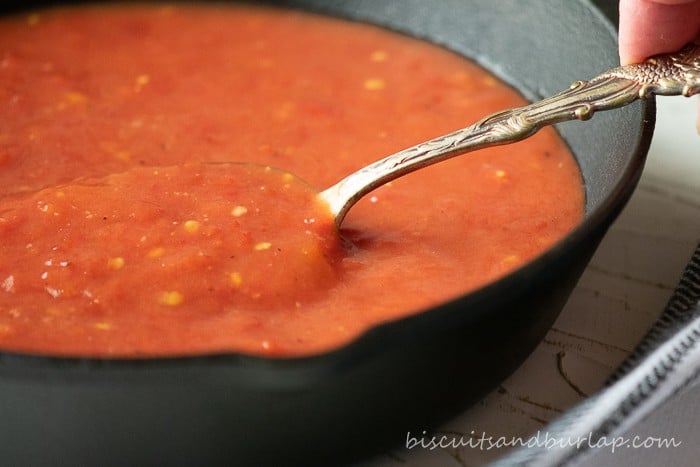 Easy Tomato Gravy
Ingredients
2

14 oz. cans diced tomatoes

4

Tbsp

flour

1

cup

chicken stock

or beef stock

1

tsp.

salt

1

tsp.

pepper

2-3

tsp.

pan drippings from ham, sausage, or bacon
Instructions
Heat tomatoes (in iron skillet where you've cooked breakfast meat) over medium heat, scraping the bottom of the pan.

Stir flour into stock and whisk until there are no lumps.

Stir flour/stock mixture into hot tomatoes, whisking as you stir.

Bring to a boil and stir until thickened.

Reduce heat to simmer.

Simmer for at least 5-10 minutes.
If you're here you must love southern food, so you will definitely want to check out 3 Ingredient Biscuits. They are so good, y'all!
This recipe made our Annual Reader Favorites. Check out the rest here.
Love all things Southern Food?
If you're reading this post chances are you love southern food and know others that do too.
We've put together this awesome guide, Great Gifts for the Southern Foodie. It has several cast iron cookware choices, books of southern recipes and food history and small items that would make a great gift basket. We did the homework for you, and have only included items with Amazon 4 stars and above.
You'll want to be sure and check out our recipe for Southern Fried Chicken. We even had it cut up with a pulley (wish) bone.
I hope you enjoyed this little trip down memory lane. For some other old style southern favorites, check these out.

Other Southern Favorites
Don't forget to sign up for our newsletters here. We would hate for you to miss anything.