This is old fashioned southern style sausage gravy at its best. Just a few minutes and a few ingredients are needed to have the perfect topping for your biscuits.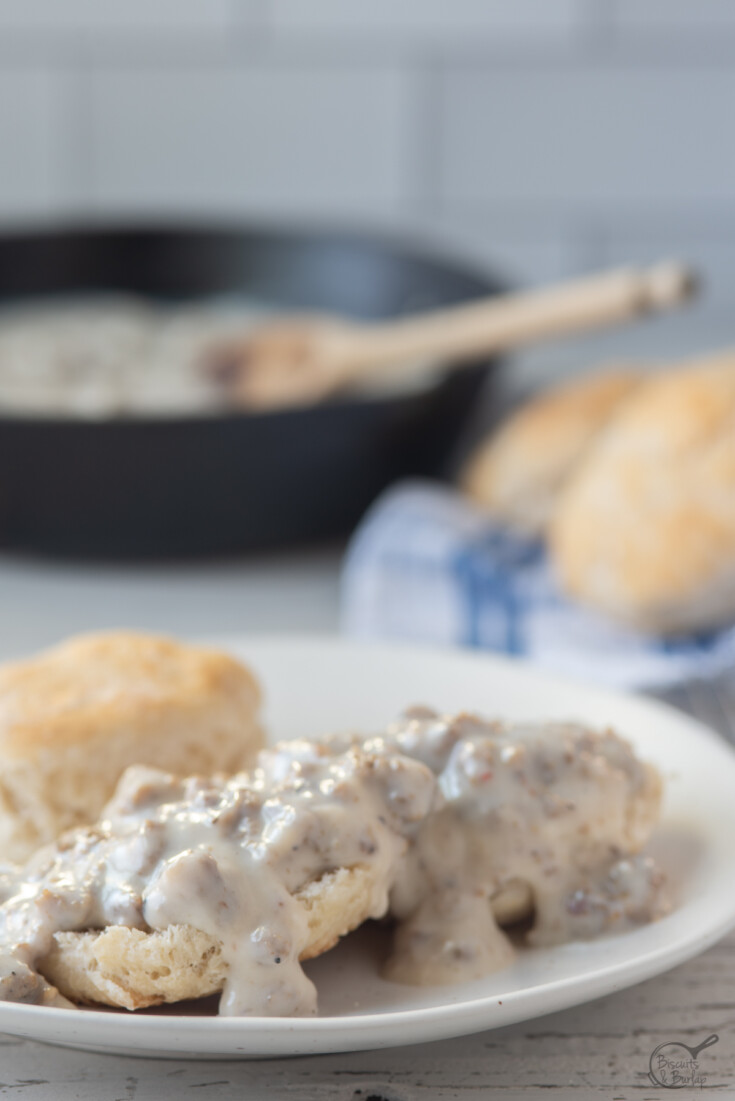 This recipe is simple and easy
As is the case with many classic southern recipes you'll find this one to be uncomplicated, but delicious. You may have seen other versions (sometimes known as sawmill gravy) jazzed up with seasonings like garlic and extra fat like butter. However, we think the flavors from a good ground pork breakfast sausage are all you need.
Basic cream gravy ingredients are added to create what we think is one of the south's finest comfort foods. If your gravy seems to be on the mild side you can add some of the herb traditionally used in sausage - sage.
And, depending on the heat level of your sausage and your family's preference for spiciness, an extra sprinkle of red pepper flakes might be in order, but that's it. Otherwise, just milk, flour, salt and black pepper.
Sausage and gravy are just simply a southerner's (or a wannabe) dream come true.
For an in depth look at our favorite cuisine you'll want to be sure and check out:
SOUTHERN FOOD THEN AND NOW
What kind of sausage is best for your gravy?
A flavorful ground pork sausage is your starting point. We always use a southern staple brand found in our local grocery, like Jimmy Dean, Bob Evans or Tennessee Pride. If you by chance have homemade sausage that's great, and we're jealous!
Suggestions of what to serve with it:
Well, first and foremost buttermilk biscuits! Our 3 ingredient buttermilk biscuits are naturally one of our signature recipes and are ideal to split open and cover with gravy. Combine these two and you've got the perfect recipe for biscuits and gravy!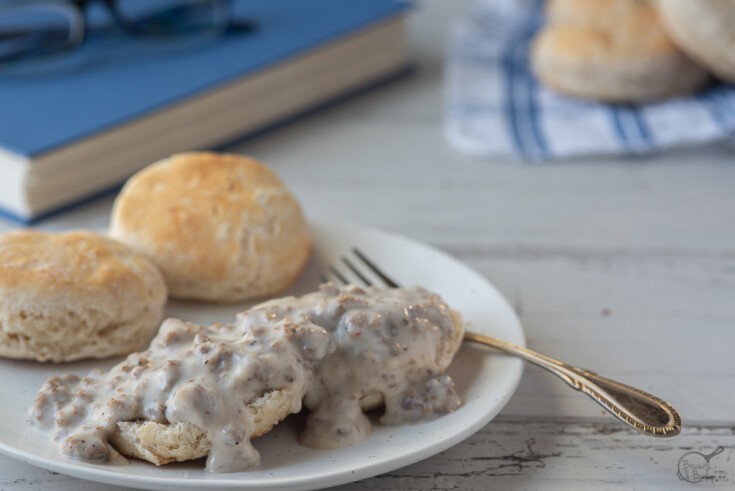 When you get a chance you'll want to try another southern favorite and tops with our readers too - Tomato Gravy is simple classic goodness on a biscuit.
But, really any kind of biscuit is good, and if you don't have time for homemade ones we often use the frozen type ourselves (don't tell). You could use the kind out of can, but we much prefer the frozen ones to those.
If the gravy doesn't have enough meat to satisfy those carnivores at your place we have some ideas: A nice piece of ham (like leftover slices from ham cooked on the big green egg) or thick applewood bacon is just perfect.
If it's apple season and nice enough to get outside you'll love grilled apples. They're a natural pairing with sausage (or pork of any type) and gives a healthy little twist to this otherwise not-so-calorie-conscious meal.
For a fun look at this recipe, check out the web story!
Our best tips on how to make sausage gravy: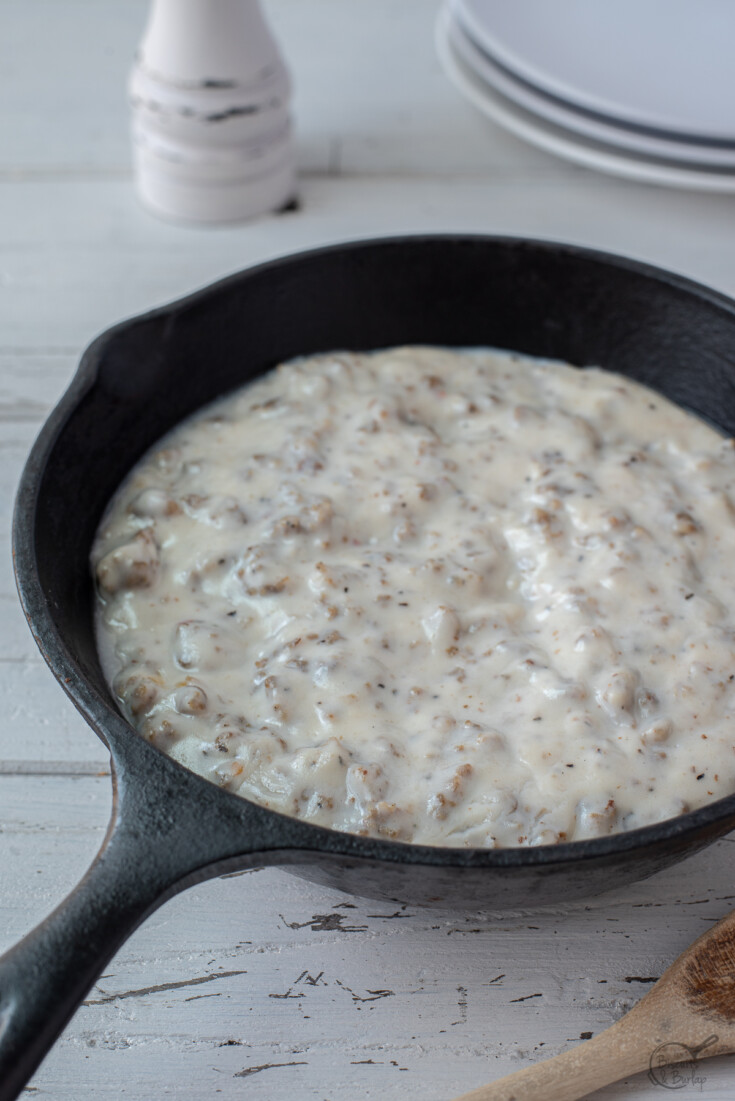 As we've said, this is a simple made from scratch easy recipe with just a few ingredients. Even so, we always want to help you be successful with your dishes, so we've got these pointers and tips just in case you're new at making gravy or need some reminders.
This post contains affiliate links, which means if you click on an affiliate link and buy something, we may receive a very small commission.  It does NOT result in additional charges to you or cost you anything extra. Click here for our full privacy and disclosure policy. As an Amazon associate we earn from qualifying purchases.
Use a cast iron skillet or other pan that's not non-stick. The reason? Just like in our post on how to make gravy from scratch, you'll want to end up with little bits left on the bottom of your pan to flavor the gravy. Our 8" skillet was perfect for this recipe.
Cook the sausage until it's no longer pink, and the edges are slightly browned. That little bit of caramelization is great for adding flavor. If the sausage produces excess grease, drain that from the bottom of your skillet and discard.
Drain the sausage on paper towels while you make the gravy and then add it back.
Use whole milk. Some people recommend heavy cream, but we think that's a bit too heavy. On the other hand, skim, 1% or 2% milk are too light.
Whisk your milk and flour until there are no lumps before adding it to the skillet.
Make your gravy ahead of time for convenience
Trying to get breakfast on the table quickly? You can certainly make your gravy the day before. Just refrigerate it covered until you need it.
It can be warmed up over medium low heat in a sauce pan or skillet, stirring as it warms. You may need to add a little water or milk to get it to the consistency you want.
One word of caution: Don't refrigerate your gravy in cast iron. It's not meant for storage and could compromise the seasoning of your skillet.
📖 Recipe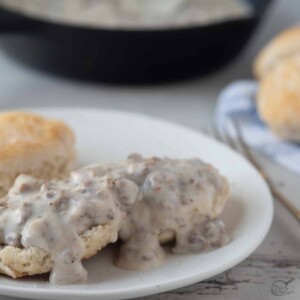 Homemade Sausage Gravy
This is old fashioned southern style sausage gravy at its best. Just a few minutes & ingredients are needed for the perfect biscuit topping.
Instructions
Brown sausage over medium heat in an 8" skillet crumbling as it browns. Cook until no trace of pink appears and some of the crumbles are lightly browned on the edges.

Remove with a slotted spoon and place on paper towels to drain. Let skillet cool for two to three minutes and drain off any excess grease.

Stir flour into milk and whisk until no lumps remain. Add to skillet and return to medium heat, stirring to scrape bits left from bottom and sides of skillet.

Continue cooking and stirring over medium heat until thickened. Stir in salt and pepper and then add sausage crumbles back to skillet until well combined.

Serve hot gravy over warm, split biscuits.
Notes
This makes enough gravy to cover 5-6 medium biscuits which has been split.
An 8" skillet cast iron skillet is ideal for the amount of sausage gravy made by this recipe.
If mild sausage is used and additional spiciness is desired add red pepper flakes to taste.
If additional herb flavoring is desired add additional sage to taste.
Nutrition
Calories:
199
kcal
Carbohydrates:
7
g
Protein:
10
g
Fat:
14
g
Saturated Fat:
5
g
Polyunsaturated Fat:
2
g
Monounsaturated Fat:
6
g
Trans Fat:
1
g
Cholesterol:
40
mg
Sodium:
553
mg
Potassium:
217
mg
Fiber:
1
g
Sugar:
4
g
Vitamin A:
154
IU
Vitamin C:
1
mg
Calcium:
89
mg
Iron:
1
mg

More classic southern recipes