As we finish another year here at Biscuits & Burlap, we are bringing you a round up of your favorite southern recipes from 2017.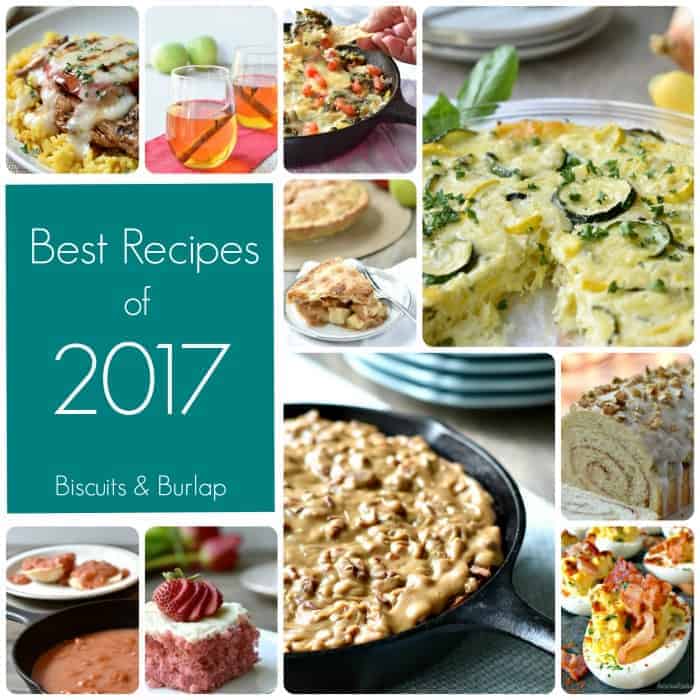 The end of the year is upon us and what a year it has been! Looking back, here at Biscuits & Burlap, we have changed so much and you fabulous people have shown us that you love the way it's going. Let's take a look at what we've done in 2017, and then we'll have a look at the favorite recipes of 2017.
We've narrowed our focus from a Southern lifestyle blog including DIY to a strictly food blog, highlighting the southern recipes we love so much.
We have brought you 39 new recipes as well as life hacks, round ups, and food experiences from our beloved south.
We've redesigned Biscuits & Burlap with the help of our dear friend Sarah at Sweet Theory Designs.
We have expanded our social media reach using Pinterest, Instagram, and Facebook and our numbers continue to grow each day.
We've begun to share our love of food on other sites like Restless Chipotle, Ugly Duckling House, and Southern Kitchen
We've improved our photography so much and continue to learn more about photographing our recipes
We have gained hundreds of subscribers to our weekly newsletter bringing you the latest happening in our lives, our kitchens, and on the blog
None of this could be possible without the love and support of you, our readers. We are so happy that you have found inspiration in what we're doing in our own kitchens. From our family to yours, thank you for being here.
Your Favorite Recipes
Whether a side dish or a dessert, a classic or a new twist on an oldie, healthy or covered in cheesy goodness, these are the recipes that stole your hearts in 2017!
A few others still going strong from our early days
As our photography and writing improve from year to year, there is definitely a clear difference between the quality of our current work and that of our older stuff. Regardless, our fantastic readers have some favorites in the archives that are at the top of the charts each year. Here are some of your favorite recipes of the past!
We would love to hear what you've made, still plan on trying, and what you would like to see out of us in 2018. Be sure to comment below and tell us all about it!
In winding up, we cannot thank y'all enough for all of your love and support this year. Here's to an even better 2018!