This delicious strawberry cake is made with fresh strawberries and a boxed mix. It stirs up easily in just a few minutes. This would be the perfect cake for a baby shower for a girl, a sweet sixteen party, or anytime you need a dessert that's pretty, yummy and easy to make.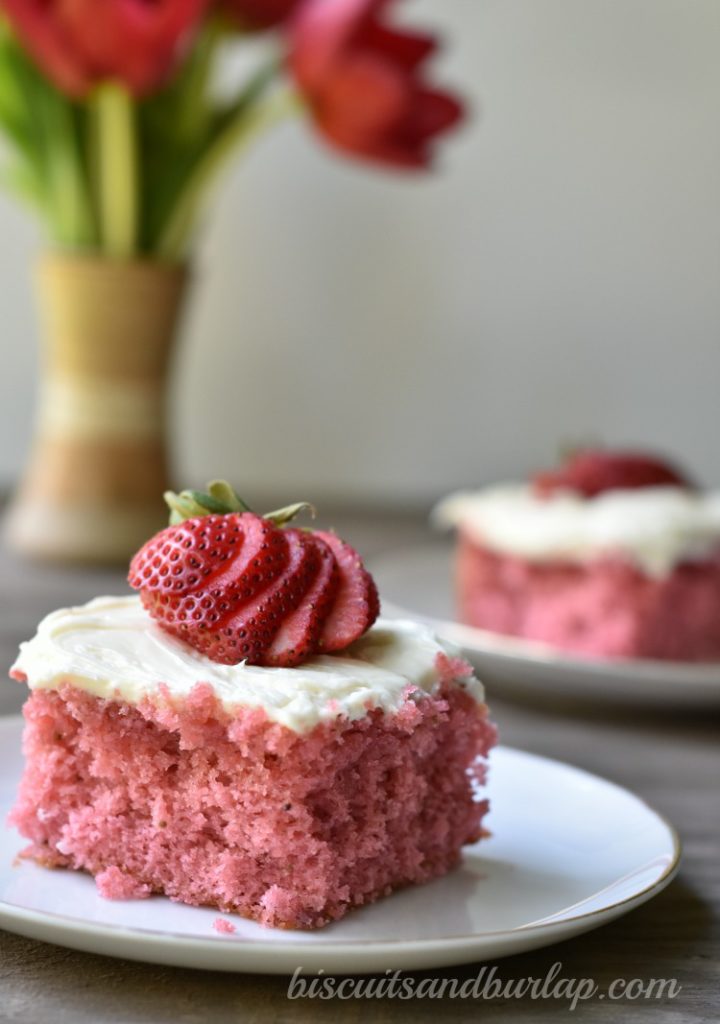 Back in early February I was invited to plan the dessert for the monthly Senior luncheon at our church. It so happened that day fell on Valentines Day, so I thought it would be fun to plan something "Valentine-y".
I was excited to be asked, and I wanted to do something special, but dessert for 60-70 is beyond my usual comfort zone. I started brainstorming ideas and looking at recipes that would be special, but not too tough for a group this size. Strawberry Cake seemed the perfect idea!
As often happens, I found some recipes, and combined what I considered to be the best elements of several. In the end I had my own customized recipe and was able to use the abundant fresh strawberries.
Then, on Sunday night, before the event on Tuesday, I found out that I should plan for 90 seniors, rather than the usual 60. Whew!
I baked all day on Monday and garnished with fresh strawberries and a little Valentine candy when it was time to serve on Tuesday.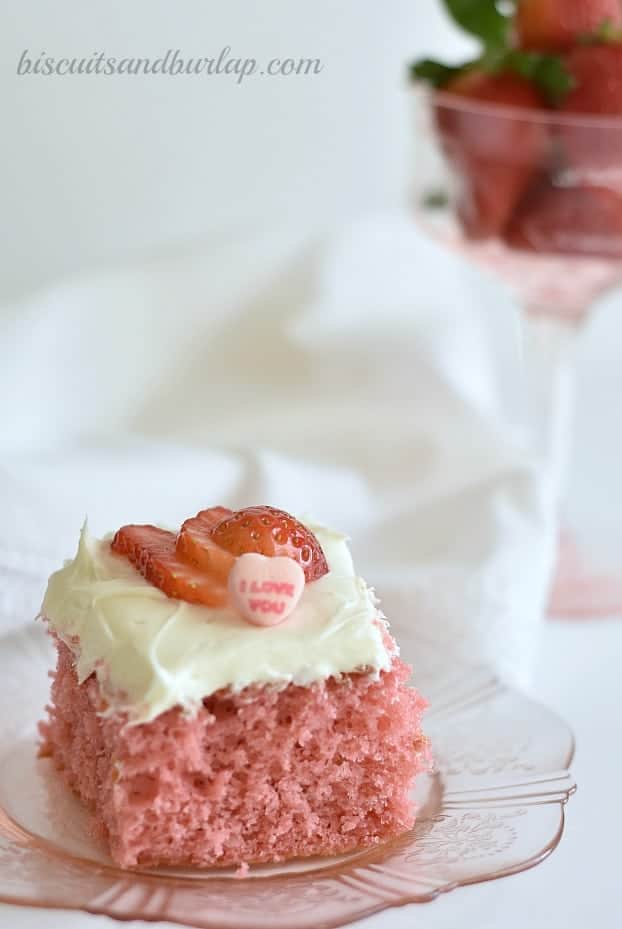 Hey! Are you getting our newsletters? That's the easiest way to get our latest recipes and projects. And we don't overdo it, we promise you. Sign up here.
The seniors all loved the cake (except for a couple with strawberry allergies.... oops). Now, two months later, I tweaked a little further and ended up with this final version. Besides being delicious, it's easy and so pretty.
We love a traditional buttercream or cream cheese frosting, but if you want a light topping, Vanilla Mousse is a great option for this cake.
If you're making this for a baby shower or birthday party, these Southern Style Cheese Straws are the perfect little party food to serve before dessert.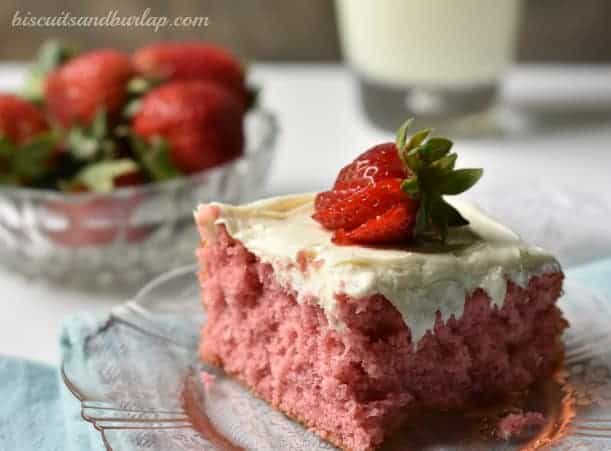 This recipe made our Reader Favorites of 2017. Check out the rest here.
If you're here you obviously love strawberries, so do yourself a favor and check out our Strawberry-Basil Cocktail with Gin
📖 Recipe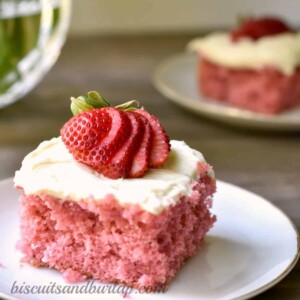 Strawberry Cake – Easy & Delicious
Ingredients
French Vanilla Cake Mix

1 3

oz.

box strawberry flavored Jell-o

⅓

cup

vegetable oil

½

cup

water

3

eggs

¾-1

cup

lightly pureed fresh strawberries
Instructions
Puree strawberries lightly in a blender.

Blend cake mix, water, oil, eggs and jello mix until ingredients are moistened.

Beat at medium speed for two minutes.

Stir in pureed strawberries.

Pour into a prepared 9x13 pan.

Bake at 350 degrees for about 30 minutes, testing for doneness with toothpick.

Cool completely.

Frost with your favorite buttercream vanilla or cream cheese frosting.

Garnish with more fresh strawberries.
Just a couple of notes: I've used a French Vanilla Cake Mix, but I'm sure a white cake mix would be fine. Yellow would probably taste fine, but the color might not come out a pure pink.
Also, I pulsed the strawberries in the blender trying to keep some little chunks, but if you over-puree' don't worry. It'll still be delicious!
If you love strawberries, check out our Stuffed French Toast. It's an elegant breakfast or brunch and the "stuffing" includes strawberries.
Make this Chicken with Asparagus and Pasta and then complete your meal with the Strawberry Cake. A perfect dinner, special enough for company, but easy enough to make for your own family.
Don't forget to sign up for our newsletters. It's an easy way to keep up with what's new here at Biscuits and Burlap.


More Desserts You Will Love