Boston Cream Pie is a special dessert recipe made a bit easier with one shortcut. The pastry cream that goes between the layers is homemade from pure ingredients and the chocolate ganache is classic simple goodness. The cake layers are made from a box mix, carefully chosen for suitablity to this recipe.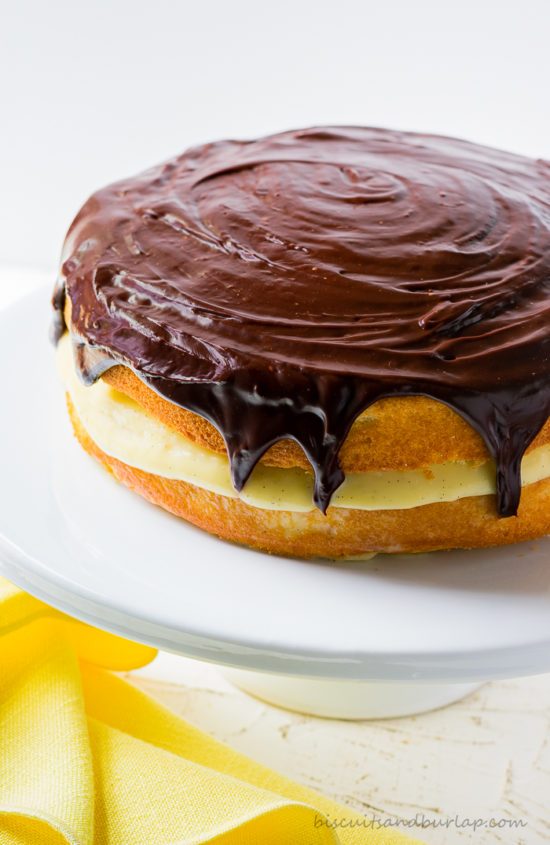 Brief background of the Boston Cream Pie
No, it's not actually a pie. It's a cake. A bit of research reveals that it is a remake of an early American recipe known as "pudding cake-pie". Pie pans were more common in the 1800's than cake pans, and that is probably where the name came from.
The owners of the Parker House Hotel in Boston claim that in 1881 one of their chef's created the first "Boston Cream Pie". It was declared the official dessert of Massachusets in 1996.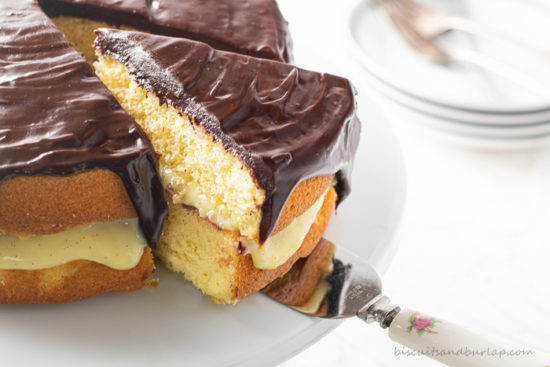 Our version of the Boston Cream Pie
There are many variations, but the basics are the same: A two layer, buttery, spongy vanilla cake with a creamy custard in the middle and topped with chocolate ganache.
You can definitely go the super easy route with a box cake and box vanilla pudding for the custard. But we felt that making the custard from scratch resulted in a far superior taste, so we opted for that, along with homemade ganache (because it's easy anyway).
Traditionally Boston Cream Pie is made from one cake layer which has been split horizontally. That makes a smaller cake, but go that route if you like. We made two layers and then trimmed off the highest part of the "dome" to make the layers a bit flatter.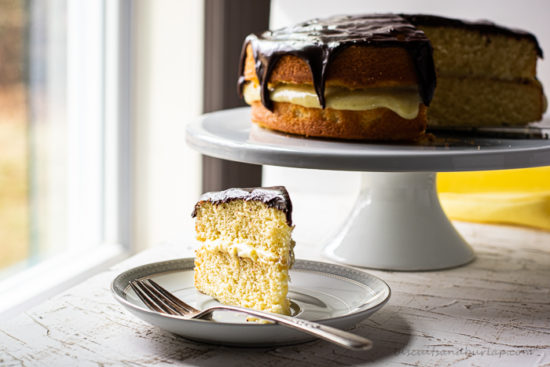 Tips for making pastry cream
It is a bit of a delicate process, but with our tips and recipe you can be sure it will be delicious and perfect.
This post contains affiliate links, which means if you click on an affiliate link and buy something, we may receive a very small commission.  It does NOT result in additional charges to you or cost you anything extra. Click here for our full privacy and disclosure policy. As an Amazon associate we earn from qualifying purchases.
Make the pastry ahead allowing several hours or up to a day to thoroughly chill
Tempering the egg yolks keeps them from cooking immediately upon being added to the hot milk mixture. This just means gradually bringing the temperature of the eggs down before adding to the milk.
Whisk constantly as the custard is cooking to keep it creamy. When it thickens it will happen pretty fast, so don't turn your back on it.
Once it's done, pour it into a bowl and lay plastic wrap directly on the surface before refrigerating. This keeps it from forming a skin on top.
When thoroughly chilled, take it out and whisk again before spreading on the cake.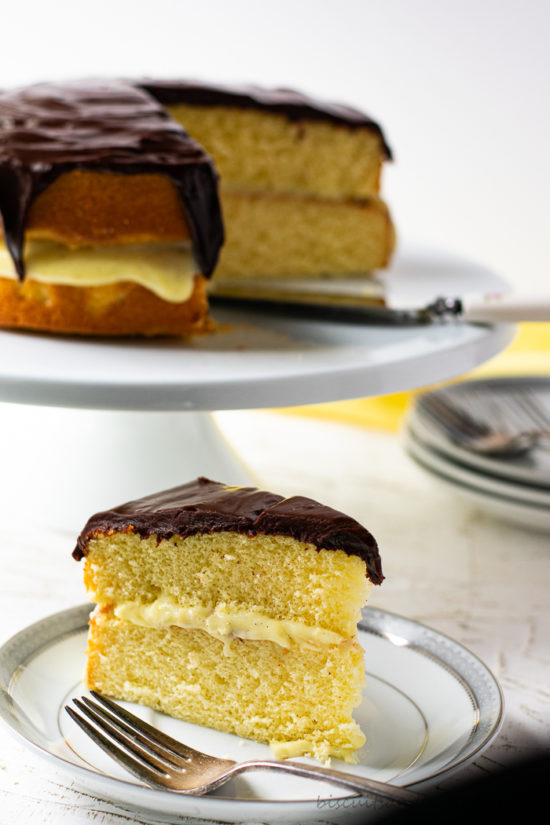 THIS RECIPE MADE OUR "BEST OF THE YEAR" LIST. THE OTHERS CAN BE FOUND HERE.
📖 Recipe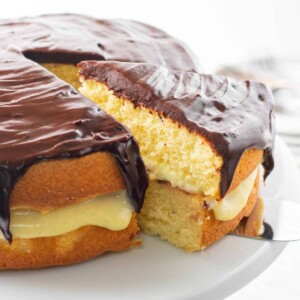 Boston Cream Pie Recipe
Boston Cream Pie recipe which takes advantage of one shortcut, but includes homemade pastry cream and chocolate ganache.
Ingredients
Chocolate Ganache
6

ounces

semisweet chocolate chips

⅓

cup

heavy cream

2

Tbsp.

light corn syrup
Instructions
Cake Layers
Prepare 2 round layers (8 or 9") according to package directions and then cool completely.

If desired slice "dome" off top of layers to make them more flat.
Pastry Cream
Beat egg yolks in small bowl and then whisk in cornstarch and set aside.

Combine milk, sugar and vanilla in a heavy saucepan and heat over medium heat, stirring until sugar is dissolved and mixture comes to a simmer.

Set milk mixture off heat and allow to cool for about 10 minutes.

Stir ½ cup of milk mixture into egg yolk mixture very gradually, whisking constantly.

Add egg yolk mixture to milk mixture gradually and return to medium heat, whisking constantly until thickened and continue to cook for 1-2 minutes, reducing heat to medium-low.

Remove from heat and stir in butter until melted and thoroughly mixed.

Pour pastry cream into a bowl and lay plastic wrap directly on surface. Refrigerate for 4 hours or up to a day before spreading on bottom cake layer and then topping with 2nd cake layer.
Chocolate Ganache
Heat cream over medium to medium high heat just until it begins to boil and then remove from heat.

Add chocolate and whisk until chocolate is melted and mixture is smooth.

Stir in corn syrup and whisk until smooth.

Cool 3-4 minutes before pouring over cake, allowing to drizzle down sides.
Notes
Any buttery yellow cake can be used, and if desired, one layer can be split horizontally to create two layers.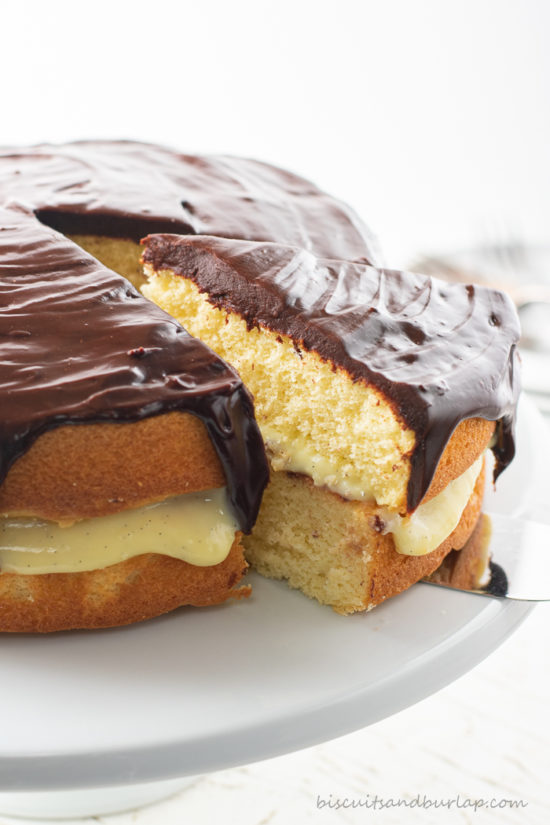 If you make this or any of our recipes we'd love for you to leave us a comment and star rating. If you're into sharing your creations, snap a photo and tag us when you post it to Facebook or Instagram.

More Recipes You'll Love: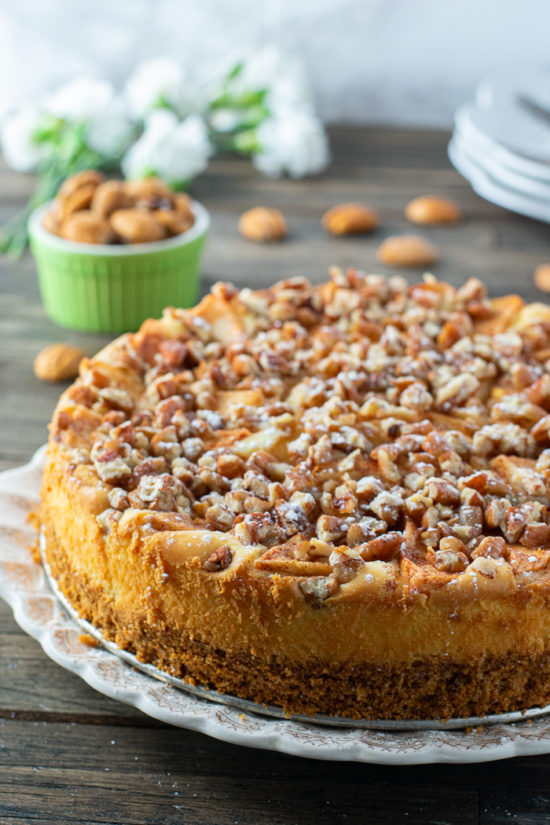 More Recipes Sources We Recommend:
Meal Plan Monday
Weekend Potluck