Just a few ingredients go into this quick and easy vanilla mousse. Serve it as a simple dessert, or it can be a light frosting or filling.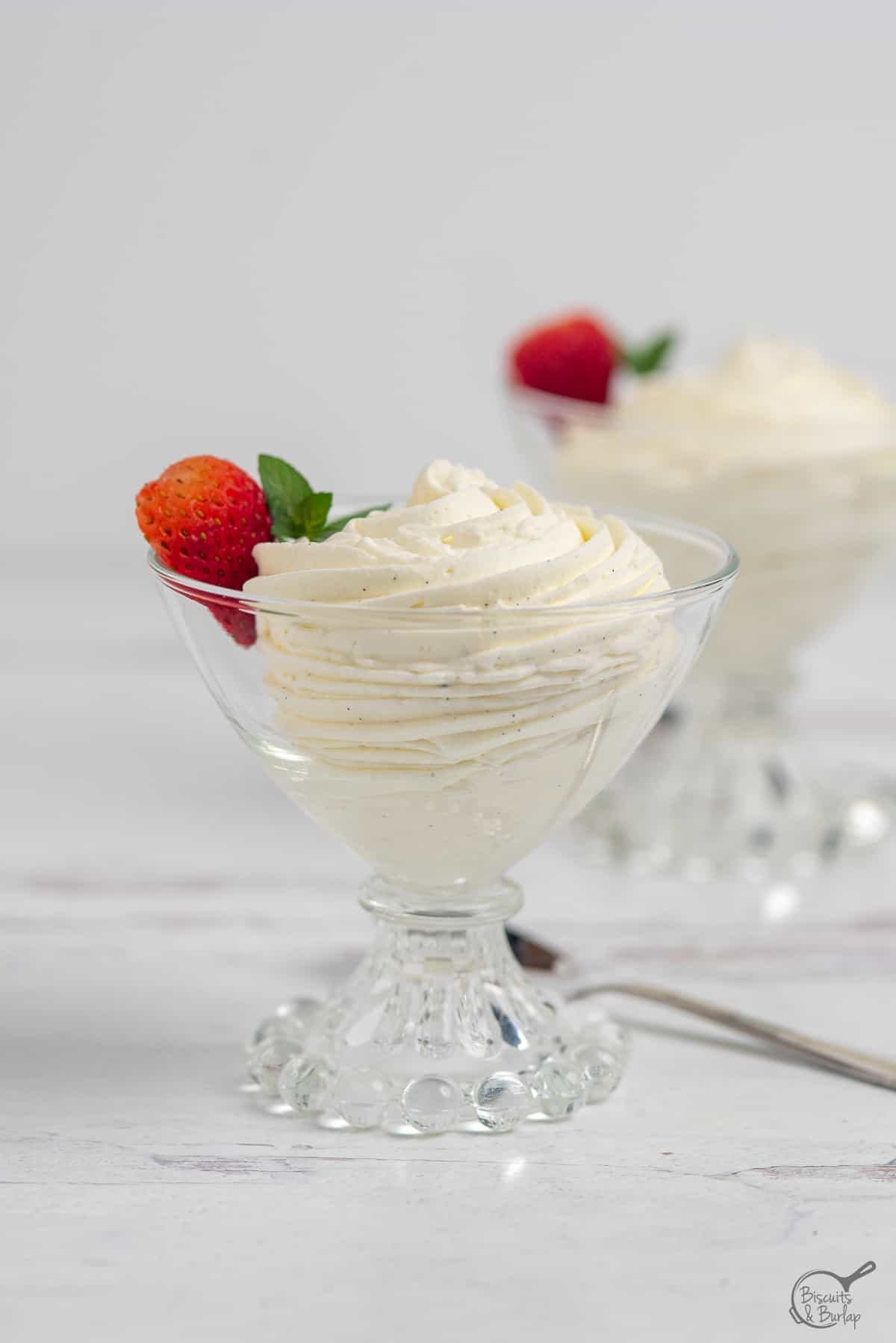 You'll find this recipe much faster and easier to make than a classic mousse recipe. No eggs or cooking are needed, and you'll have it in the fridge chilling in just a few minutes.
The word "mousse" itself actually means "foam" or "froth". In spite of the easy preparation, this version checks that box very nicely as a light and foamy dessert.
It's not too sweet and the vanilla flavor is really allowed to shine. After one bite you will never again called anything "plain vanilla".
Ingredients/Substitutions
Not counting the water or any garnishes, this simple recipe has just 4 ingredients!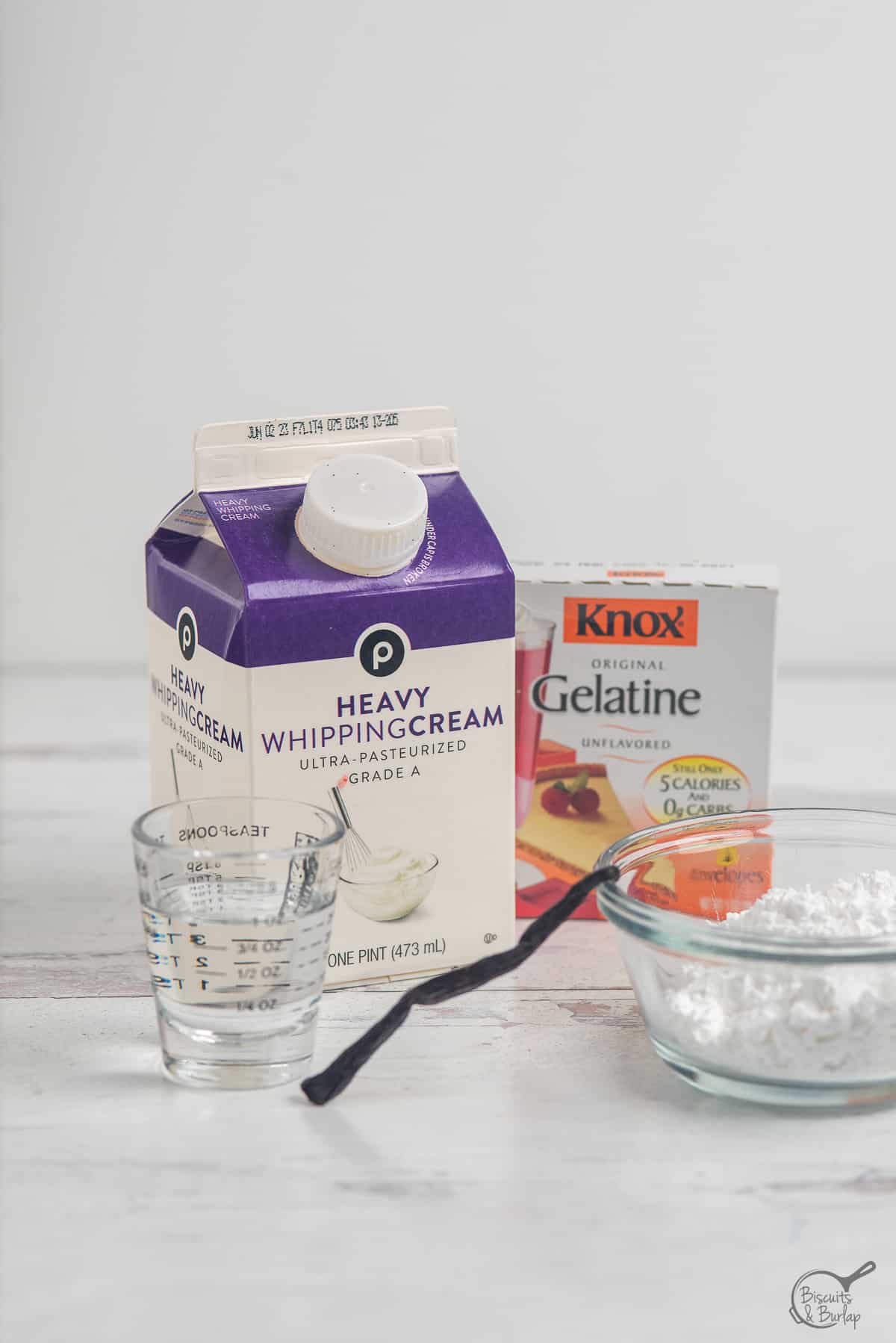 Heavy whipping cream (don't use regular whipping cream – your mousse won't have as good a body)
Confectioners sugar (a/k/a powdered sugar) – a traditional mousse recipe uses granulated sugar, but it's cooked. Powdered sugar works best here.
Unflavored gelatin
Vanilla – We highly recommend an excellent quality vanilla. In the photo above you see a vanilla bean. Split in half and scraping the "caviar" (seeds) is very simple, but you could use a vanilla bean paste if you like. Linked below for your convenience. We do not recommend using vanilla extract.
Water – this is for "blooming" or dissolving the gelatin.
Steps for making your mousse
Chill the bowl and beaters that you will use. This gives you the greatest volume anytime you whip cream.
If using a vanilla bean split down the middle of it. Open to reveal the pasty interior and scrape that with a paring knife.
Sprinkle the gelatin over the surface of the water and set aside.
Whip the cream, sugar and vanilla at medium-high speed until partially whipped. Stop at the soft peak stage.
Microwave the gelatin 5-10 seconds. You just want to get it to the point it's liquified.
Slowly add the gelatin to the cream as you complete whipping to the stiff peak stage.
Now you're ready to put the mousse into serving dishes and chill for at least 2 hours.
What type dishes should you use?
Single serving dishes are the easiest and most elegant to use. This is a great time to get our your granny's crystal.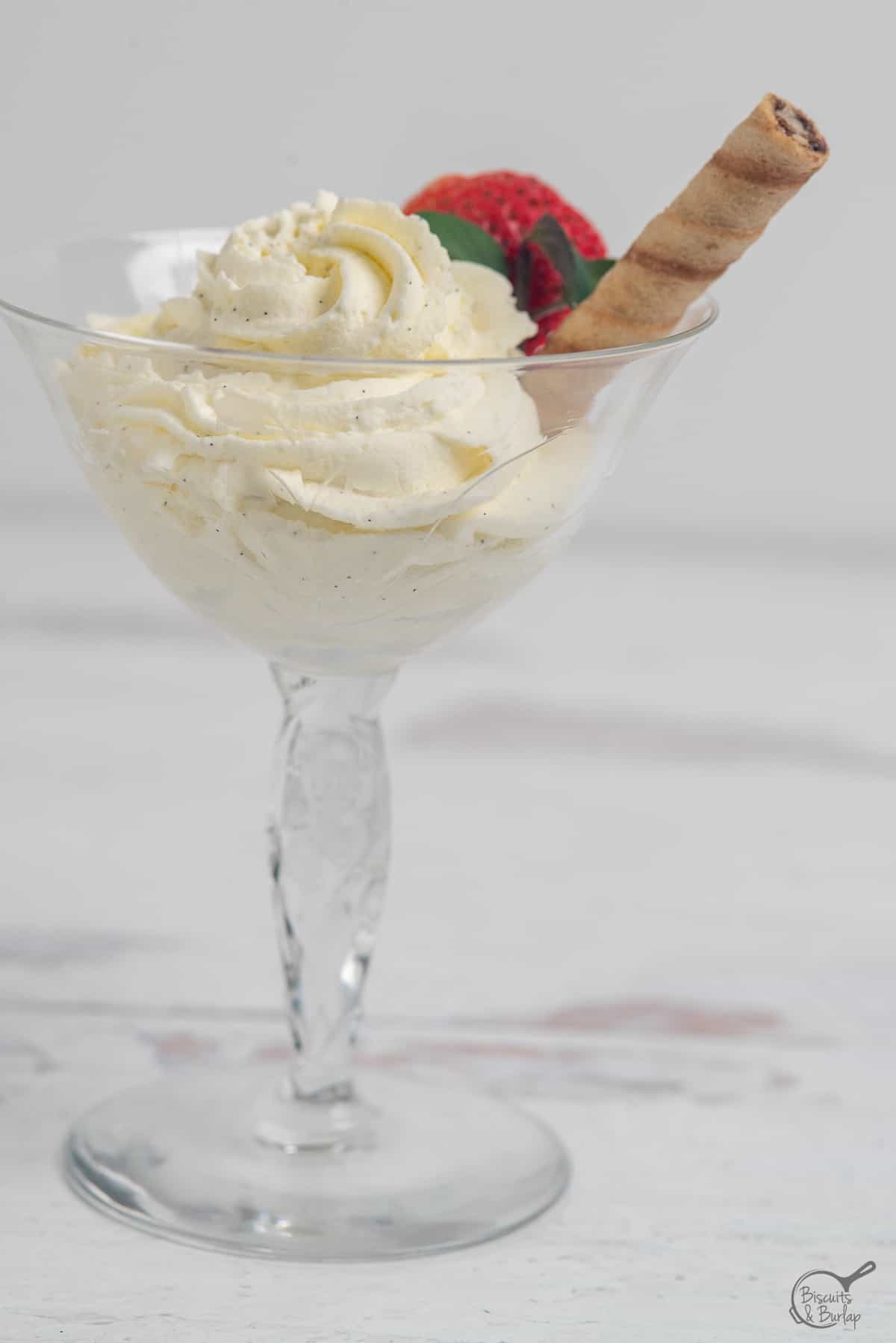 Another fun way to repurpose some of your pieces is to use martini glasses for your mousse.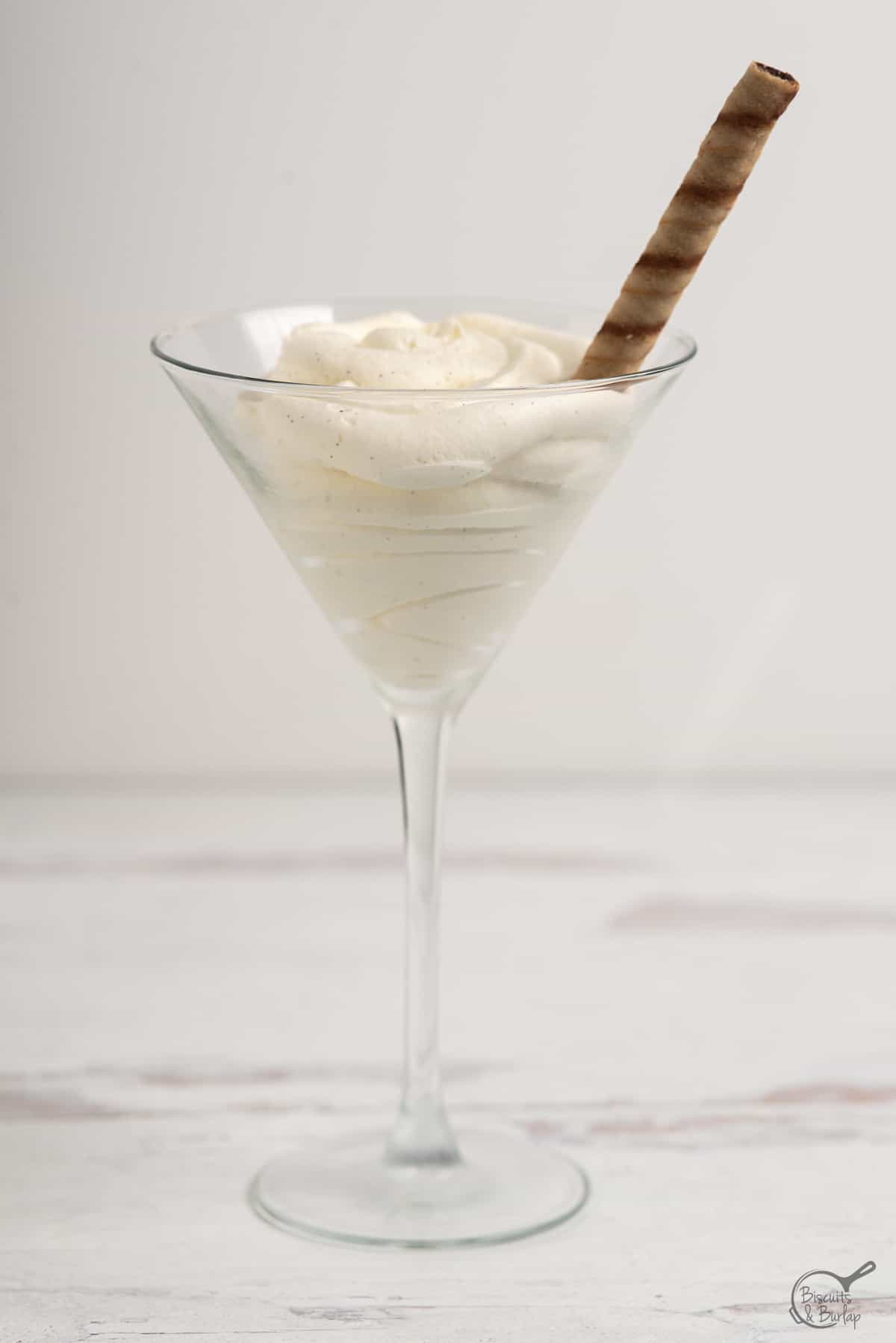 Depending on the size of your dishes, and how high you pile the mousse you will get between 4 larger and 5-6 smaller servings from this recipe. It's easily doubled if needed.
Items you may need
This post contains affiliate links, which means if you click on an affiliate link and buy something, we may receive a very small commission. It does NOT result in additional charges to you or cost you anything extra. Click here for our full privacy and disclosure policy. As an Amazon associate we earn from qualifying purchases.
What to serve with it/ways to use mousse
It's perfectly wonderful served completely on its own. In fact, we love a small serving like this, just so we can savor every bite of vanilla deliciousness.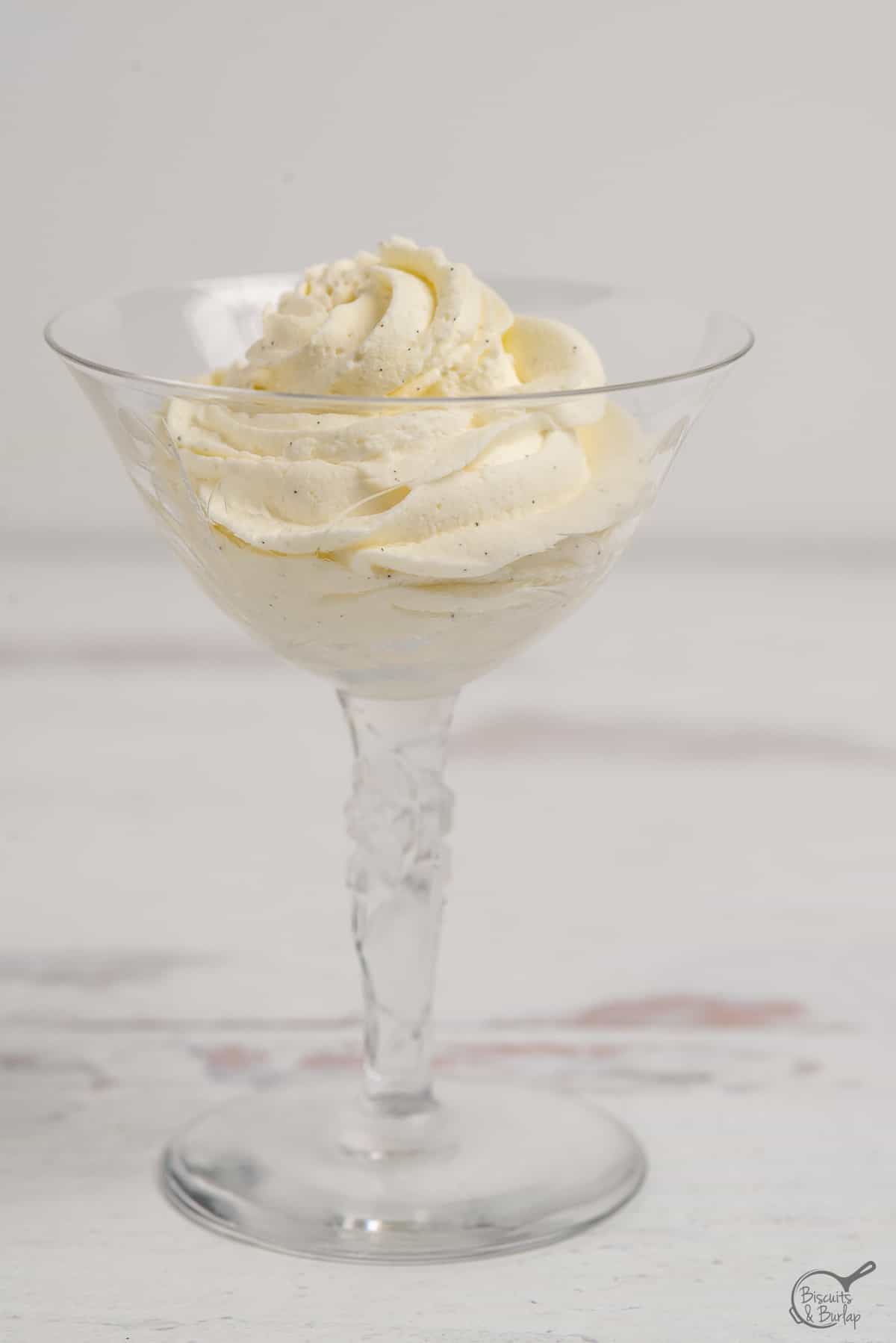 You could also add it as layer in a trifle (like Banana Pudding) or these individual brownie trifles.
It also makes a light frosting for any cake or cupcakes like orange cupcakes or the mini sized key lime cupcakes.
Or, you can use it as a filling between layers of cake and still use your favorite frosting on the top and sides.
If you choose to serve it in individual serving dishes as we've shown in these photos, just garnish with fresh fruit and a piroutte cookie. It's best to do that just before serving.
Storage
Your no-cook vanilla mousse is the perfect make ahead dessert. Just be sure it's tightly covered and refrigerated and it will keep great for 3 days. When it's time to serve, uncover and garnish, if desired.
We have never tested storing it longer, but if needed, it would still delicious after up to 5 days in the refrigerator.
We do not recommend freezing mousse.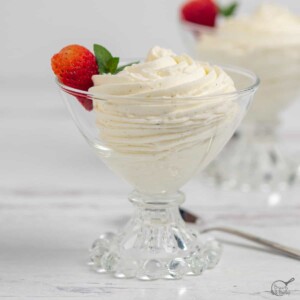 Vanilla Mousse (No Cooking Required)
Ingredients
1½

cups

heavy whipping cream

2

teaspoons

vanilla bean paste

or scrape the inside of one vanilla bean pod

¼

cup

confectioners sugar

1½

teaspoons

gelatin

unflavored

2

Tablespoons

water
Instructions
If using vanilla bean pod, slit vertically and scrape the seeds from inside with a paring knife.

Sprinkle gelatin over the surface of water.

Beat cream, sugar and vanilla at medium high speed until soft peaks form.

Microwave gelatin mixture 5-10 seconds, or just until it liquifies.

Add gelatin mixture to cream mixture gradually as you continue to beat. Beat until stiff peaks form.

Chill a minimum of 2 hours before serving.
Notes
This recipe makes 4 larger, or 5-6 smaller servings.
In addition to individual servings, maybe used as a frosting on cake or cupcakes, a layer in trifles, or a filling between cake layers.
Garnish, if desired, with fresh fruit and/or cookies.
More dessert recipes