Orange Cupcakes with Cream Cheese Orange Frosting are an amazing take on white cupcakes. The orange flavor is subtle in the cupcake and a bit bolder in the frosting.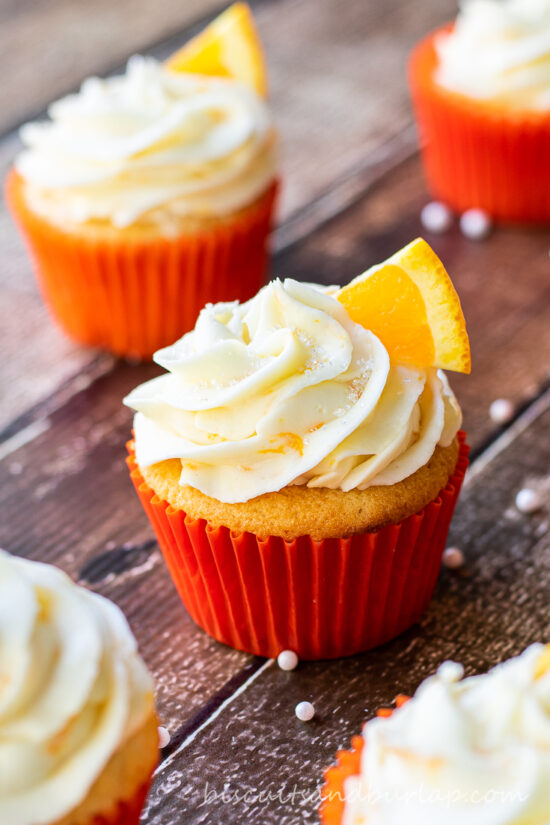 White cupcakes with an orange twist
I love white cake. There is something pure, delicate and simple about it. Yet somehow, white cake means special occasions – birthdays, weddings, baby showers. These orange cupcakes are really just white cupcakes with a delicate orange twist.
The big orange flavor comes from the cream cheese orange frosting. They are perfect any time of year, but especially appropriate in the winter when citrus is at its best, or in the spring, when the fruity flavor just shouts that warmer weather is here to stay a while.
White cake is a little tricky to get moist and delicate and still keep it that glorious, pure white color. I experimented with a lot of combinations and recipes and the one I finally settled on is adapted from The First Year Blog.
The only change I made was to add orange extract to give my cupcakes a hint of subtle orange flavor. I then adjusted the other liquid (milk) to keep the total amount of liquids the same.
How many cupcakes will this recipe make?
Her recipe says it will make 12 cupcakes. I actually got 14 from mine. When piping a good bit of frosting on top you don't want a tall, domed cupcake so I only filled my cupcake liners ⅔ full. If you don't plan to pipe your frosting on fairly high you can fill the liners ¾ full and make only 12.
Our Key Lime Cupcakes in mini-size are yet another version of this same recipe. White with a twist of lime!
Orange Cream Cheese Frosting
What a fun and mouthwatering frosting! Around here we love, love, love anything with cream cheese in it. You can easily tell by the dishes we create using it.
Our Mini Chocolate Chip Cheesecakes are a fine example as is our Smoked Fish Dip (Beach Bar Style). But, frosting with cream cheese is really the crowning glory of cream cheese recipes – the icing on the cake!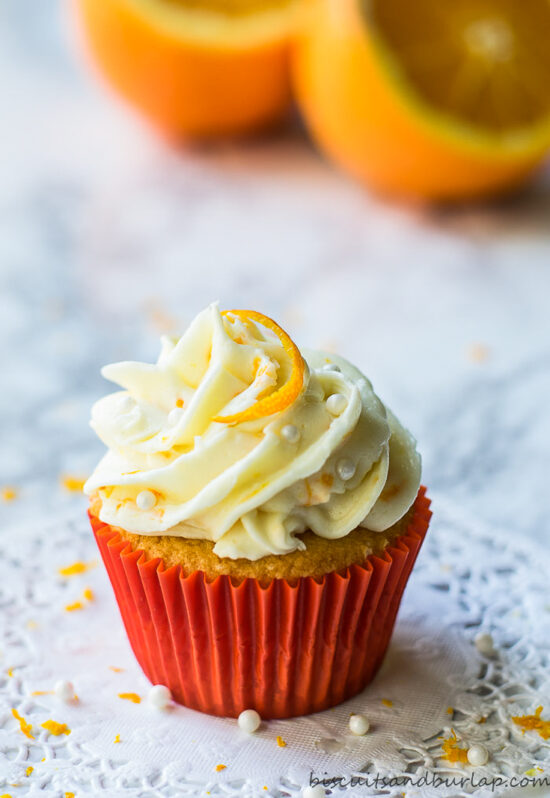 I made this frosting the night before I put it on the cupcakes. It refrigerated overnight and then I had to let it come to room temperature or it wouldn't have piped or spread easily.
The time those ingredients spent together just made for a fabulous frosting. The orange flavor really pops! If you don't have time for that it's still going to be a a wonderful frosting, but if you do, why not give it a whirl?
If you love unique frosting flavors you'll also want to check out our Brown Sugar and Cinnamon Frosting. It goes great on fall treats like cupcakes, cookies and sheetcakes.
Hey, are you getting our weekly newsletters? It's the easiest way to get our new recipes and updates. Click here to join the family!
Several Ways to Frost Your Cupcakes
You can certainly frost your cupcakes the simple, old fashioned way and just spread the icing on with a knife or small spatula.
If you want that "piped" on look, but don't have piping bags or tips you can always add the frosting to a baggie and cut off one corner. I've used that method plenty of times for filling deviled eggs (like our Bacon Jalapeno Deviled Eggs), frosting cupcakes or decorating anything with whipped cream.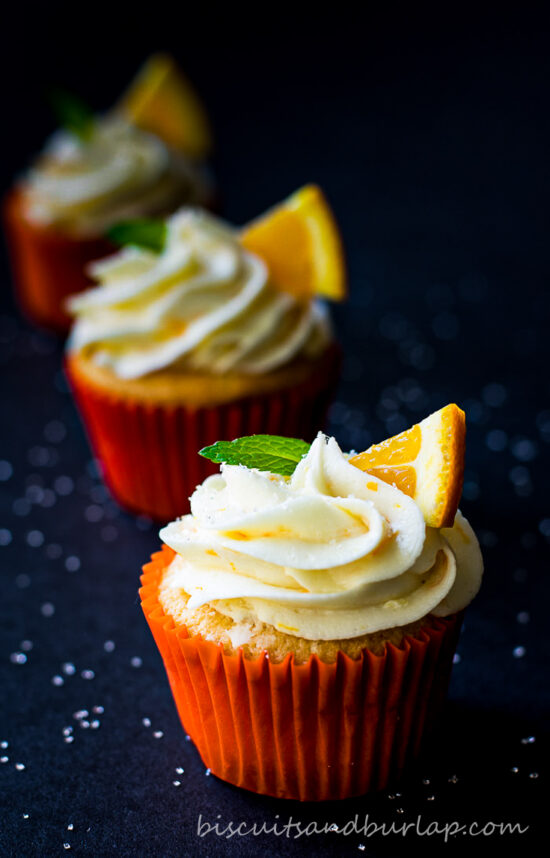 This post contains affiliate links, which means if you click on an affiliate link and buy something, we may receive a very small commission.  It does NOT result in additional charges to you or cost you anything extra. Click here for our full privacy and disclosure policy. As an Amazon associate we earn from qualifying purchases.
I used a Wilton 1M decorating tip for making these cupcakes. A 12 inch decorating bag was just right for holding this amount of frosting and you can order both, as well as any number of other decorating tips by clicking these links:
For another look and an equally delicious cupcake be sure to check out our Blueberry Cupcakes with Cream Cheese Frosting.
Garnish Ideas for Orange Cupcakes
Now here's where the fun comes in. The possibilities are of course, endless. I didn't have orange sprinkles, but that would be really festive. What I did have was pearly non-pareils and they were so pretty.
I also used small orange curls and tiny little wedges of orange (you would only want to do that right before serving – no longer than an hour before). And, you can never go wrong with a little mint leaf. Oh, and sanding sugar. It gives your orange cupcakes a little sparkle. Here's a whole list of ideas:
orange curls
orange slices (little wedges)
mint leaves
If you love mini cupcakes (and who doesn't?) you'll want to make These. Carrot Cake Cupcake Mini's are perfect when you want to offer something sweet that's just a couple of bites.
This recipe made our top 10 of annual favorites. Click over here to see them all.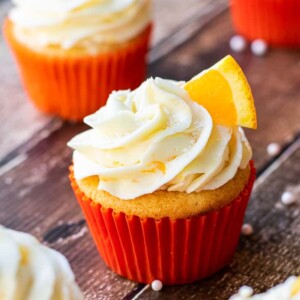 Orange Cupcakes with Orange Cream Cheese Frosting
Perfect for any occasion, these cupcakes have a subtle orange flavor in the cake and a bolder orange flavor in the frosting.
Ingredients
Orange Cream Cheese Frosting
Instructions
Orange Cupcakes
Beat sugar and butter together with electric mixer for 2 minutes..

Add egg whites one at a time, beating on low speed for about 30 seconds after each.

Add sour cream, milk, vanilla and extracts and beat on low speed for about 1 minute.

In separate bowl combine dry ingredients.

Add to wet ingredients gradually, and beat lightly after each addition.

Bake at 400 degrees for 5 minutes and then reduce heat to 350 degrees and bake additional 8-10 minutes, or until cake springs back when lightly touched in center.


After 5 minutes remove cupcakes from pan and allow to cool completely on wire rack before frosting.
Orange Cream Cheese Frosting
Blend butter and cream cheese until fluffy.

Stir in extract, zest and and sugar and stir until smooth.
Notes
Frosting is best if made about 12 hours ahead of time and refrigerated. Allow to come to room temperature before using.
If muffin tins are filled only ⅔ full 14 cupcakes can be made.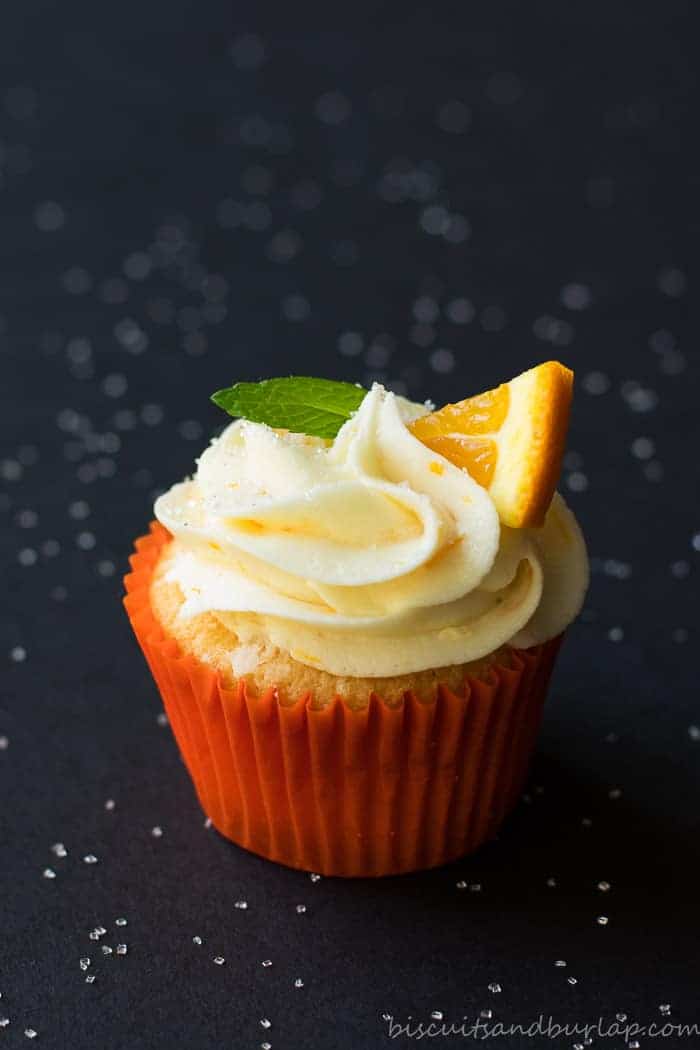 Have fun making these cupcakes, and don't forget to sign up here for our weekly updates.

A few other recipes you'll want to check out: