Here you'll find all the great flavor of a moist banana bread in bundt cake form. An optional bourbon glaze adds an extra bit of tasty sweetness.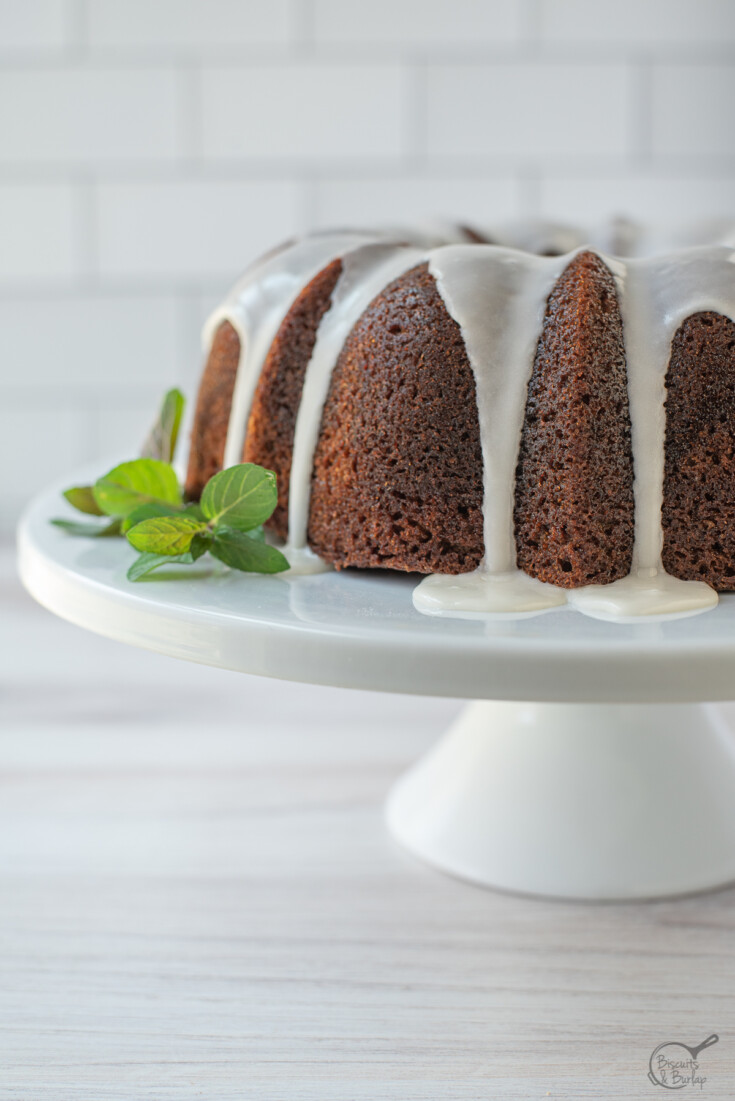 Why you'll love it
If you love banana bread you'll love this banana bundt cake. The sweetness is the same but we've cut back on the butter to give it a slightly firmer texture.
It's pretty! Y'all, as much as we love old school Banana Nut Bread there is nothing good looking about it. It's just a plain brown box, right?
This post contains affiliate links, which means if you click on an affiliate link and buy something, we may receive a very small commission.  It does NOT result in additional charges to you or cost you anything extra. Click here for our full privacy and disclosure policy. As an Amazon associate we earn from qualifying purchases.
A bundt cake, though? It's a thing of beauty. We used our traditional 12 cup pan, but there are lots of interesting choices out there. Just check out this page full of options. Be sure to order at least the 12 cup size because this recipe makes more batter than will go in a 10 cup bundt pan.
Keeping in mind the size of the cake you can rest assured that you'll get more servings from this cake than you would a traditional loaf. If you only cut into 12 pieces they're going to be big ones.
More likely you'll cut smaller pieces and be able to get at least 14 servings. A few of those slices added to your Breakfast Charcuterie Board would be a great idea!
If you have some bananas left over from your cake, you can always make some Banana Pudding.
The bourbon glaze is optional
Now, you know we use bourbon around here like most people use vanilla. In fact, we love it in savory dishes too. Our Bourbon Glazed Beef Tenderloin is our go-to beef recipe and Honey Bourbon Chicken is one of our favorite chicken recipes. In this recipe, butternut squash is perfectly paired with bourbon and bacon.
It gives an interesting twist of flavor to the glaze for this cake but you can leave the bourbon out and just add a little more milk.
Or, you can leave the glaze off all together and have an unglazed bundt. To dress it up a little you can always add a dusting of powdered sugar like we do on Charleston Chewies and Hot Fudge Pudding Cake.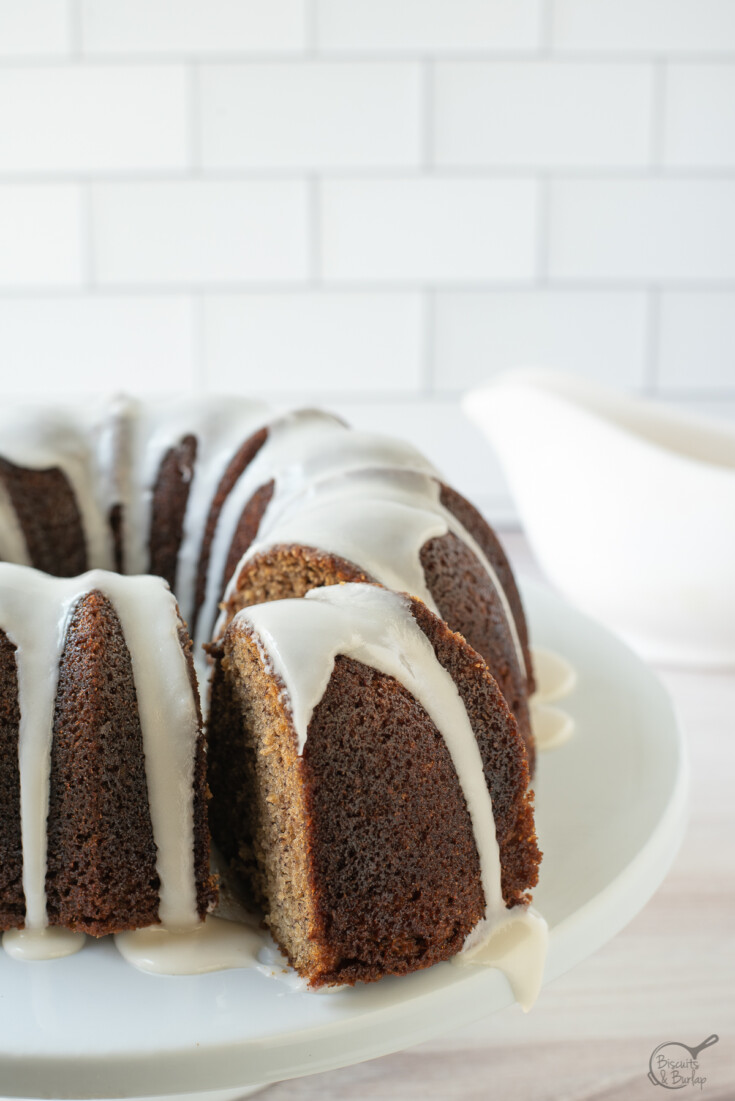 Ingredients
Butter - salted or unsalted works fine
Sugar - granulated white sugar
Ripe Bananas - 4 if you have larger bananas, 5 if they're smaller. Make sure they're ripe (starting to get brown spots on the skin) or they won't mash up well
Eggs - large eggs are the standard in baking
Flour - plain all purpose
Baking Soda
Salt
Vanilla
Confectioners Sugar
Bourbon - We keep a less expensive bourbon on hand for cooking
Milk - We use whole milk, but you can use any type you have on hand or substitute half-and-half if you like
How to make Banana Bread Bundt Cake
Cream the room temperature butter and sugar with a mixer on medium speed until fluffy - about 1-2 minutes.
Stir the mashed bananas, eggs, and the vanilla into the butter mixture.
Stir all of the dry ingredients together in a separate bowl.
Add the dry ingredients to the wet ingredients and mix on low speed just until well blended.
Pour into a 12-14 cup bundt pan that has been greased and floured or sprayed with a baking spray like Bakers Joy.
Bake for 50-60 minutes at 325 degrees checking for doneness by inserting a clean toothpick in the center. As soon as it comes out clean remove the cake from the oven to cool for 8-10 minutes before removing from pan.
After the cake is completely cool stir together the sugar and wet ingredients for the glaze and pour or drizzle over cake.
Tips and Tricks
To mash bananas use a fork, a blender or food processor, or the fun method we describe in our Banana Buttermilk Pancakes recipe.
Always use a combination of grease of some type and flour to coat your pan. We love the sprays designed specifically for that because it's so easy to get into every little nook and cranny.
Start checking for doneness at 50 minutes with a clean toothpick. If you get wet batter on the pick close the oven door gently and check again in 3 to 4 minutes.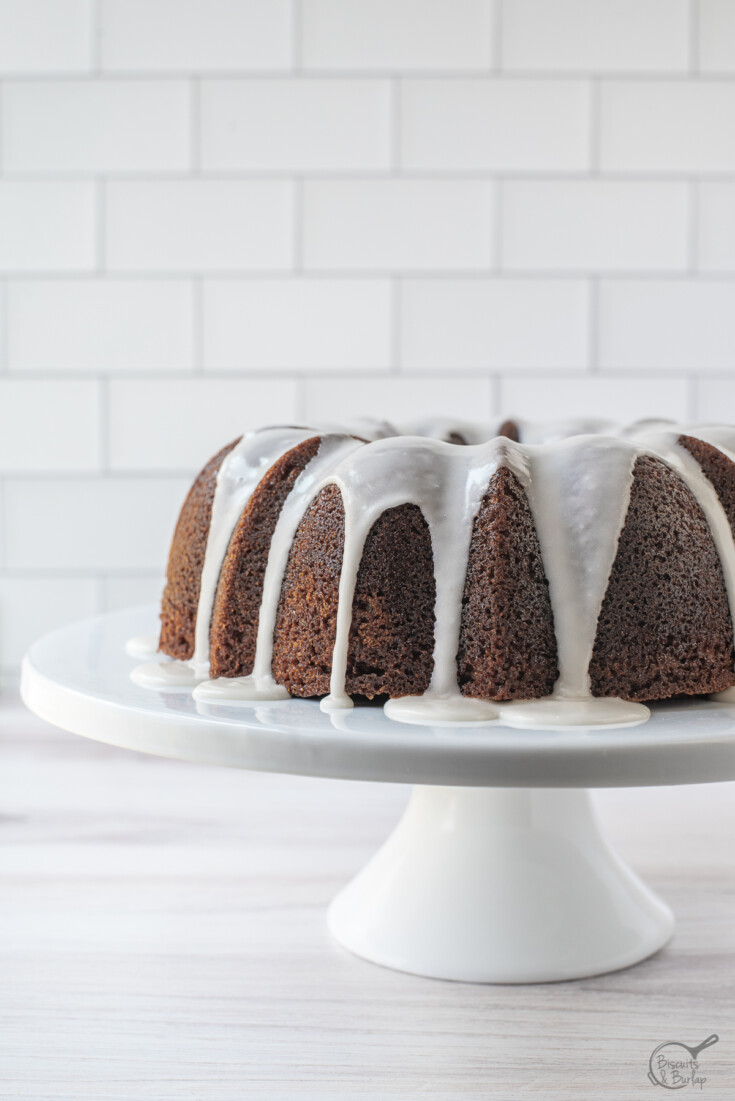 Storage
This cake will keep at room temperature for about 2 days if covered with a cake cover. After two days you probably won't have any left, but if you do refrigerate it.
It will keep for 2-3 months in the freezer if wrapped well. To keep the wrap from sticking to the glaze freeze it unwrapped and then wrap it and put back in freezer.
A common question
Can this bundt cake be made in a loaf pan? This recipe has been created specifically for making a banana bundt cake. It makes too much batter to make in a loaf pan. We've also cut back on the butter to give it a slightly firmer "cake like" texture.
We have not tested this recipe in a loaf pan, but if we did it would be in two smaller loaf pans.
📖 Recipe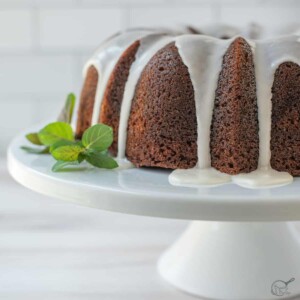 Banana Bread Bundt Cake with Bourbon Glaze
Here you'll find all the great flavor of a moist banana bread in bundt cake form. An optional bourbon glaze adds an extra bit of tasty sweetness.
Instructions
For the Cake
Cream butter and sugar with mixer for about 1-2 minutes.

Add eggs, banana and vanilla and blend until smooth.

Mix dry ingredients in a separate bowl.

Add flour mixture gradually to wet ingredients mixing until well blended.

Pour into a greased and floured 12-14 cup bundt cake pan.

Bake at 325° for 50-60 minutes or just until toothpick inserted in center comes out dry.

Cool in pan for 8-10 minutes and then remove to rack to complete cooling.
For the Glaze
Stir sugar and liquids until smooth.

Pour slowly over cooled cake.
Notes
Bananas may be mashed with a fork, placed in plastic bag and mashed with hands, or blended until creamy in blender or food processor.
Glaze may be omitted and cake left plain or dusted with confectioners sugar.
All milk may be used in place of bourbon, adding ½ teaspoon vanilla
Nutrition
Calories:
365
kcal
Carbohydrates:
63
g
Protein:
4
g
Fat:
12
g
Saturated Fat:
7
g
Polyunsaturated Fat:
1
g
Monounsaturated Fat:
3
g
Trans Fat:
1
g
Cholesterol:
73
mg
Sodium:
338
mg
Potassium:
166
mg
Fiber:
1
g
Sugar:
46
g
Vitamin A:
398
IU
Vitamin C:
3
mg
Calcium:
18
mg
Iron:
1
mg

More recipes to try for brunch or snacking