Butternut squash is a hearty side dish that is perfect for fall meals, but when you add bacon and glaze it all with maple syrup and bourbon, it is set a notch above the rest.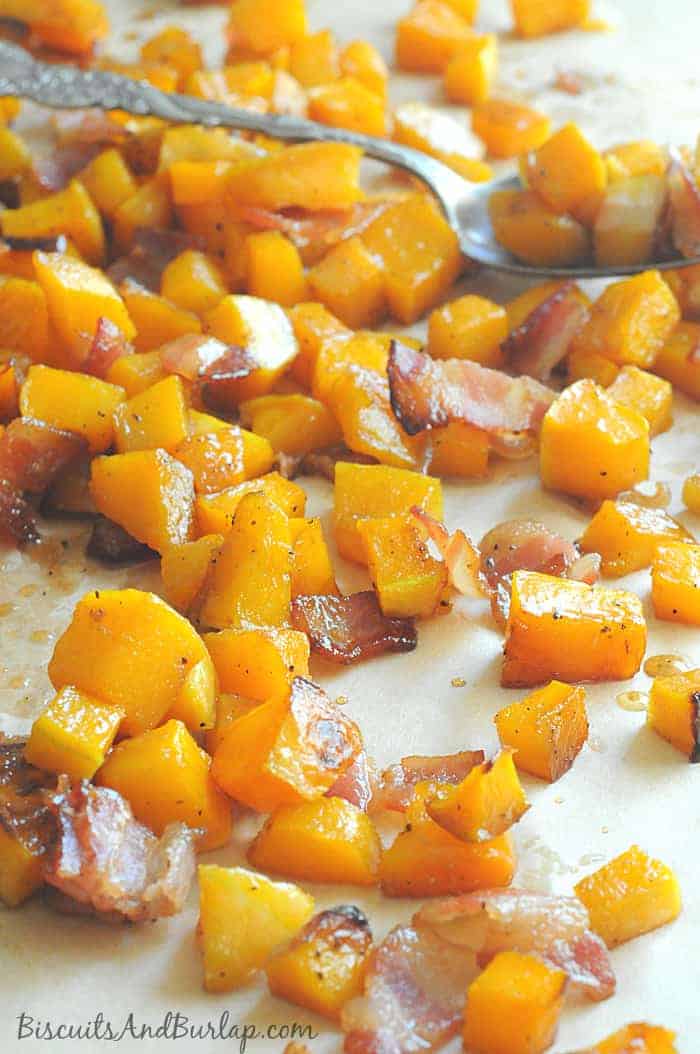 Thanksgiving is such an interesting time of the year to me. It's a time when people who don't usually cook try their hand at it. A time when people continue to invite over friends and loved ones until they realize, "I've never cooked for this many people before!"
It's a time that is so wrapped in tradition that the tiniest deviation from years past can bring gasps of "why is this different?!" and "what do you mean you didn't make it this year?!"
With that being said, this recipe... This butternut squash is the answer to all your Thanksgiving woes. Butternut squash is a classic side dish, beloved by all.
The maple and bacon and bourbon makes it interesting, but not so crazy that those who love tradition will balk at it. And best of all, it is EASY! Y'all, it is so easy.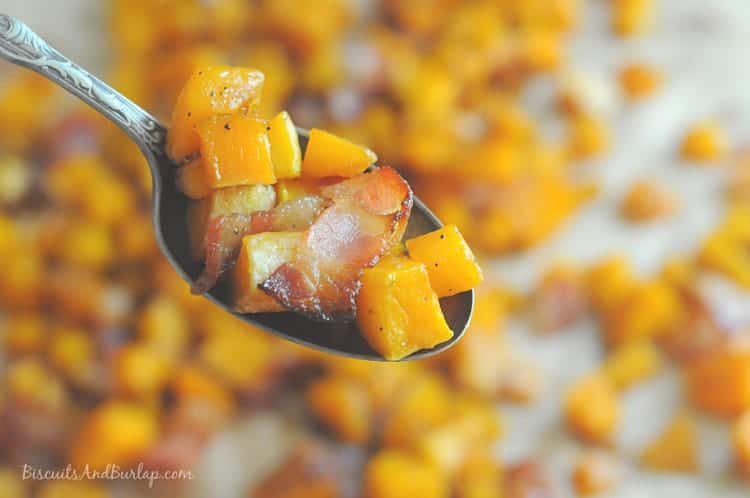 This post contains affiliate links for your convenience. For our full disclosure and privacy policy click here.
I recently delved into a book that has been sitting on my bookshelf for a long time called The Flavor Bible. Have y'all heard of this beautiful thing? It is truly magical.
Inside you will find all the ingredients you can think of (seriously- try me. It's in there.) with a list of all the flavors that will complement that ingredient. The Flavor Bible is beloved by chefs because of the inspiration it brings and this dish was inspired by it.
I knew I wanted to come up with an awesome butternut squash recipe for the holidays and so I consulted The Flavor Bible. Immediately, three flavors under butternut squash popped out at me. Maple. Bourbon. Bacon.
Maple, bourbon and bacon?! How could it go wrong?
If you love butternut squash you'll want to try this Butternut Squash Soup too. With roasted red peppers blended with the squash it's equally amazing!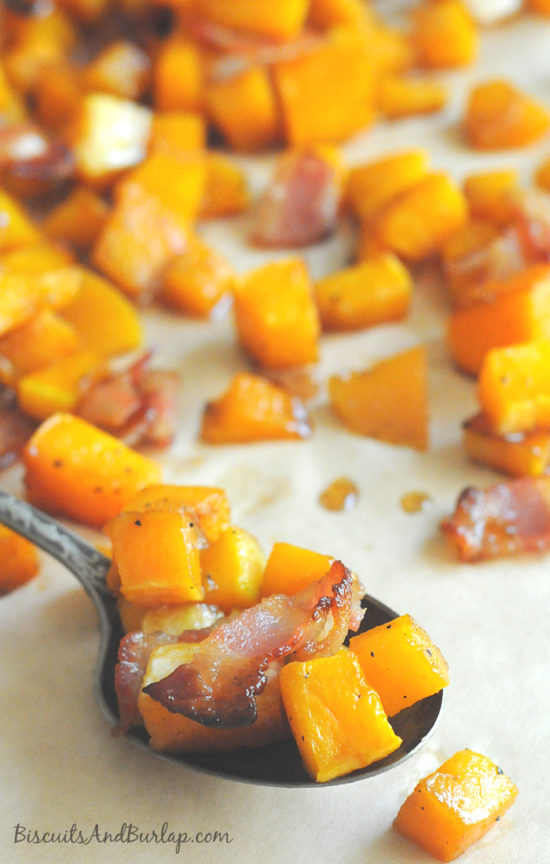 I'm not going to lie. I whipped up this recipe, pulled it out of the oven, and popped a big forkful in my mouth. Then I put the fork down, called my mom, and declared, "I AM A CULINARY GENIUS!" Seriously... it's that good. Try it out and tell me it's not amazing.
Let us know if you try it by tagging us on Instagram @biscuitsandburlap and by commenting below!
If you want your very own copy of the The Flavor Bible click here to order one.
Looking for more great side dish ideas? Green Bean Bundles are easy, delish and elegant. Our succotash recipe is equally awesome and colorful to boot!
All of these sides are perfect for a holiday meal. And, if you love cooking with bourbon you'll want to check out Banana Bread Bundt Cake with Bourbon Glaze, Honey Bourbon Chicken, and Mint Julep Ice Cream with Bourbon Sauce. They're all divine!
Read more about Southern Food Then and Now here.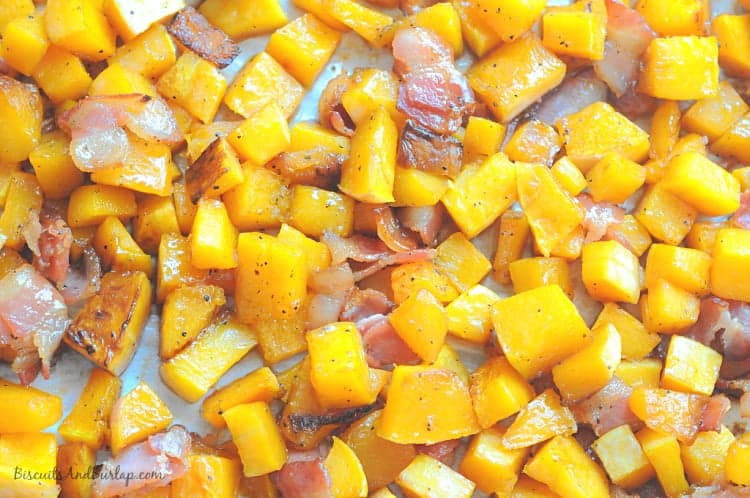 📖 Recipe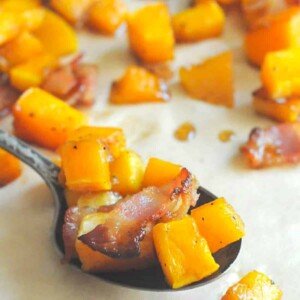 Maple Bourbon Butternut Squash with Bacon
Butternut squash is a hearty side dish that is perfect for fall meals, but when you add bacon and glaze it all with maple syrup and bourbon, it is set a notch above the rest.
Ingredients
Instructions
Preheat oven to 425 and line a large baking sheet with parchment paper.

Slice bacon into thin "lardoons" and cook over medium high heat until nearly done. Set bacon aside and reserve grease.

Toss butternut squash with bacon grease, salt and pepper. Arrange in a single layer on the parchment-lined baking sheet, and roast for about 25 minutes.

Combine maple syrup and bourbon in a small bowl.

Remove squash from oven and sprinkle bacon over the top. Pour maple bourbon mixture over squash and bacon, then stir to coat. Arrange squash and bacon in a single layer again.

Return to oven and roast for another 10-15 minutes, checking often to ensure glaze does not begin to burn.

When the bacon is crisp and the squash has began to brown, remove and enjoy!
Check out these other recipes that are perfect for the holidays!