This Turkey Breast Recipe is made in your slow cooker, and it's the easiest way ever to end up with tender and flavorful turkey.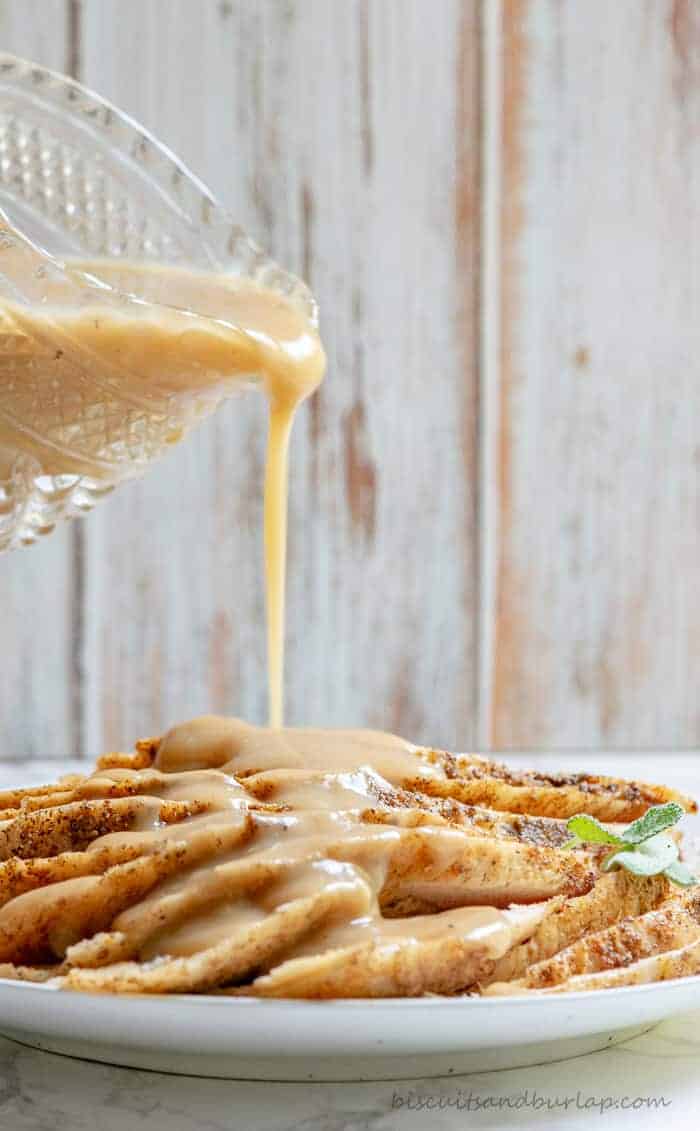 Never fear! We have the turkey breast recipe that will turn out the most tender, mouthwatering turkey breast you've ever tasted, and it's practically effortless. The advantages to cooking your turkey breast in the slow cooker (or crock pot) are almost endless:
It's trouble free. You set it to cook and go about your business.
Customize it to your taste. We like Cajun seasoning, but you can go traditional - or whatever suits your fancy.
The gravy! Oh my goodness - the gravy. Did I mention the gravy? The juices you end up with make the most divine turkey gravy ever! For an easy tutorial on making gravy from any meat drippings you'll want to check this out.
It can be made ahead and frozen. We don't have any official specifications on this, but we have successfully cooked our turkey (and the gravy) and frozen it for a few weeks before taking out to thaw and serve. We have personally had outstanding success with this, and we're huge fans of "make ahead" dishes. This turkey breast recipe is one of our favorites and it's one of 15 in this collection of Make Ahead Recipes for Holiday Meals.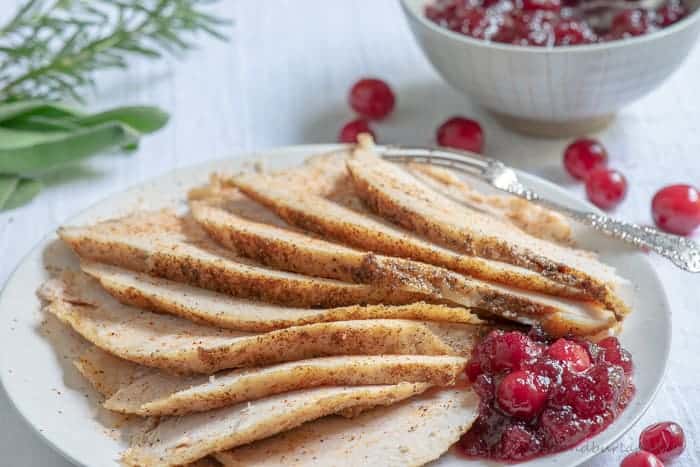 Tips for a succulent turkey breast:
Keep the turkey breast off the bottom of the slow cooker. We like to make a little "rack" out of celery sticks and onions and set the turkey on top of that. Use whatever you like, but you'll have the best results if you don't let the meat sit right on the bottom of the crock pot.
Don't overcook. We recommend a meat thermometer placed in the turkey breast as deeply as you can without resting on bone. Take it out as soon as it reaches 165 degrees.
Washing, drying and then seasoning the breast before you put it in the slow cooker will ensure a golden brown skin. Some recipes say you must broil after you remove it from the crock pot, but we've found that step unnecessary if you season a clean, dry turkey breast before you cook it.
If you lose track of time or the thermometer and let it go a little over 165 degrees you'll be fine. That gravy is so darn good you'll be redeemed - we promise.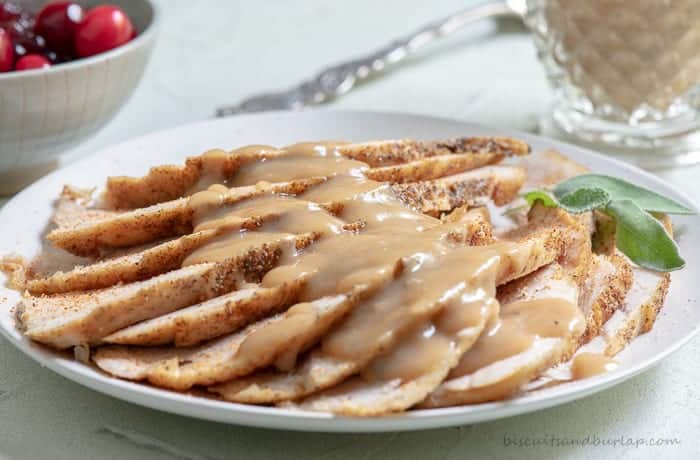 What else?
For starters you'll want to make our Southern Style Cornbread Dressing. It's one of our top recipe posts. It's foolproof and time tested. My mother-in-law showed me how to make it years ago, and it has never, ever let me down. Another awesome side dish is Butternut Squash with Bourbon, Maple and Bacon. Everyone will be singing your praises. If you need something green, be sure to check out Green Bean Bundles Wrapped in Bacon.
Then, if you're looking for a fun way to use leftovers from your turkey breast recipe you can check out these Turkey Cranberry Crostini. Not only do they use the leftover turkey, but also leftover cranberry sauce, and everyone will think you're a genius! Well, you are.
After that, if you still have leftovers (and you probably won't) just make a plain old turkey sandwich, or some turkey salad. Those classics just can't be beat.
And don't forget dessert! Our Apple Crisp with Cranberries is the perfect ending to your meal.
Sign up here for our weekly updates so you don't miss a thing!
What do you need for making this turkey breast recipe?
This post contains affiliate links for your convenience. For our complete privacy and disclosure policy click here.
First, and foremost is a slow cooker, or crock pot. I'll be honest. Mine is the most basic of the basic.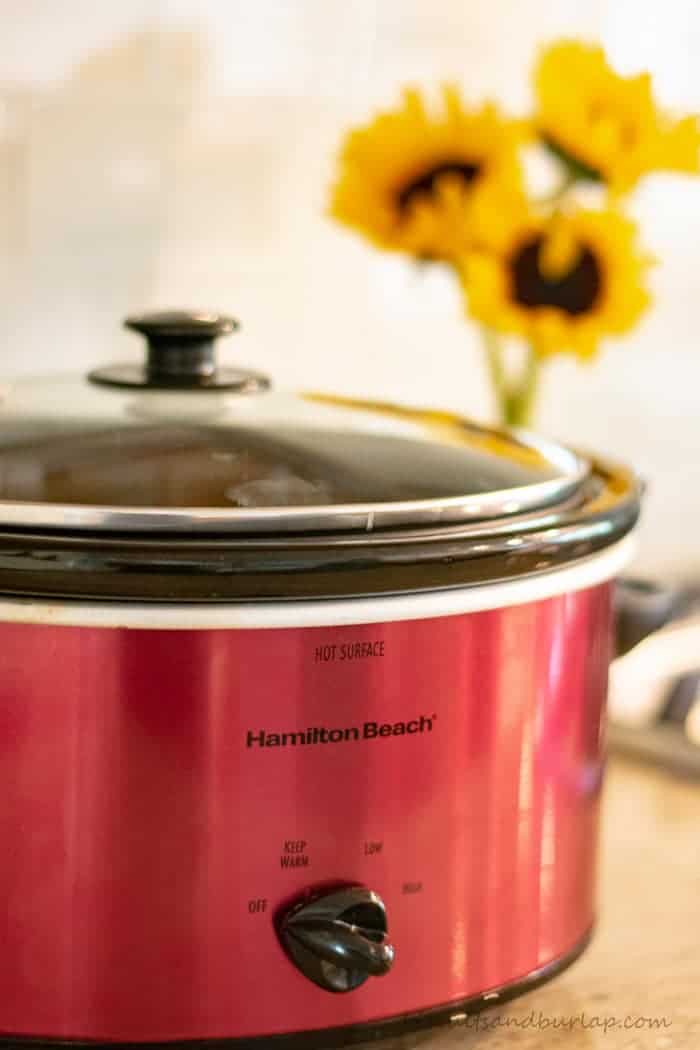 Lots of people like all the bells and whistles though, and this link takes you to a page with lots of choices, but all are Amazon rated 4 star or above.
Then you'll want a good, accurate meat thermometer. This style is our favorite because you can leave the probe in the meat, whether it's in the oven, grill or slow cooker. The part that indicates the temperature sits on the counter.
Beyond that, if you're like us and love Cajun/Creole flavors you'll want Tony Chachere Original Creole Seasoning. 
Really, the only other essential is a good quality, sharp knife. We're big fans of  Henckel Knives and you can find several choices by clicking here. 
📖 Recipe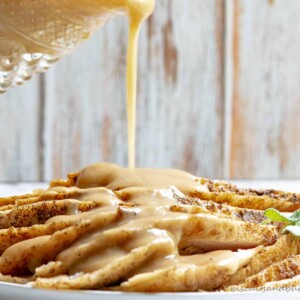 Turkey Breast Recipe for Slow Cooker
Turkey Breast cooks in your slow cooker or crock pot and produces the most tender meat possible. The juices make a mouthwatering gravy that everyone will love.
Instructions
Wash and dry turkey breast inside and out.

Season turkey breast with cajun seasoning or seasoning salt and pepper.

Place celery sticks and onion pieces in bottom of slow cooker.

Place turkey breast on top of vegetables and cook on low in slow cooker for 6-8 hours, or until meat thermometer reads 165 degrees.

Remove turkey and set aside.

Strain juices through a colander into a medium sauce pan.

Whisk flour into water until smooth and then stir into turkey juices.

Cook over medium heat, whisking constantly until gravy thickens, adding more flour a teaspoon at the time if consistency is too thin.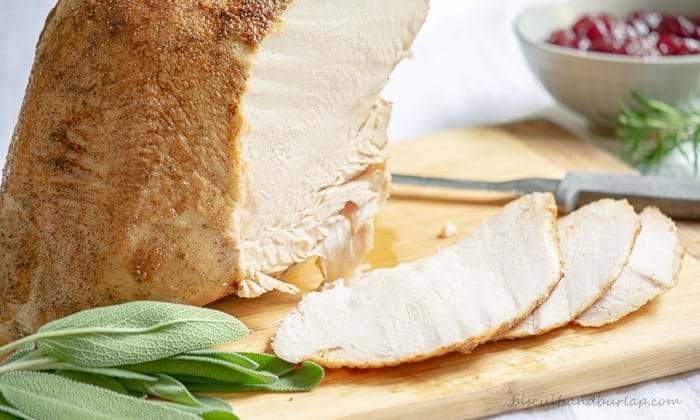 Let us know if you make the Slow Cooker Turkey Breast recipe. We'd love to hear how it turns out for you.
And don't forget to get new recipes delivered to your inbox by signing up here.
This recipe made our top 10 of 2018. Click over here to see them all. 

More recipes for your big meal:
More Recipe Sources that we recommend: