Apple Crisp with Cranberries is a warm, comfort-food dessert perfect for fall or winter, but delicious any time of year.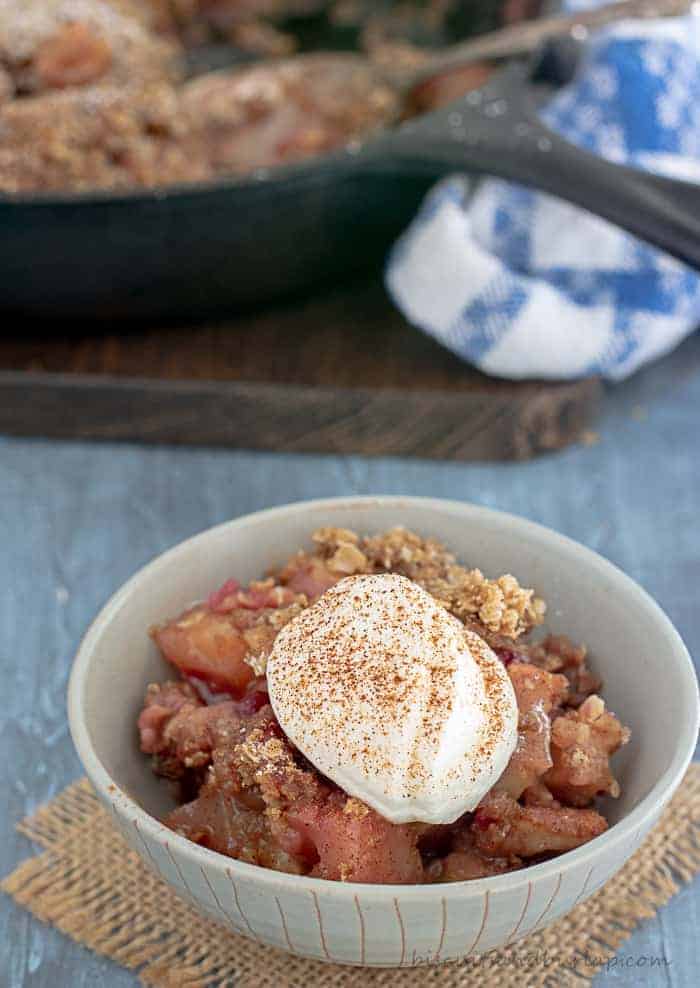 Apple Crisp with Cranberries is easy to make, and extra impressive made in an iron skillet. Top it with ice cream for an additional indulgence, but you'll also love it with a big dollop of fresh, whipped cream, maybe even garnished with a sprinkle of cinnamon.
Did you know you can sign up here and get a new recipe each week delivered right to your in box? Come on and join our family!
Make Apple Crisp in an iron skillet if possible
We love our iron skillets and there is plenty of evidence to prove it here on Biscuits and Burlap. A few of our favorites are Sweet Potato Cake with Pecan Praline Icing, Ham and Potato Frittata and Iron Skillet Hot Fudge Pudding Cake. Just browse around a while and you'll find lots more too.
Most any recipe made in an iron skillet can be made in a different dish, but the benefits do make it the best choice.
Crispy edges like you won't get in any other type of skillet.
It holds the heat longer.
Cast iron is the original non-stick surface, as long as it's well seasoned.
WHAT? You don't have an iron skillet?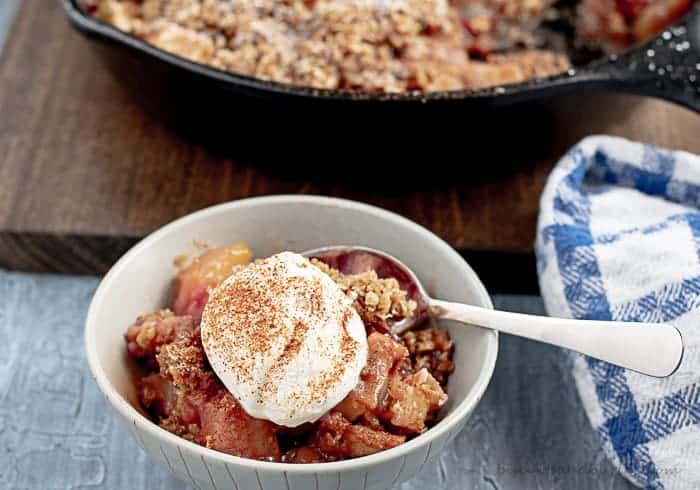 This post contains affiliate links for your convenience. Click here for our full disclosure policy. 
Here and you'll be taken to a full page of selections on Amazon. All of these skillets are four star or above rated, and most are priced very economically.
What type of cranberries to use in your Apple Crisp with Cranberries?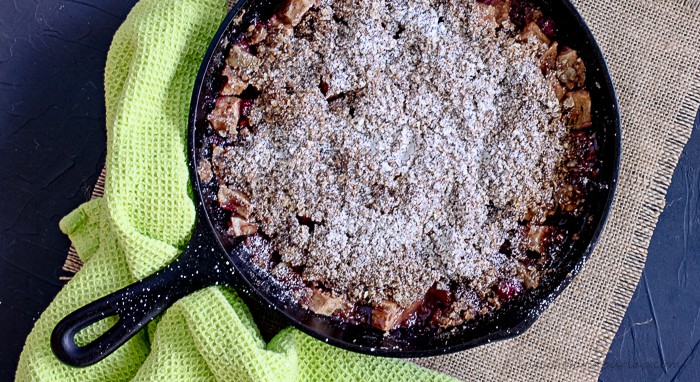 When I first started working on this recipe I wanted to use fresh cranberries. Well, guess what? Cranberries are very seasonal and not available in our area until about late October to early November. Improvise, right?
So, I experimented with dried cranberries. Now, we love "craisins" in a salad or other cold dishes, but I had never tried cooking with them. They held up just fine, but we thought the flavor was a little overpowering. Enter the frozen cranberry!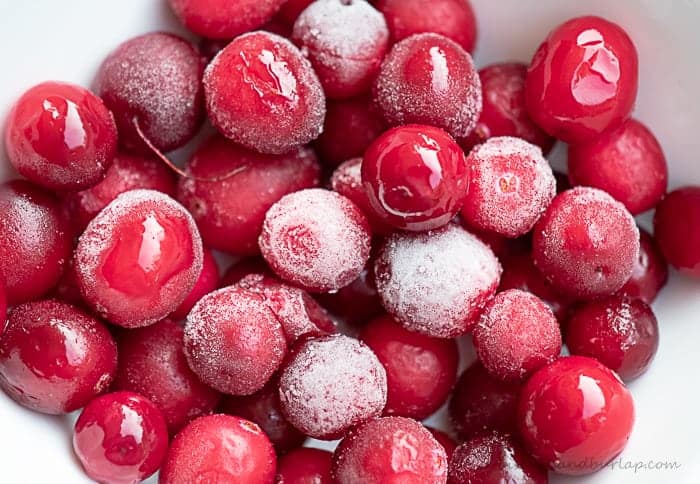 I let mine thaw before using them in the Apple Crisp, but I'm sure you could use them straight out of the freezer and they would be fine. Of course, if fresh cranberries are available I would certainly use them, but it is good to know that frozen work well too.
What kind of apples are best for Apple Crisp?
Our absolute favorites to cook with are Granny Smiths. They are a bit tart for eating raw (though we like them that way too), but when cooking  you will sweeten your apples so their tartness holds up well without getting overly sweet.
The other great thing about cooking with Granny Smith apples is their firmness. They hold their shape even in a dish that cooks a while like this one.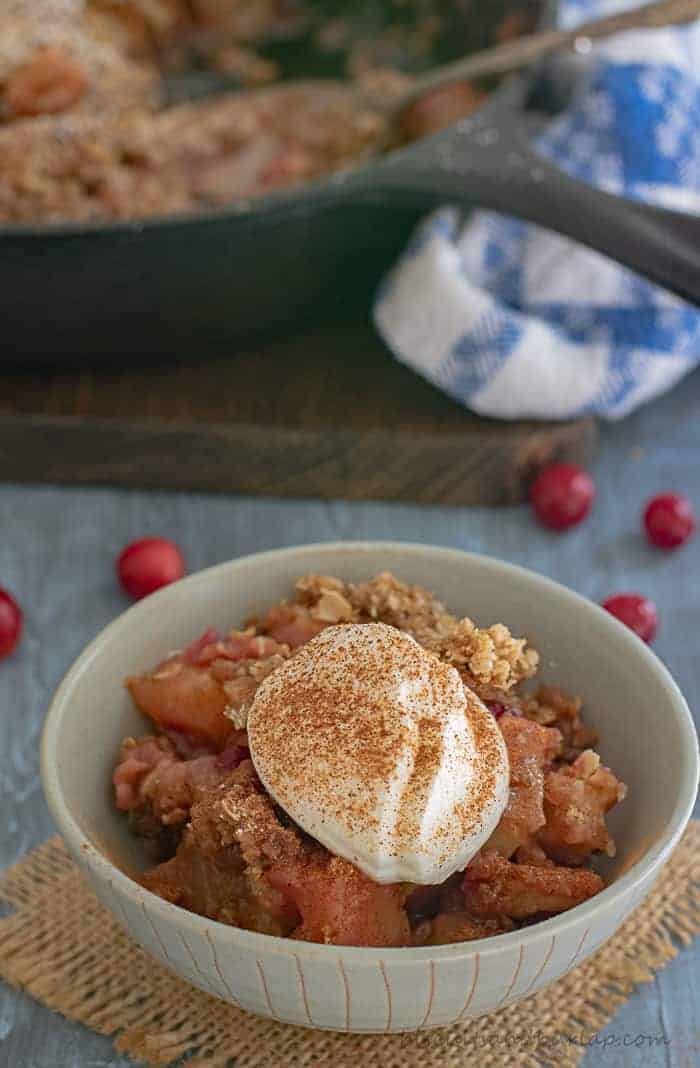 For a full rundown on apple varieties that are good for cooking check out our Classic Apple Pie recipe. If you're reading this it must mean you love apples, and another great and unique dish is Baked Brie with Apples and Bacon. 
Our fall salad with a tangy cider dressing is another amazing way to use some of those apples. That post also has a link to information on apple varieties and uses.
And, did you know that you can grill apples? Toss a few slices on the grill while you've got some pork or chicken cooking. They can be served as a side dish, dessert or they're also perfect for breakfast or brunch.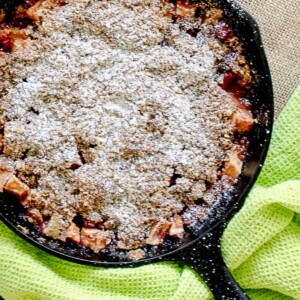 Apple Crisp with Cranberries
Apples and Cranberries are topped with a crunch topping and baked for the perfect fall dessert.
Instructions
Spray or butter a 10 inch cast iron skillet (or casserole dish).

In a medium bowl, stir together ½ cup flour, oats, cinnamon, brown sugar and salt.

Add butter and cut in with pastry blender. Set aside.

Combine apples, cranberries, sugar, remaining cinnamon and flour and pour into skillet.

Sprinkle with topping and bake at 350 degrees for 35 to 45 minutes or until topping is browned.

Let cool for 20-30 minutes. Serve with whipped cream or ice cream.
Notes
If apples are smaller, use 6-7.
A few items you may need for making your Apple Crisp:
Don't forget about signing up for your weekly updates right here. 
Let us hear how your Apple Crisp with Cranberries turns out. We just know that you'll love it.
Other Recipe Sources that we recommend:

More fall recipes you'll want to try: