Ruby Tuesday Chicken Fresco is easy enough to make on a weeknight, but impressive enough to serve to company. Our copycat version may actually be a bit lighter than theirs, but is equally delicious.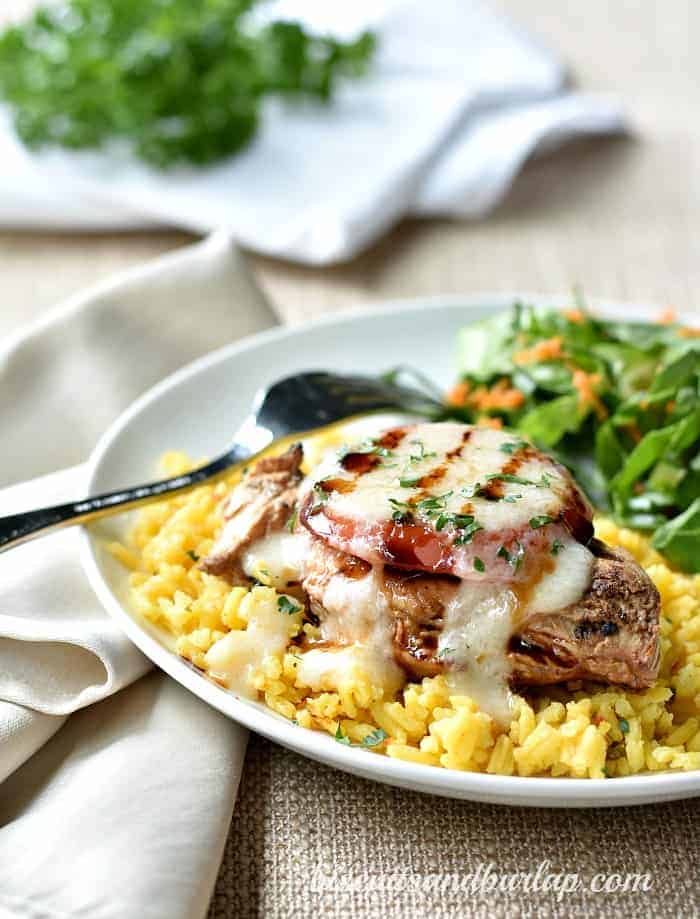 I first saw Ruby Tuesday Chicken Fresco in a magazine ad years ago. There was a photo and a brief description – something like "grilled chicken topped with roma tomatoes, a lemon butter sauce and a balsamic drizzle".
My first thought was how delicious it sounded, and reasonably healthy too. My second thought was that I could re-create it, based just on that information.
So, I set out to do just that. It turned out really great and I remembered to immediately write down how I made it. I have to admit there have been many occasions when I made a dish and didn't take the time to record the details. Weeks or months later it occurs to me how good it was, but by then I've lost the details in the deep recesses of …. well, lost details.
Ruby Tuesday Chicken Fresco (Copycat) can be served a variety of ways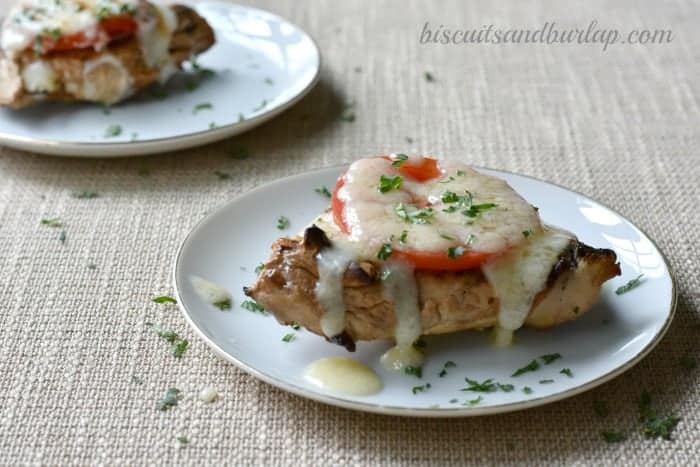 Sometimes I've forgotten the balsamic drizzle like the in the photo above. The drizzle is pretty, and it does add another level of flavor, but this Chicken Fresco Copycat is plenty delicious without the drizzle.
We love it on its own like this, with a salad or veggie, but it's also awesome (and makes a heartier meal) served over rice or with pasta. Another great chicken dish, also light and healthy is our Citrus Rosemary Oven Roasted Chicken.
If you're really working on lightening things up, be sure to check out our Grapefruit & Kiwi Detox Smoothie. It's as delicious as it is beautiful.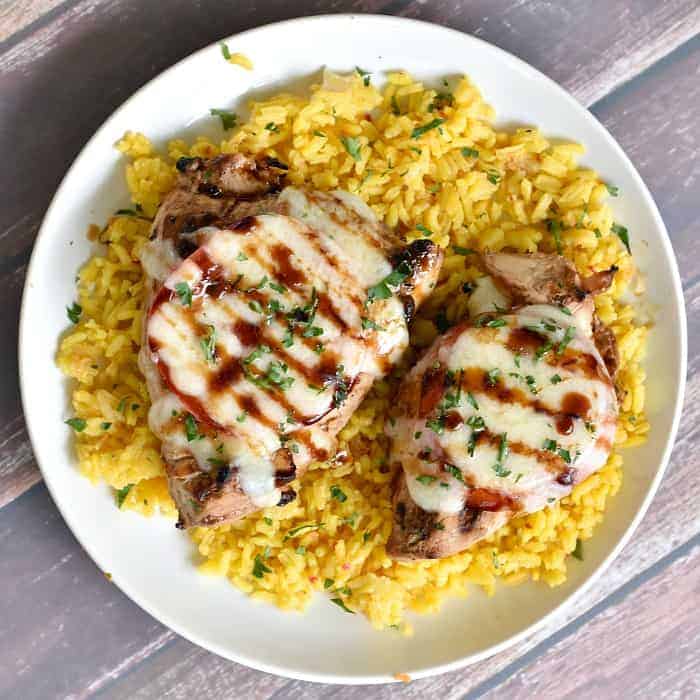 How to prepare the chicken for Ruby Tuesday Chicken Fresco
This post contains affiliate links for your convenience. Click here to read our full privacy and disclosure policy.
You can prepare the boneless chicken breasts very simply by seasoning with just a bit of salt and pepper and grill or cook in a little oil in a skillet. If I think ahead, I like to make our "Preacher Chicken" to use. It adds yet another level of deliciousness to an already delicious dish.
It's still very easy, and if you make the simple marinade for Preacher Chicken the night before or early in the morning, the chicken can be soaking up that goodness all day, and then you're ready for a pretty quick, but special dinner when evening rolls around.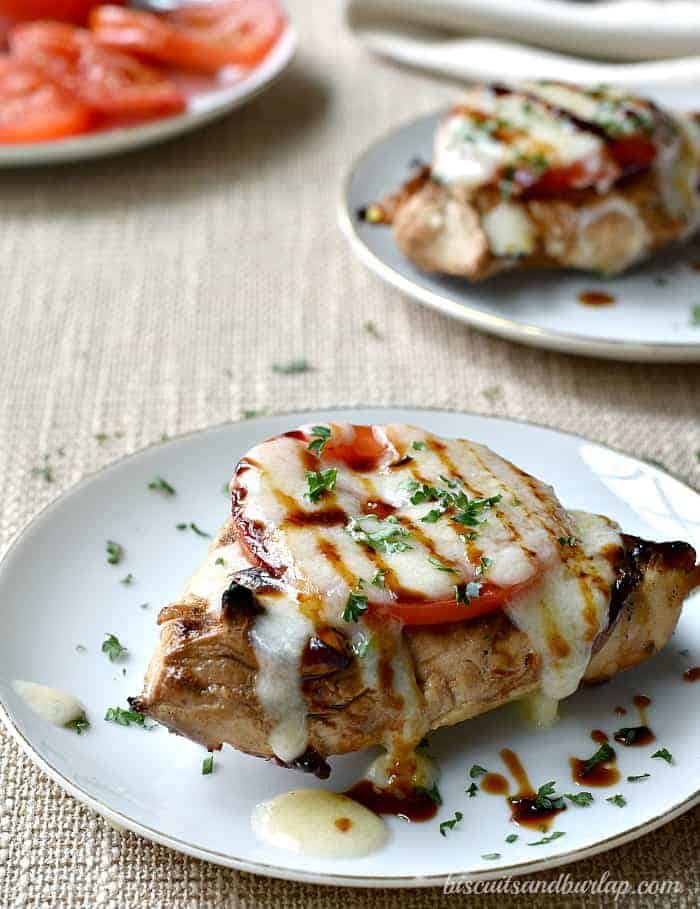 If you love this recipe you'll also love Italian Chicken with Creamy Pan Sauce.
Tips for Making Your Chicken Fresco the Best Ever
Pound the boneless chicken breasts with a mallet to about ½ inch thick. Cutlets that you buy at the store are too thin.
Marinate in our Preacher Chicken Recipe if you have time
Slice the tomatoes ahead of time, and salt lightly. This will draw out the excess juices. There is a video showing this easy process on the Crustless Tomato Pie recipe post.
Fresh squeezed lemon juice is always best
If you have high quality balsamic vinegar, this is the time to use it.
Chicken can be cooked in advance. Before serving time warm in the oven for 8-10 minutes.
Follow up with a special dessert like Brownie Trifles or Mini Lemon Cheesecake Tarts.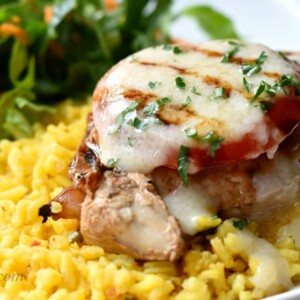 Ruby Tuesday Chicken Fresco (Copycat)
Grilled chicken breast topped with fresh tomato slices and a buttery lemon sauce.
Instructions
Pound chicken to about ½″ thickness and cut into serving sized pieces.

Slice tomatoes, salt light and set aside for excess juices to drain.

Grill chicken or cook in skillet with cooking spray, salt and pepper.

Melt better in medium sized skillet over medium low heat.

Stir in lemon juice, wine, salt, and parmesan.

Whisk flour into sauce, stirring constantly to thicken slightly.

Top chicken with tomato slices, sauce and then drizzle with a good quality balsamic vinegar.
Other recipes you will want to try:
Don't forget to sign up for weekly updates from Biscuits and Burlap right here.