If you love gumbo you'll love this version made from our family recipe. It combines seafood, chicken and sausage with all the veggies and spices you love in gumbo.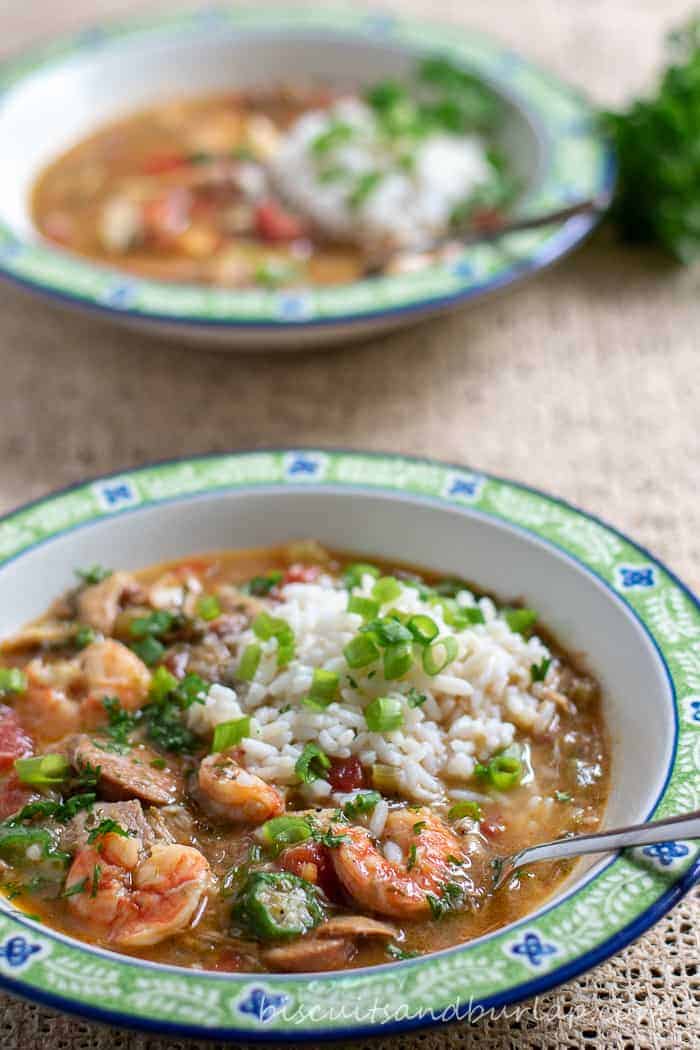 As we have begun to "find ourselves" as bloggers, we have narrowed our focus down to our Southern roots and all the traditions that go with it. It's funny how many things you do so regularly with your family that you don't even recognize it as being unique or interesting.
We have to really rack our brains to come up with those simple staples that are just facts of life for us, but may be life-changing for our readers. This gumbo is one of those things.
We would just hate for you to miss a thing! Sign up to get our newletters!
I have lived in the South my whole life, so I don't know how prominent Cajun food is in other parts of the country or the world. Here in Georgia, Cajun food is just a distant cousin of our local cuisine…
We may not eat it every day, but we're always delighted to have the opportunity. Likewise with Tex-Mex dishes and our Roasted Poblano and Corn Chowder is a perfect example.
What the heck is gumbo?
If you're not familiar with gumbo, it is the perfect representation of Cajun culture because it is a mixture of several different cultures that have immersed themselves in the area.
The word "gumbo" comes from a West African word for okra. Some people choose not to use okra in their gumbo, but here in our family, we are of the belief that you can't make a proper Gumbo without okra… It just doesn't have the right texture otherwise!
In fact, we think most any southern style soup needs okra to make it perfect. Chicken Vegetable Soup and our Old Fashioned Southern Vegetable Soup are two examples.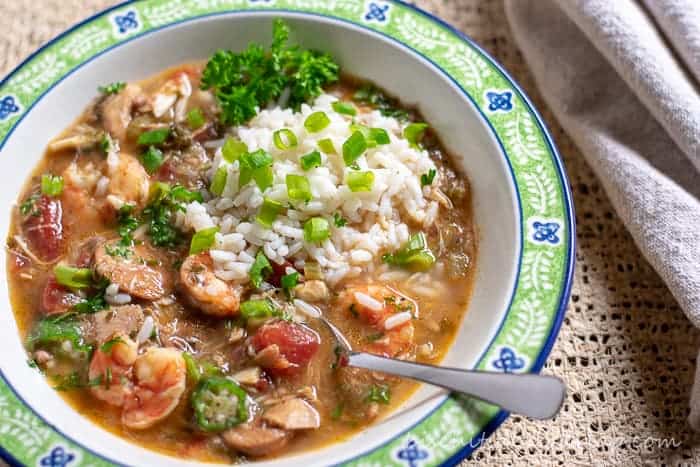 If you're an okra lover like we are you'll want to check out this healthy version of that old southern style fried favorite. Air Fryer Okra is just as crispy and delicious, but uses only a fine mist of oil.
Another important ingredient in gumbo is the filé powder, made from ground sassafras leaves. And I'll be honest… I don't have a clue if there is any use for this stuff outside of making gumbo. But it just wouldn't be gumbo without it!
Now, let me be clear when I say there are an infinite number of ways to make gumbo and everyone has different opinions over what should go in it, what texture it should be, how dark the roux should be, etc. Naturally, I think the way we do it is the best.
My Uncle David lived in New Orleans for a while and learned how to cook some Cajun staples from locals. He taught my dad how to make jambalaya and gumbo and every New Year they would spend all day making enough of both to feed the Confederate army.
The two most common kinds of gumbo are chicken and sausage or seafood gumbo… naturally we combined the two to make this delicious mess. Uncle David sometimes put oysters in it too!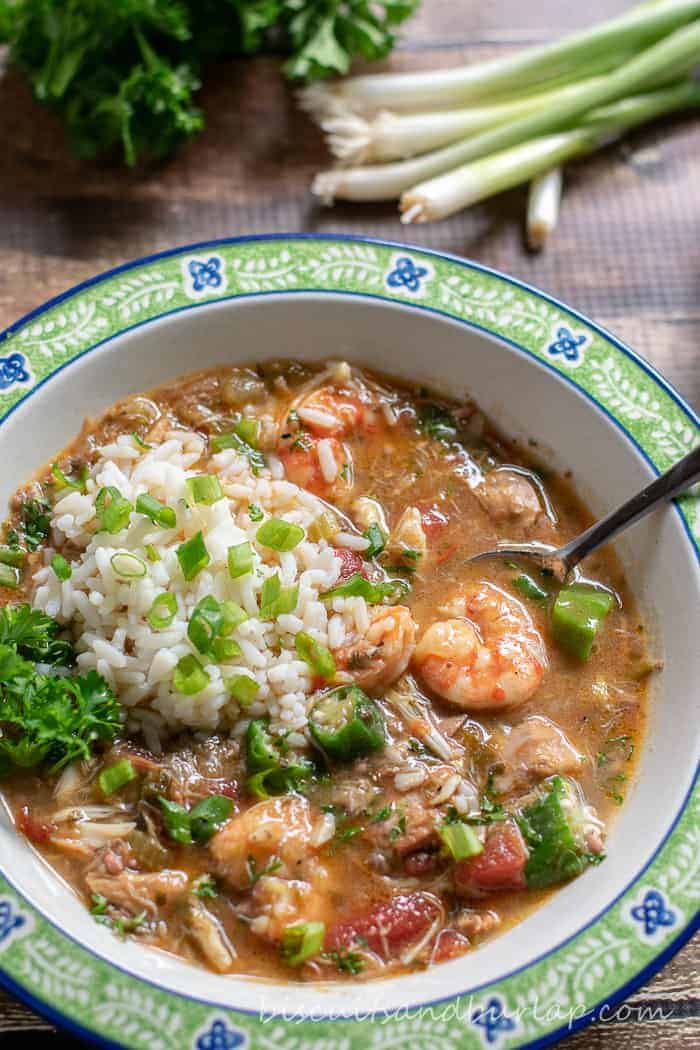 Follow our Southern Favorites Pinterest board for more classic dishes like this one!
Years ago my dad memorialized the recipe when my mom's side of the family made a spiral bound family cookbook. If you're curious what else is in there (and if you're not, you should be), you can find a couple more recipes from the family cookbook below.
This recipe made our Reader Favorites of 2017. Check out the rest right here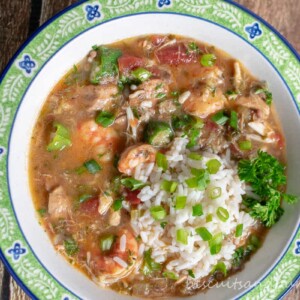 Gumbo with Chicken, Sausage, Shrimp, and Crab
If you love gumbo you'll love this version made from our family recipe. It combines seafood, chicken and sausage with all the veggies and spices you love in gumbo.
Ingredients
2-2 ½

pound

chicken

cut up

3

qts water

½

c

olive oil

plus a couple tablespoons extra

½-¾

bunch

fresh parsley

chopped

5

celery stalks

chopped

2

bunches green onions

sliced

2

cloves

garlic

minced

1

lb

andouille sausage

sliced

1

lb

frozen sliced okra

½

cup

flour

1

large can tomatoes

½

T

black pepper

1

T

Tony Cachere's creole seasoning

1

t

cayenne

Tobasco to taste

2

bay leaves

1- 1 ½

lb

raw shrimp

peeled

1

lb

lump crabmeat

picked over

½

pt.

oysters

optional

1

T

file' powder
Instructions
Boil chicken in 3 qts water. Bone and set aside. Reserve stock.

In heavy dutch oven, saute' celery, onion, parsley, and garlic until celery is tender.

Add reserved stock, chicken, sausage, okra, tomatoes, and seasoning.

In separate non-stick skillet, heat ½ cup oil and ½ cup flour. Stir constantly over medium high heat until mixture is smooth and turns dark brown. Add to Dutch oven.

Cook, loosely covered over medium heat 1 ½-2 hours, skimming fat off top frequently.

Add seafood and file'. Mix well and cook until shrimp is cooked through.

Serve over steamed rice with saltine crackers and extra Tony Cachere's and Tobasco.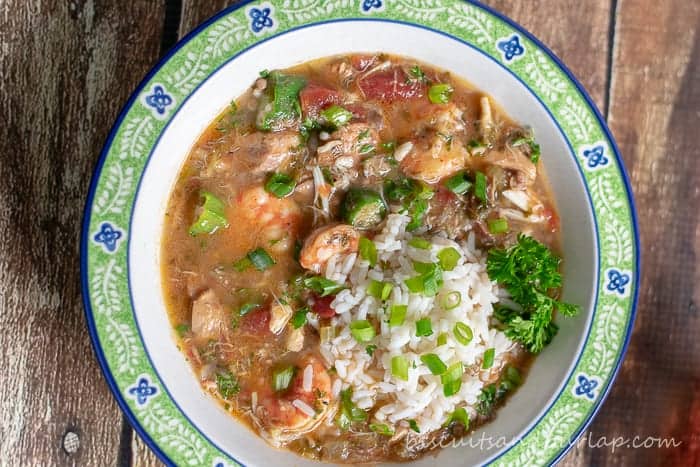 If you love a good soup with seafood you're also going to love She-Crab Soup. Check it out.
This recipe is just what you need for this last bit of winter and I promise it's a winner. As my Daddy's favorite Cajun chef, Justin Wilson would say… "I garontee."
Hey, you'll kick off your gumbo day just right if you start out with a classic Hurricane cocktail. Sip one while you cook. Just be careful – they can pack a punch!

Looking for other Cajun and Creole favorites?