The roasted poblano peppers in this creamy corn chowder give it just the right amount of smokiness and the potatoes make it hearty enough for a main course.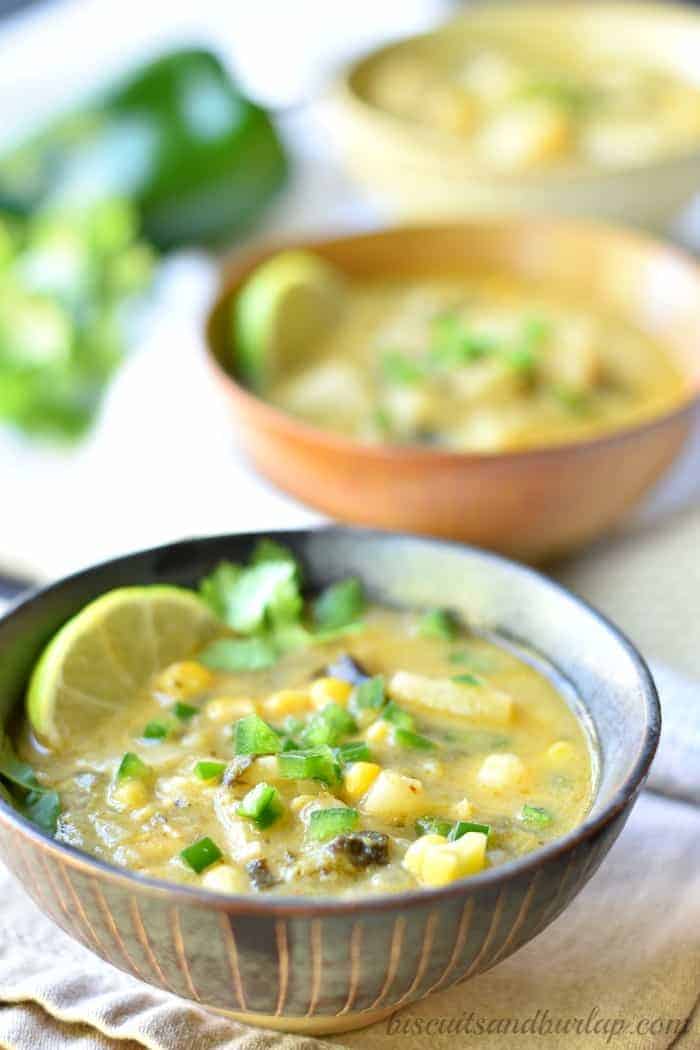 We finally have some fall weather drifting into the south and that means it's time for soup! It's no secret that I love anything with a southwestern/tex-mex kick and this corn chowder has exactly that. Like most chowders, you'll find this one creamy, a little rich, and nice and thick.
Another great soup for cool weather is our Black Bean Soup with Ham, and it can be made without the ham for a vegetarian version that's yummy.
Or, how about She-Crab Soup? It's a favorite of ours. Easy Potato Soup is just plain old traditional potato soup and our method is simple and foolproof.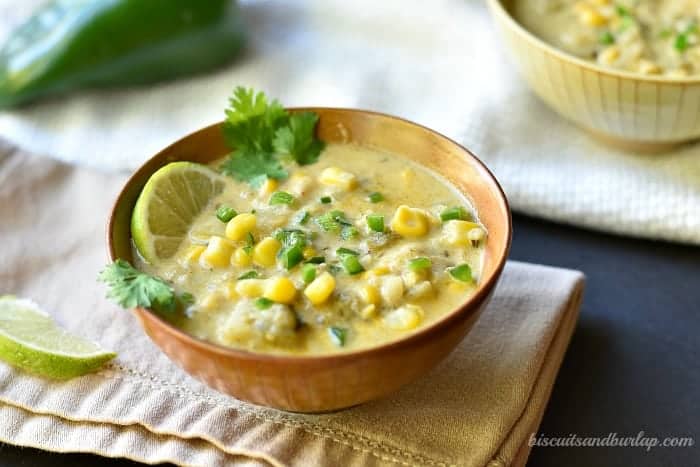 How to roast and peel poblano peppers
If you've never roasted poblano peppers before, it's actually a lot easier than it sounds and totally worth it. I remember the first time I read "peel the poblanos" in a recipe. You want me to peel a pepper?! That sounds like a pain in my you-know-what. I was surprised at how easy it was, though!
First, just preheat the oven to 450° and put the peppers on a foil-lined cookie sheet. Put the peppers in for 30 minutes, flipping halfway through. They should be fully charred on the outside.
After you take them out, put them in a big bowl and cover it. This helps the skin to come off easier as it steams in the bowl. After another 15 minutes, you should be able to just rub the skin right off. Seed and chop them last.
If you decide you're a fan of roasted poblano peppers, you may like Chicken Stuffed Poblano Peppers and Creamy Poblano Sauce.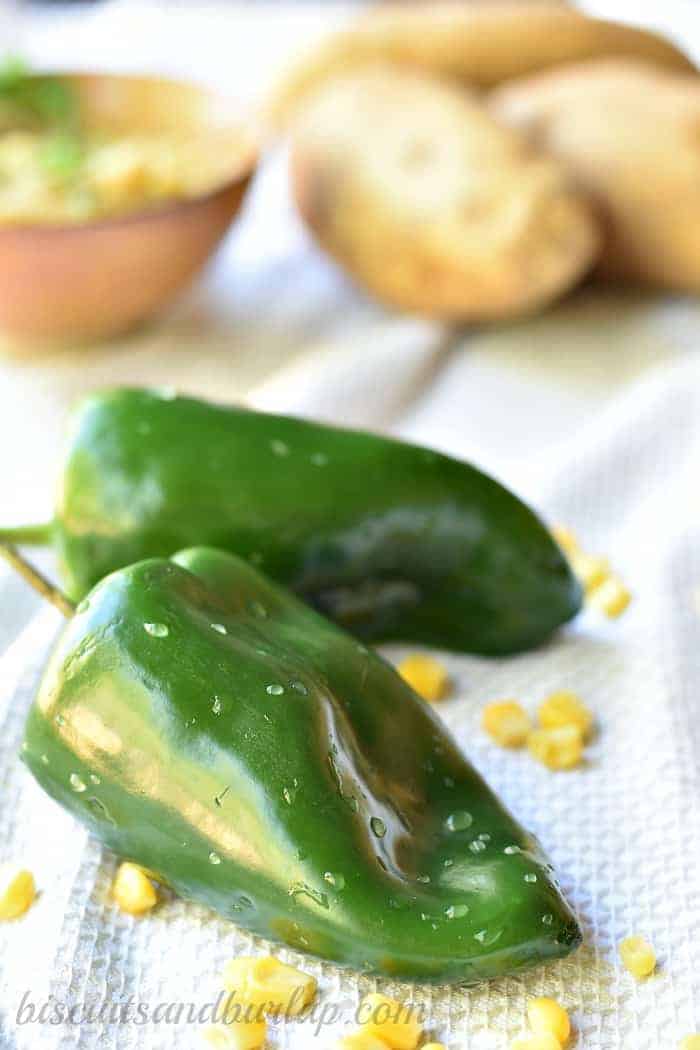 How to make corn chowder with roasted poblano peppers
Combine the peppers, onions, potatoes, garlic, chicken broth and spices to your slow-cooker. Cover and cook on high for 4 hours. Almost done!
After 4 hours have passed, you have a couple options. You can add the cream and corn and leave it chunky like it is, you can add the corn and hit it for a minute with an immersion blender and then add the cream, or you can add the corn, scoop out 2 cups, add them to a food processor, and then put it back in the pot with the cream.
I went for the latter option (only because I don't own an immersion blender) and ended with the greatest consistency!
Whatever you decide to do, cook the corn chowder an additional 30 minutes and you're done! Garnish with lime and fresh cilantro.
These little Parmesan Crescent Rolls are easy enough for even a beginning baker and go perfectly with any soup. And if you're a soup fan, Southern Vegetable Soup with Beef is another great, though completely different, soup.
Need an easy dessert for after the soup? How about these no-bake mini chocolate chip cheesecake bites -- Or this amazingly simple strawberry cake is sure to please everyone.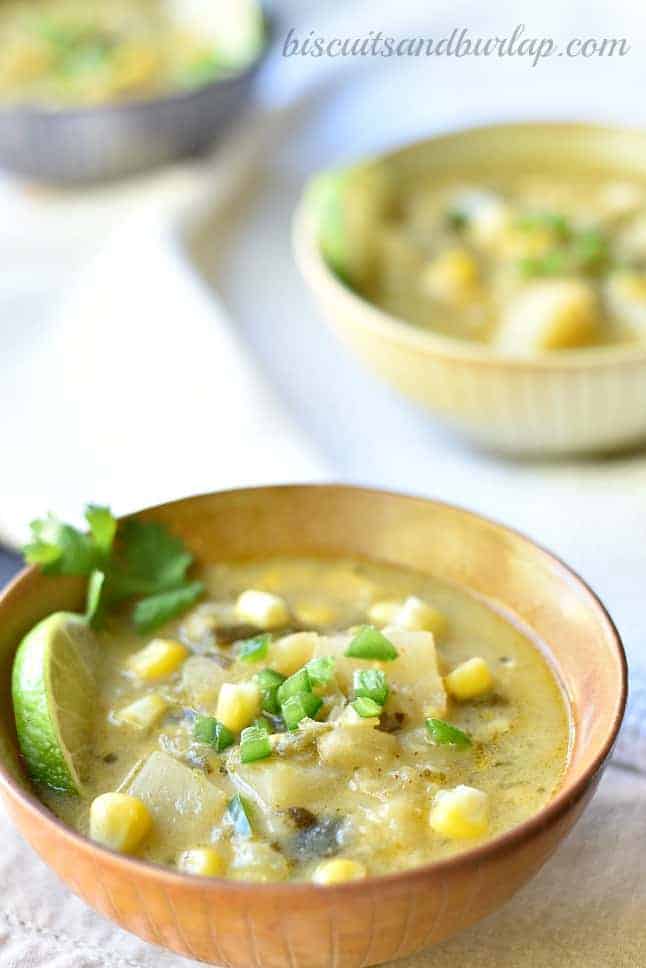 For a totally different twist on a soup with roasted poblano peppers try our Cheesy Roasted Poblano Pepper Soup. It's made with chicken, but it makes a tasty vegetarian version too.
If you make this or any of our recipes we'd love for you to leave us a comment and star rating. If you're into sharing your creations, snap a photo and tag us when you post it to Facebook or Instagram.

📖 Recipe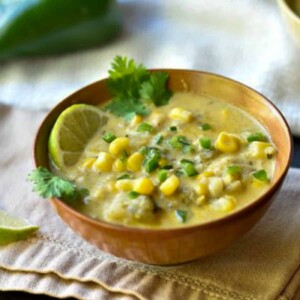 Roasted Poblano Corn Chowder
The roasted poblano peppers in this creamy corn chowder give it just the right amount of smokiness and the potatoes make it hearty enough for a main course.
Ingredients
4

poblano peppers

roasted, seeded, and peeled

1

onion

diced

3

cups

corn

3

cloves

garlic

minced

3

russet potatoes

diced

4

cups

chicken stock

substitute vegetable broth for vegetarian

1

cup

heavy cream

1

teaspoon

cumin

1

teaspoon

chili powder

salt and pepper

to taste
Instructions
Combine peppers, onions, potatoes, chicken broth, and spices in a large slow-cooker.

Cook 4 hours on high or 8 hours on low.

For a chunky consistency, add corn and cream. For a smoother consistency, add corn and hit with an immersion blender for 1 minutes or put 2 cups of soup in a food processor, blend for 30 seconds, and then add back to pot with cream.

Cook for another 30 minutes.

Serve garnished with lime wedge and fresh cilantro if desired.
Like this recipe? Check out some of our readers' other favorites!