Parmesan Crescent Rolls are a homemade yeast roll easy enough for a beginning baker to make. While they bake, your home will be filled with the delightful aromas of yeast, butter and parmesan cheese.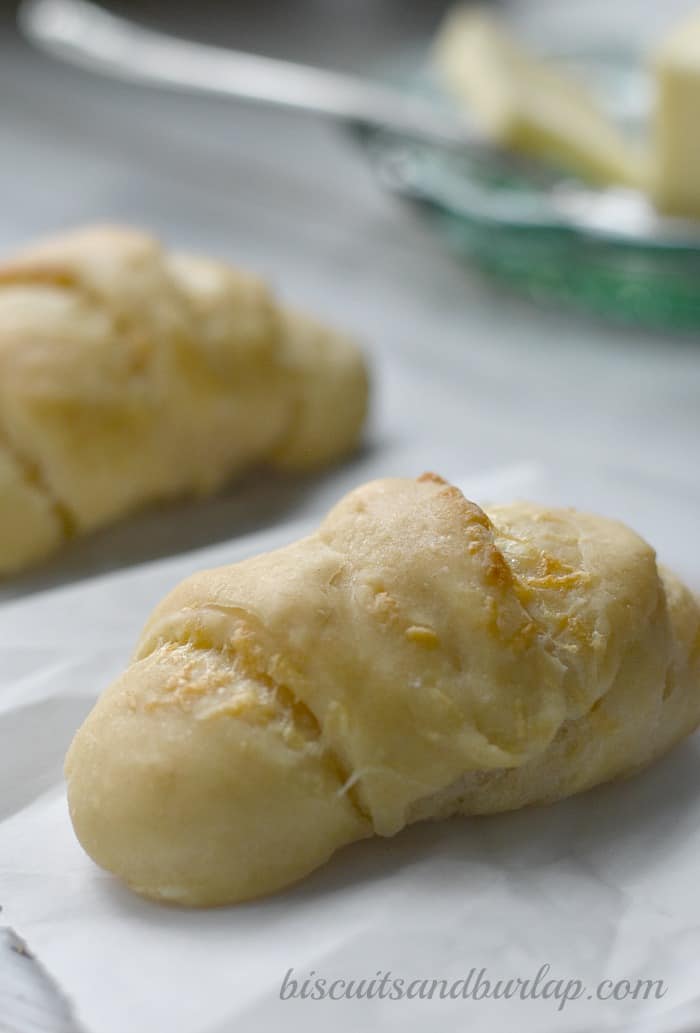 These Parmesan Crescent Rolls are so much better than anything that comes out of a can. They do take a little time, but it is so worth it. And, the unique recipe uses only half of a basic bread dough recipe. We made Homemade Cinnamon Bread with the other half, but you could certainly use all of the dough for these rolls and make 24 instead of 12.
Parmesan Crescent Rolls are from our Family Cookbook
The recipe in the cookbook says it originally came from a 1982 Southern Living. We've made a few minor adaptations, but it remains pretty much true to what Daddy submitted for the cookbook.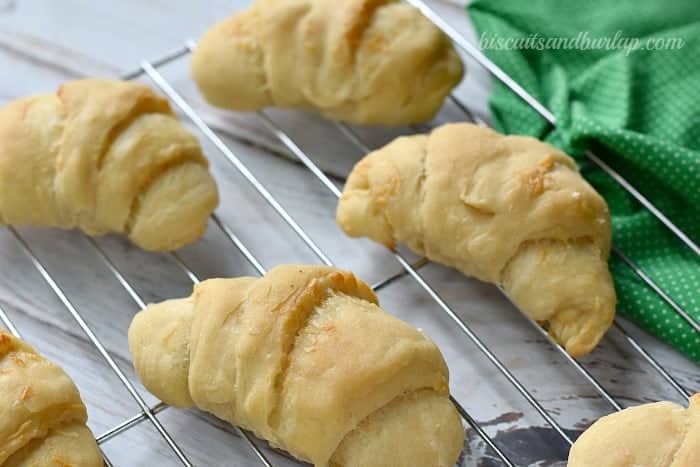 One of our most popular posts are three ingredient Sausage Balls and they're a holiday classic that are a tradition around here. They originated in our family with Daddy making those too - along with the Cheese Ball with Pimento Cheese. It's just not Christmas without them, and we always think of him when we make them. Buddy's Aunt Norma gave us Hot Fudge Pudding Cake years ago and we just updated by making it in an iron skillet. Do y'all have family recipes that have been around a long time? We'd love to hear about them - just leave us a comment.
Unique Features of this Crescent Roll Recipe
Interestingly enough, the recipe says the dough can be stirred up and refrigerated for up to five days before you shape and bake. In all the years of making this bread I don't know that any of us had put that to the test until now, but it worked! I made the Cinnamon Bread first and left the dough covered and refrigerated for the full five days. It did take a bit longer for the dough to rise the second time, but I believe that's because you are starting out with cold dough.
The Parmesan Crescent Rolls you see in these photos are the results. They turned out perfectly. (These are brushed with butter after coming out of the oven. Yummm......) Wouldn't these be awesome with a bowl of hot soup like Southern Style Vegetable Beef Soup?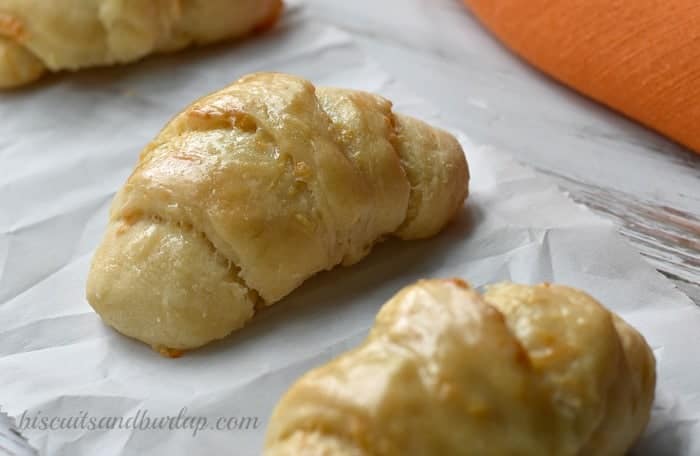 The other unique feature of the recipe is that it can be divided in half and make two completely different breads. I love versatility in a recipe and this one has loads of versatility.
The cinnamon bread makes a smallish loaf - perfect for just a few people. If you have more people and want to make a delicious breakfast bread, just make two loaves.
Equally as adaptable for the size of your crowd is the Parmesan Crescent Roll recipe. It makes just a dozen small crescent rolls, but if you have more people you can use the whole batch of dough and make 24.
These little rolls are just perfect with a bowl of hot soup or a meal like Citrus Rosemary Oven Roasted Chicken.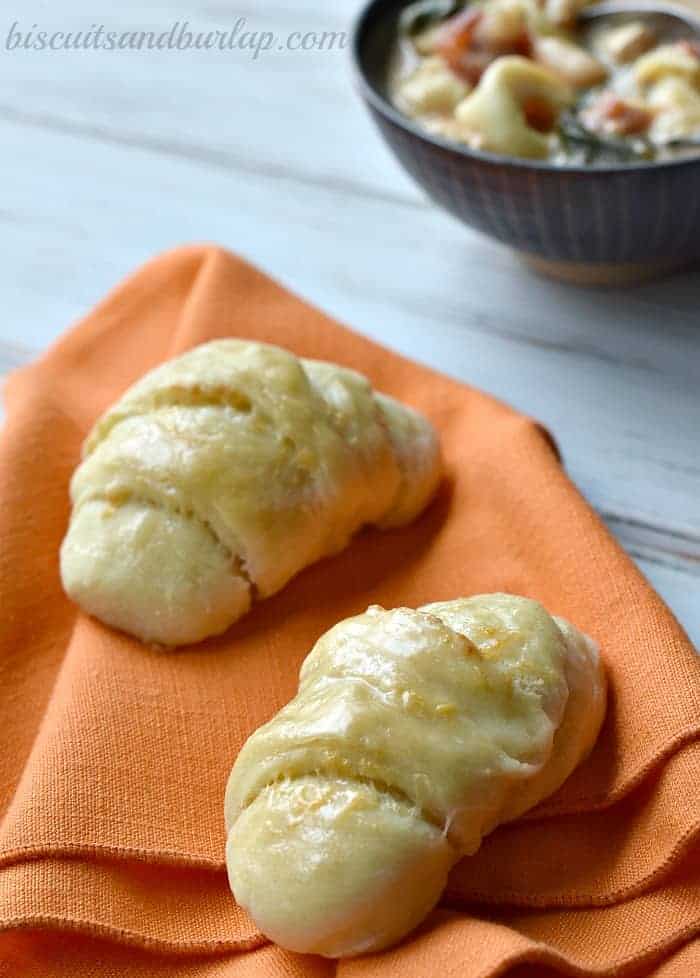 📖 Recipe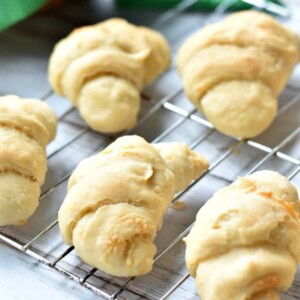 Parmesan Crescent Rolls
Easy enough for the beginning bread maker these rolls will fill your home with the aromas of yeast, butter and parmesan.
Ingredients
Basic Roll Dough
Parmesan Crescent Rolls
½

recipe

Basic Roll Dough

2

Tablespoons

butter, melted

¼

cup

Parmesan cheese, freshly grated
Instructions
Basic Roll Dough
Dissolve yeast in warm water in large bowl.

Add sugar, shortening, eggs, salt and half the flour.

Beat at low speed of electric mixer until smooth.

Stir in enough of remaining flour to make a soft dough.

Place dough in greased bowl, turning to greast top.

Cove and let rise in a warm place (85 degrees) until doubled in bulk, or cover and refrigerate up to 5 days.

Punch dough down. Turn out onto lightly floured surface and knead 4 or 5 times.

Shape and bake as directed.
Parmesan Crescent Rolls
Roll dough into a 12 inch circle in a lightly floured surface.

Brush with butter and sprinkle with parmesan cheese.

Roll each wedge tightly, beginning at wide end.

Seal points and place rolls (point side down) on a greased baking sheet.

Cover and let rise in a warm place for about 30 minutes or until doubled in bulk.

Bake at 400 degrees for 8 to 10 minutes, or until lightly browned.

Brush with more melted butter, if desired.
Best Tips for Making Parmesan Crescent Rolls
Use original type yeast, not the quick-rising type (it may work fine with the quick rising, but this recipe dates back to before there was any such thing, so I don't recommend trying it.
Set dough over a pan of warm water for rising (unless your house is 85 degrees - ugh!)
a pizza cutter is the handiest tool for cutting the dough into triangles
use freshly grated parmesan when at all possible - it really does make a difference
pinch the point to seal and then lay the rolls point down on the pan
savor that aroma as they're baking
If you make any of our recipes we'd love for you to leave us a comment and star rating. If you're into sharing your creations, snap a photo and tag us when you post it to Facebook or Instagram.
If you love making bread, check out this Bialy recipe. A guest chef introduced us to this rustic, crusty bread.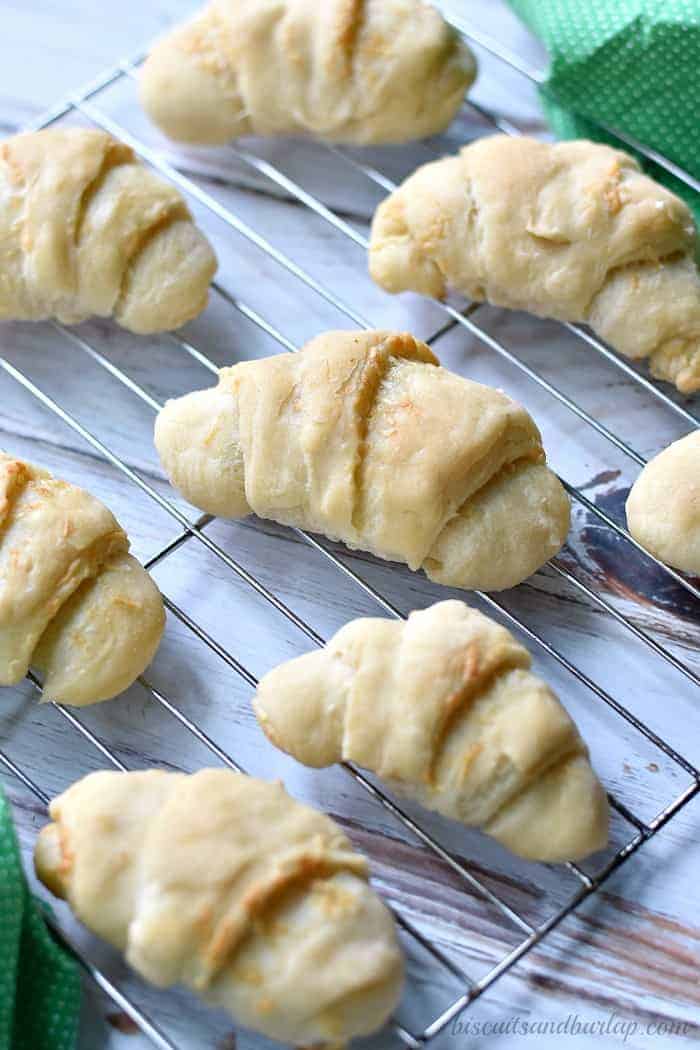 Other Recipes You'll Love