A recipe that comes together with just four ingredients, Asiago Cheese and Black Pepper Biscuits have a rich, earthy flavor that pairs perfectly with countless dishes.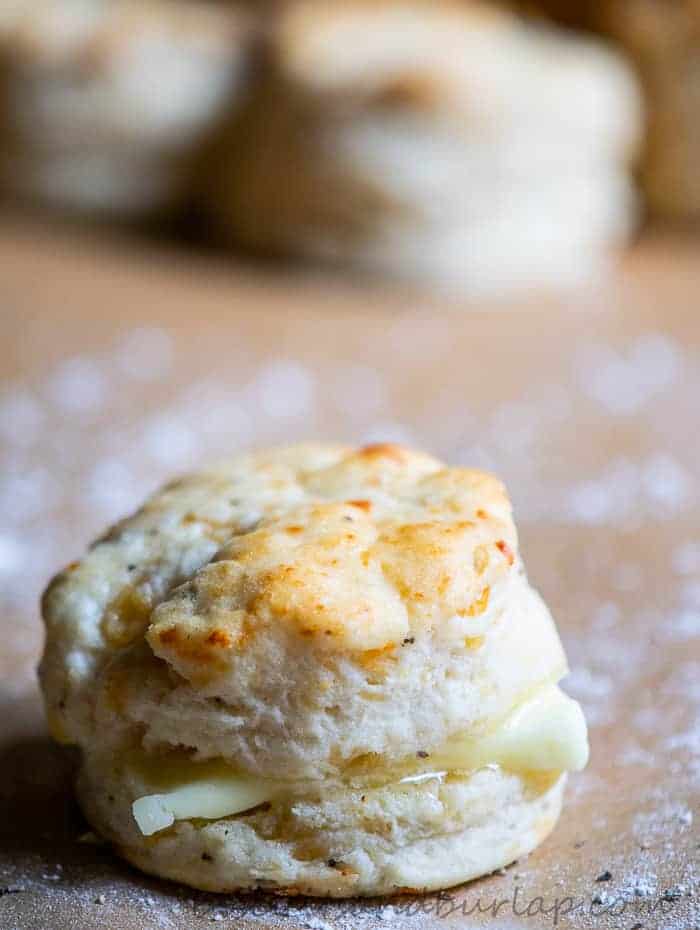 Asiago Cheese and Black Pepper Biscuits pair perfectly with southern vegetable soup, stews and chowders.  They're absolutely outstanding with a gumbo like our family recipe, too. They also go well with peppered bacon or Steak Omelettes for a delicious and flavorful breakfast. So easy to make and even a beginning baker will be proud of the results.
The best way to make biscuits?
There is no right or wrong way and lots of different combinations of ingredients work great, although they can produce a slightly different biscuit. Our Sweet Potato Biscuits and Cinnamon Biscuits are a perfect example of a different method and blend of elements.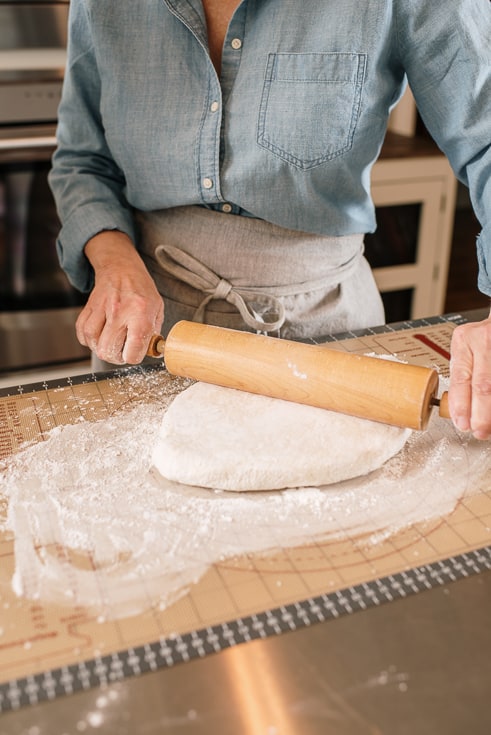 Our signature biscuit is basic, 3 Ingredient Buttermilk Biscuits and it's made yet another way. That method produces a perfectly flaky biscuit. A different take on that same technique is our uber Southern Pimento Cheese Biscuits.
Sometimes known as the "grand dame of southern food" Nathalie Dupree says that a delicious and beautiful biscuit can be made from just two ingredients - self-rising flour and heavy cream. I decided to put that claim to the test, but added a couple of other flavors in for interest. And so, Asiago Cheese and Black Pepper Biscuits were born.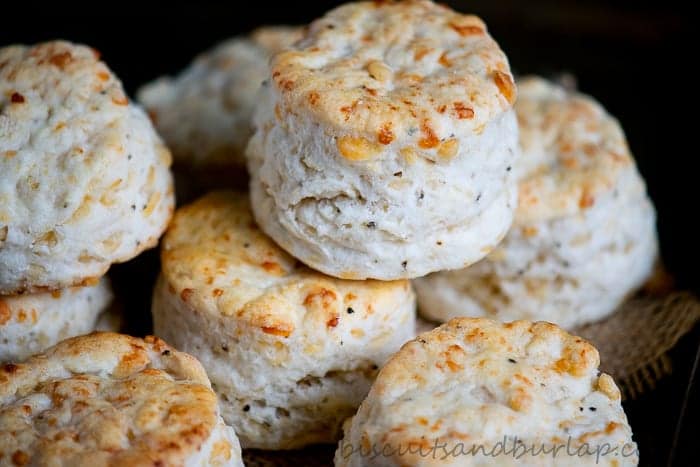 Later we tried another flavor combination with the basic cream & self-rising flour biscuit. Mexican Style Biscuits will make you think of Mexican Cornbread, but in biscuit form. Perfect to go with a bowl of chili or soup.
Biscuits that really are quick and easy to make
Including grating the cheese and time to bake I had about 35 minutes invested in these biscuits. That's pretty quick! And as far as easy goes, there just is nothing difficult about this recipe. Make sure to flour your surface for rolling, your rolling pin, and the top of the dough (lightly).
If you're hooked on baking mixes, you're going to want to read our choices for Best Biscuit From a Mix.
Are you getting our weekly updates? Don't miss a thing by signing up right here!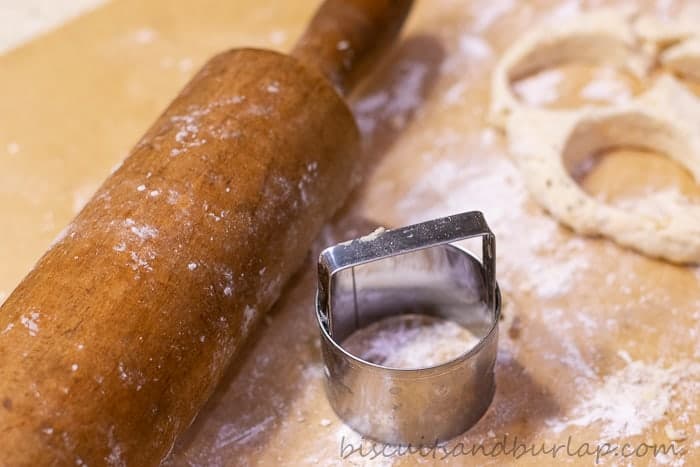 A few more tips for these biscuits:
Place them on the baking sheet very close together, but not quite touching.
I used aged Asiago cheese for that earthy, nutty flavor, but you could used Asiago that's not aged, or another hard cheese like Parmigiano Reggiano or Pecorino Romano.
After you've cut all you can from your dough, combine and re-roll it to get a few more. Don't do this more than once as the dough will get dryer each time.
Using a 2 inch biscuit cutter I got 16 biscuits. Varying the size of your cutter will vary the number.
Nathalie recommends using a southern flour brand like White Lily, but to be honest, I used Publix generic self-rising flour and got outstanding results.
cut straight down with the biscuit cutter for the cleanest sides (don't twist the cutter).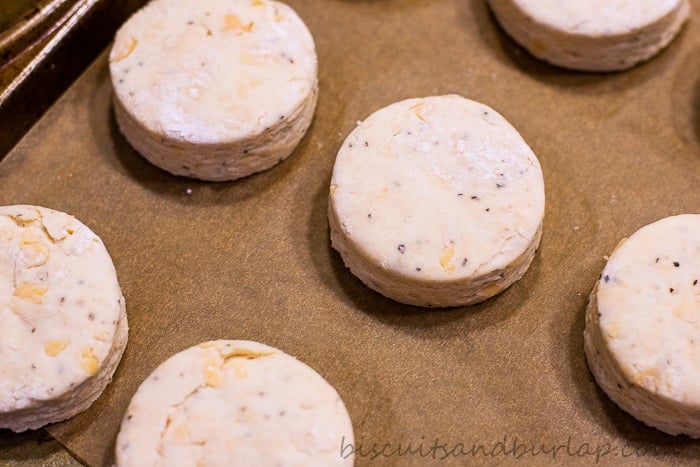 📖 Recipe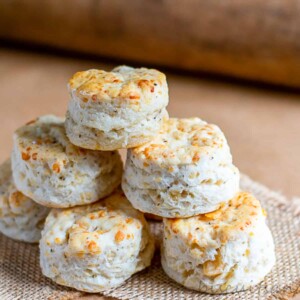 Asiago Cheese and Black Pepper Biscuits
Just four ingredients to make these easy biscuits perfect for soups and stews.
Ingredients
1.75

cup

self-rising flour

plus more for rolling

4

ounces

aged Asiago cheese

grated

1

cup

heavy cream

1-2

teaspoons

coarsely ground black pepper
Instructions
Add cream and black pepper and stir until well blended.

Roll to ¾" thick on lightly floured surface.

Cut with 2" biscuit cutter (or desired size) using a straight down and up motion. Brush with milk, if desired.

Place on baking sheet very closely together and bake at 425 degrees for 12-15 minutes, or until lightly browned.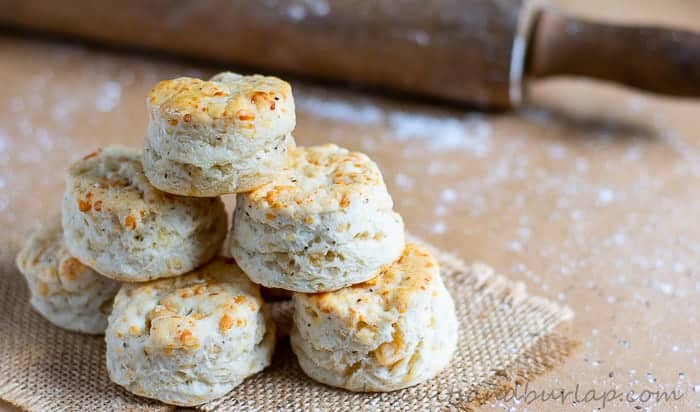 Y'all don't forget to sign up for our updates right here.
This post contains affiliate links. Please click over here to read our full privacy and disclosure policies.
If you need biscuit-making essentials you can find them here: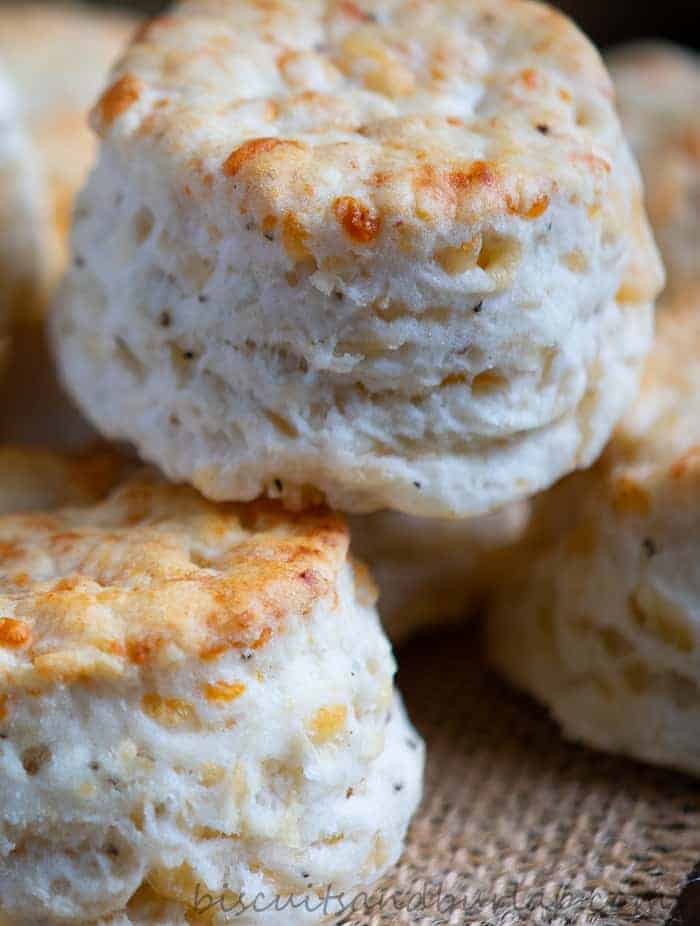 Black Pepper Biscuits compliment these dishes perfectly: