That's right! With just 4 ingredients and about 15 minutes you can have Cinnamon Breakfast Biscuits going in your oven! Video included.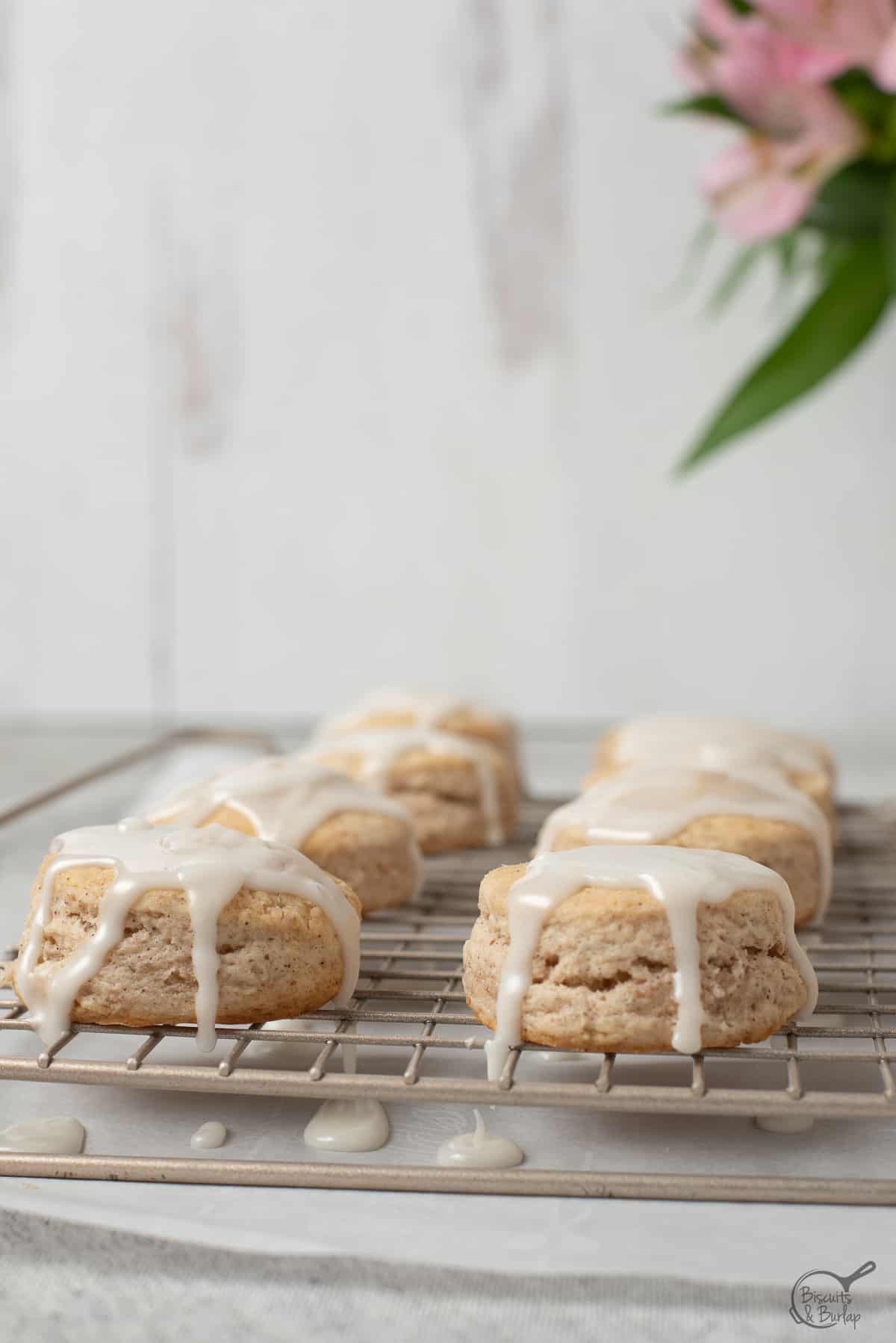 These cinnamon biscuits are the perfect balance between getting breakfast on the table quickly and wanting that breakfast to be something special.
Seriously, what could be more outstanding than homemade bread for breakfast? When it smells like cinnamon, is topped with a sweet glaze and is quick and easy, you know you've hit a home run!
Sometimes you just don't have time to make fresh biscuits, so we found the Best Biscuit From a Mix for those who need an easy option in the morning.
Jump to:
Ingredients and Substitutions
These biscuits are made with that age old two-ingredient combination that works so well. Just self-rising flour and heavy cream are the basis of Asiago and Black Pepper Biscuits as well as our Mexican Biscuits as well as these.
Beyond those basics you can add whatever you want for additional flavor. In this case, it's just a tad of sugar and some cinnamon.
Self rising flour. We use it a lot and always have it on hand (because we love shortcuts). But, if you don't have any, you can use the formula found in our Easy Buttermilk Biscuits.
Heavy Whipping Cream (also known as heavy cream).
Sugar - standard granulated white sugar
Cinnamon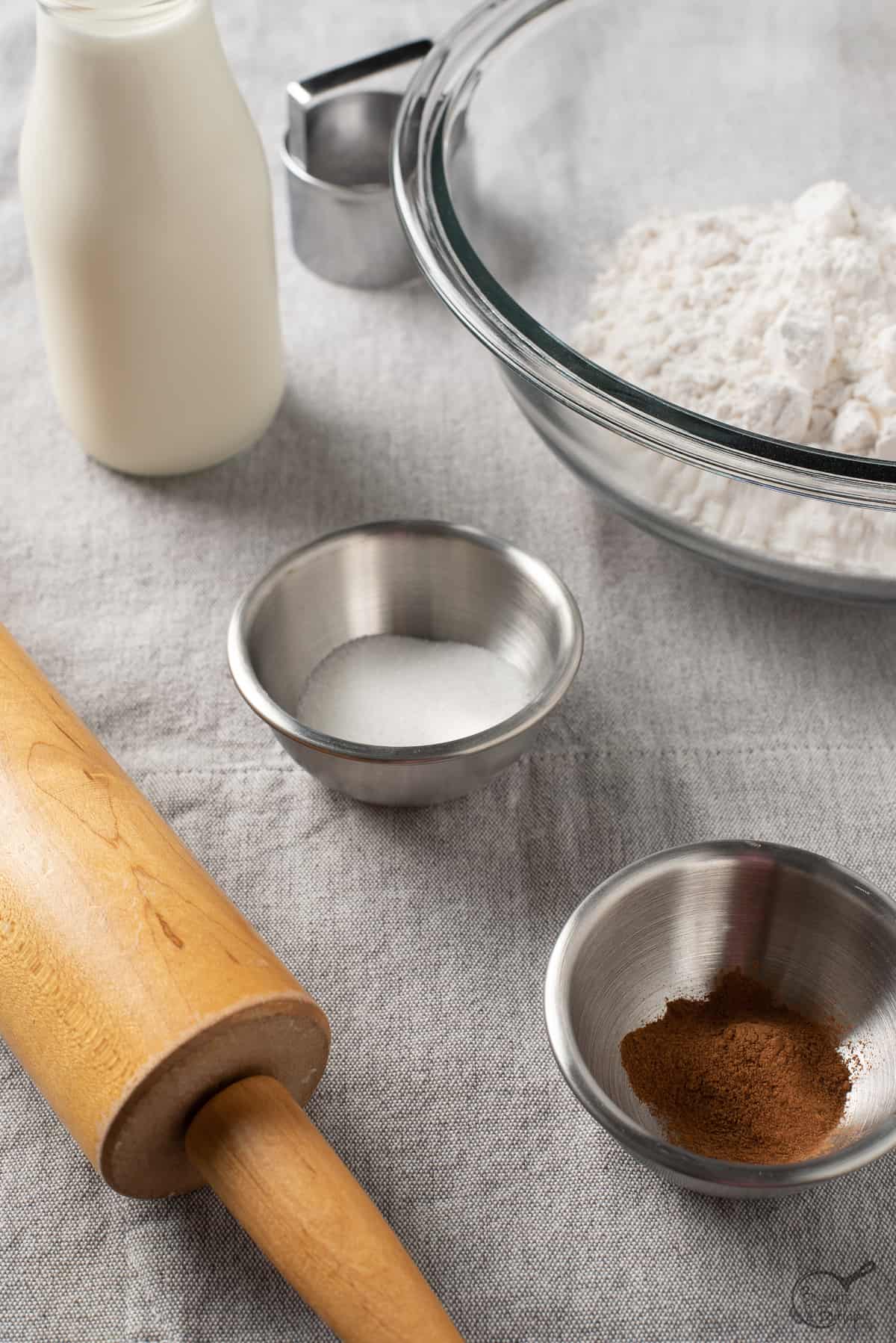 For the simple glaze you'll need some confectioners sugar and milk of some sort. You can use whole milk, 2%, 1% or even skim if that's what you have. Who wouldn't love biscuits with icing? It's like heaven on earth!
For a fun look at this recipe, check out the web story.
How to make them
Y'all, this couldn't be easier! It is, without a doubt, the easiest method for making homemade biscuits.
This post contains affiliate links, which means if you click on an affiliate link and buy something, we may receive a very small commission.  It does NOT result in additional charges to you or cost you anything extra. Click here for our full privacy and disclosure policy. As an Amazon associate we earn from qualifying purchases.
First, you'll mix the dry ingredients. Stir the sugar and cinnamon into the flour.
Next stir in the cream just until all the ingredients are moistened.
Rub a little flour on your hands and pat it on the top of the dough and then form the biscuit dough into a loose ball.
Put the ball of dough on a floured surface (we love this baking mat).
Roll it out with a rolling pin until it's ½ to ¾ inches thick.
Cut with a biscuit cutter. Remember, you always cut straight down and back up. No twisting!
Put your biscuits on a parchment paper lined baking pan and into the oven they go.
Measurements, temperatures and baking times are in the recipe card below.
Cook's Tips and Tricks
Parchment paper makes for easy clean up as well as non-stick biscuits. We always use it.
A baking pan with sides is what we prefer for biscuit baking instead of a baking pan like a cookie sheet. The sides keep the outside biscuits from drying out and getting more done than the ones in the center.
Place your biscuits close together on the pan - almost touching each other.
With the biscuit cutter go straight down and back up. Twisting seals the sides and prevents the biscuits from rising properly.
The number of biscuits you get and the baking time will vary with the size of your biscuit cutter, as well as how thick you roll the dough. This recipe yields about 14 biscuits with a two inch cutter and they will take about 12-13 minutes to bake.
If you use a larger cutter you will get less biscuits, but they could take an additional 2-3 minutes to get done. Again, this will also vary with the thickness of your dough.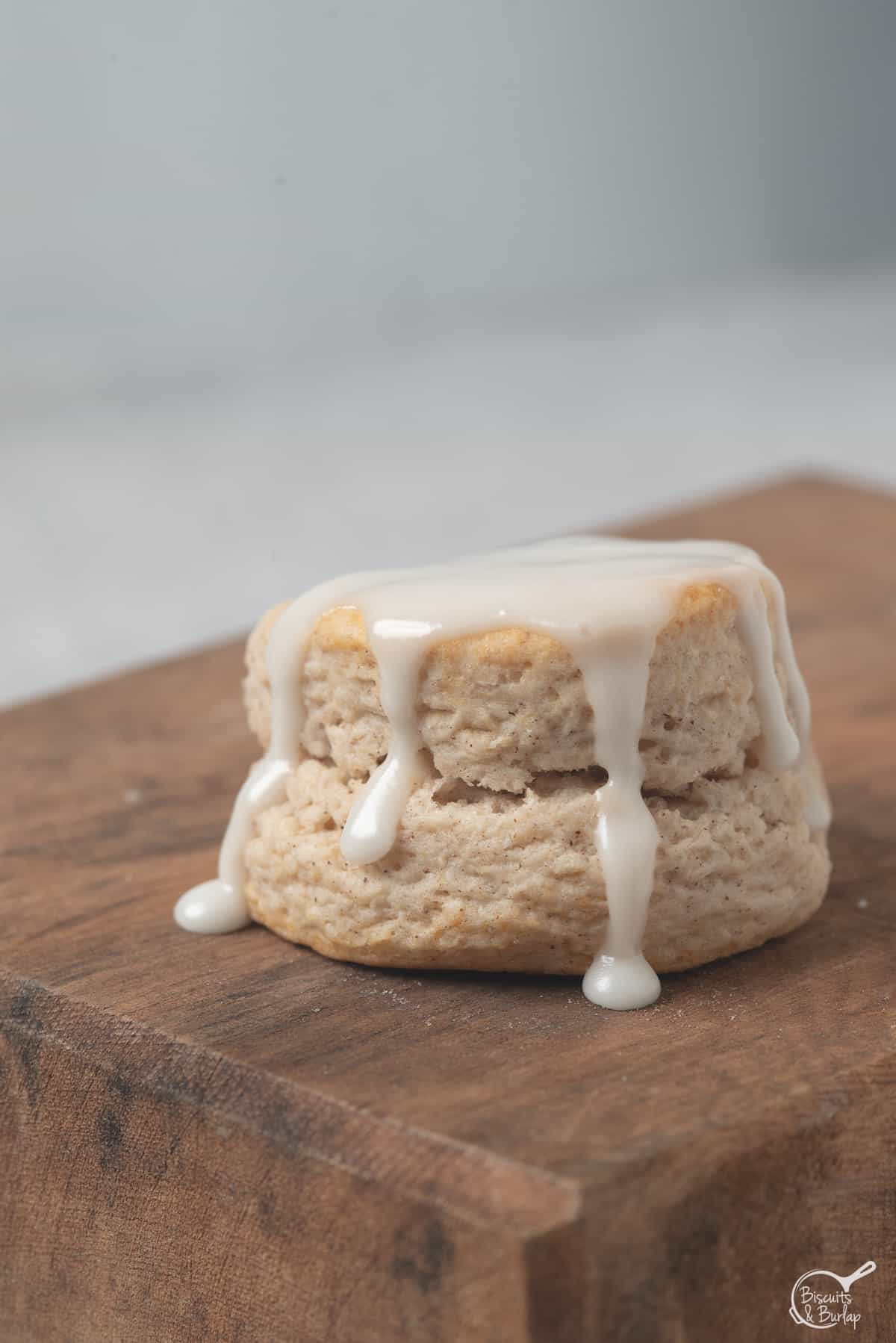 Storing biscuits
You can keep your biscuits covered tightly in the fridge for 4-5 days. We like to sit them out before warming to get the chill off. If you don't have time for that they can be rewarmed from cold.
Preheat your oven to 400 degrees and heat them, uncovered, for 4-5 minutes from room temperature or 7-8 minutes if they're cold. Keep a close eye on them so you can take them out as soon as they're good and hot.
Biscuits can be frozen, tightly covered and kept for up to two months. Let them thaw before heating and then follow the above directions.
If you know you want to store some biscuits for later (fridge or freezer) you'll get the best results by leaving the glaze off. It only takes a minute to stir up the glaze and put it on your freshly warmed biscuits.
FAQ's
Can you make good biscuits with self rising flour?
Absolutely, yes! This is just one of several recipes for biscuits we've made using self rising flour, and they are all better than just "good".
Are biscuits better with butter or shortening?
Butter has more flavor and it's therefore what we usually recommend for the best biscuits. In the case of this recipe the fat comes from the heavy cream and we're using it to make this a quick and easy biscuit recipe.
Can you make cinnamon biscuits without icing?
Of course you can! The biscuit dough has a small amount of sugar giving them a slightly sweet taste anyway. The glaze just adds an extra bit.
📖 Recipe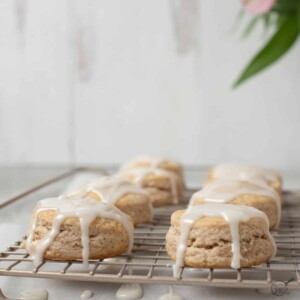 Cinnamon Biscuits (4 Ingredients)
That's right! With just 4 ingredients and about 15 minutes you can have Cinnamon Breakfast Biscuits going in your oven!
Ingredients
1¾

cups

self rising flour

plus more for rolling

1⅓

cups

heavy cream

1

Tablespoon

sugar

1¼

teaspoons

cinnamon
For the Glaze
1½

cups

confectioners sugar

3-4

Tablespoons

milk
Instructions
Mix all dry ingredients together.

Stir in heavy cream just until ingredients are moistened.

Pat flour on top of dough, flour hands, and form into a ball.

Set the ball of dough on a floured surface and roll with a floured rolling pin until ½-3/4 inches thick.

Using a floured biscuit cutter cut straight down and back up.

Place biscuits nearly touching on a parchment paper lined baking pan.

Baked at 425 degrees for 12-15 minutes, or until lightly browned.

Cool on a wire rack for 2-3 minutes before glazing.
For the Glaze
Stir confectioners sugar and milk together, using a whisk if necessary to get out all lumps. Start with 3 Tablespoons of milk and add more if needed for desired consistency.

Pour or spoon glaze over the tops of warm biscuits.
Notes
self rising flour may be made using the formula found at 3 Ingredient Buttermilk Biscuits.
2 inch biscuit cutter will yield approximately 14 biscuits. Larger cutters will produce less biscuits and take slightly longer to cook. 
Nutrition
Calories:
190
kcal
Carbohydrates:
26
g
Protein:
3
g
Fat:
9
g
Saturated Fat:
5
g
Polyunsaturated Fat:
1
g
Monounsaturated Fat:
2
g
Cholesterol:
26
mg
Sodium:
8
mg
Potassium:
45
mg
Fiber:
1
g
Sugar:
14
g
Vitamin A:
341
IU
Vitamin C:
1
mg
Calcium:
25
mg
Iron:
1
mg