Bialy is the lesser known cousin of the bagel and we had a guest chef show us just how easy they are for any home bread baker to make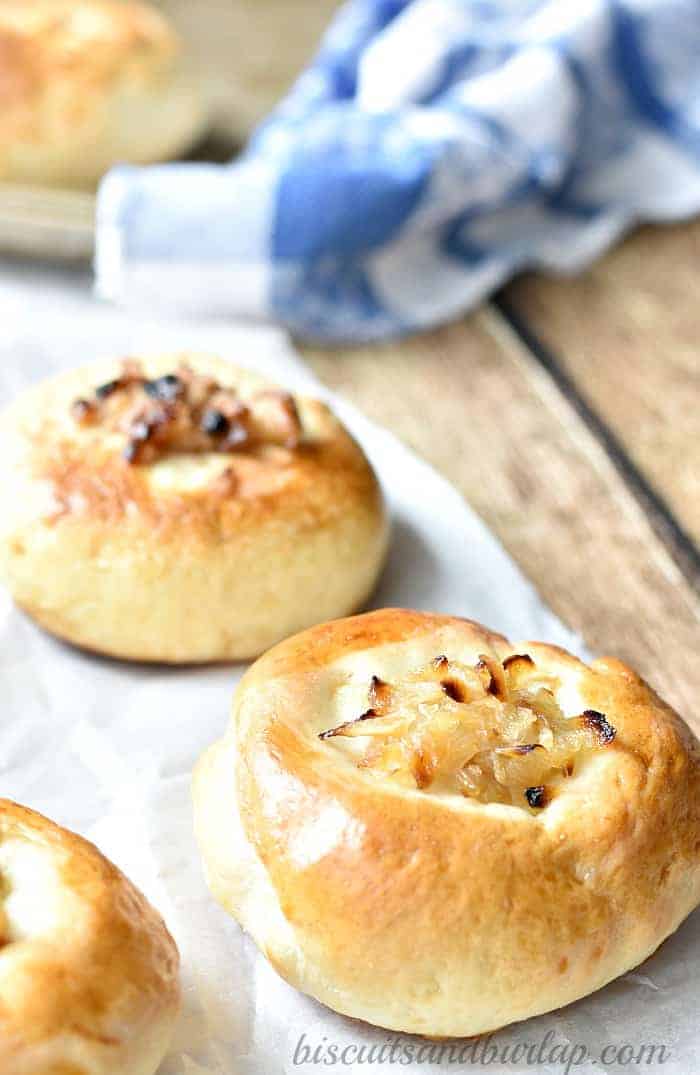 We are so excited to have a guest chef working with us this week. He's introducing us to bialy and getting us to step a little outside our comfort zone with this delicious, aromatic bread. Join us, and find out just how simple they are to make, a few interesting facts about bialys, and some fun variations.
Introducing Chef Marcus
Chef Marcus is local here in the Atlanta area. In fact, he graduated from The Art Institute of Atlanta with a Bachelor of Science in Culinary Management. Since graduation he has discovered a real love for bread baking and has a particular fondness for European breads. He tells us that Americans are learning to appreciate the rustic and crusty "toughness" of European breads, and these bialys are a perfect example. If you'd like to contact Chef Marcus he can be reached via email at [email protected]
Are you getting our weekly updates? Sign up here so you don't miss anything. We promise to treat you like family.
What is a Bialy and How is it Different from a Bagel?
Originating from the town of Bialystock  in Poland, bialys are a round, bun-shaped bread. Traditionally, they are filled with onions and/or garlic and poppy seeds. There is no hole in the center like a bagel has. Instead, a small well, or indentation is formed for a spot to hold the filling. Whereas bagels are boiled briefly, bialys are only baked, and while still crusty and firm on the outside, they remain fairly tender inside.
The next day after we made our bialys with Chef Marcus, I thought how delicious one would be if it were split, toasted and slathered in butter.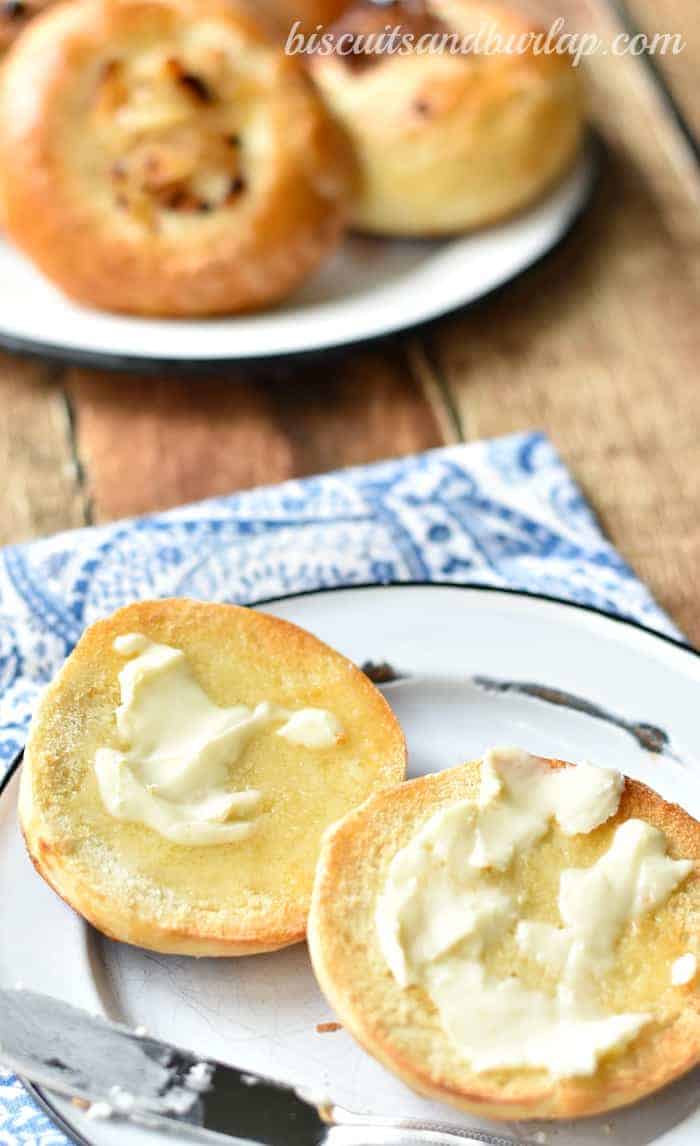 Only later, when finishing up the research for this post, did I discover that this is not a traditional way to eat bialys. Oops!
I have to admit, though, that Chef Marcus did encourage us to get creative with our bialys. It is a simple, mouthwatering bread all on its own, but he said we should feel comfortable in experimenting with fillings. You know us, we had to add a southern twist to a few but he gave us his blessings on that. I hope he approves when he sees this one toasted.
Are They Really Easy to Make?
Yes. It's true. There is nothing complicated about making bialy. There is a good bit of time from beginning to end because they go through two full fermentation periods (rising). But, the actual hands on time is pretty minimal.
I personally would not attempt to make them without a stand mixer. The dough is stiff and gave the mixer a workout, so I can only imagine what kind of workout your arms would get if you knead by hand.
This post contains affiliate links for your convenience.  Click here to read our full disclosure policy.
My family all went in together and gifted me with a stand mixer for Christmas and I love it! If you're in the market for one you can Click over here for all the details and ordering info. This is my exact mixer.
Traditional Bialy Fillings and Beyond
According to Chef Marcus, onions and sometimes a sprinkle of poppy seeds and/or garlic are the traditional filling for bialy. For a few of ours we did saute' about ½ cup of diced sweet onion in a Tablespoon of olive oil for about 5 minutes.
Being the sweet southern girls that we are, we came up with a pecan and bourbon filling for a few of them. We toasted ½ cup of chopped pecans for a few minutes and then melted butter in a skillet and tossed them in that with a spoonful of brown sugar and a dash of bourbon until melty and fragrant.
You can leave bialys unfilled and drizzle with melted butter when they come out of the oven. Yummmmm..... Or a sprinkling of coarse kosher salt would be just divine.
Kate from Food Babbles came up with some outside-the-box fillings that sound fun and delicious, and we've added those to the list of possibilities. But you can just let your imagination go wild. You've got a simple, rustic and crusty bread that could be the basis for so many flavors. Try these for starters:
traditional onion, sauteed or caramelized, with or without garlic
poppy seeds, combined with the onion or on their own
a sprinkling of grated cheese
pizza style, with a little marinara, pepperoni and mozarella
sliced jalapenos along with cheese
pecans with a little butter, brown sugar and bourbon
Imagine what a delightful brunch you can put together with these bialys and Ham and Potato Frittata. That recipe is here.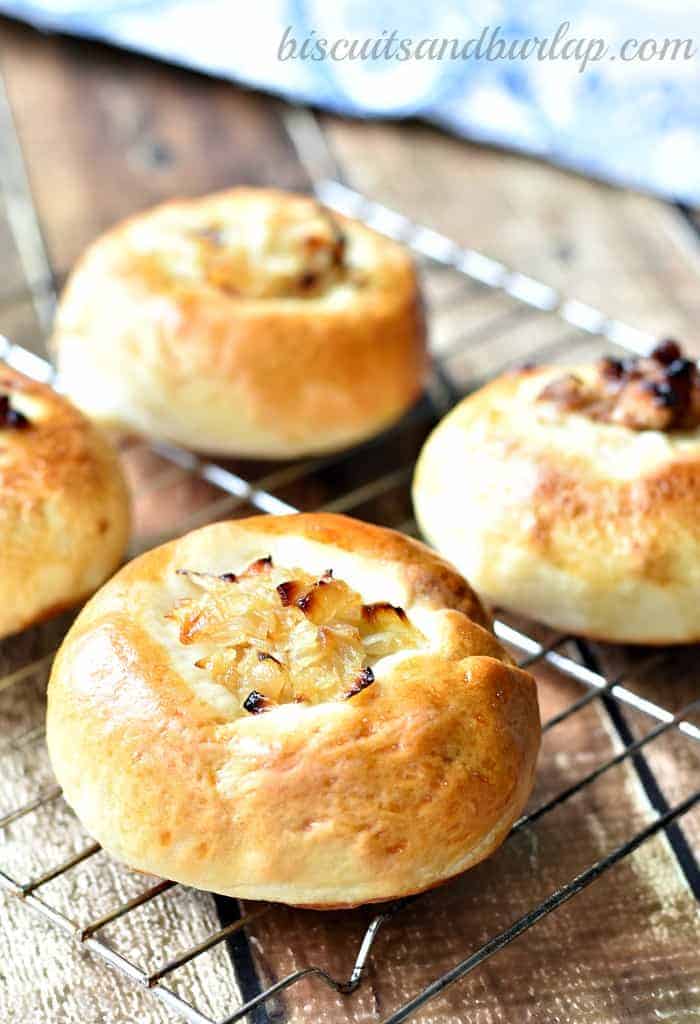 📖 Recipe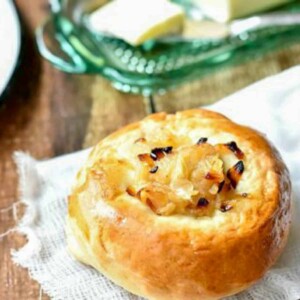 Bialys with Traditional Fillings and Beyond
Bialys are a crusty, rustic bread made from just a few ingredients.
Ingredients
5-⅛

cup

flour, all purpose or bread

13

ounces

warm water, filtered

2

teaspoons

salt

1-⅛

teaspoons

yeast
Instructions
Mix on low speed about 3 minutes to blend ingredients.

Turn mixer to speed #2 (second from lowest) and mix for 5-6 minutes.

Cover with cloth and then with plastic wrap. Let sit in warm place for about 1 hour. Place on lightly floured board and pat down slightly, then fold in half one time.

Place back in bowl. Cover with cloth and plastic and let sit in warm place another 30 minutes to 1 hour, or until doubled in bulk.

Divide the dough into 3 ounce pieces, using a dough cutter, if possible.

Round the dough pieces and place on floured pan with seams on bottom. Cover with cloth and plastic wrap and place in warm place until doubled in bulk, about one and a half hours.

Taking each roll, place both thumbs in the middle stretching toward the edges as you turn the roll, creating a hollow well in the center. Use the markings on dough cutter to make each bialys a uniform size. The well in the center should be about one and a half inches.

If desired, brush with egg wash made from one egg lightly beaten with 1 Tablespoon of water. Fill the well with about a rounded teaspoonful of filling. Traditional filling is onion, but can be left without filling or add anything you like.

Can drizzled with butter or sprinkled with coarse kosher salt.
Don't forget to sign up for our updates right here. We wouldn't want you to miss anything.
Stick around and check out these recipes too!
Here are a few items you might want when you make bialy: