Flatbread with Lobster is special enough to serve to company, but easy enough to make for your family on a weeknight.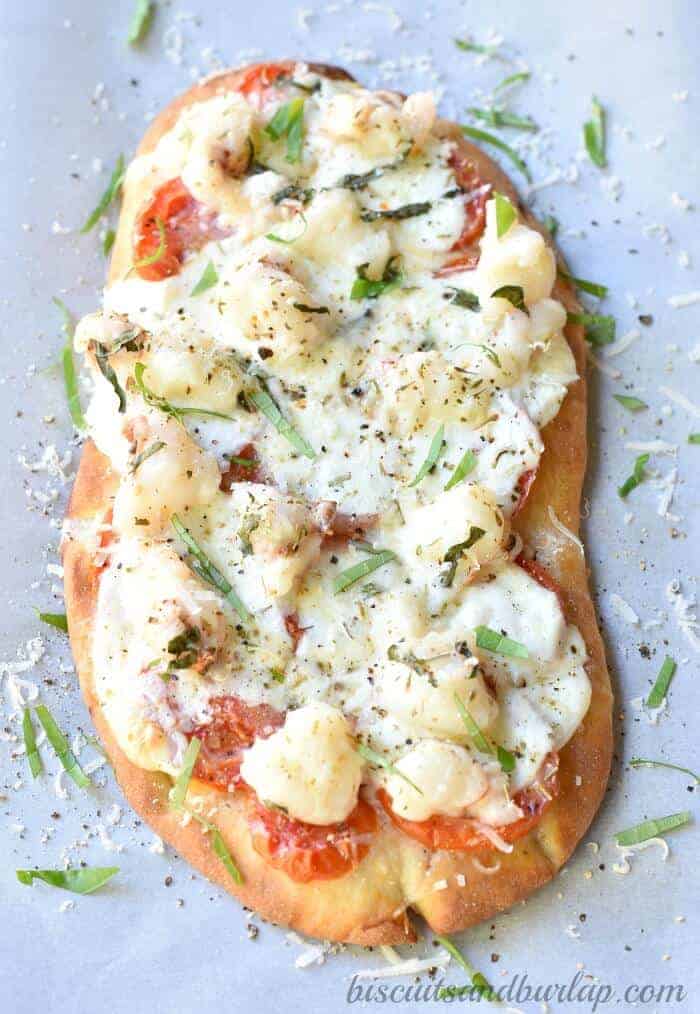 It's really kind of fun to put together this lobster flatbread and takes only a few minutes with a little advance prep – like pre-slicing and salting the tomatoes and removing the lobster from the tail.
Like lots of dishes I make, this one is inspired by my sister-in-law, Susan. She's a great cook and is always willing to try new things and share what she's learned.
And, by the way, I use that term "sister-in-law" just so you know she's Buddy's sister, but the truth is we are "sisters" in every sense of the word. Shrimp and Grits is one of the most popular posts here on Biscuits and Burlap and Susan definitely gets inspiration credit for that one.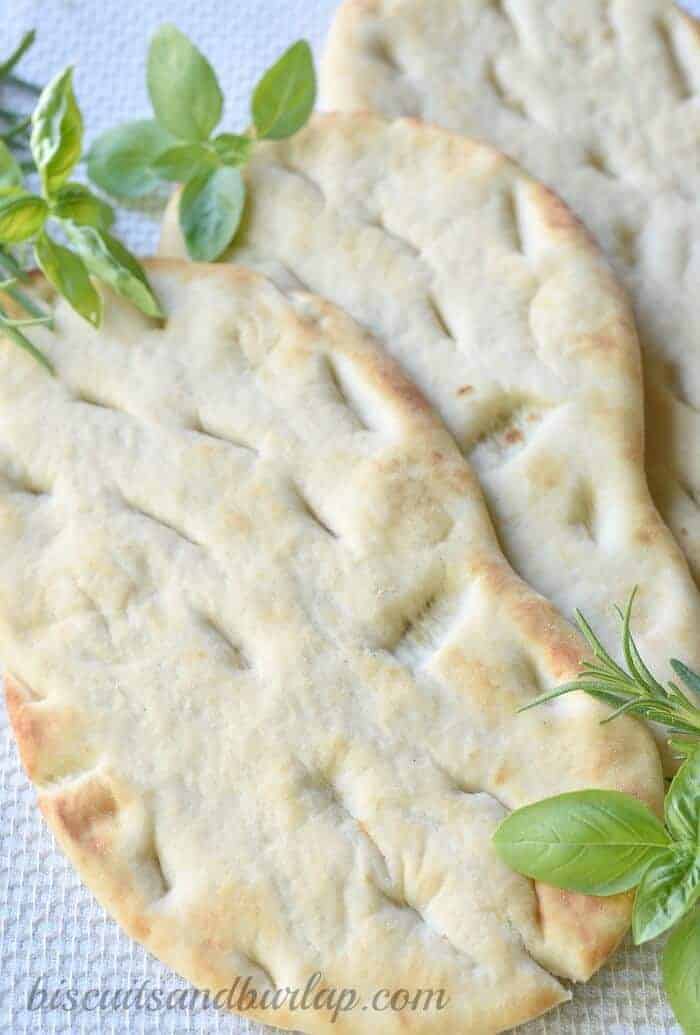 What type of bread is best for lobster flatbread?
Let's start out by talking about the actual "flatbread". Susan originally made hers on a flour tortilla, and maybe she still does. I've done that too, and it makes a quick, easy, thin and crispy crust.
When I discovered the thin, rectangular "flatbreads" in the bakery section of my grocery I started using those and loved them. They seemed to have just a little more texture than the tortilla, but were still thin and crispy.
This time I used these Naan type flatbreads, which are a little thicker. They made a beautiful and delicious lobster flatbread. But, I'm going to be honest here. Next time I will probably go back to the thinner version for this recipe.
For the Burrata and Pistachio Flatbread we like to cut it into appetizer sized pieces and the Naan works best for that.
It's just a matter of personal preference and you might like the naan version better. We used the thin artisan style rectangular crust for our Greek Style Flatbread.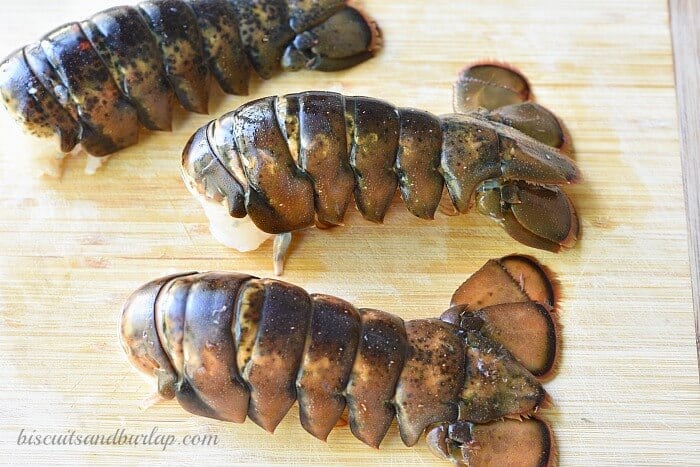 Prepping the Lobster is Easy
I use about one lobster tail per flatbread, but depending on the size of the tails, you would probably be fine with a little less. For example, these three lobster tails would produce enough meat for 4 flatbreads.
To remove the meat you cut down the center of the back (or top — the part you are seeing in this photo) with sharp kitchen shears. Pull the shell apart and the meat comes out pretty easily. Then just wash it, pat dry and cut into bite sized pieces.
We've also got a recipe that teaches you to cook Lobster Tail in the Air Fryer. Before you leave check it out too.
Hey, are you getting our weekly newsletters? It's the easiest way to keep up with what's going on around here. Click here.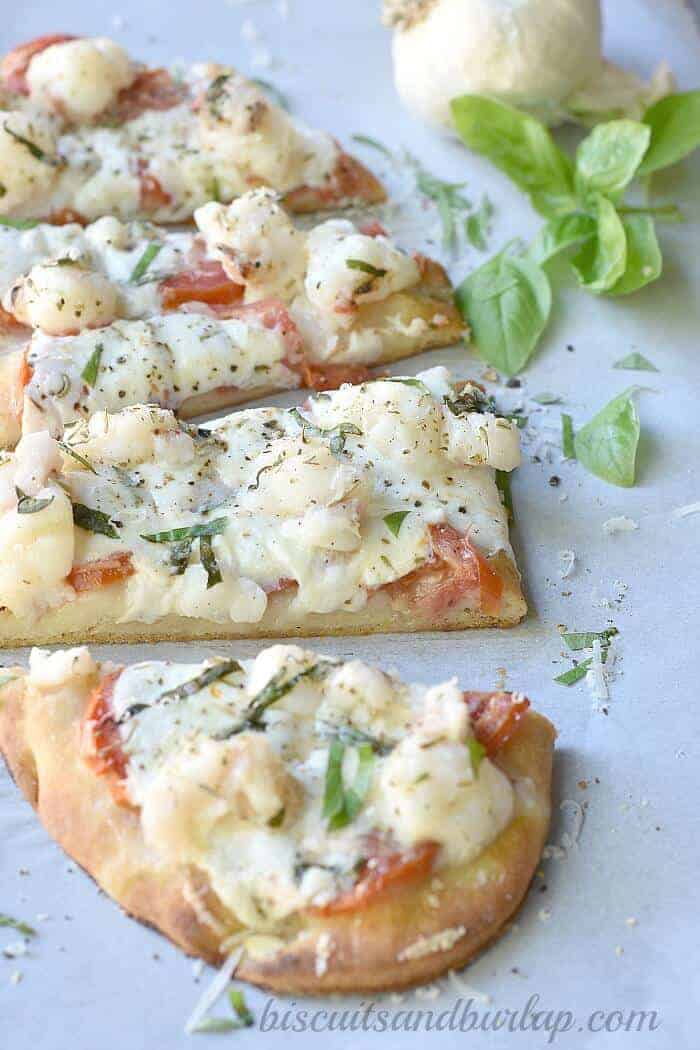 This lobster flatbread can be cut into small pieces and is a hearty and delicious appetizer. We usually cut it into larger pieces and make a meal off of it. Either way, can you imagine how impressed your guests will be?
Our Burrata and Pistachio Flatbread makes an excellent appetizer when cut into smaller pieces.
If you're here you must love seafood. We have a whole collection of the best grilled seafood recipes. Check them out by clicking here.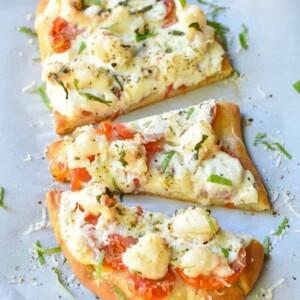 Lobster Flatbread
Flatbread with lobster is impressive enough to serve company, but easy enough to make for your family on a weeknight. Lots of variation ideas are included.
Ingredients
1

lobster tail

1

flatbread

olive oil

for brushing

2

Roma or Campari tomatoes

sliced and salted

1

clove

garlic

minced

Parmesan cheese

grated, to taste

basil and/or oregano

fresh or dried

5-6

thin slices

mozzarella cheese

salt and pepper

to taste
Instructions
Slice tomatoes, salt the slices and set aside for 20-30 minutes.

Remove meat from lobster tails, wash, pat dry, and cut into bite-sized pieces.

Brush the flatbread with olive oil, salt if desired, and garlic.

Place flatbread in preheated 425 degree oven for about 2 minutes.

Pat tomatoes dry and lay on flatbread.

Layer with mozarella, lobster, parmesan, herbs and salt and pepper.

Bake at 425 degrees for 8-10 minutes for thin flatbread or 12-14 for thicker bread (or until lobster is done).
Be sure you don't skip the step of pre-slicing and salting your tomatoes and let them sit a few minutes. This draws out the excess liquid that could make your flatbread soggy. I use this method anytime I'm baking with tomatoes.
There is a video with more details on our Crustless Tomato Pie recipe.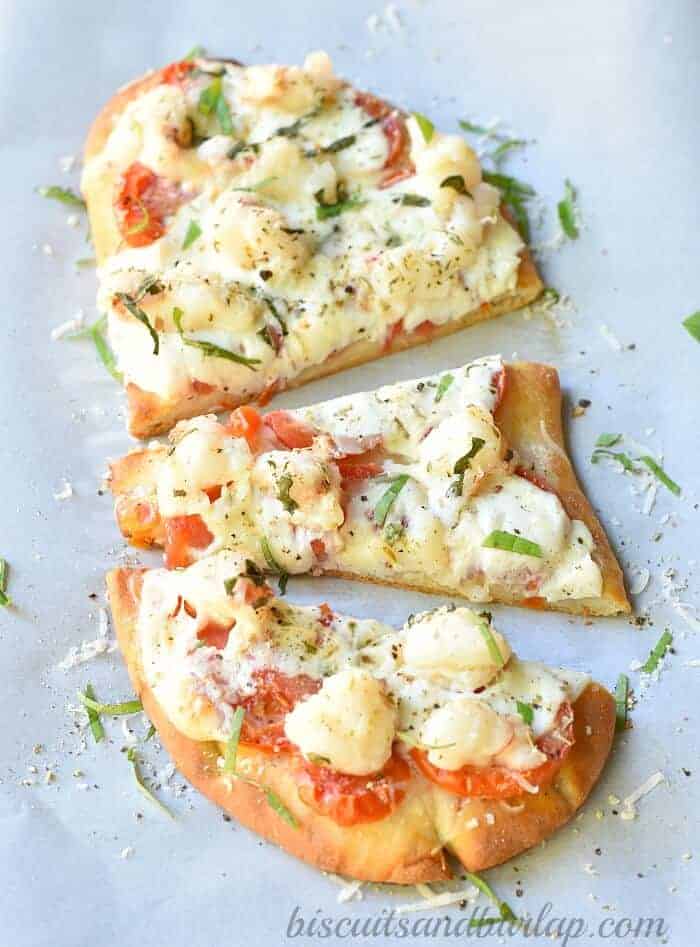 Variations on Lobster Flatbread
How about some variations? Here are some ideas to get you started:
use shrimp instead of, or in addition to the lobster
use leftover, seasoned chicken
change up the cheeses by using fontina or gouda
add veggies, or use all veggies to make vegetarian flatbread (artichoke hearts, spinach, etc)
add caramelized onions (yum)
Our Greek Style Flatbread Pizza is another versatile and easy recipe that everyone will love!


Don't forget to sign up here for our updates. We wouldn't want you to miss anything.
Let us know if you try our version or change it up a bit. Happy Cooking!

If this flatbread looks good to you, we think you'll love these recipes too: