Flatbread Pizza incorporates all those Greek flavors that you love in one easy to make recipe.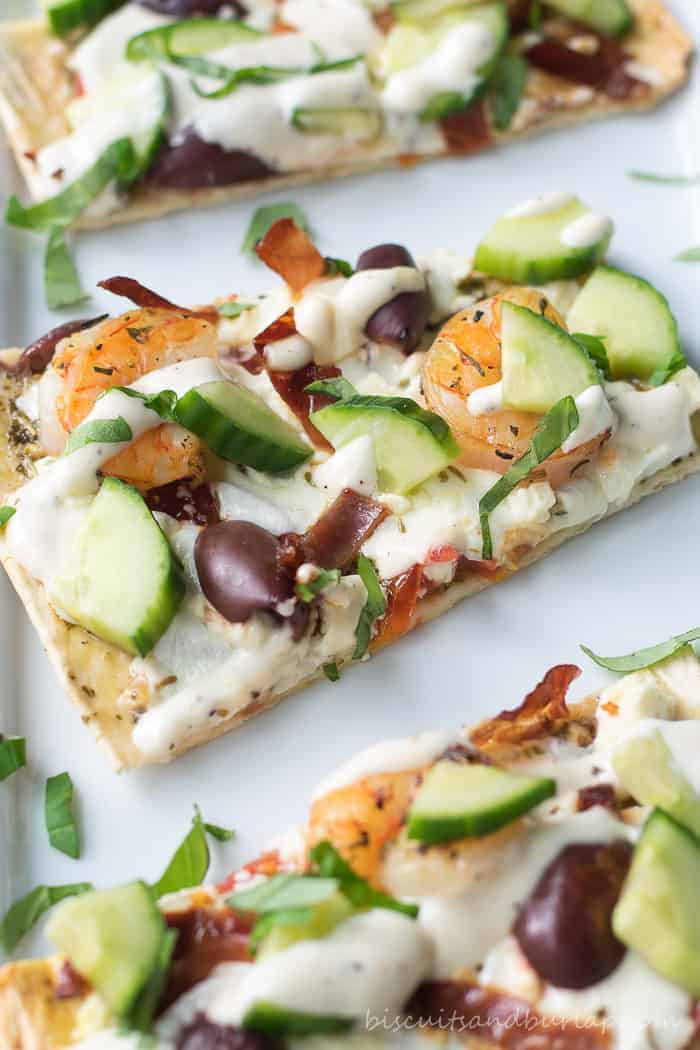 Flatbread Pizza is one of our favorites.  Anything Mediterranean or Greek style is another favorite, so we've got the best of both worlds in a fun dish that's easy to assemble, and sure to please everyone.
In fact, pleasing everyone is part of what makes this such a great recipe. It's totally customizable to your tastes and preferences. We made ours with shrimp, but this flatbread would be equally delicious with chicken, or in a vegetarian version.
If you have an air fryer you would love making these Greek Style Chicken Skewers and then use some of the chicken on the flatbread. Or you can use the flatbread as an appetizer and have the chicken with Yogurt Sauce for your main. Yum!
We finished ours with diced cucumbers and a creamy cucumber Ranch drizzle. Cucumbers not your thing? Try topping with a sprinkling of micro greens and a balsamic drizzle instead. If they are your thing we suggest our Mediterranean Cucumber Salad.
What kind of Flatbread is best?
When we made our Lobster Flatbread a while back we used Naan bread. It's so delicious and works really well, but it is a little bit thicker. For this one we used the rectangular Artisan Thin Pizza Crust by Flat Out.
They are a favorite of ours. Being quite thin, but tasty, they make a wonderful base for whatever flavors they're topped with, but with minimal calories (130 each).
My sister-in-law, Susan gave me the original idea for the Lobster Flatbread and she makes hers on flour tortillas. You could easily use those for these Greek Style Flatbread Pizza, too.
Because we cut our Burrata and Pistachio Flatbread into smaller, appetizer-sized pieces we prefer the Naan bread for it.
Slice Those Tomatoes First
Whatever you use for your base, the first step should be to slice your tomatoes and lay them out in a single layer on a plate. Sprinkle with a little salt and let them drain while you get the rest of the ingredients ready.
This is a method I use often when cooking with tomatoes and is demonstrated in a video on the Crustless Tomato Pie recipe. The salt and time to drain draws excess fluid from the tomatoes and keeps your dish from becoming soggy.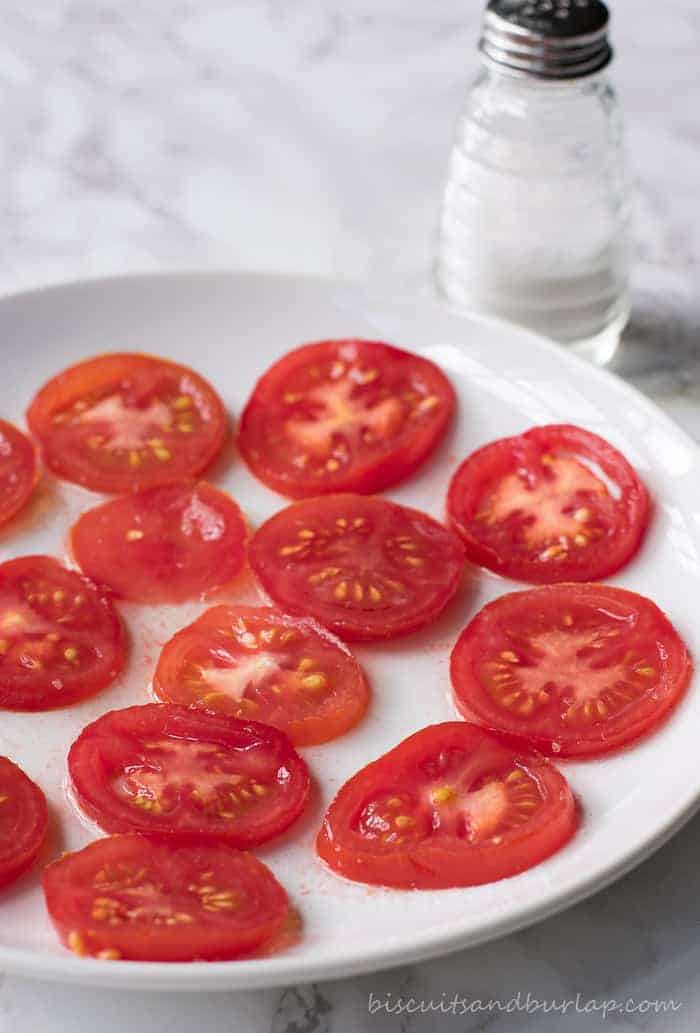 Our Chicken Fresco (Ruby Tuesday Copycat) has sliced tomatoes on top and is a perfect example of another time you would want to let your tomatoes drain.
Hey, are you getting our weekly updates? Sign up here so you don't miss anything.
Keeping that Flatbread Crisp
A quick brush of olive oil and 2-3 minutes in a 375 degree oven keeps whatever flatbread you choose crispy for the rest of those toppings.
Our next step is brushing with a basil pesto.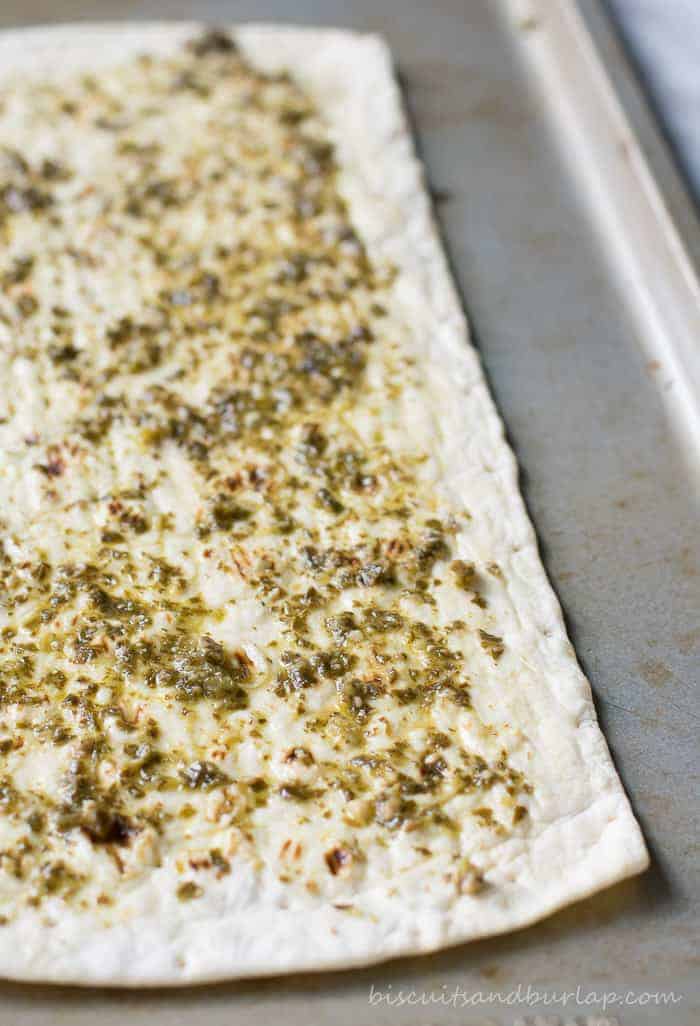 Toppings
Now, you've got the perfect flatbread and can start adding your toppings. For ours, we used the following, but keep in mind you can add or leave off as you wish.
Roma or campari tomato slices
fresh mozarella cheese
crumbled feta cheese
cooked shrimp
kalamata olives, cut in half
proscuitto strips *
* For a fun twist to your flatbread pizza, try browning your proscuitto strips in a small skillet that you've sprayed with cooking spray. It gives them a crispiness that's similar to adding bacon bits.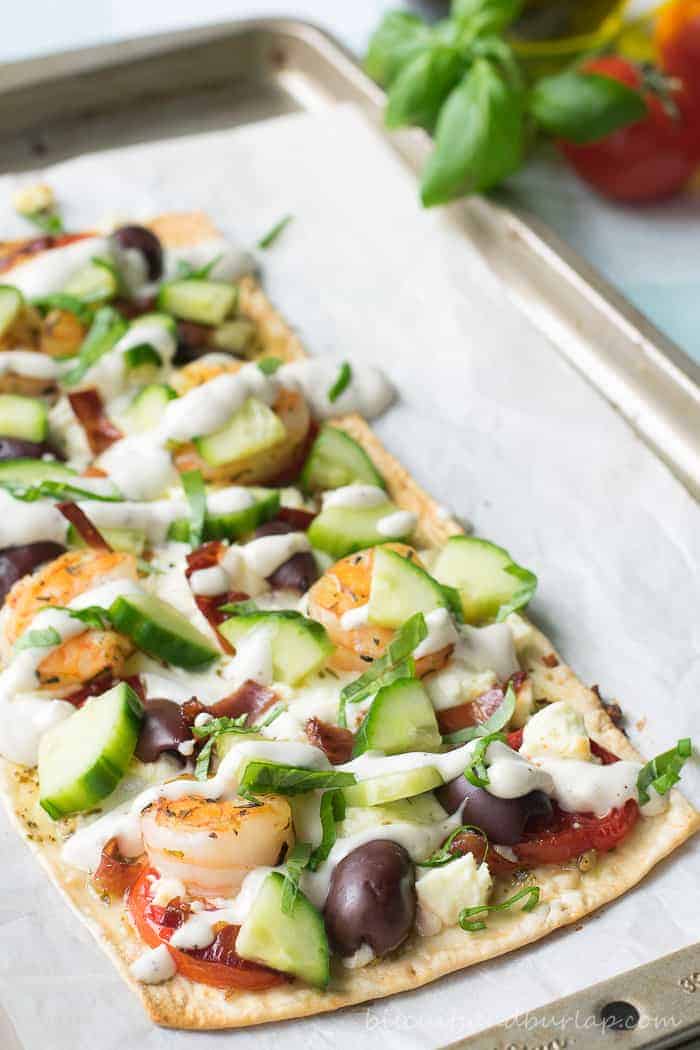 📖 Recipe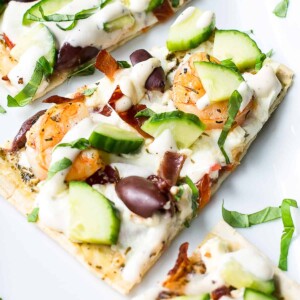 Greek Flatbread Recipe
Easy to make and delicious, this Greek Flatbread Pizza has all of the Mediterranean flavors that you love.
Ingredients
2

flatbreads

5-6

tomatoes sliced

Campari or Roma

1

teaspoon

olive oil

extra virgin

2

teaspoons

pesto

10-12

slices

fresh mozarella

4

Tablespoons

feta, crumbled

10-12

cooked shrimp

(large is best)

12-15

kalamata olives, halved

4

slices

proscuitto

browned, if desired

½

cucumber, diced

optional

4-5

basil leaves, cut into strips

3-4

Tablespoons

Cucumber Ranch Salad Dressing
Instructions
Slice tomatoes and lay in single layer on plate and salt lightly

Brush Flatbreads with olive oil and baked 2-3 minutes at 375 degrees.

Brush flatbreads with pesto.

Drain tomatoes and blot with paper towels if needed.

Top flatbreads with tomatoes, mozarella, feta, shrimp, kalamatas and proscuitto.

Bake 10-12 minutes at 425 degrees.

Top with fresh basil, diced cucumbers and drizzle with cucumber ranch dressing, if desired.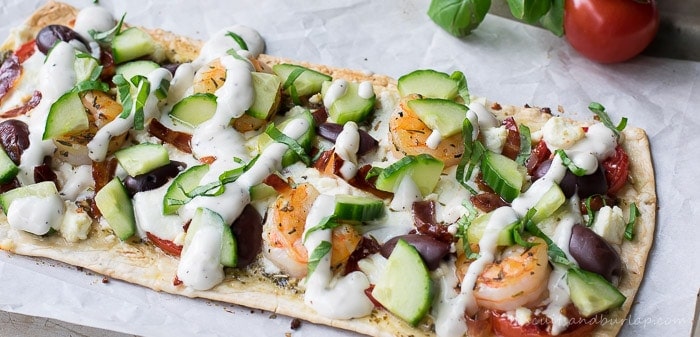 We hope you enjoy this flatbread and will comment and let us know how it turns out, and if you made any variations that our other readers would like to hear about.

We've gathered a few items here that will coming in handy when making your flatbread.
Stick around a while and check out these other recipes: