This is truly the best jambalaya recipe ever! It's seasoned to perfection with ideal proportions of chicken, sausage and shrimp. The rice is just right - never overcooked or undercooked.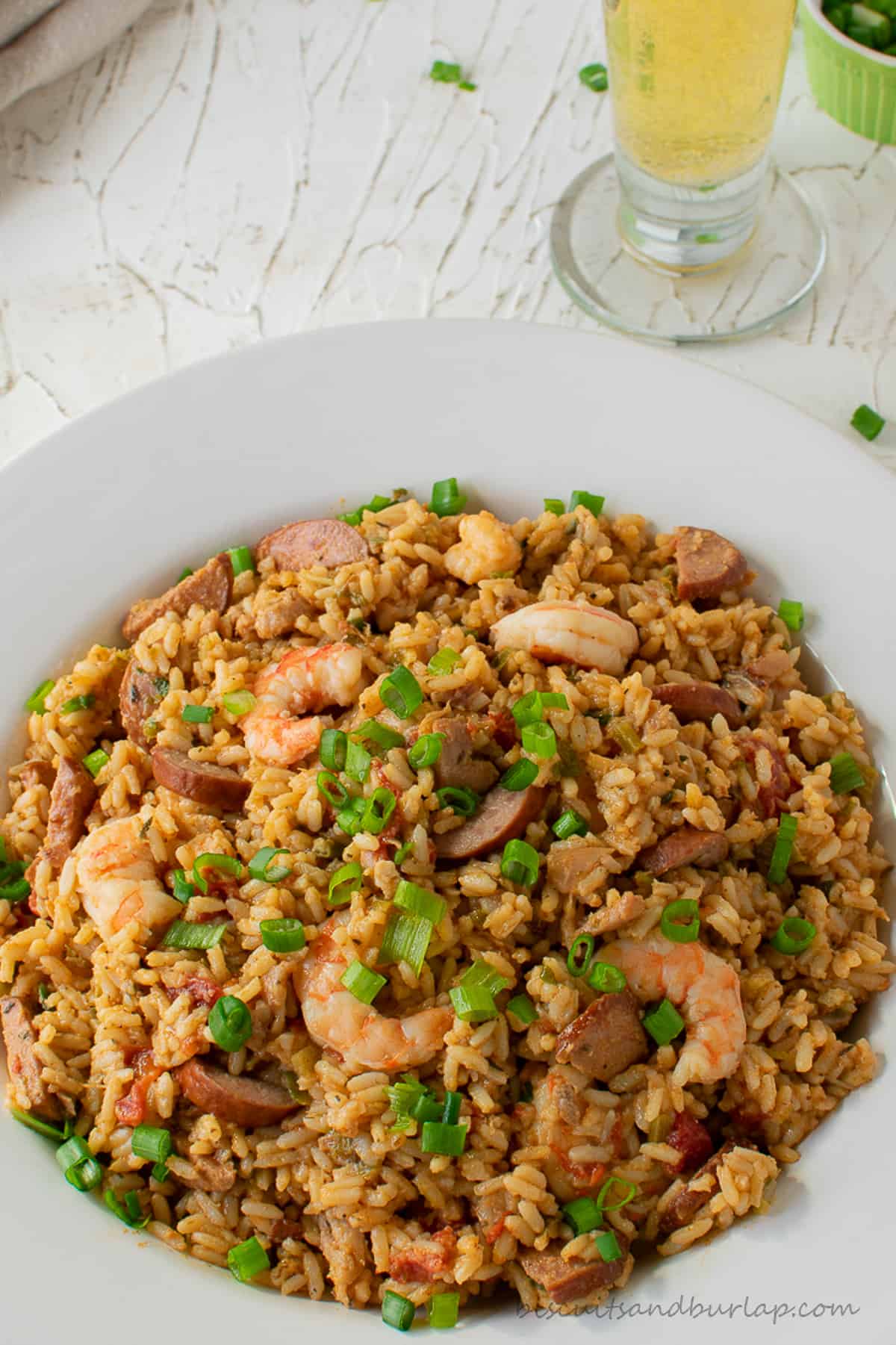 Is this a classic jambalaya recipe?
Like so many much-loved recipes everyone has their own ideas about the right or wrong way to make Jambalaya. Additionally, there are as many opinions about what ingredients should be in a "classic" or "traditional" recipe.
We like to think that they're all right. Not just in the case of jambalaya, but with gumbo, with she crab soup, biscuits and tomato gravy. We like to embrace the differences and the people who made them different.
In the end we will leave the answer to that question up to you. One definition of the word classic is "remarkably and instructively typical". I guess time will tell, but this jambalaya recipe seems to check that box nicely.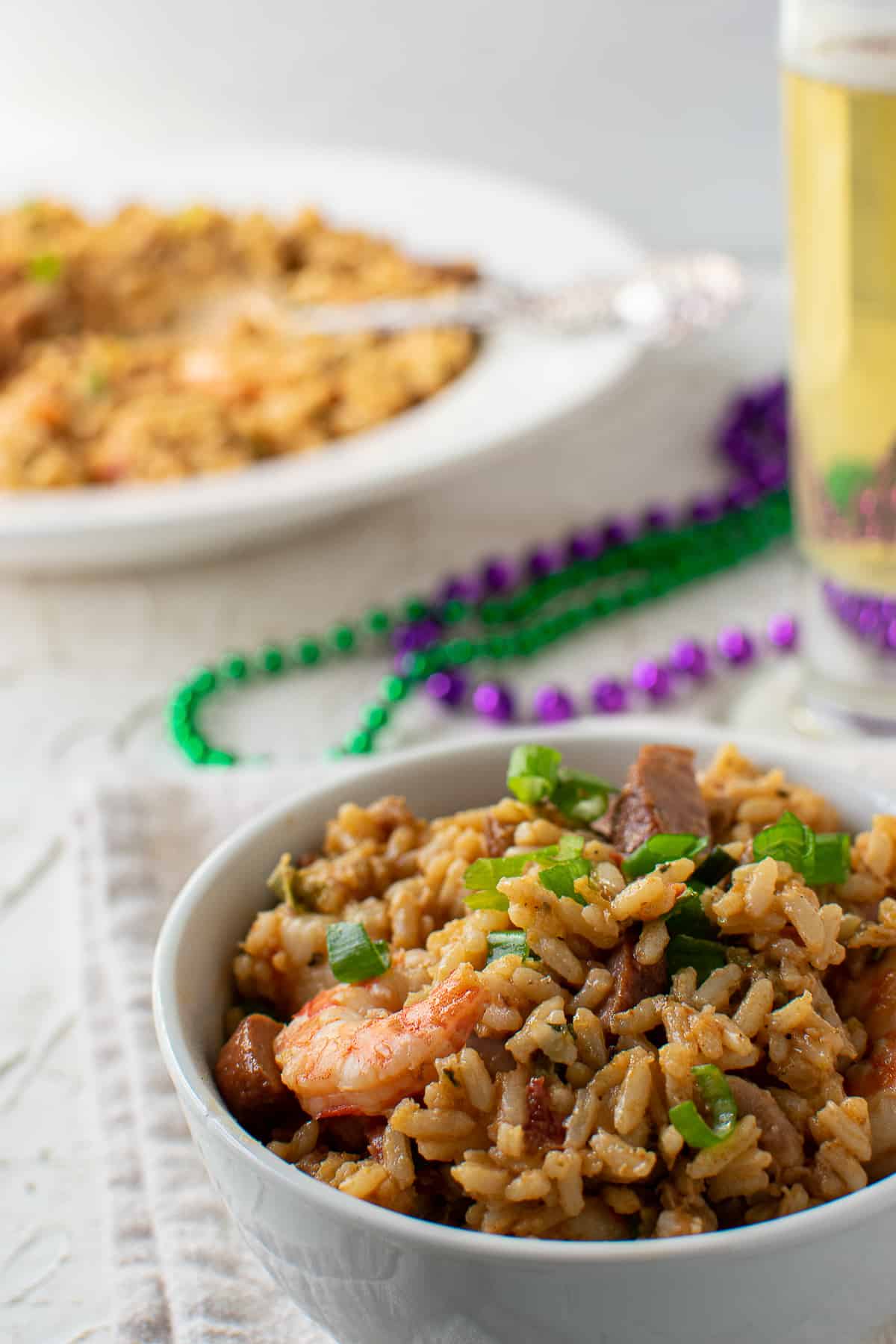 Is it Creole or Cajun?
That's an age old question, too. In general, Creole food is "citified" and is more common around New Orleans. It's also heavier on the tomatoes. While we do have some tomatoes in our jambalaya, it's brownish color would make it more Cajun, or "country-fied" (if that's a word).
One recipe that is traditionally considered to be Creole is Red Beans and Rice. It can be a vegetarian side or you can add andouille sausage and make it a meal!
To confuse matters even more we use our beloved Tony Chachere's Original Creole Seasoning, but we do tend to add it to so many of our recipes - whether they're considered Creole or Cajun. Check below for a list.
If you love learning about the various regions of the south and the recipes and ingredients they produce you need to check out Southern Food: Then & Now.
Get the rice cooked perfectly
We've found this to be a problem over the years as have many jambalaya cooks. It can not be cooked enough by the time the liquid is absorbed. In that case, you'll have a crunchy middle and nobody likes crunchy rice, right?
Or, it gets mushy and overcooked. That's not good either.
After lots of frustrating attempts to get it just right we hit on the solution for this problem and that solution is converted rice. Some purists will argue that it's not classic jambalaya if it's made with converted (or parboiled) rice, but we will argue right back.
All of the requisite flavors are there and just sing out to be enjoyed. If mushy or crunchy rice would get in the way of the that enjoyment, then we believe it's a problem to be dealt with. So we have dealt with that problem by bringing you the best jambalaya recipe ever!
BE SURE TO WATCH THE VIDEO BELOW FOR A QUICK LOOK AT HOW THIS EASY JAMBALAYA COMES TOGETHER!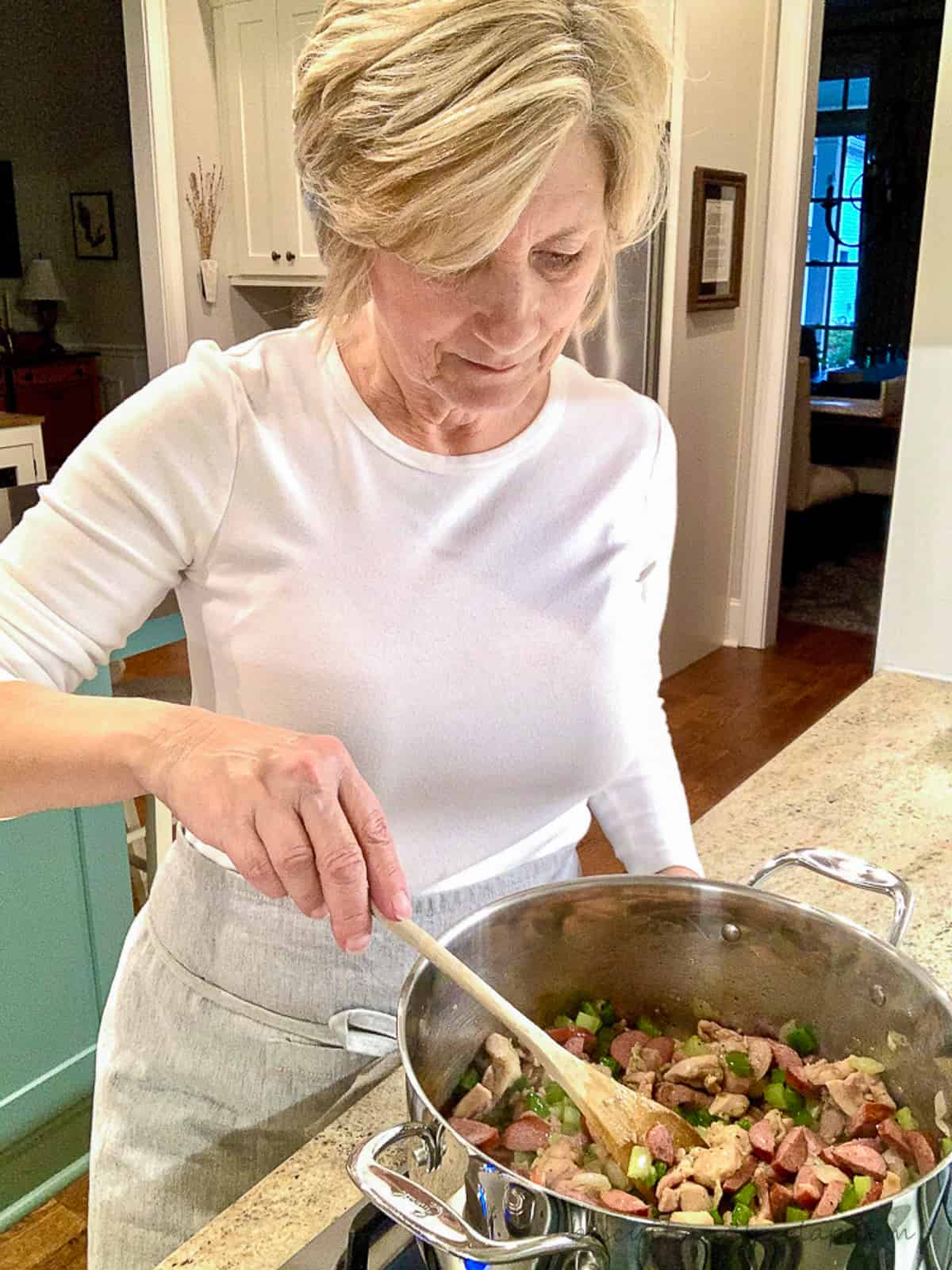 Don't save this jambalaya recipe just for Mardis Gras
Some people tend to save the recipes from this region and only make them during Carnival season or Mardis Gras.
We enjoy them all year round and we would encourage you to do the same. We love our jambalaya, Creole Cream Sauce, Cajun potatoes, hurricane cocktails and shrimp etouffee too much to only have them at certain times.
If you want to get the great flavors of jambalaya without making a big pot, try this Jambalaya Dip. It gets rave reviews every time we make it.
For a quick and fun look at this recipe check out the Google Web Story.
📖 Recipe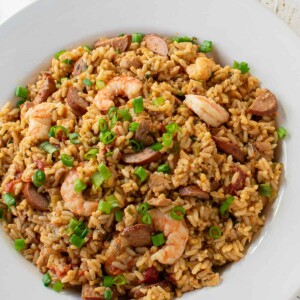 Best Jamblaya Recipe
This is truly the best jambalaya recipe ever! It's seasoned to perfection with ideal proportions of chicken, sausage and shrimp. The rice is just right - never overcooked or undercooked.
Ingredients
2

Tablespoons

vegetable oil

4

boneless chicken thighs

cubed

¾

pound

shrimp

peeled and deveined

½

pound

smoked sausage

cut into ¼ inch slices, (traditionally Andouille)

1

bell pepper

diced

1

cup

diced celery

1

medium onion

diced

3

green onions

chopped

3

cloves

garlic

diced

1

cup

diced canned tomatoes

1

teaspoon

salt

1

teaspoon

black pepper

2

bay leaves

1

teaspoon

Italian seasoning

1

teaspoon

Creole seasoning

we prefer Tony Chachere's Original

1

teaspoon

smoked paprika

cayenne pepper

to taste, optional

1½

cups

converted rice

2

cups

chicken stock

2

Tablespoons

chopped fresh parsley

optional, for garnish
Instructions
Heat oil in large dutch oven over medium heat.

Add chicken and sausage and cook, stirring, about 8-10 minutes or until chicken is done.

Add onions and continue cooking and stirring for about 8 minutes.

Add celery and cook, stirring another 2-3 minutes.

Add bell pepper and garlic and cook, stirring about 8 minutes.

Add rice, stock, tomatoes and all seasonings. Bring to a boil and then reduce heat to low, Cover and simmer for 15 minutes.

Add shrimp and green onions and stir. Cover. If shrimp are medium size the heat can be turned off and allowed to sit for 5 minutes, covered. If shrimp are large, allow to cook, covered for 2-3 minutes and then turn heat off and allow to sit another 2-3 minutes.

Before serving remove bay leaves and garnish with parsley, if desired.
Notes
If you prefer Jambalaya that is not spicy use a smoked sausage that isn't spicy (Andouille is spicy) and leave out the cayenne pepper. 
Nutrition
Calories:
595
kcal
Carbohydrates:
48
g
Protein:
35
g
Fat:
29
g
Saturated Fat:
8
g
Polyunsaturated Fat:
7
g
Monounsaturated Fat:
12
g
Trans Fat:
1
g
Cholesterol:
194
mg
Sodium:
1025
mg
Potassium:
753
mg
Fiber:
3
g
Sugar:
4
g
Vitamin A:
1290
IU
Vitamin C:
35
mg
Calcium:
102
mg
Iron:
3
mg

More Cajun and Creole inspired recipes: