She crab soup is a classic low country dish with a rich, creamy base. This recipe includes a tip for making sure every bowl gets plenty of delicious, lump crab meat.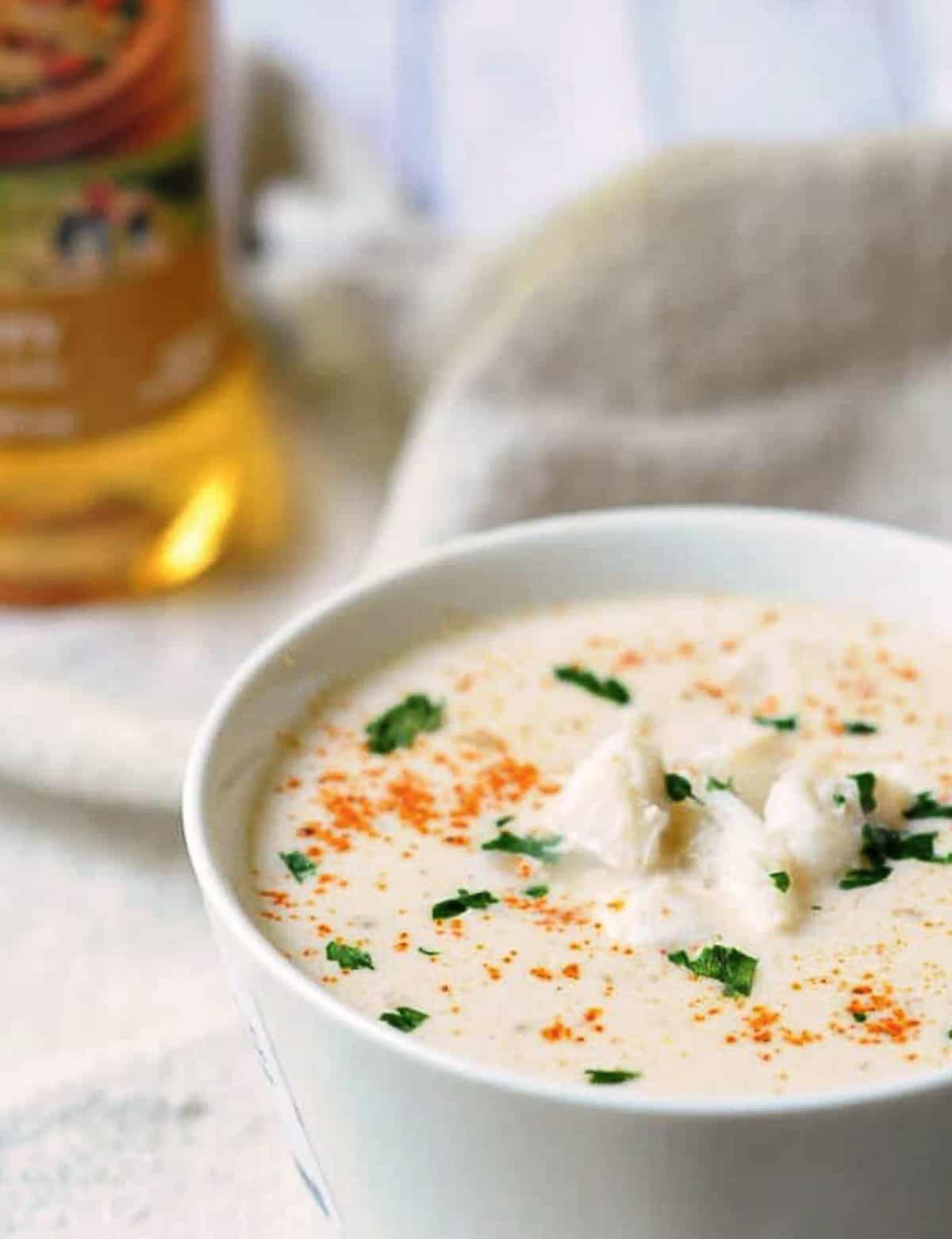 Featured comment
"ABSOLUTELY AMAZING!! My mom made this for me & my children and my jaw dropped after the first bite. This tasted like something out of a 5 star restaurant…"

– Kaitlin
In case you're not familiar, this is a rich soup traditionally made in the South Carolina Lowcountry, tidewater area of Virginia, and the Georgia coast. Charleston in particular, is full of restaurants claiming theirs as "the best".
Similar to a bisque, old school she-crab soup has heavy cream, seafood stock, crab meat, crab roe, and a sprinkling of dry sherry. The roe is where it gets its name, "she-crab" referring to the female crabs that produce the roe.
These days roe is almost impossible to find. That's mostly due to the restrictions on harvesting crabs (particularly females). We think those restrictions are a good thing, and that the roe wouldn't really contribute to the taste of the soup anyway.
Ingredients and Substitutions
Butter – salted or unsalted will be fine. You just may need to adjust your salt accordingly.
Onion – sweet onion is best here, and if Vidalia onions are in season they are just perfect!
Flour – plain all purpose
Seafood stock – you could substitute chicken stock
Heavy Cream – you could go with half-and-half, but your soup won't be as rich.
Worcestershire sauce – just a touch really enhances all of the flavors
Lemon zest – if you don't have a lemon to zest a small spoonful of lemon juice would be okay, but the zest is really best.
Mace – if you don't have it nutmeg is commonly used as a substitute.
Old Bay seasoning – there really is nothing like it.
Cayenne pepper – it's only ¼ teaspoon. Do yourself a favor and don't leave it out.
Salt – whatever you have on hand.
Crabmeat – Use lump crabmeat. It can be fresh, canned, frozen, or come in those little containers you find at the seafood market.
Dry Sherry – We use the cooking sherry you can get at the grocery, but if you have some of the good stuff on hand, by all means, use it!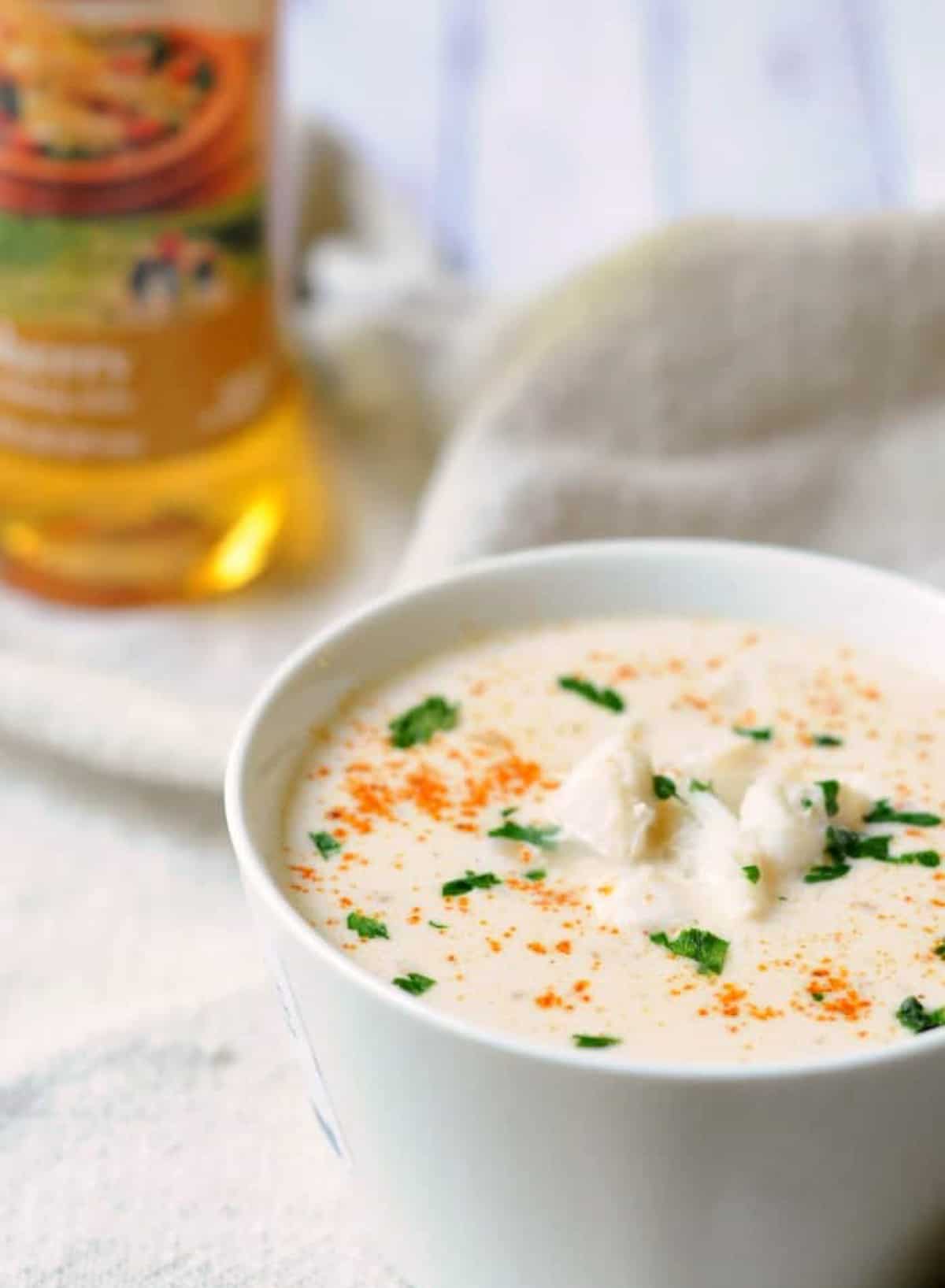 This post contains affiliate links, which means if you click on an affiliate link and buy something, we may receive a very small commission. It does NOT result in additional charges to you or cost you anything extra. Click here for our full privacy and disclosure policy. As an Amazon associate we earn from qualifying purchases.
How to make it
Start by melting the butter in a large stock pot or dutch oven over medium heat.
Cook the onion until soft and then add the flour.
Add the stock, stirring well.
Reduce the heat and stir until thickened (about 5 minutes or so).
Stir a small amount of the hot roux into the cream to temper. This means you are bringing the temperature of the cream up so it doesn't curdle when added to the soup.
Now add the cream and stir, bringing the heat back up to medium low or so, until it's thoroughly heated.
Reduce heat again, and add half the salt, the worcestershire sauce, zest, mace, Old Bay, half the crab, and cayenne pepper.
Simmer 5 minutes.
Combine remaining crab meat, salt and sherry in a small bowl.
Divide soup into serving bowls and top with a scoop of the crab/sherry mixture.
Garnish with fresh herbs, if desired.
Exact measurements are in the recipe card below.

Cook's Tips
It's always a good idea when cooking with crab to "pick" through it before it goes in your dish.
If you've ever cleaned fresh crabs yourself you'll know that it can be really difficult to get out every last morsel of shell. Biting into that hard shell isn't very pleasant, so a thorough check to make sure it's clean is a good idea.
Our top tip is leaving out half of the crab meat and mixing it with the sherry and a little salt. After the soup is divided into bowls then add the reserved crab mixture.
Doing this ensures that each bowl gets a generous portion of that succulent crab meat. You don't want to start a fight over it, do you?
The only other tip we have for you has already been mentioned. Tempering the cream with a bit of the hot liquid will prevent any curdling.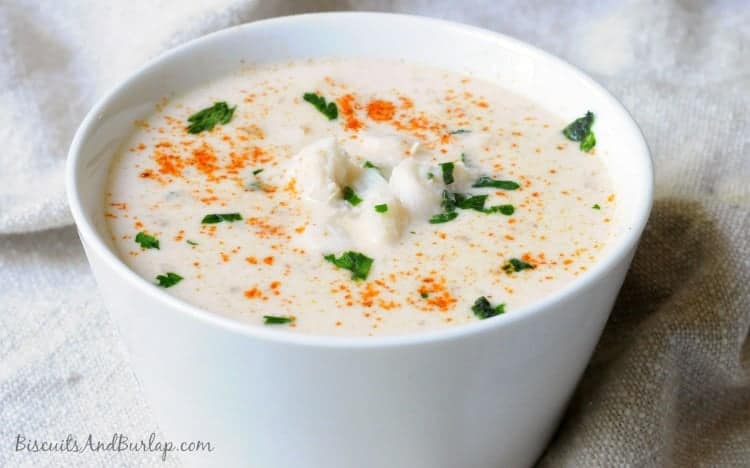 Complete the meal
This recipe makes enough for 4 larger or 6-8 smaller bowls of soup.
If you want an entire meal with a southern seafood theme you'll want to follow up the soup with Southern Style Fried Shrimp.
To keep your experience focused on low country cuisine these Charleston Pecan Chewies are a traditional sweet treat from the area, and are made with simple pantry ingredients. Gullah Style Red Rice is one that goes way back in the lowcountry too.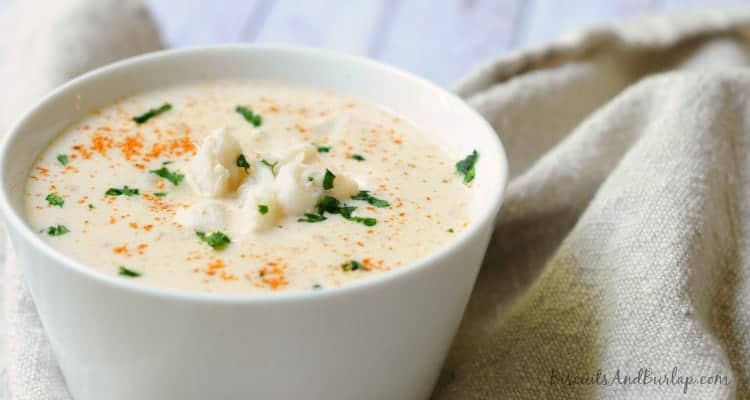 Storing your soup
As seafood is pretty delicate we would not recommend keeping any leftovers longer than 3 days.
Keep it tightly covered in the fridge and heat slowly over low to medium low heat, stirring often.
We do not recommend freezing this soup.
Without further ado, on to the recipe! Be sure to comment below to tell us what you think and put a photo on Instagram and tag us @biscuitsandburlap!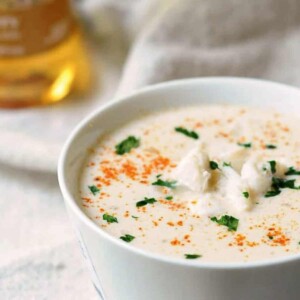 She Crab Soup
She crab soup is a classic low country dish with a rich, creamy base. This recipe includes a tip for making sure every bowl gets plenty of delicious, lump crab meat.
Instructions
Melt butter of medium heat in large stock pot or dutch oven. Cook onion until soft (about 3-5 mins)

Add flour and blend to make roux.

Add seafood stock to roux, stirring well. Reduce to low heat and stir until thickened (about 5 mins)

Stir small amount of hot roux into cream to temper.

Add cream to pot and turn heat back up to medium low, stirring until heated through.

Reduce heat to low. Add next 5 ingredients, 1 tsp of salt, and ½ of the crab. Simmer 5 mins.

Combine remaining crab meat, salt, and sherry in a small bowl. When you divide the soup into individual bowls, top with a scoop of the crab mixture in the center of the bowl.
Notes
chicken broth or stock may be substituted for seafood stock
nutmeg may be substituted for mace
be sure crab meat has been checked thoroughly for any little bits of shell
Nutrition
Sodium:
1304
mg
Calcium:
134
mg
Vitamin C:
7
mg
Vitamin A:
1471
IU
Sugar:
3
g
Fiber:
1
g
Potassium:
368
mg
Cholesterol:
142
mg
Calories:
453
kcal
Trans Fat:
1
g
Monounsaturated Fat:
9
g
Polyunsaturated Fat:
2
g
Saturated Fat:
23
g
Fat:
38
g
Protein:
19
g
Carbohydrates:
8
g
Iron:
1
mg
This recipe made our top 10 of 2018. See them all.

Love seafood? Check out these recipes too!