Our Guinness Beef Stew recipe is not only perfect for St. Patrick's Day, but any day when you need warm, hearty comfort food.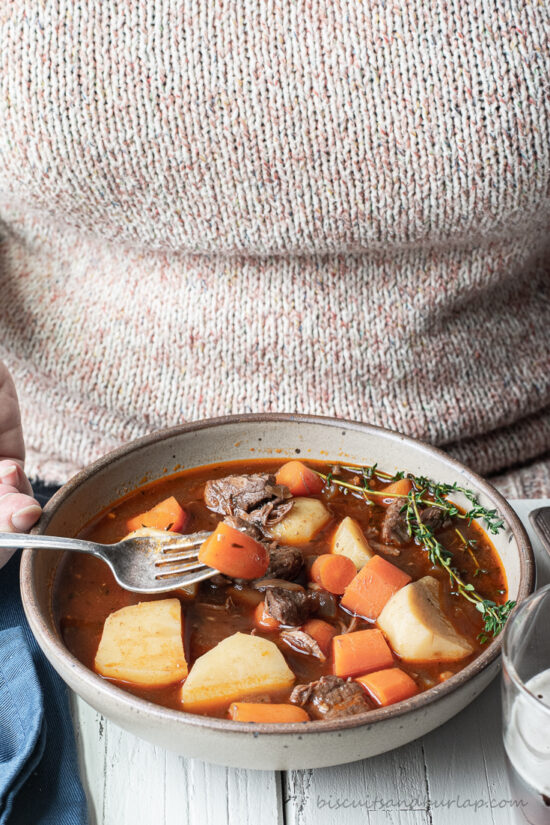 Can you believe St. Patrick's Day is almost here again? Last St. Patty's Day the world was shutting down and who knew that a year later we would still be seeing the effects of the pandemic?
Well, you may be missing out of your green beer and Irish car bombs again this year (wait, does everyone not celebrate like that?) but you can still celebrate those Irish roots with our Guinness Beef Stew recipe!
If a traditional corned beef is in your menu plans you'll want to check out Corned Beef Cooked in Beer. Yeah, we know... Irish Stew with beer, corned beef in beer. That's just how we roll around here.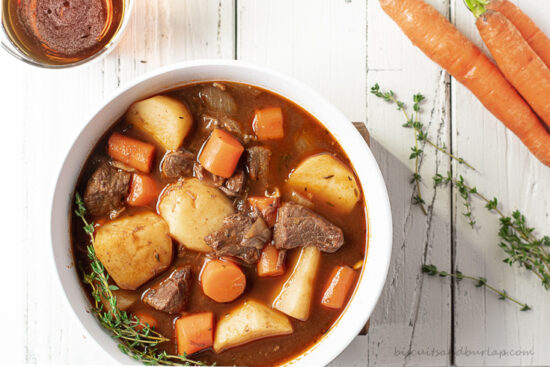 The key to this Guinness Beef Stew is to let it cook long enough for the meat to get tender but not so long that it just falls apart. The best way we've found to achieve that is to sear your beef in the pot with oil first, then make your broth, and then add the meat back into the pot and keep an eye on it for tenderness.
Speaking of the broth... oh man. I could just bathe in this broth. The red wine, beef stock, Guinness, thyme, and garlic come together to create something that is just magical.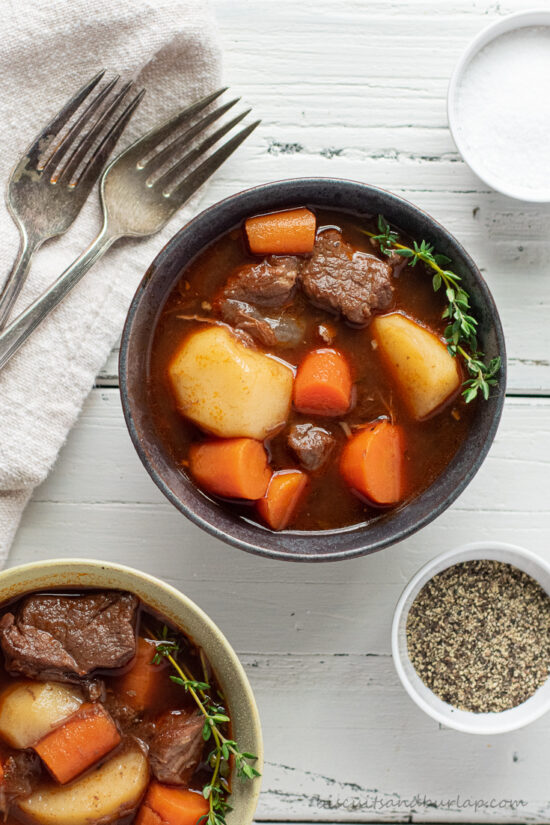 After you sear the beef, you'll want to put your veggies in the pot for a few minutes to let them brown and soften up a little. Don't worry about getting them all the way done! We'll add them back to the pot later.
The last step of our Guinness stew recipe is to add the veggies back in. You want to do this when the meat is just starting to get tender. From there, it should just be another 20 or 30 minutes before the carrots and potatoes are tender and the beef melts in your mouth.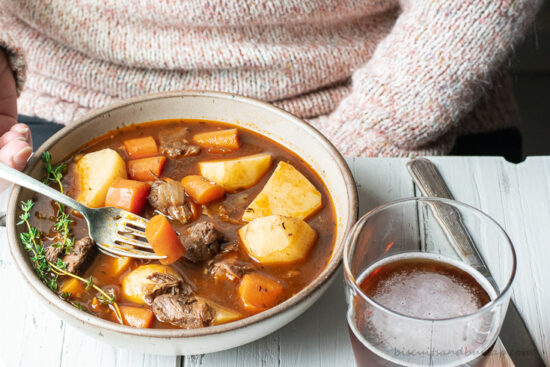 If you make this or any of our recipes we'd love for you to leave us a comment and star rating. If you're into sharing your creations, snap a photo and tag us when you post it to Facebook or Instagram.
FAQ's
How big should the chunks of beef be?

I opted for bite-sized pieces, about 1 inch cubes. You can make them larger if you want, but remember, the smaller the pieces, the faster they'll get tender.

What kind of potatoes work best?

You can use any type of potato you want, but I have found that russet potatoes get too soft, so go for a smaller, thin-skinned potato variety.

Can I use other vegetables too?

Of course! I've seen people add celery to their Guinness beef stews and to up the Irish-ness, a handful of shredded cabbage can be tossed in at the last minute. Add whatever you have on hand or what you family prefers.
📖 Recipe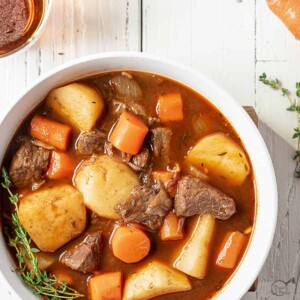 Irish Stew with Beef and Guinness
Our Guinness Beef Stew recipe is not only perfect for St. Patrick's Day, but any day when you need warm, hearty comfort food.
Ingredients
2

lbs

beef chuck or stew meat

cut in bite-sized pieces

4

teaspoon

salt

divided

4

tablespoon

olive oil

1.5

lbs

potatoes

peeled and cut in 1-inch cubes

2

cups

carrots

peeled and sliced in ½-inch slices

1

large yellow onion

diced

6

cloves

garlic

minced

4

cups

beef stock

1

cup

red wine

1

bottle

Guinness

2

tablespoon

tomato paste

1

tablespoon

died thyme

black pepper

to taste
Instructions
Salt beef with 2 teaspoon salt. Heat oil in a large stockpot over medium-high heat. Brown beef on all sides and remove. Be careful not to crowd them in the pot!

Add potatoes, carrots, and onions to pot. Cook stirring frequently for 10 minutes and remove.

Add garlic to pot and cook 1 minute or until fragrant. Add tomato paste, beef stock, red wine, Guinness, and thyme. Return meat to the pot and bring to a boil, then reduce to a simmer and cover. Let cook 1 hour or until meat begins to get tender.

Add vegetables back to pot and let cook until potatoes, carrots, and beef are tender. Salt to taste.
Notes
Depending on the saltiness of your beef stock you may want to adjust the salt initially added to the beef, and at the end of cooking, to taste.
Need more comfort food?