This Gullah recipe for sweet potatoes is a celebration of simple from-the-earth cooking, as well as the beautiful language of the Gullah people.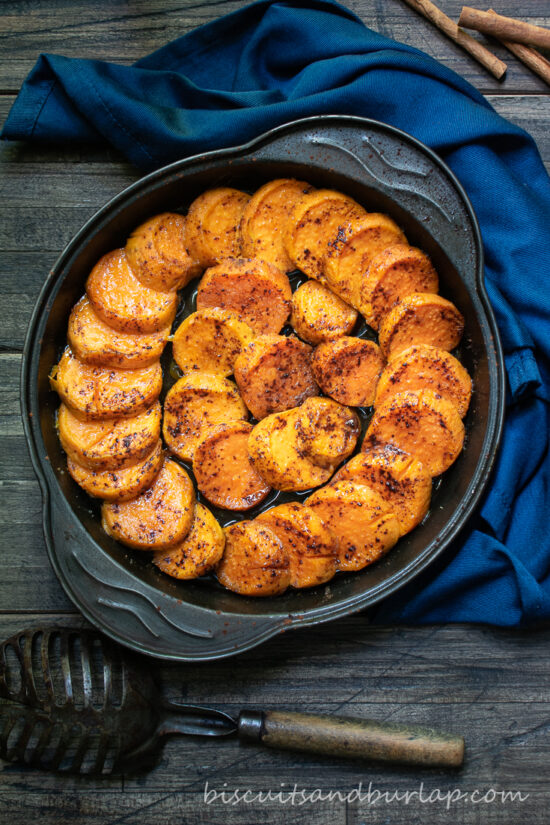 If you've been around here long you may remember Sara and I making a trip a while back to the lowcountry of South Carolina. We explored the culinary culture of the area with highlights being a visit to an oyster farm, discovering a unique new cocktail, and a tour of the Penn Center on St. Helena Island.
Formerly the Penn School, it was established in 1862 on beautiful St. Helena Island, and was the first school founded in the southern United States specifically for educating former slaves.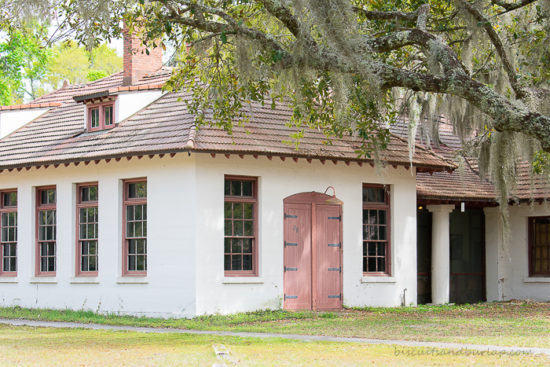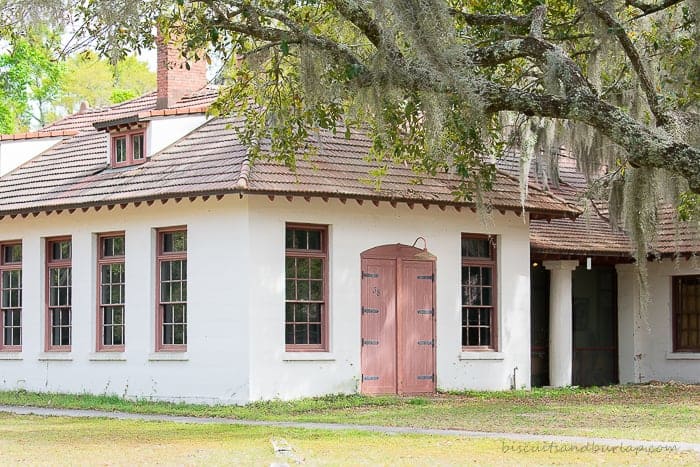 Today the Penn Center campus is designated as a National Historic Landmark District, dedicated to the cultural preservation, social justice, and education of the descendants of the Gullah Geechee community.
Keeping alive traditional southern foodways
Though we do enjoy adding a new twist to an old recipe, it is part of our mission to preserve and protect the old recipes of the South. In fact, we've written a special article about the traditions, origins of ingredients, and a look at what the future may hold for our favorite cuisine.
Read Southern Food: Then & Now
Recipes as told in the Gullah Language
We came home from our visit to the lowcountry with a treasure - a cookbook entitled Bittle en' T'ing' - Gullah Cooking with Maum Chrish'
The "recipes" had been passed down by one generation teaching the next in the gardens, fields and in the kitchens, working side by side. This book serves to document the recipes, but also to celebrate the language.
The author says her primary purpose is to "increase public awareness of this language and to generate more interest in the preservation of this unique linguistic contribution to our American heritage which was made by the African-American people."
First was Gullah-Style Red Rice
A while back we cooked and photographed our first recipe from Bittle en' T'ing' - Maum Chrish' Red Rice.
It has been met with such enthusiasm that we decided it was high time for another Gullah Geechee recipe on Biscuits & Burlap.
Many people say that Pecan Chewies are a Gullah recipe. We've not been able to confirm that, but they do come from the same Carolina Lowcountry and they're completely simple and delicious just like the rice and these sweet potatoes.
As with the red rice, we've included a couple of lines of Maum Chrish' instructions, along with the English translation. We've then given you the recipe card in traditional format.
The Gullah recipe for sweet potatoes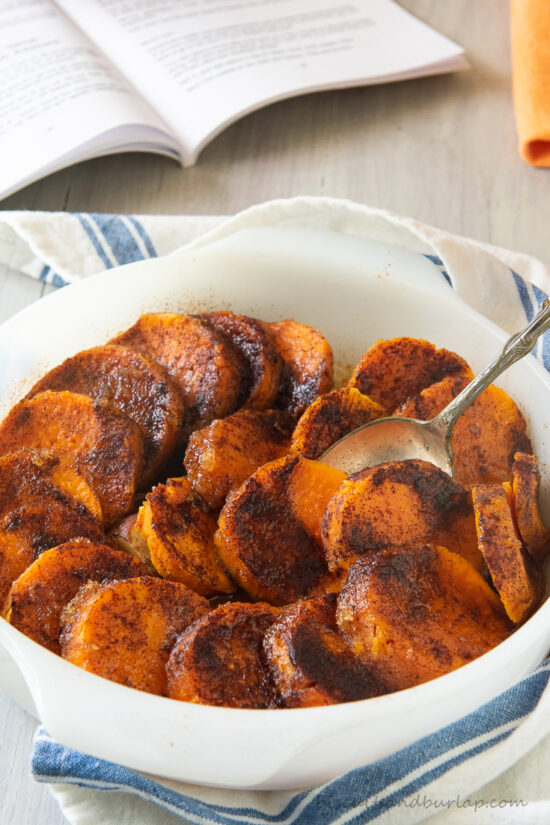 As with most of the recipes from the book this one is very simple. Most of the foods cooked in the area, like the rest of the south, were what could be grown on the land, fished from its waters, or hunted in the woods and fields.
Similar to, but not as sweet as, what we refer to as "candied sweet potatoes" this dish has only four ingredients, and that includes the potatoes! Sweet potatoes are a vital part of the Gullah cuisine and we think you'll love this uncomplicated recipe.
For a more updated recipe, but still kept simple try Sweet Potato Muffins with Crumble Topping. They have an optional praline drizzle that takes them over the top.
We made minor changes and clarified some details
First, Maum Chrish' thought there should be a whole sweet potato per person. Today's appetites are obviously not as big as theirs then (could it be that we don't work as hard?). We're figuring on a sweet potato per one and a half to two people.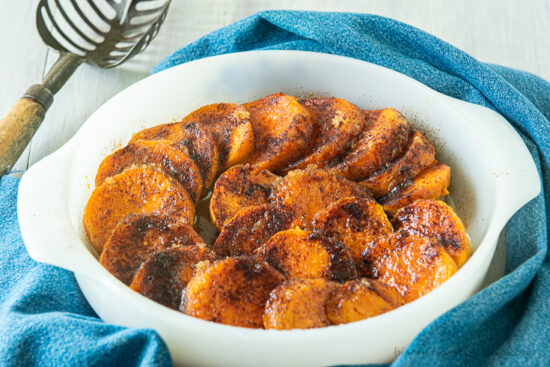 Maum said:
"Dig 'nuf ym f'um de 'tettuh bank. "Low one fuh eb'ry head."
The translation:
Dig enough yams (sweet potatoes) from the potato bank so that each person will have a good serving. Allow one potato for each person.
Maum also gave instructions on how long and at what temperature to cook the sweet potatoes. We've been a bit more explicit, but did get a laugh when the house indeed did smell of cinnamon when they were done.
Maum said:
"Bake de 'tettuh uh modulate obun 'tell all de suguh done tek-up, en' de cimmamun smell gone t're de house."
The translation:
Bake the potatoes in a moderate oven until the sugar cooks through the potatoes and the smell of cinnamon is in the house.
This post contains affiliate links, which means if you click on an affiliate link and buy something, we may receive a very small commission.  It does NOT result in additional charges to you or cost you anything extra. Click here for our full privacy and disclosure policy. As an Amazon associate we earn from qualifying purchases.
If you'd like to have your own copy of Bittle en' T'ing' it is available on Amazon. You can order here.
📖 Recipe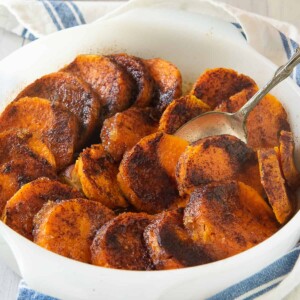 Gullah Recipe for Sweet Potatoes
A simple, 4 ingredient recipe for sweet potatoes adapted from a cookbook which celebrates the Gullah language.
Ingredients
2-3

sweet potatoes

medium to large size

4

Tablespoons

brown sugar

3

Tablespoons

butter

1

teaspoon

ground cinnamon
Instructions
Boil the potatoes until the skin starts to split and a knife goes into the center without force.

Cool the sweet potatoes enough to handle and then peel.

Slice into approximately ½" slices and arrange in baking dish.

Sprinkle with brown sugar and then small pieces of the butter.

Bake at 350 degrees for about 20-25 minutes or until potatoes are tender.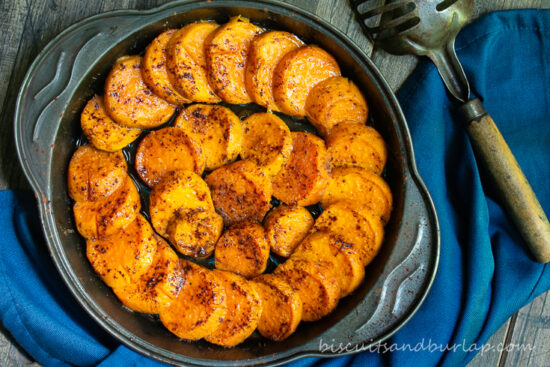 If you're reading this you must love sweet potatoes, so you'll also want to check out Pan Fried Sweet Potatoes and Sweet Potato Butter. Not only is the butter divine on a fresh biscuit or toast, but it makes a unique hostess gift too.

More traditional southern recipes: