What our visit to Lady's Island Oyster farm taught us about oysters cultivated for raw bars and restaurants in the South Carolina Lowcountry. Plus a bonus recipe for White Wine Mignonette Sauce.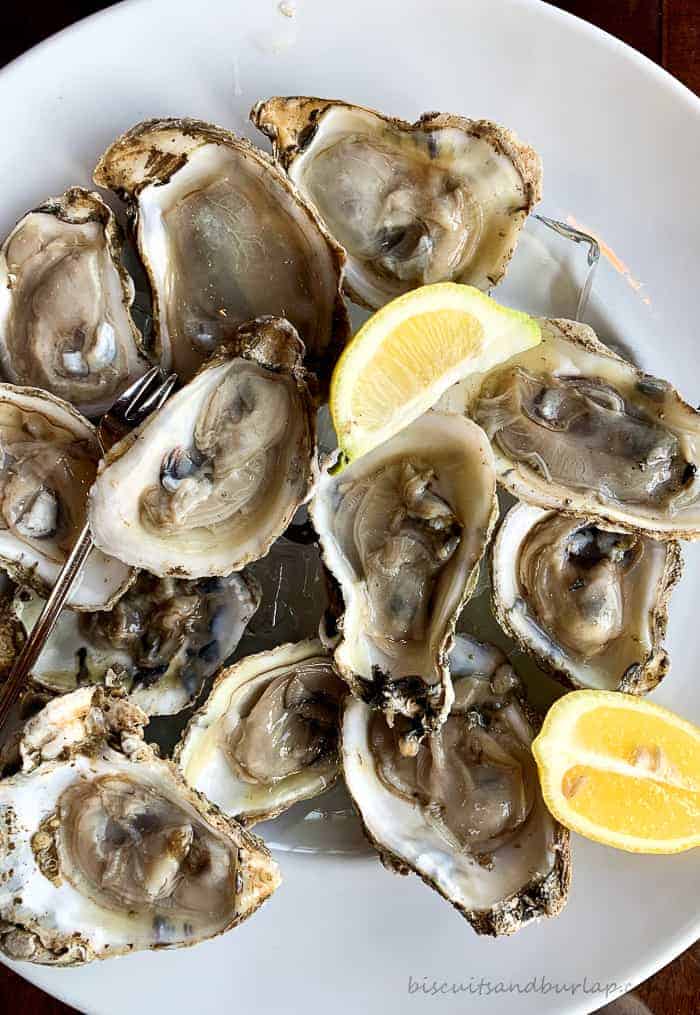 It's tough to think of small coastal towns without thinking of great seafood. In the South Carolina lowcountry, that means oysters. When Mom and I planned our trip to Beaufort County, we knew we wanted to experience the vast culinary culture there.
We found farms, farmers markets, and produce stands. We spent time in a Gullah community (read about that here!), and then we found Lady's Island Oyster. Now, I love oysters, but I never imagined how fascinating or beautiful an oyster farm would be or how much I would learn there.
Sign up for our weekly newsletter for great recipes from across the South
Our day at Lady's Island Oyster was spent with Julie Davis, an expert in marine biology. Lady's Island Oyster grows premium single oysters exclusively for raw bars and fine dining restaurants. Each oyster takes about a year to grow, and the process is much more complicated than I ever imagined.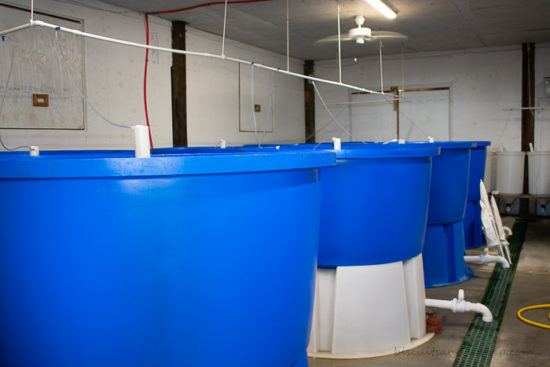 The oysters starts out here in these blue tanks. At this stage, they are tiny microscopic organisms swirling around with sand until they eventually settle on that sand. This process ensures that each oyster settles individually rather than in a cluster, allowing them to grow into the beautiful single oysters that they become later on.
When we visited the oyster farm we could do no more than peek in the door of this room to snap a quick picture because of how sensitive these baby oysters are to environmental changes.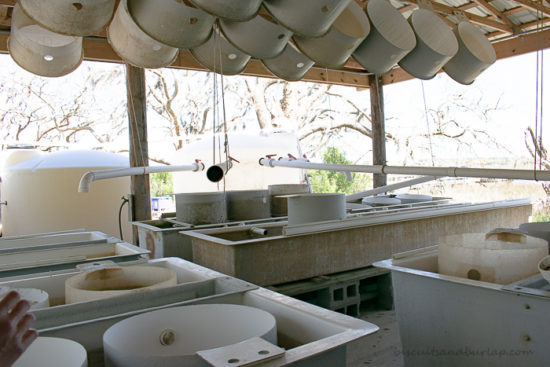 Then the oysters move here, to the next stage of the "nursery" where they will spend a few months growing.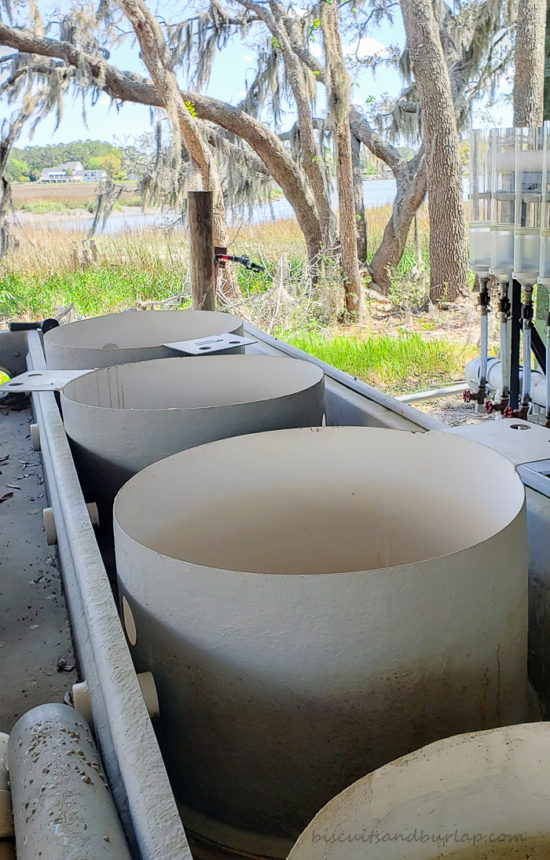 When the oysters are big enough to not escape through fine mesh, they are loaded into these bags and placed in cages in the salt water estuary. Here they grow for the rest of the year, until they are ready to be harvested.
They are moved to different bags as they outgrow their current one so that the smaller oysters can continue to grow. These cages are supported by buoys and are flipped regularly to allow the oysters to continue to grow. Julie told us that these cages also support other wildlife, like blue crabs that find shelter in them.
One important thing we learned while visiting Lady's Island Oyster is the misconceptions people have about the farmed oysters. When you live in a place this beautiful, naturally you want to preserve the views and those buoys can be seen as a hindrance to the natural beauty of the area.
What those people don't understand is that the oysters that are raised in this estuary are actually helping the environment in which they live. Each oyster filters up to 50 gallons of water every single day. In doing this, they clean the water and all the other creatures that live here thrive. We hope to educate others about oyster farms with this post.
Enjoy Oysters All Year Long
Another fact we confirmed with Julie: The old rule about not eating oysters in months without an "R" is no longer true. She says the old idea dates back to the days before refrigeration. You can now be assured of the safety of eating oysters anytime, as the commercially grown and harvested ones are strictly regulated by law for that very reason.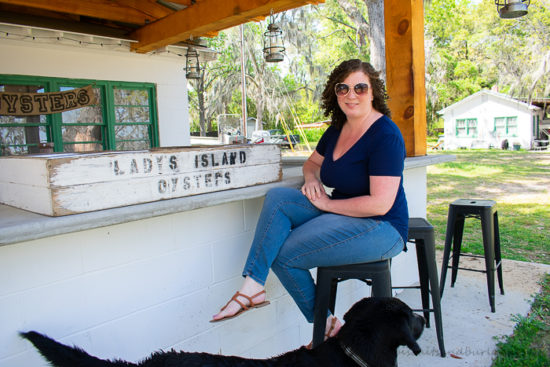 Not only is Lady's Island Oyster a place with a wealth of information on the mariculture of the area, but it's also beautiful and a fun place to hang out! They have a raw bar on the property and while they only have a few events there now, they hope to open it up to more private events in the future.
Third in the series of posts on our trip to the Lowcountry is a recipe for a cocktail we discovered while we were there. Be sure to check out the unique and delicious Cathead Cooler.
Are you getting our newsletters?
You'll also want to read Southern Food Then and Now.
When you eat oysters at a raw bar, they usually come with lemon, cocktail sauce, horseradish, and saltine crackers, but we just had to ask the expert how she eats her oysters. Julie told us she eats her oysters with a simple white wine mignonette.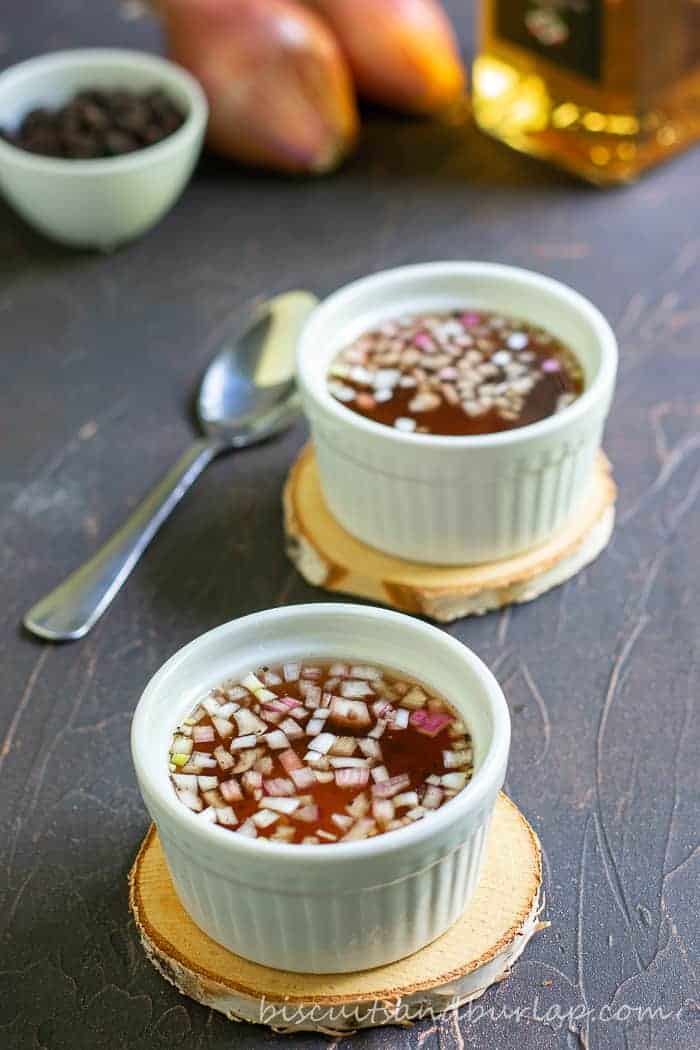 Beautiful and uncomplicated, mignonette is a combination of vinegar, minced shallots, a little salt, and freshly cracked black pepper. That's it! Spoon a little onto your oyster while it's still in the shell and enjoy! The classic Cocktail Sauce is a recipe included in our how-to post with tips for hosting an Oyster Roast.
Besides raw and roasted we love a plate of good old southern style fried oysters. Click for our simple recipe and rest assured they will be delicious with farmed oysters like th eones from Lady's Island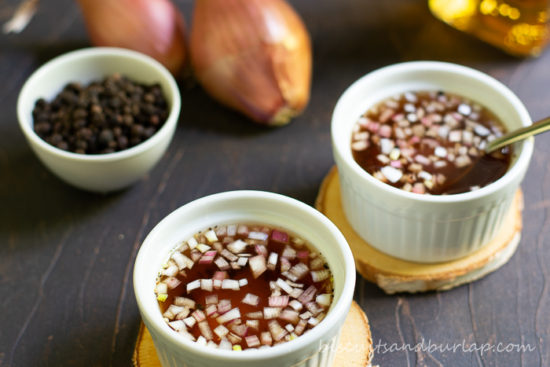 PS: Did you notice the black lab cameos in the pictures above? To our delight, these guys followed us around the farm all day and were thrilled to have their stick throw out into the pluff mud of their estuary. Observe, labrador retrievers in their natural habitat: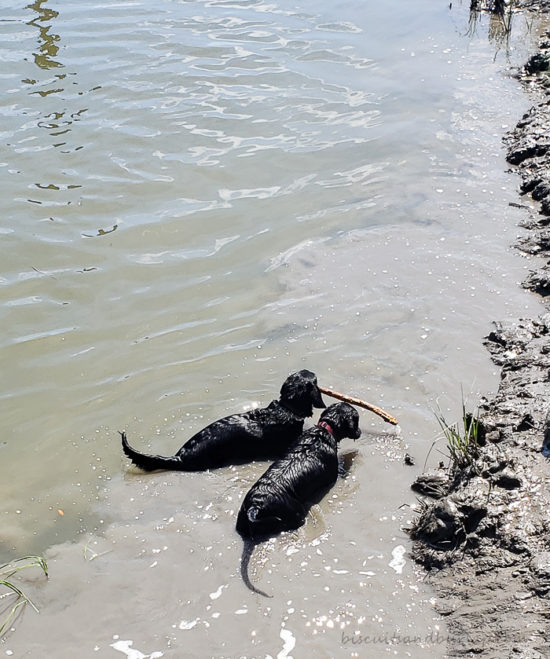 📖 Recipe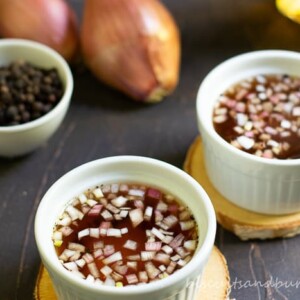 Mignonette Sauce
A simple mignonette sauce complements oysters on the half shell perfectly.
Ingredients
½

cup

white wine vinegar

1-2

Tablespoons

finely diced shallot

1

teaspoon

freshly cracked black pepper

½

teaspoon

salt

or, to taste
Instructions
Mix all ingredients and allow flavors to blend for 30 minutes to one hour before serving.
Notes
The traditional way to eat Mignonette Sauce is to use a small spoon and top the oyster with a bit of sauce while it's still in the shell.
For the most flavorful cracked black pepper put a few peppercorns in a bag or under a cloth and pound with a mallet.
Do you love seafood as much as we do? Check out these other posts!