There is nothing like a good oyster po'boy and this one is no frills… Nothing but fried oysters with a Cajun kick, tangy remoulade sauce, lettuce, and tomatoes all on a hoagie roll.
What the heck is an Oyster Po'Boy?
Originating in New Orleans, a po'boy is a super simple sandwich served on French bread or a hoagie roll with lettuce, tomatoes, sometimes onions, and fried oysters, shrimp, or crawfish.
The remoulade sauce that comes on the oyster po'boy (or any other kind of po'boy) is a creamy, zesty mayonnaise-based mixture made differently by everyone who mixes it up.
If you're here for a visit then you love seafood and love southern food, so be sure to check out the Low Country Boil Sheet Pan Dinner.
Southern Food Then and Now is all about traditions, regions and the origins of our favorite cuisine!
Sign up for our newsletter and you'll never miss a recipe!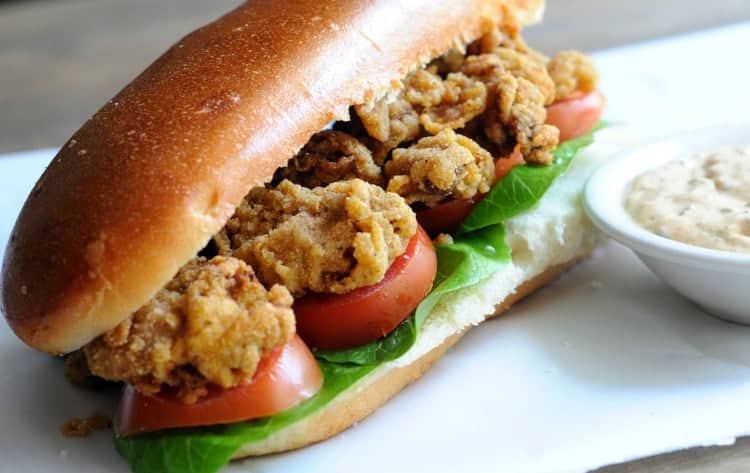 It's all about the fried oysters
The classic way to make a po'boy is with fried oysters. Like the remoulade, fried oysters are one of those things everyone does their own way.
Of course, the frying part is pretty basic (360 degree oil for 2-3 minutes, based on the size of the oysters), but what you use for your soak and dredge is entirely up to you.
Here, I dipped the oysters in a mixture of eggs, buttermilk and hot sauce. Then I coated them in a mixture of cornmeal, flour and Tony Chachere (cajun seasoning).
It's the same batter recipe we use for Fried Green Tomatoes) and Crispy Fried Pickles. Drop them in the oil, watch for that delicious golden brown color, then pull them out with a slotted spoon.
Put them on a stack of paper towels to drain while you drool thinking about that oyster po'boy you're about to devour!
Put that oyster po'boy together
All that's left now is to assemble the sandwich! Lettuce, tomato, remoulade, and those beautiful fried oysters… You have a fried oyster po'boy! If you're here you must love oysters, so you'll definitely want to check out White Wine Mignonette Sauce for Oysters.
Love all Cajun and Creole foods like we do? Click over here for the recipe for Jambalaya that we were able to get from that famous New Orleans restaurant known as "Mother's". And a Classic Hurricane Cocktail is the perfect way to start any meal with a New Orleans theme.
Putting together a casual, seafood-themed meal? Our smoked fish dip is the perfect appetizer and so easy!
Can't get enough Southern recipes? Click here to get our weekly newsletter!
This post contains affiliate links for your convenience. Click here to read our full disclosure policy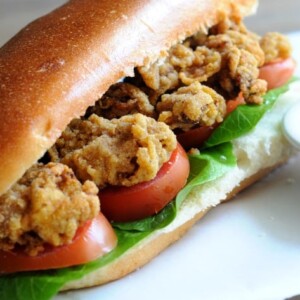 Fried Oyster Po'Boy
Instructions
In a small bowl, combine buttermilk, egg, and hot sauce.

In a medium bowl, combine cornmeal, flour, and cajun seasoning.

Dip oysters in buttermilk mixture, then coat with cornmeal mixture. Drop into oil 6-10 at a time, being careful not to crowd.

Let oysters cook 2-3 minutes (depending on size) and pull out when golden brown. Put on paper towels to drain.

Assemble sandwiches with lettuce, tomatoes, oysters, and remoulade sauce.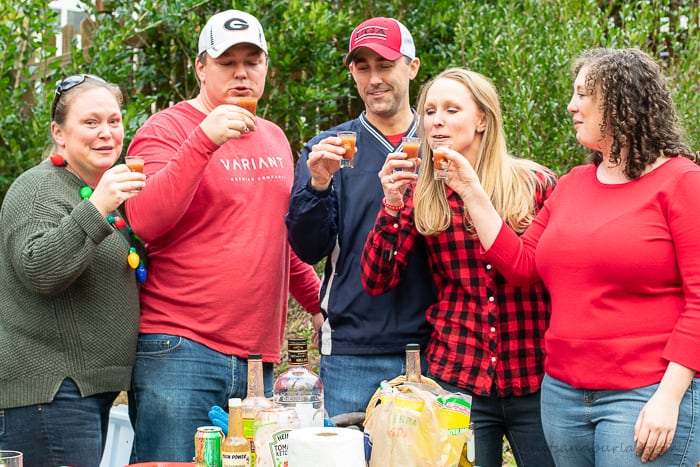 If you make this or any of our recipes we'd love for you to leave us a comment and star rating. If you're into sharing your creations, snap a photo and tag us when you post it to Facebook or Instagram.

If you like this recipe, you'll love these!