This is a sponsored post written by me on behalf of Blue Plate Mayonnaise. All opinions are 100% mine.
Using mayonnaise as a base for the grilled chicken in these lettuce wraps keeps them moist, beautifully browned and full of flavor.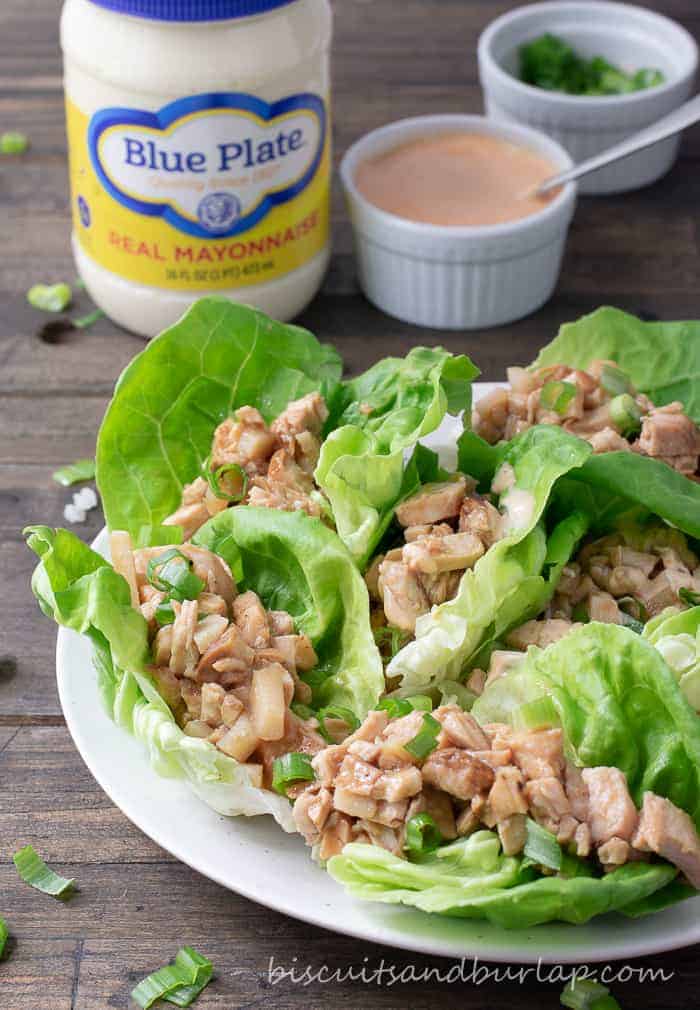 When we were first asked to develop a recipe using mayonnaise we had some fun researching ways to use it other than run-of-the-mill spread on sandwiches or in potato or tuna salad. Turns out it makes a fabulous marinade for grilled meat, and y'all know that grilling is a subject near and dear to our hearts. We've grilled vegetables, seafood, chicken wings, beef tenderloin. The way we see it - if it can be cooked inside, we can find a way to cook it outside.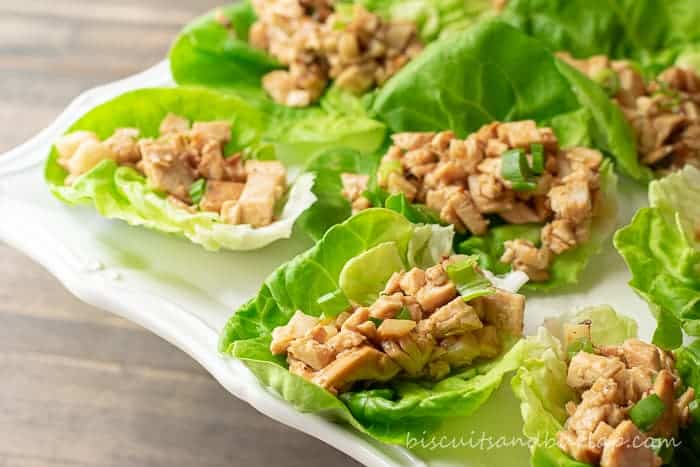 The fine folks at Blue Plate Mayonnaise gave us a lot more information that we didn't know, and we bet y'all didn't either. For instance, did you know that Blue Plate is made in New Orleans and is a family owned business? It's doesn't get any more southern than that, and if there's anything we love more than the south, it's family. After all, this is a family operation here at Biscuits and Burlap, too.
I have to admit we were very impressed to learn this about Blue Plate - it was Voted #1 Mayonnaise by Epicurious in a blind taste test of 16 mayonnaises. That's not surprising when you hear that they've been making it from the same recipe since 1927, and it has only the yolks of eggs and a few other simple ingredients.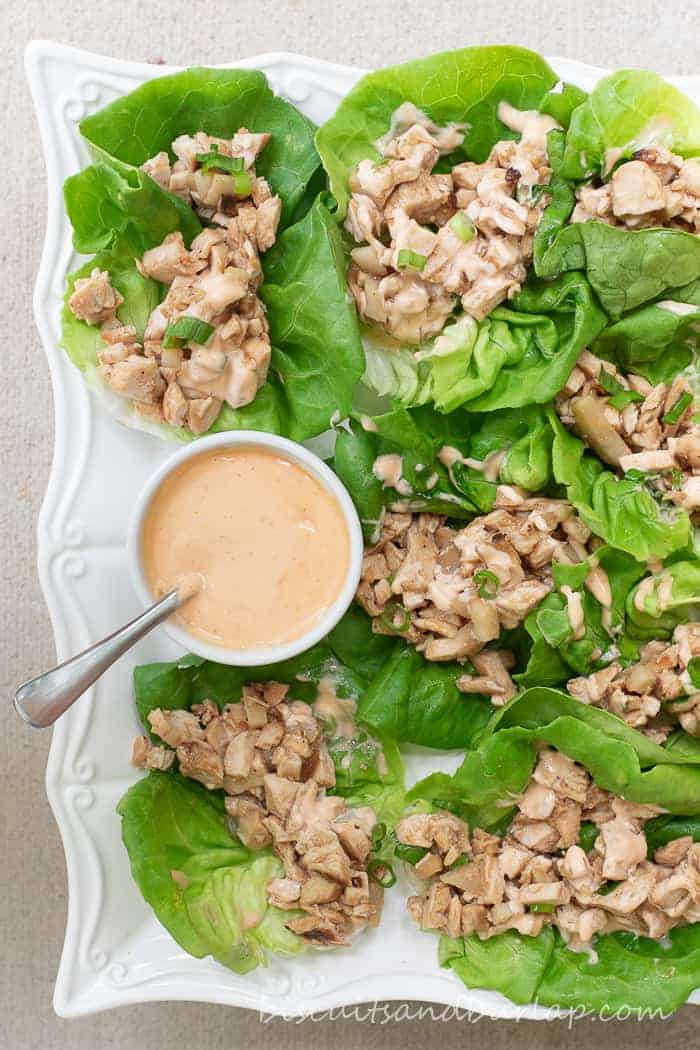 Lettuce Wraps & Mayo-marinated grilled chicken are a match made in heaven
Sara and I have been trying to limit our carb intake, so we hit on the idea of lettuce wraps with chicken. Naturally, we grilled the chicken after marinating it for a few hours in a marinade with an Asian flair. Using mayonnaise as the base kept the chicken moist and gave it a gorgeous bronze finish.
The crowning touch for these lettuce wraps is a spicy sauce. We gave ours an extra little tang with a good squeeze of lime juice, but the base for the sauce is mayonnaise too.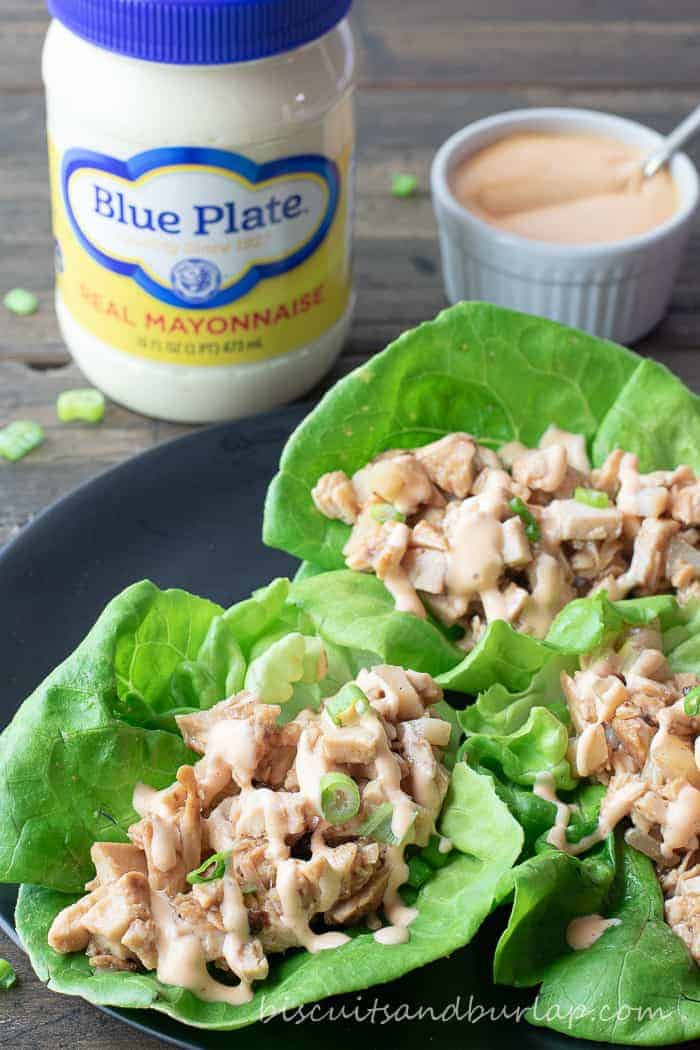 Some tips for making awesome lettuce wraps:
Marinate the chicken in a sealed plastic bag with as much of the air squeezed out as possible. This keeps the sauce right next to the chicken.
Freshly squeezed lime juice is always better than bottled. This is our favorite tool for squeezing any type of citrus.
Use a good quality leaf lettuce like Bibb or Butter. Romaine is good too.
Chop the chicken finely. It will be easier to handle in the lettuce leaves.
Make the sauce several hours ahead if you can. It gives time for the flavors to blend.
We prefer toasted sesame oil for a slightly more delicate flavor, but if you only have traditional sesame oil that will work fine.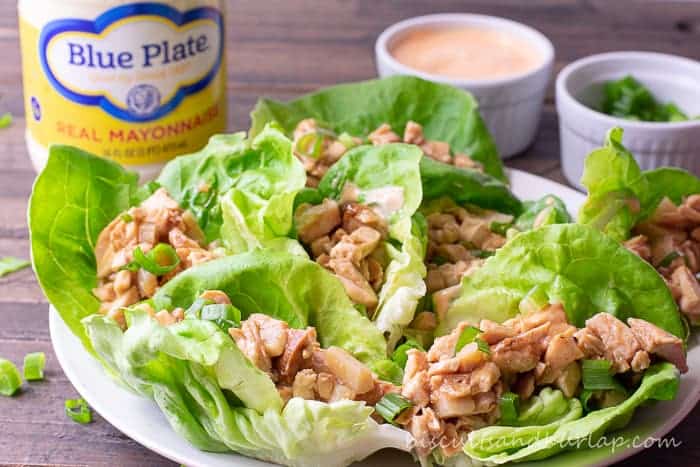 📖 Recipe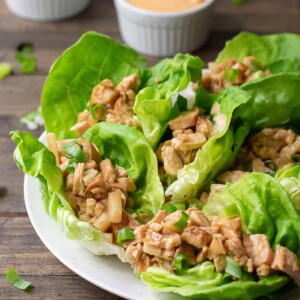 Lettuce Wraps with Grilled Chicken
Lettuce wraps are made with grilled chicken that has been marinated in a mayonnaise-based solution keeping it moist and bronzed. Topped with a spicy sauce for a fun kick!
Ingredients
Chicken
1

pound

boneless chicken breasts

1

Tablespoon

Sriracha sauce

½

cup

mayonnaise

3

Tablespoons

soy sauce

1

clove

garlic

chopped

½

lime

juiced

1"

piece

ginger

cut into 2-3 pieces

4

ounces

water chestnuts

⅓

cup

Hoisin sauce

8-14

leaves

lettuce

2

green onions

optional
Spicy Sauce
½

cup

mayonnaise

2

Tablespoons

Sriracha sauce

⅛

teaspoon

seasame oil

¼

lime

juiced
Instructions
Pound chicken with mallet until uniform thickness, about ½ inch.

Combine ½ cup mayonnaise, soy sauce, 1 Tbsp. Sriracha, garlic, juice of ½ lime and ginger. Whisk until smooth.

Place chicken and marinade in a zip loc bag and refrigerate 5-6 hours.

Combine ½ cup mayonnaise, 2 Tbsp. Sriracha, seasame oil and juice of ¼ lime. Whisk until smooth and refrigerate until serving time.

Grill chicken over medium high heat until golden brown and juices no longer run pink - approximately 4 minutes per side. Cool.

Finely chop chicken and combine with finely chopped water chestnuts and Hoisin sauce.

Spoon 1.5-3 Tablespoons chicken filling into center of each lettuce leaf. The amount will depend on the size of the lettuce leaf.

Drizzle with Spicy Sauce and garnish with chopped green onions, if desired.
Another unusual way to use mayonnaise is this Apple Cider Coffee Cake. It keeps the cake so moist and eliminates the need to have oil and eggs on hand. Be sure to check it out.
Please leave a comment and let us know how you like these Lettuce Wraps and don't forget to sign up right here for a new recipe each week. We promise to treat you like one of the family.
Find recipes using Blue Plate Mayonnaise here