Tender and tasty shredded beef made in your slow cooker is perfect for burritos, tacos, nachos and more. Set it and forget it until dinner time!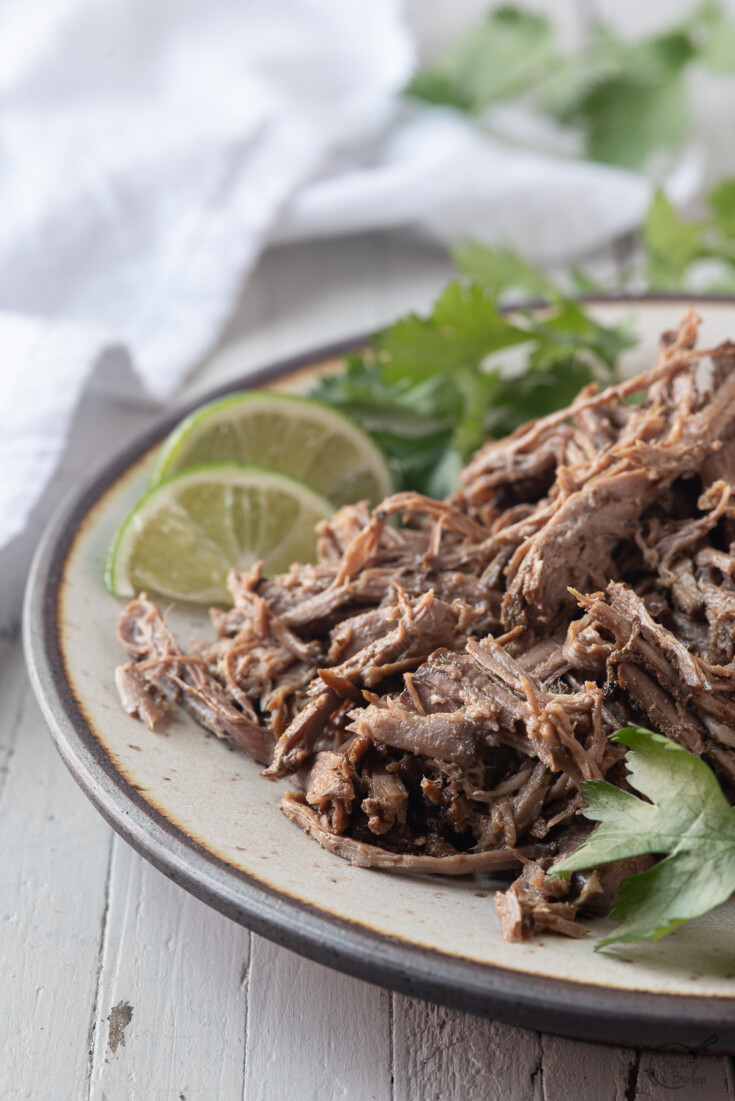 This recipe uses an inexpensive cut of beef to produce the perfect filling for all of your favorite southwestern or Mexican style dishes. It's seasoned and then cooks on a bed of onions in your crock pot while you go about your other business. Unless your family is large you'll have plenty for leftovers and it freezes beautifully.
Love of Mexican style food
If you're like us you and yours are crazy about anything Tex-Mex, Southwestern or Mexican inspired. We eat it out and we make it at home.
Just a few recipes that you'll find here are grilled fish tacos, Chicken Stuffed Poblano Peppers, a Tex-Mex Dutch Baby, Smoked Queso Dip, two different soups with poblano peppers, creamy poblano sauce and Mexican style biscuits. We even have a recipe for pineapple agua fresca.
So, anything that gives us a base for a multitude of those dishes is a winner in our book, and we believe it will be with you too. That's where this shredded beef comes in.
In fact, our Low Carb Enchiladas have ground beef, but you could easily substitute some of this pulled beef and they would be awesome!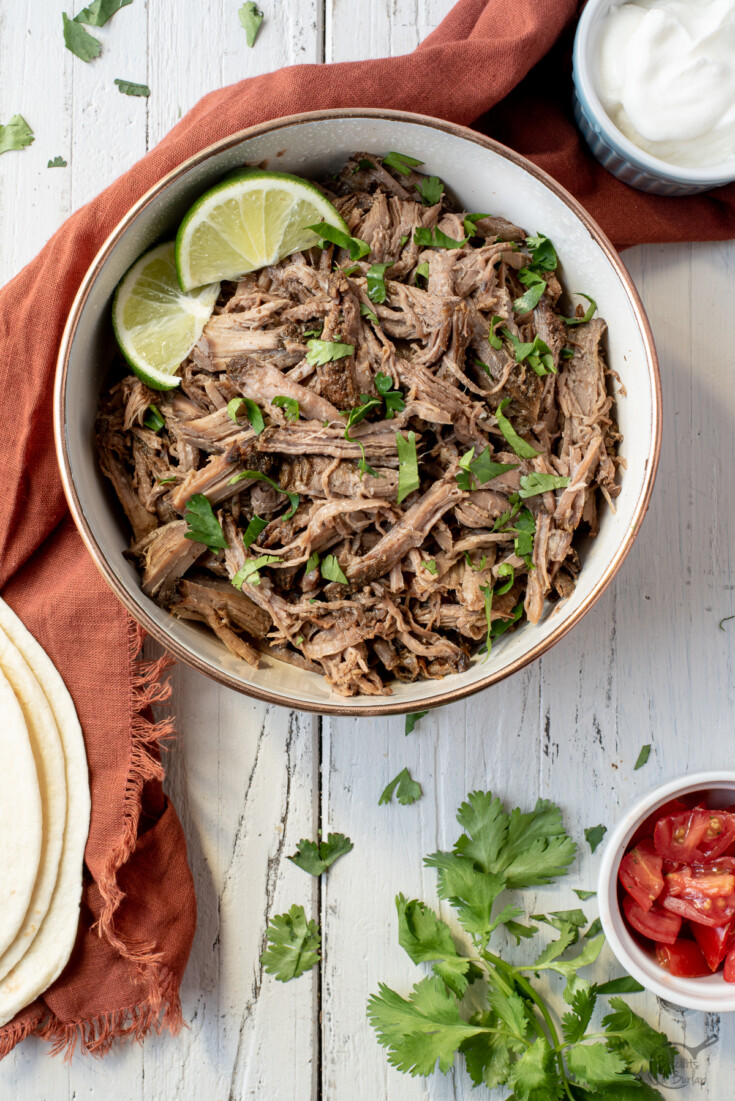 How to make crock pot shredded beef:
It's so easy y'all! Just start out with an inexpensive roast. Our favorite is a shoulder roast but you could easily use chuck roast or even flank or skirt steak.
Mix your seasonings together and sprinkle it over the whole roast, patting it down to make sure it adheres.
Put some onion slices in the bottom of the crock pot. This acts as a "rack" to keep your meat from sitting directly on the bottom. As a bonus you'll end up with roasted onions that taste divine!
You can add them to any dish you would use this beef for or just put them in a bowl for anyone to add on their own. The tacos you see below are a perfect example: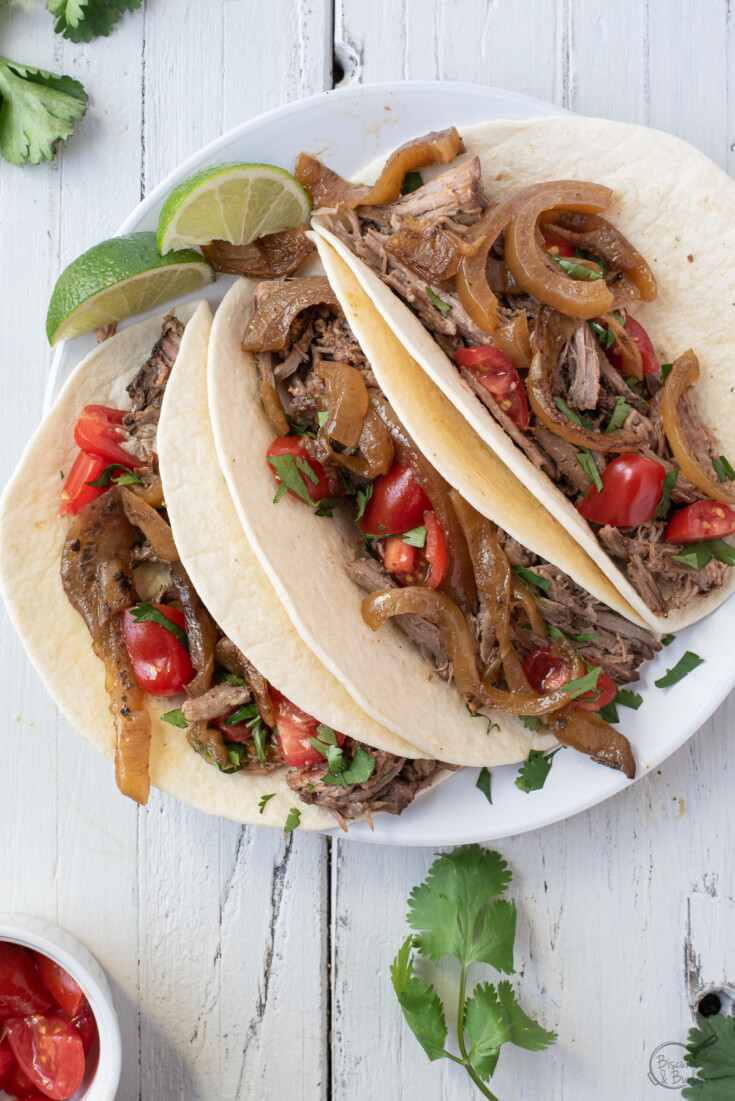 Next you'll add a little bit of liquid (water, broth or stock) to the bottom of the slow cooker. That's just to get things going because the meat will produce it's own liquid after it cooks a while.
Set the roast in the cooker and turn it on! You can cook it on low for 8-9 hours or high for about 4-5 and get similar results.
That's it! When it's fork-tender just shred it up. You'll probably want to drain off some of the liquid, but leave at least a little to keep your beef from drying out.
A couple of things you may need:
This post contains affiliate links, which means if you click on an affiliate link and buy something, we may receive a very small commission.  It does NOT result in additional charges to you or cost you anything extra. Click here for our full privacy and disclosure policy. As an Amazon associate we earn from qualifying purchases.
Of course, a slow cooker is what this recipe is designed for. You could make it in a dutch oven on your stove top (with heat set at about medium low) and follow the directions and time for the slow cooker on high.
My slow cooker is a plain no-frills version like this one and that's all you need. But, if you're the type that wants all the bells and whistles check out this one!
The only other item isn't necessary, but one that's fun to have is shredding claws. You can certainly use two regular dinner forks to shred the meat, but these guys make short work of it.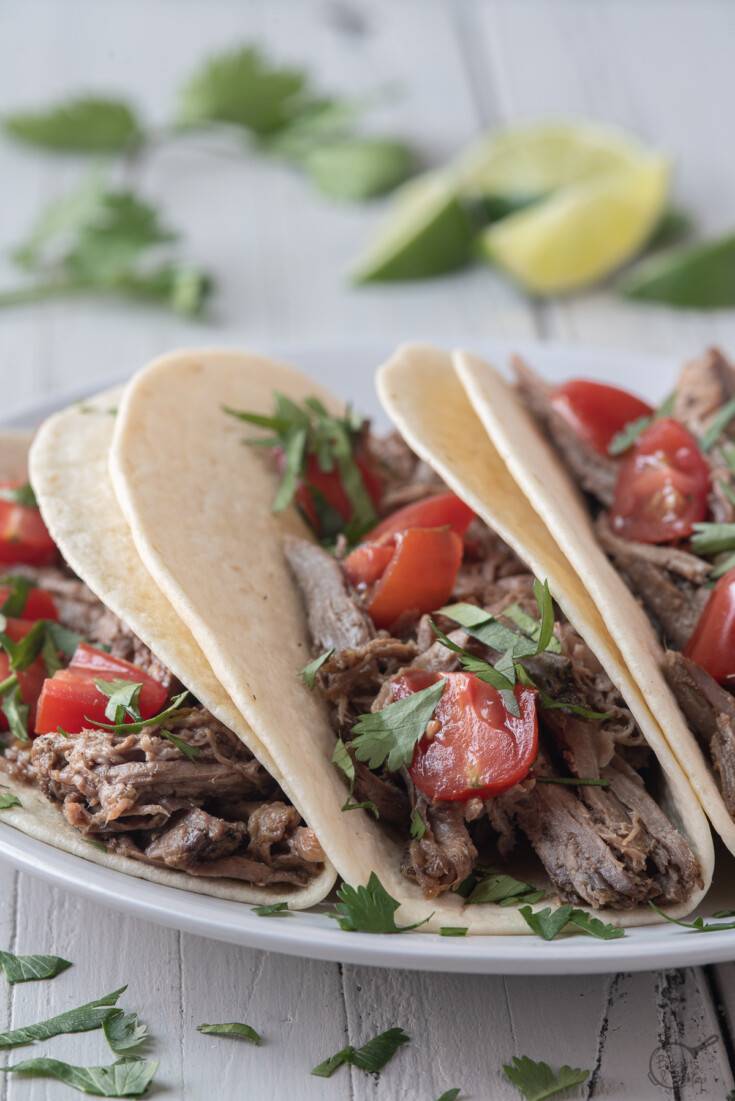 How to use your shredded beef and what to serve with it:
Put it in flour or corn tortillas and top with your favorite taco additions. For a fun twist, drizzle with Southwest Salad Dressing. You're people will love it!
Place tortilla chips on a baking sheet. Top with the beef and shredded cheese and warm in your oven until the cheese is melted. Eat your nachos as is or add more toppings.
Roll up in tortillas and cover with enchilada sauce and cheese and bake for delicious beef enchiladas.
Serve anything you make with your seasoned beef with Spicy Mexican Rice. It's even better than you'll get in a restaurant.
For a full blown Mexican style meal start out with Hot Corn Dip with Cream Cheese!
What about the leftovers?
If you cook a 3 pound roast like we do the chances are you will have leftovers. They can be stored in the refrigerator for about 5 days and reheated in the microwave or wrapped tightly in foil in the oven.
We like to put up little packages in the freezer to thaw and reheat later. For just the two of us I usually put up about ⅔ pound in each package. If you don't have a digital food scale you need to order one now! You won't believe how often it will get used.
📖 Recipe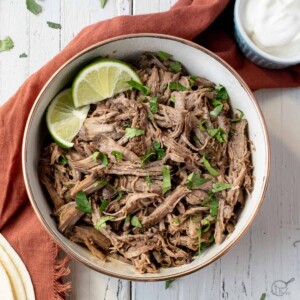 Slow Cooker Mexican Beef
Tender and tasty shredded beef made in your slow cooker is perfect for burritos, tacos, nachos and more. Set it and forget it until dinner time!
Ingredients
3

pound

beef roast

shoulder or chuck

1½

teaspoons

salt

2

teaspoons

chili powder

1

teaspoon

oregano

dried

1

teaspoon

onion powder

1

onion

sliced

¼

cup

beef broth

or water
Instructions
Combine salt, chili powder, oregano, garlic powder and onion powder.

Sprinkle seasoning on all sides of beef and pat down to adhere to meat.

Place onion slices in bottom of slow cooker and add broth (or water).

Set seasoned roast on top and cook for 8-9 hours on low or 4-5 hours on high, or until fork-tender.

Remove excess liquid, leaving about 1 cup.

Shred beef with two forks or meat claws.
Notes
Flank steak, skirt steak or any less tender beef can be used. 
Can be cooked in a covered dutch oven on stove top at medium low heat for approximately 4-5 hours or until fork-tender. 
Nutrition
Calories:
315
kcal
Carbohydrates:
2
g
Protein:
33
g
Fat:
20
g
Saturated Fat:
9
g
Polyunsaturated Fat:
2
g
Monounsaturated Fat:
10
g
Trans Fat:
1
g
Cholesterol:
117
mg
Sodium:
611
mg
Potassium:
604
mg
Fiber:
1
g
Sugar:
1
g
Vitamin A:
175
IU
Vitamin C:
1
mg
Calcium:
39
mg
Iron:
4
mg

More beef recipes you'll love: